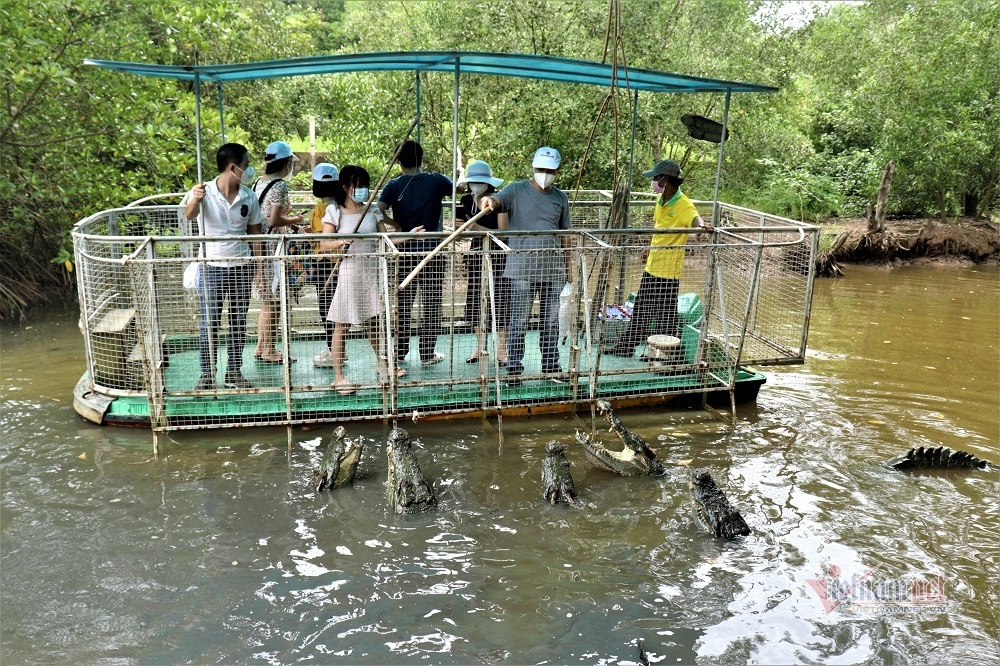 Tours to HCM City's "green zones" are available.
After nearly two months working in Ho Chi Minh City, doctor Phuc Minh and his colleagues had an interesting tour before returning to Hanoi. This was a special tour designed for frontline workers helping HCM City's fight against the Covid-19 pandemic.
This was a safe tour to Can Gio and Cu Chi districts – HCM City's free-epidemic or "green" zones. According to doctor Phuc Minh and his colleague doctor Minh Long, this "safe" tour created a feeling of comfort for thecvisitors. They said that HCM City should gradually resume tourism activities so that people can return to normal life.
The tour was organized in the "bubble" model, under which tourists stopped at selected outdoor sites in Can Gio and Cu Chi districts, in a closed circle. These areas have been recognized as successfully controlling the Covid-19 epidemic and becoming the "green zones" of Ho Chi Minh City.
In addition, all tourists and tourism staff in this tour were fully vaccinated with two doses of vaccine and had negative rapid test results. They had to obey the 5K requirements too.
General Director of Vietravel, a leading tourism firm in Vietnam, Tran Doan The Duy, said that to organize this tour, Vietravel coordinated with the HCM City Department of Tourism and related agencies to conduct a survey to ensure that each route and all services met the requirements of epidemic prevention and control under current regulations.
Vietravel also planned to launch a tour connecting HCM City's Can Gio district and Vung Tau city of Ba Ria-Vung Tau province by hydrofoil for tourists who have the "Covid-19 Green Card" (getting two vaccine doses or having recovered from Covid-19 and being tested negative to Covid-19 before joining the tour).
Nguyen Huu Y Yen, General Director of Saigontourist, another major tourist company in Vietnam, said that this company were developing suitable products for tourists in the near future, based on the actual situation on pandemic control.
"Although people's demand for travel is very high after a long stay at home, the need for safe destinations or green areas is still the most important criterion for tourist firms to reorganize tours," he said.
Le Truong Hien Hoa, Director of the Ho Chi Minh City Tourism Promotion Center, hoped that tourism firms would open more tours to HCM City's "green zones" and to the green areas in other provinces and cities.
He said that HCM City's tourism authorities would give the best support for tourism businesses to implement this type of closed tour.
At a meeting between officials of Ho Chi Minh City and tourism businesses on October 4, Nguyen Thi Anh Hoa, Director of the local Department of Tourism, said that according to the safety criteria to reopen, tourism businesses are allowed to operate at about 50% capacity at this time. However, the Tourism Department may allow eligible businesses to expand their operation under a certain roadmap.
Meanwhile, HCM City Vice President Phan Thi Thang said that HCM City would re-issue the set of safety criteria for the prevention of Covid-19 epidemic in the field of tourism, with updates to fit the actual conditions. The city leader also asked tourism firms to design suitable tourism products to welcome visitors as soon as possible.
According to the latest news, two travel firms will offers two tours to Can Gio and Cu Chi districts for VND1.69 million/person for the tour to Can Gio and VND699,000 per person for the tour to Cu Chi. These tours are scheduled to depart on October 15, but if customers register early, the tours will be organized this weekend, October 8-9.
Tran Chung