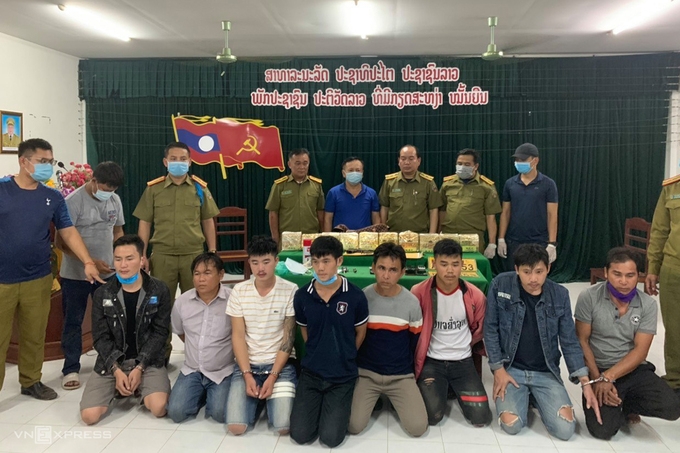 The 8 drug traffickers were caught red-handed (Photo: VNE)
A total of 10 kg of methamphetamine, one K59 gun with four bullets, two cars and two fake license plates were seized.
Local authorities said the ring had 8 suspects who were regular drug traffickers operating close to the border and typically armed during their trips.
This year, Quang Tri border guards have busted 40 drug cases, arrested 78 people and seized more than 900,000 synthetic drug tablets, 41 kg of meth, 4.5 kg of ketamine and 804 kg of marijuana.
Last year, Hanoi police detected a batch of 126.5kg of rhino horn on a flight from Dubai to Vietnam upon its arrival at Noi Bai International Airport. The offender was under prosecution last Sunday for the illegal trade.
According to VNE, anyone convicted of smuggling or possessing over 600 grams of heroin or over 2.5kg of methamphetamine is punishable by death in Vietnam. Those produce or sell 100 grams of heroin or 300 grams of other illegal narcotics will also be sentenced to death.
Despite some of the world's toughest drug laws, drug busts, however, remain a frequent occurrence in the country.