The HCM City People's Committee has developed several key solutions to fully realise its tourism potential and diversify travel products and services.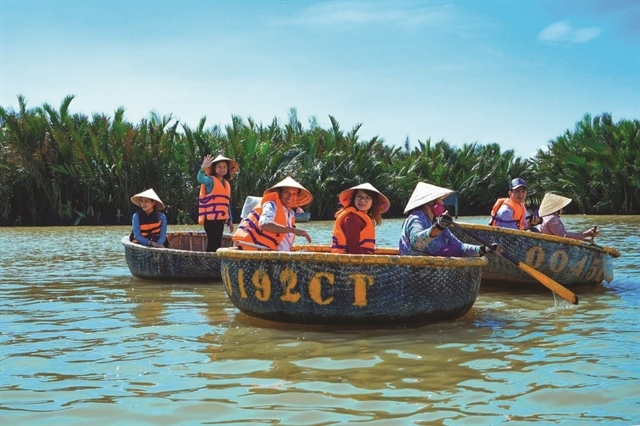 The city launched an initiative last year to form linkages and tourism cooperation with 13 cities and provinces in the Mekong Delta, combined with a comprehensive tourism cooperation programme for the 2020-25 period and establishment of a new council composed of local authorities and enterprises.
The agreement outlined collaboration in five areas, including State management in tourism, development of tourism products, marketing and promotion activities, development of tourism human resources, and investment in tourism development.
Travel agencies in HCM City signed cooperation agreements with tourism service providers in the region to develop inter-provincial travel products at affordable prices.
Under the agreements, in the first six months of this year, three new inter-regional tour packages were developed by Saigontourist and Vietravel, and 52 stimulus travel tours were launched from HCM City to localities in the Mekong Delta, the HCM City Department of Tourism said.
Saigontourist Group also developed new travel products and services, training courses on management of tourist destinations and homestays, and promotion activities.
Following these successful results, the city this year scaled up its initiative to boost tourism linkages with four other regions, including the Southeast, Northwest, Northeast, and Central Key Economic Zone, which has promoted linkages from the South to the North.
"Each locality is expected to focus on developing tourism products with high value and high experiential impact based on their cultural and historical identity, local communities, and other tourism resources," said Nguyen Thi Anh Hoa, director of the HCM City Department of Tourism.
"As a magnet for international and domestic tourists and a busy transit area for tourists to other destinations, HCM City has stepped up efforts to develop inter-regional linkages to fully realise the tourism potential of each province," she said.
"Regional tourism linkages will help to entice locals to visit destinations across the country with longer stays and higher spending levels."
Speaking at the National Conference on Tourism Development held recently in Quang Nam Province, Nguyen Thi Hanh, deputy chairwoman of Quang Ninh Province, said that tourism cooperation with other provinces was one of several cost-saving and effective solutions to realise tourism potential and diversify products.
The province is home to more than 600 cultural and historic relics, including UNESCO World Heritage Site Ha Long Bay, Yen Tu relics and beautiful landscapes.
To realise its potential, the province has formed tourism linkages with many cities and provinces, including Quang Ninh – Thanh Hoa – Ninh Binh; Quảang Ninh – Hai Phong – HCM City; Quang Ninh and seven northeastern provinces.
"Without tourism linkages, localities will end up with unplanned and uncoordinated development, which will affect competitiveness," Hanh said.
To make the cooperation sustainable, cities and provinces need to focus on inter-regional tourism products, promote investment in tourism in the region, and develop strong connections in tourism marketing, promotions and brand-building activities as well as training of human resources.
Nguyen Quang Trung, head of development and planning department at Vietnam Airlines, said that localities should work together to identify attractive products in each province to avoid the same tourism products.
"Concerted efforts from local authorities and specific plans on development of inter-regional products should be carried out over the long term to enhance sustainability," Trung said.
"With such regional linkages, localities will be able to avoid competition with each other by tapping their potential with their own tourism products and services that do not overlap with other areas.
"Localities should also enhance health safety protocols and make it known that they are safe for tourists."
Domestic market
"In the context of the COVID-19 pandemic, strengthening tourism cooperation will spur domestic travel, which can make up for some of the shortfall in tourism revenue," said director Ánh Hoa of the HCM City tourism authority.
"With regional travel linkages, the city expects the number of tourists to each region will rise by 15-20 per cent next year.
"The number of domestic visitors to HCM City is expected to reach 15 million this year and 35 million next year."
In October, HCM City launched a campaign called "Hello HCM City", the largest of its kind, to promote the city as a safe, vibrant and friendly destination and stimulate domestic travel through a series of digital communication products and intensive promotions and new travel products.
The country is focusing on promoting the domestic travel market by encouraging locals to visit attractions nationwide.
This year, the Ministry of Culture, Sports and Tourism launched two domestic tourism promotions called "Vietnamese People Travel Vietnam" and "Safe and Attractive Vietnamese Tourism" that offer travel packages and various discounts.
With these stimulus efforts, the number of domestic tourists reached 49 million by the end of November.
The World Tourism Organisation (UNWTO) expects an overall drop of 70 per cent for the whole of 2020 and a rebound in international tourism in 2021, mostly in the third quarter. Domestic tourism is expected to return faster and stronger than international travel, it said.
Vietnam's tourism sector suffered a loss of US$23 billion in revenue this year due to a drop of 80 per cent in international visitors and a decline of 45 per cent in domestic tourists, according to the ministry.
The country is expected to receive around 3.8 million international visitors this year, down 80 per cent compared to last year as inbound international travel has been frozen since March, the ministry said.
The ministry has highlighted the vital role of the domestic market for the recovery of the tourism industry. It aims to increase domestic tourism's total revenue contribution in the coming years. It currently provides less than 45 per cent of total revenue in the tourism industry.
The number of domestic visitors last year was 85 million, up 6.3 per cent compared to the previous year, according to the ministry.
VNS