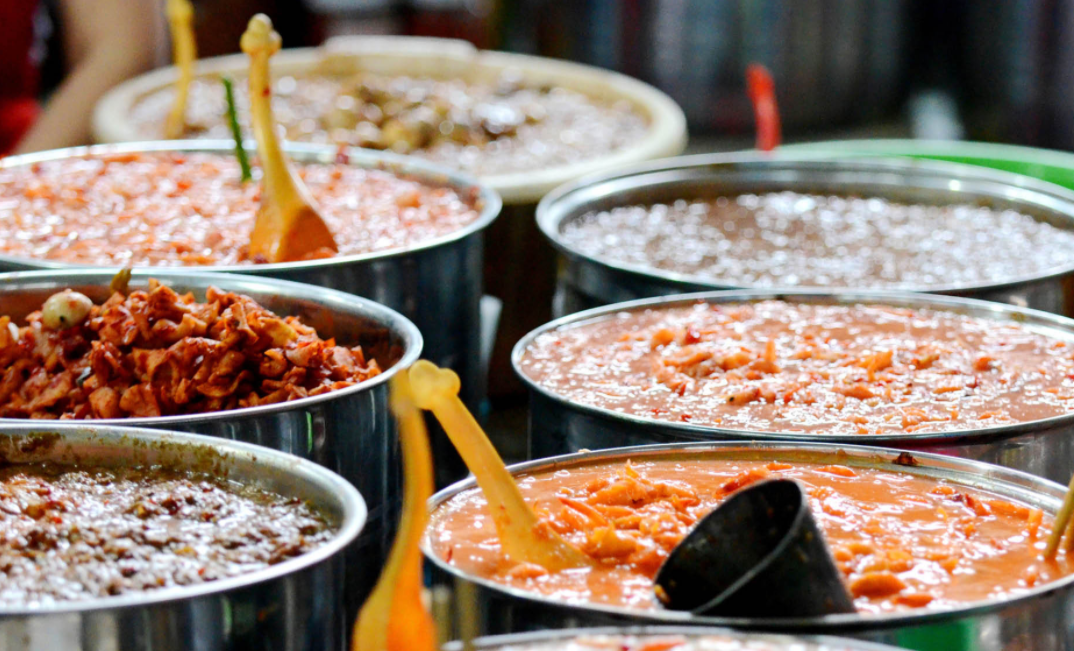 Dipping sauces are the essence of Hue cuisine. (Photo: Chu Du)
Made from special cooking methods, dipping sauces are the essence of Hue cuisine. Visitors can easily buy small bottles of Hue dipping sauce from Dong Ba markets.
Sour shrimp sauce (Mắm tôm chua)
Sour shrimp sauce is the renowned specialty of Hue that almost every customer has heard of. In order to make the best sour shrimp sauce, Hue people use fresh, medium-size shrimp. When fermented, the shrimps turn red, the sauce from the shrimps combined with other seasonings gets thicken.
Sour shrimp sauce has a sweet and fatty taste from shrimps, spicy from pepper, and sour from fermented ingredients. This dish is commonly found in the everyday meals of Hue families. To enjoy its original and unique taste, Hue locals combine the sauce with boiled pork and white rice. In addition, it is also used in the dish of wet rice cake wrapped with sour shrimp, a popular snack in Hue.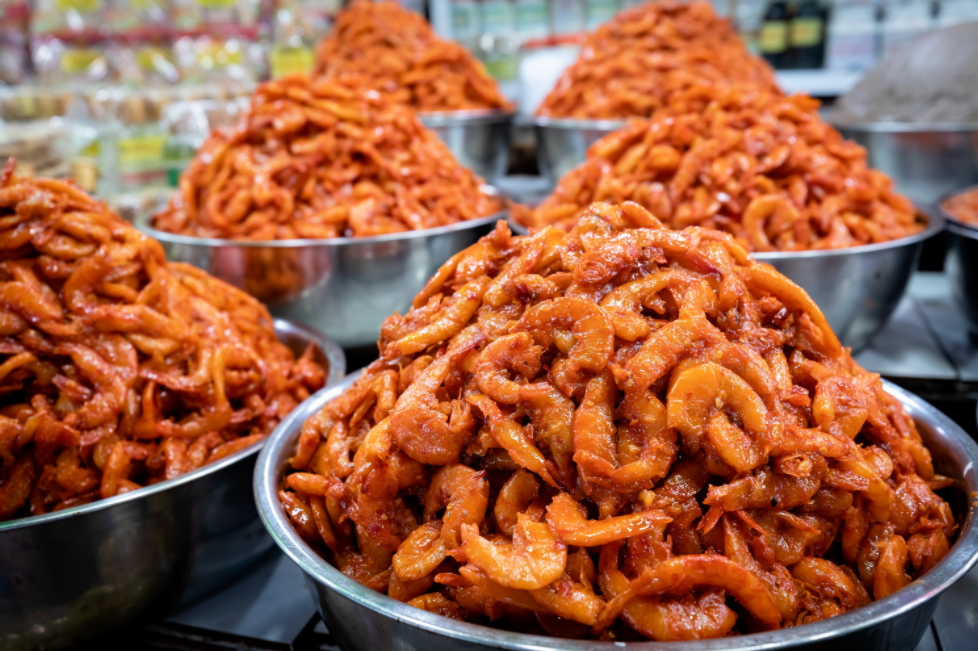 Different kinds of mam (fermented fish) and tom chua (sour shrimp) at Dong Ba Market. (Photo: Visit Hue)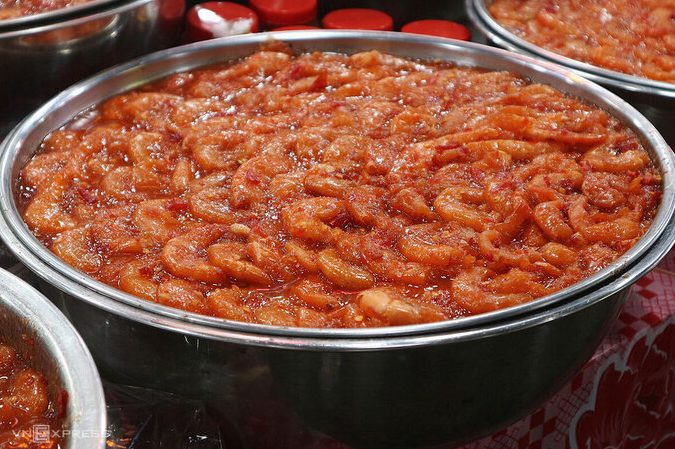 The best sour shrimp sauce in Dong Ba market is priced at 100.00VND/ kg (4-5 USD). (Photo: VN Express)
Anabas sauce (Mắm cá rò)
Anabas is a kind of fish similar to anchovy but has softer bones and sweeter meat. After being caught, the fish will be cleaned such gently that the meat is not crushed. The fish must be cleaned with seawater. Then,Hue people add salt to the fish at the rate of "6 portions of fish, 1 portion of salt". The mixture is then marinated for about 15-30 minutes to allow the salt to absorb evenly into the fish. Finally, the anabas sauce is poured into jars, compacted, and incubated for 30 days.
After the fish sauce is fully fermented, the whole fish can be eaten, the sauce can be mixed with galangal, chili, and garlic in order to create a characteristic pungent taste. Anabas sauce is usually served with cucumber, raw vegetables, young figs, and sliced boiled meat.
Anabas sauce is a must-try specialty of Hue. (Photo: Zing News)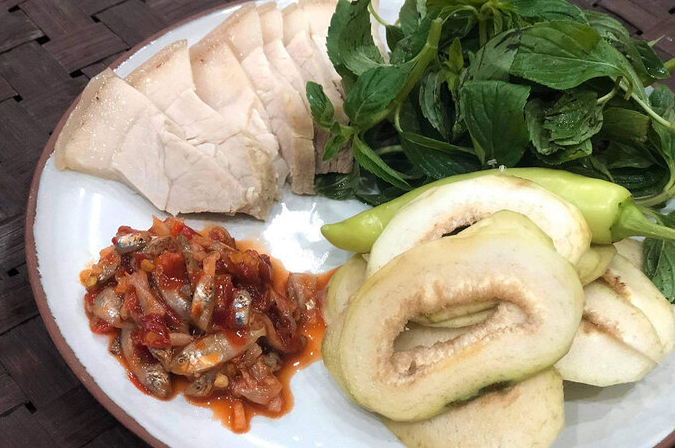 Boiled meat with anabas sauce in Hue traditional meals. (Photo: VN Express)
Melon sauce (Mắm dưa)
This dish is interesting to eat because of its crispness and combination of sour, spicy, salty, and sweet flavors. Hue people often eat this kind of sauce with hot white rice, especially on cold rainy days.
To make this sauce, Hue locals us cobra melons. Melons after washing, chopped, and soaked with diluted saltwater will be sun-dried and then put in the wedge. Finally, the melon will be mixed with sugar, chili, monosodium glutamate, and fish sauce.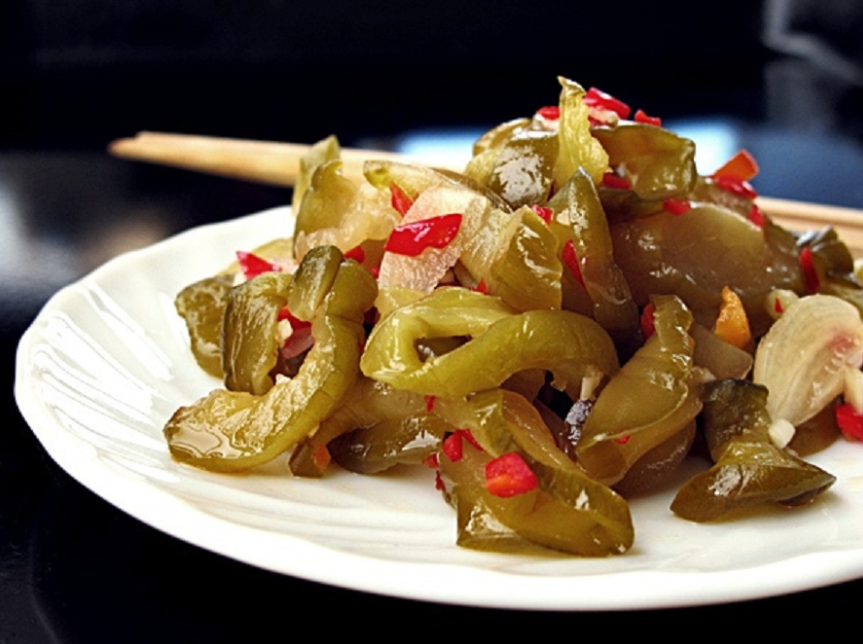 Melon sauce is often made from melon, papaya, eggplant, chili. (Photo: Chinhgoc)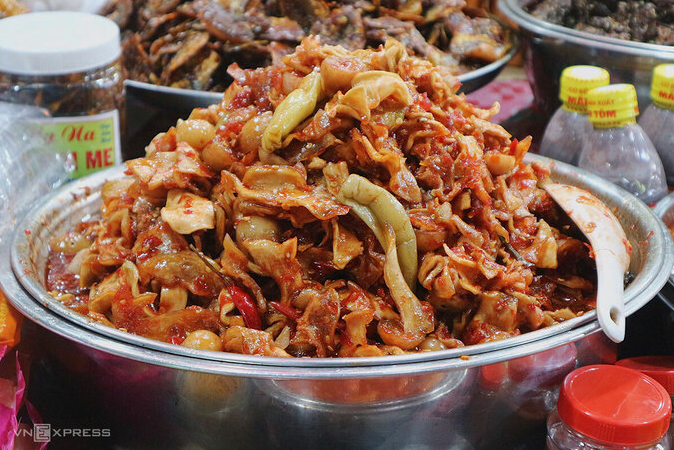 This dish is interesting to eat because of its crispness and combination of sour, spicy, salty, and sweet flavors. (Photo: VN Express)
Hue shrimp paste (Mắm ruốc Huế)
The famous dishes of Hue such as Hue beef noodles, mussel rice … are indispensable to this kind of dipping sauce. Hue shrimp paste is considered as the soul of Hue cuisine. Hue shrimp paste is made from crayfish (a small shrimp) which has a very strong and salty smell but leaves rich and sweet once cooked. This paste is also often used to cook everyday dishes such as soup, fish stock …
In addition to the above types of sauce, the Hue people also use dipping sauce in many dishes even for snacks and drinks.
Visitors can find those mentioned sauces at the Dong Ba market or some specialty stores at an average price from 70,000 – 100,000 VND per bottle (3-5 USD).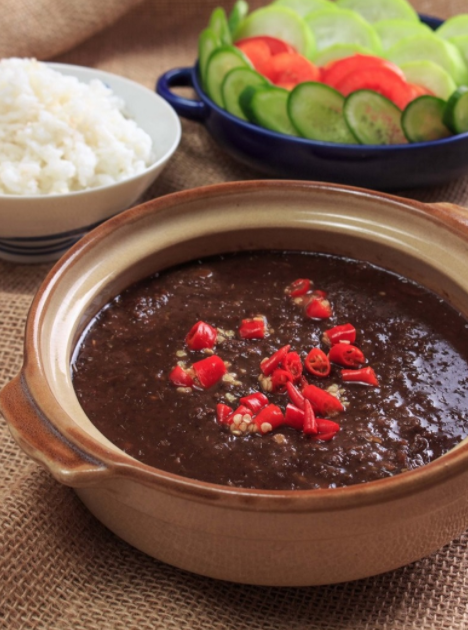 Hue shrimp paste is considered as the soul of Hue cuisine. (Photo: Wolverineair)