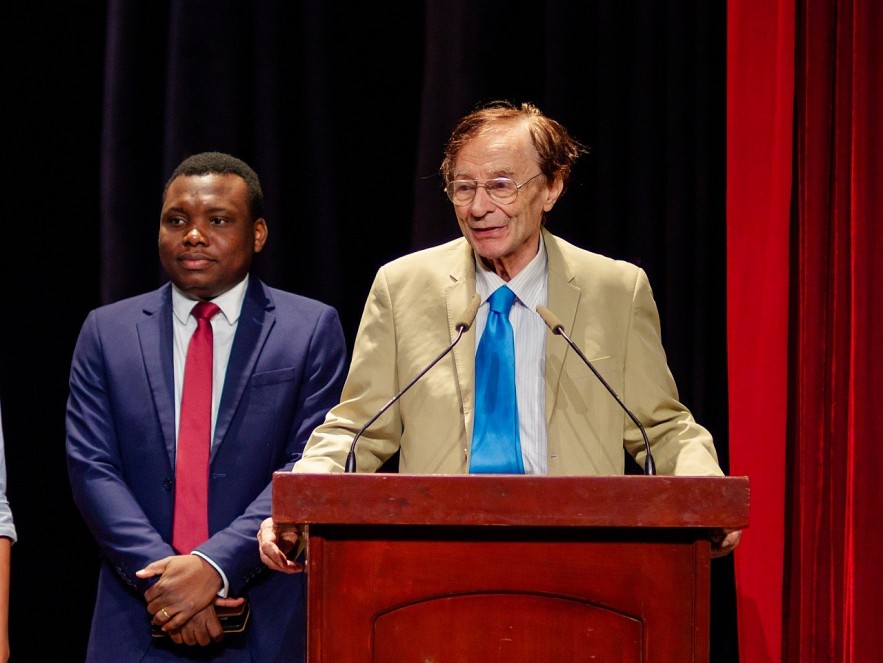 Professor Odon Vallet at the Vallet scholarship awarding ceremony to students and post-graduate students of 20 Southern provinces and cities on August 27, 2023. Photo: hcmut.edu.vn
Professor Odon Vallet (76 years old, French) is a doctor of science in jurisprudence and professor of religious history at Sorbonne University, France.
These days, Professor Odon Vallet traveled to many provinces of Vietnam to give scholarships named after him to students who overcome difficulties and study well, motivating them to further pursue education.
This year, Vallet scholarships were awarded to more than 2,100 students with a total value of more than VND40 billion (US$1.6 million). This is also the 23rd year that Professor Odon Vallet accompanies Professor Tran Thanh Van, an overseas Vietnamese in France, founder of Meet Vietnam, to award scholarships from the Vallet Scholarship to Vietnamese students all over the country.
In addition to awarding scholarships, Professor Odon Vallet, through Meet Vietnam, also sponsored a number of libraries in Quang Binh and Thua Thien Hue.
"I am French. In the past, my family participated in the war, but then my family became friends of Vietnam. This year the scholarship level has been increased compared to last year. Even if I disappear tomorrow, my companions will still be here to continue this journey," Professor Odon Vallet said at the Vallet scholarship awarding ceremony for pupils, students, and post-graduate students of 20 southern provinces and cities taking place at Ho Chi Minh City Municipal Theater on August 27.
Inheriting a fortune of about EUR100 million (US$107.9 million), Odon did not spend it on himself. He deposited that money in the bank and used the interest every year to give scholarships to young people who study well in France, Benin, and Vietnam.
By 2022, Vallet scholarships awarded more than 50,000 scholarships, with a total value of more than VND400 billion (US$16.6 million). The scholarship value is constantly increasing to meet the living and studying costs of each student.
Odon's work comes from his father's will. He said, "My father is a poor worker. With his own efforts, he built a career from scratch, becoming chairman of the board of directors of an international insurance company. When he passed away, he told me 'You should help and love the poor because there are many smart and talented people among them.'
Fulfilling his wish, I deposited all the money in the bank and used the annual interest to award scholarships to poor students in France and some other countries, including Vietnam."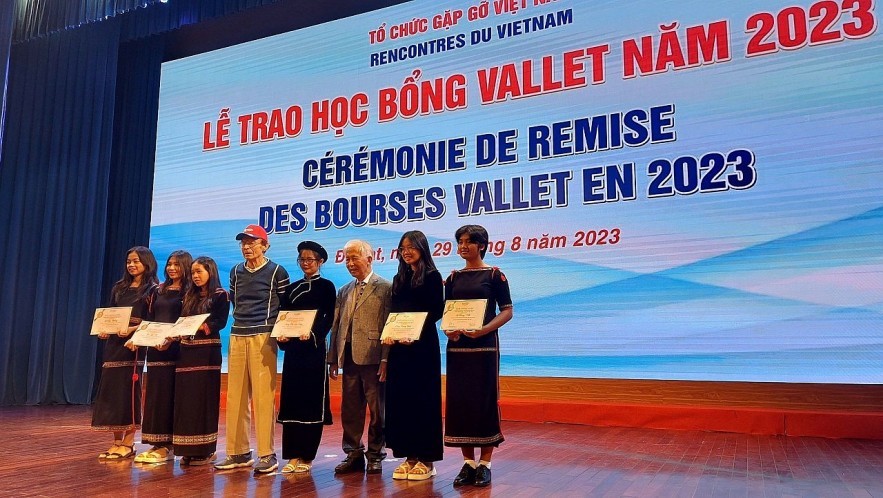 Professor Odon Vallet and Professor Tran Thanh Van awarded scholarships to students in Da Lat (Lam Dong province) on August 29, 2023. Photo: Thanh Son Tran
Meeting with the couple Professor Tran Thanh Van-Le Kim Ngoc was like a chance to bring him to Vietnam, a country that he is interested in and learned about when carrying out his research projects.
Seeing the effectiveness from funding sources for the reconstruction and new construction of SOS villages implemented by Professor Tran Thanh Van and his wife in Vietnam, since 2000, Professor Odon Vallet spent most of the scholarship fund on poor students who study well in Vietnam.
Appreciating Professor Odon Vallet's kindness, Professor Tran Thanh Van named the scholarship Vallet Scholarship. Every year, Professor Odon Vallet, Professor Tran Thanh Van, and his wife return from Paris and hand out scholarships to each young person in Ho Chi Minh City, Da Lat, Da Nang, Hue, Dong Hoi, Vinh, and Hanoi. Students from other provinces and cities gather at the above locations to receive the scholarships.
Honoring Professor Odon Vallet's contribution in promoting the development of solidarity and friendship between Vietnam and France, in August 2017, Vice President Dang Thi Ngoc Thinh awarded him the Friendship Medal of the State of Vietnam.