According to The Guardian (UK), the world's largest bottle of whisky, known as the "Intrepid," stands at 1.8 meters tall. Vietnamese businessman Viet Nguyen Dinh Tuan is the proud owner of this 311-liter bottle of 32-year-old Macallan single malt, which he acquired for £1.1 million at an auction in Edinburgh, Scotland.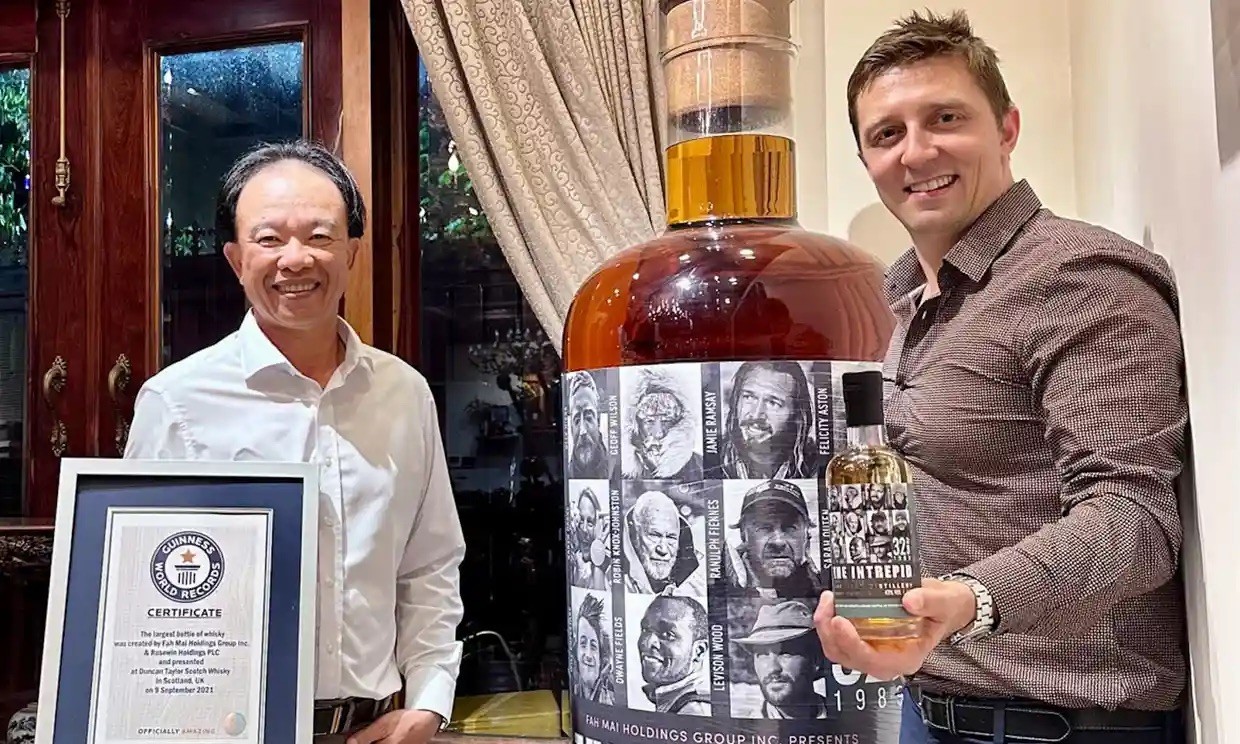 Viet Nguyen Dinh Tuan purchased the 311-liter bottle of 32-year-old Macallan single malt for £1.1 million at auction. He is a well-known collector with a spirits collection valued at over £150 million.
Viet added the bottle of whisky to his collection in Ho Chi Minh City, along with a certificate from Guinness World Records confirming it as the largest in the world. The final price per dram (25ml) amounted to nearly £92.
As a long time investor in rare spirits, Viet owns a variety of the world's rarest and oldest cognac and whisky bottles. The Intrepid bottle is his most recent addition, joining his collection that already includes the world's only complete Macallan fine and rare collections, including the 1926 "Fine and Rare." Only 40 bottles of the Macallan 1926 were ever released, and Viet owns three. One of these bottles sold for almost £1.5 million in 2019. He also possesses the world's largest bottle of cognac and the oldest bottle of whisky, dating back nearly 150 years.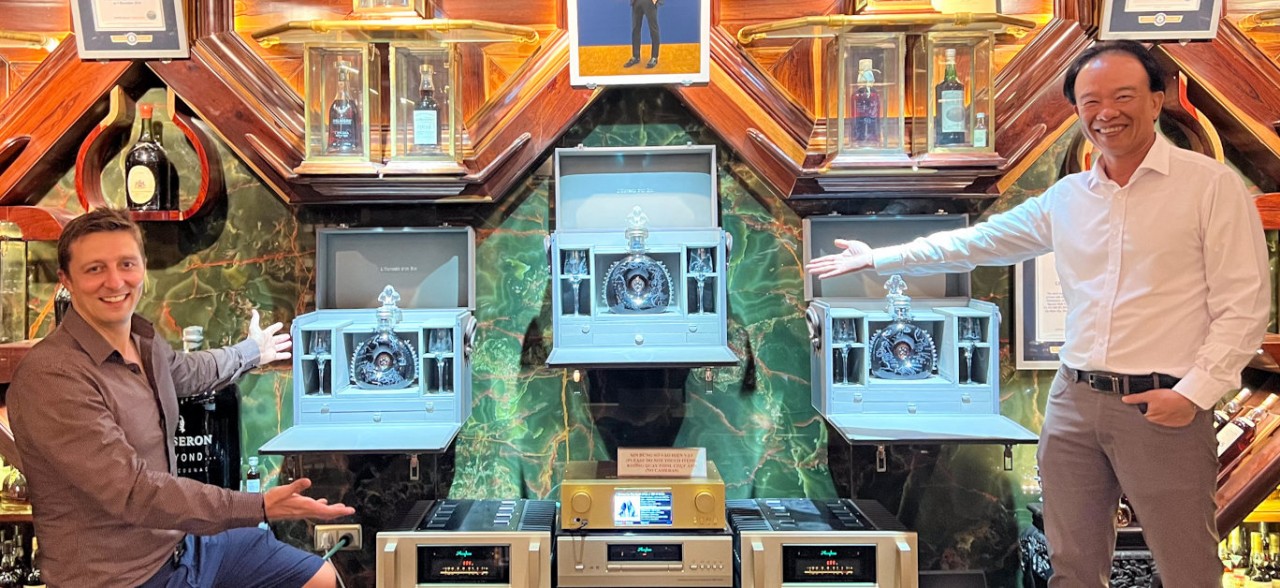 (Photo: Luxury Lifestyle Magazine)
When asked about his purchase, Viet said, "I have spent decades collecting these bottles in my spare time. The history and traditions of whisky-making give each one its rarity, and that's the value I see in each bottle. I was drawn to the Intrepid for three main reasons: it is the largest bottle in the world, it contains Macallan, and I was inspired by the record-breaking achievements of the 11 explorers depicted on the label."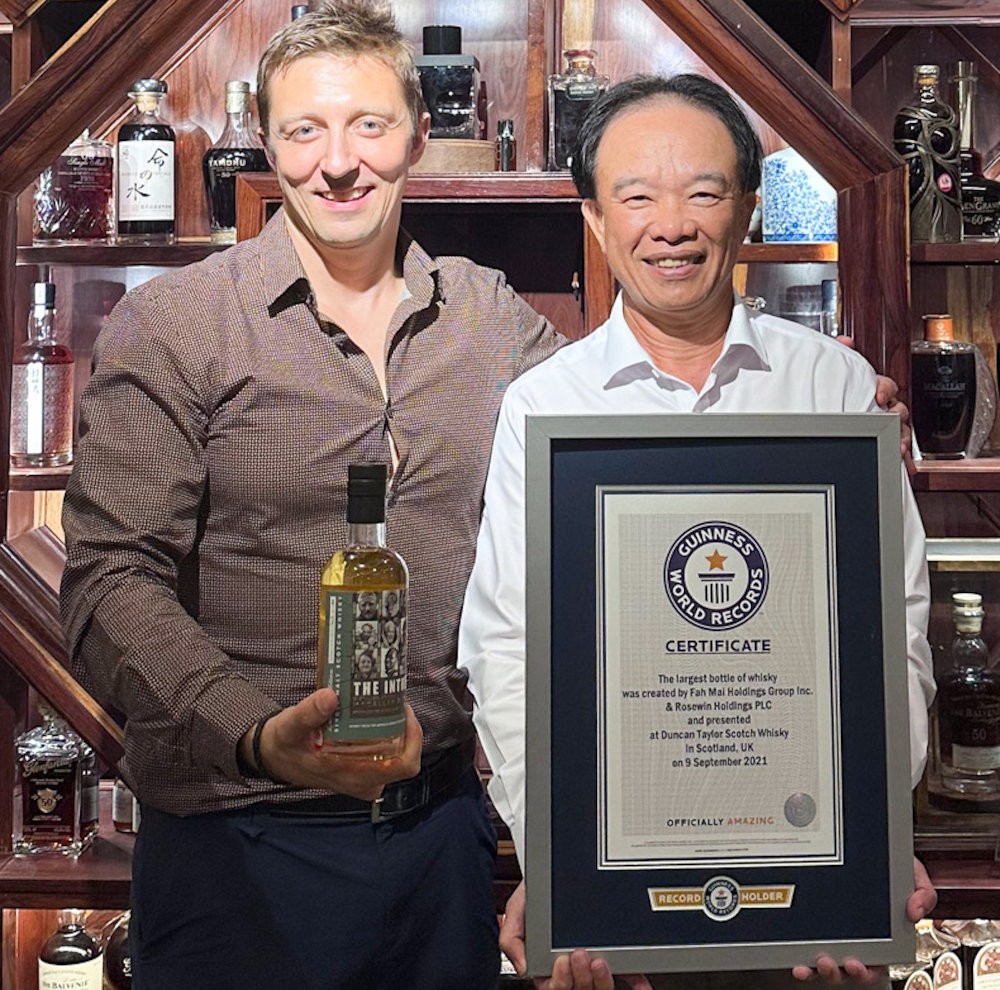 Daniel Monk (left) of Cask World, and spirits collector Viet Nguyen (Photo: Luxury Lifestyle Magazine)
Daniel Monk, from Cask World and the drinks wholesaler Rosewin Holdings, came up with the concept for the Intrepid. Monk named the bottle in honor of 11 pioneering British explorers, whose images are featured on the label. These explorers include Sir Ranulph Fiennes, Sir Robin Knox-Johnston, Dr. Geoff Wilson, Karen Darke, Olly Hicks, and Jamie Ramsay.
In reference to Viet's collection, Monk said, "Entering Viet's esteemed whisky collection was an unforgettable experience; it truly is a whisky and cognac enthusiast's paradise. Seeing the Intrepid proudly displayed and added to the whisky war chest of such a knowledgeable and passionate collector was a dream come true."
The 311-liter bottle along with the collection of 50 cl bottles (Photo: Rosewin Holdings)