On March 3, at the UN headquarters in New York, the first meeting in 2023 of the UN Security Council took place with the participation of representatives from 79 countries sending troops to the United Nations Mission in South Sudan (UNMISS).
Under the chairmanship of Mozambique, President of the UNSC this year, a UNMISS update report was introduced to participants, in which the local situation and the mission's activities were discussed.
According to the Vietnam News Agency correspondent at the UN, Ambassador Dang Hoang Giang, Head of the Vietnamese Delegation to the UN reaffirmed Vietnam's support for the UNMISS. He also emphasized the importance of building trust among stakeholders, including between the Mission and local authorities and people, in order to create a favorable environment for South Sudan's elections and constitution-making process.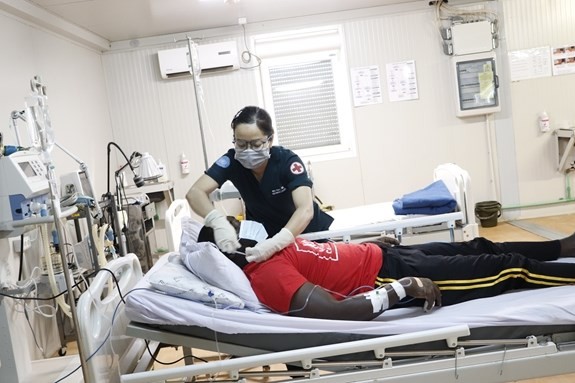 Military medical officer at Level 2 Field Hospital No. 3 in South Sudan examines patients. (Photo: VNA)
Vietnam is willing to continue to contribute to this effort by implementing and participating in activities to support and engage with the host community, including the very important role of female peacekeepers.
Ambassador Dang Hoang Giang shared the efforts and creativity of Vietnamese military medical officers and peacekeepers in South Sudan in carrying out their duties, especially in taking care of people's safety and health of the local people. Through those efforts, the cohesion and trust of the people in the United Nations Peacekeeping Mission are strengthened.
Giang said that these successful lessons need to be replicated so that UNMISS can play its role in supporting reconstruction, and promoting peace, stability, and development in South Sudan, especially in the context of its upcoming general election.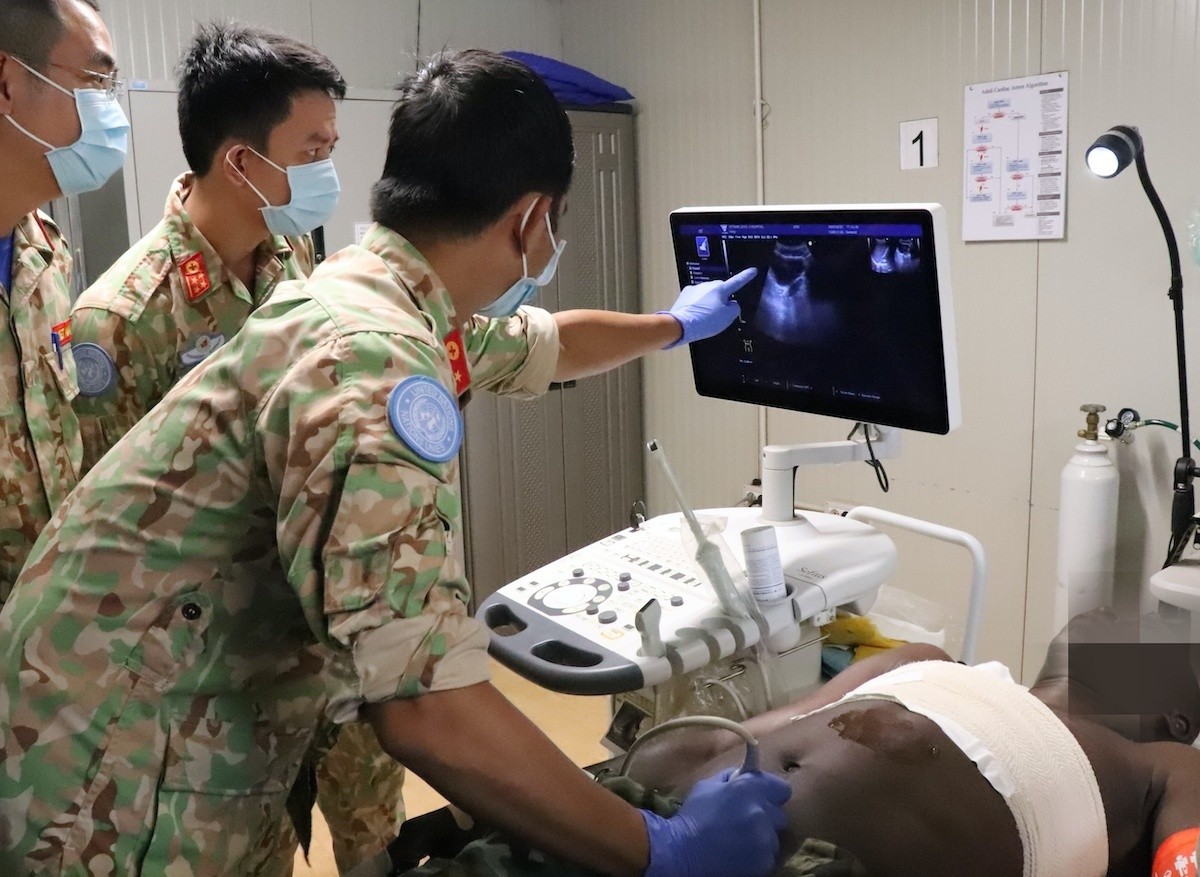 Veitnamese doctors at field hospital 2.2 working in South Suidan. (Photo: VnExpress)
Special Representative of the Secretary-General for South Sudan and Head of the United Nations Mission in South Sudan Nicholas Haysom highly appreciated the positive contribution, efficiency, creativity, and efforts to overcome all difficulties, the high sense of discipline of the military medical officers and soldiers of the Level 2 field hospital and the Vietnamese peacekeeping police at UNMISS.
Ambassador Dang Hoang Giang thanked UNMISS leaders for their support in creating conditions for Vietnam's peacekeeping forces to successfully complete their assigned tasks and affirmed Vietnam's commitment to continue deploying its military forces and police to participate in UN peacekeeping operations in general and UNMISS in particular in the coming time.