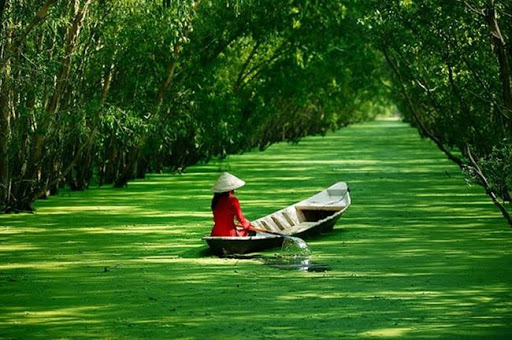 Tien Giang nature beauty
Located in the Mekong Delta and is about 70km from Hochiminh city to the north, Tien Giang is very famous for its both nature, human beauties and unique specialities.
1. My Tho Hu tieu noodle
The soft, chewy noodle mixed in so sweet broth and the softness of the meat mingled with the moderate sour, not only brings the appetite for diners but also remains unforgettable flavor of special aroma. That makes My Tho Hu tieu noodle probably the number one specialty dish in Tien Giang.
2. My Tho mature rice vermicelli soup
This kind of noodle is similar to Bun Mam because it has the same ingredients mixed by fish sauce. Delicious mature vermicelli salad must be cooked with tamarind to produce sweet and sour soup, served with silver tiny shrimp, peeled shrimp or peeled sugpo prawn is the best.
3. Tan Phong rice snail
Boiled snails with chili and lemon sauce added a little ginger to warm stomach and deodorize fishy smell. The newly boiled snails are still hot, all of them are yellow, fat, sweet, crunchy and not make boring. In the intestine of the snail, there are often many tiny ones such as rice grains, especially the season of producing snails look fat, sweet, and crunchy.
4.Va cake (Gia cake)
When visiting Giong market there, you can not miss the cake made from very familiar ingredients such as rice flour, tapioca flour, pork liver, bean sprouts. Bean sprouts, pork liver, shrimp are put in the crusts first and then dough is added to cover the ingredients.
5. Banana with coconut
The main raw materials for making bananas covered by coconut are composed of green, old porcelain bananas and grated coconut. Processing is also simple, not picky, but it takes dexterity and experience.
6. Go Cong beach Shell-fish
Go Cong shell-fish surely makes you regretful all life if you do not try to taste it once when travelling Tien Giang between October and February lunar calendar. The female shell-fish having eggs for baking is best. Shell fish is cleaned, then put on the charcoal stove, bake until the skin changes color, the aroma radiating make your mouths water.
7. Tien Giang shrimp paste
Go Cong scrub shrimp paste is a specialty of Go Cong (Tien Giang), a precious dish offered to kings in the first half of the 19th century. One thing for sure is that the shrimp paste became a dish of the Nguyen dynasty's court because it was "advanced" to serve Queen Tu Du.
8. Hang Bong market Beo cake
There are two types for your choice: salty and sweet fillets. Salty duckweed usually has mung beans, shredded pork skin, diced bread and extra pineapple and onions. Greasy sweet cake is mixed with fresh coconut milk. The owner often serves Beo cake with a bowl of chili sauce and some cucumbers for free.