Europe is a heavenly land of the most wonderful spots for exploring, discovering and looking for some adventures or some lovely holidays. Aside from big cities, hotels on mountains or lovely farms, beaches are also a great choice for enjoying your relaxing vacations. Take a look at these spots below of the best islands in Europe that you should visit once in your life.
1. Rab, Croatia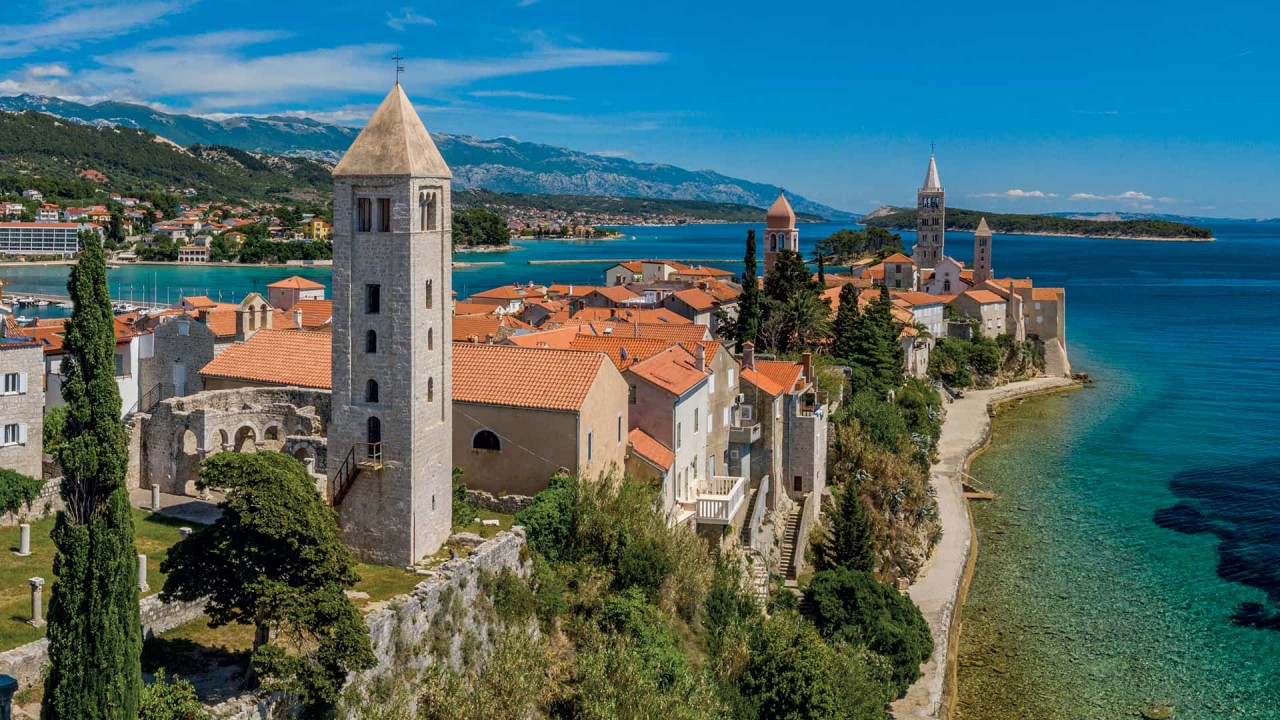 Photo: Yachts Croatia
Rab is a Croatian island in the Adriatic Sea. It's known for the old town of the same name, encircled by ancient walls. The town's 4 prominent church bell towers include the Romanesque tower at the Cathedral Svete Marije (St. Mary) and the tower at the ruins of Sveti Ivan Church (St. John the Evangelist). The monastery at the 16th-century Church of St. Justine (Crkva Svete Justine) is now a museum of sacral objects.
With 30 sandy beaches Rab is a really Happy island with a lot of tiny, picturesque coves, recognised by tourists from all over the world almost 125 years ago, to this day, due to the crystal clear, warm and shallow sea, great for the entire family. Everyone can find their own private beach on Rab based on their preference: there are naturist beaches, solitary coves, beaches for dogs and many lovely spots for young people to check-in.
The Paradise Beach, also known as Rajska Plaza, is probably the most famous beach on Rab Island. This family-friendly sandy beach is located in the holiday resort of Lopar in the north of Rab and forms the tourist center there. Especially families with small children, but also older ones love this very shallowly sloping, 2 kilometer long dream beach, where you can build wonderful sandcastles and where you can wade hundreds of meters out into the sea. The water is wonderfully clear and warm and invites to splash around and play ball games.
Visitors can also expect a good tourist offer with sunbeds and umbrellas for hire and a wide range of water sports activities. There is even a cool slide park in the lower section of the beach! Catering is provided by the many restaurants, beach bars and cafés that line the promenade and treat guests to a magnificent view of the blue sea and the offshore islet of Otočić Lukovina, according to Places of Juma.
2. Tropea, Italy
Photo: World Beach Guide
Tropea is a seaside resort with impressive scenery in the region of Calabria, in the south of Italy. This stretch of coastline on the Tyrrhenian Sea is called the Costa degli Dei, the 'Coast of the Gods', and it is hugely admired by those in the know as one of Italy's finest summer holiday destinations. The coastline curves outwards in a large hilly bulge, boasting dramatic cliffs, sunny beaches, and a string of little resorts and campsites. Tropea is the busiest and most attractive of these seaside towns; with a historic centre perched on cliffs above the sea.
Tropea is large enough and interesting enough to serve as a base for a longer holiday, and the local railway line and boat trips allow a certain amount of exploration without the need to drive. Although it is not particularly well-known to English-speaking travellers, Tropea is popular with Italians and with sun-seeking Germans, many of whom drive south in camper vans or head for the area's campsites. Italians mostly holiday in July and August; in May, June and September Tropea is both cheaper and less crowded while the weather should still be warm and sunny.
Tropea's two and a half miles of pristine white beaches are among the cleanest and best in Italy. Dramatic rock formations, cliffs, coves, and grottoes dot the coastline, holding ground against the sparkling, turquoise, Caribbean-like water. Tropea has both public (free) and private (fee) beaches. Bring or rent an umbrella, soak in the rays, take a dip in the Tyrrhenian, and watch tiny fish swim through your legs, or rent canoes, paddle boats, or rubber dinghies. TropeaSub Diving Center is open year-round and offers snorkeling and scuba diving, according to Fordors.
3. Bulgarian Black Sea Coast, Bulgaria
Photo: Clickstay
The Bulgarian Black Sea Coast, also known as the Bulgarian Riviera, covers the entire eastern bound of Bulgaria stretching from the Romanian Black Sea resorts in the north to European Turkey in the south, along 378 km of coastline. White and golden sandy beaches occupy approximately 130 km of the 378 km long coast. The region is an important center of tourism during the summer season (May–October), drawing millions of foreign and local tourists alike and constituting one of the country's most popular tourist destinations. Prior to 1989 the Bulgarian Black Sea coast was internationally known as the Red Riviera. Since the fall of the Iron Curtain, however, its nickname has been changed to the Bulgarian Riviera.
Bulgaria's Black Sea resorts have been popular holiday haunts for more than a century, though it wasn't until the 1960s that the coastline was developed for mass tourism, with Communist party officials from across the former Eastern Bloc descending on the beaches each year for a spot of socialist fun in the sun. Since then, the resorts have mushroomed, growing increasingly sophisticated as the prototype mega-complexes have been followed by holiday villages. With fine weather practically guaranteed, the selling of the coast has been a success in economic terms, but with the exception of ancient Sozopol and touristy Nesebar, there's little to please the eye. Of the coast's two cities – Varna and Burgas – the former is by far preferable as a base for getting to the less-developed spots, according to Rough Guides.
Visitors can either head for Nesebar's handful of small beaches or hop on a shuttle bus to the unattractive neighbouring resort of Sunny Beach where a great expanse of golden sand studded with thousands of umbrellas stretches for several kilometres along the overdeveloped coastline.
4. Ile de Ré, France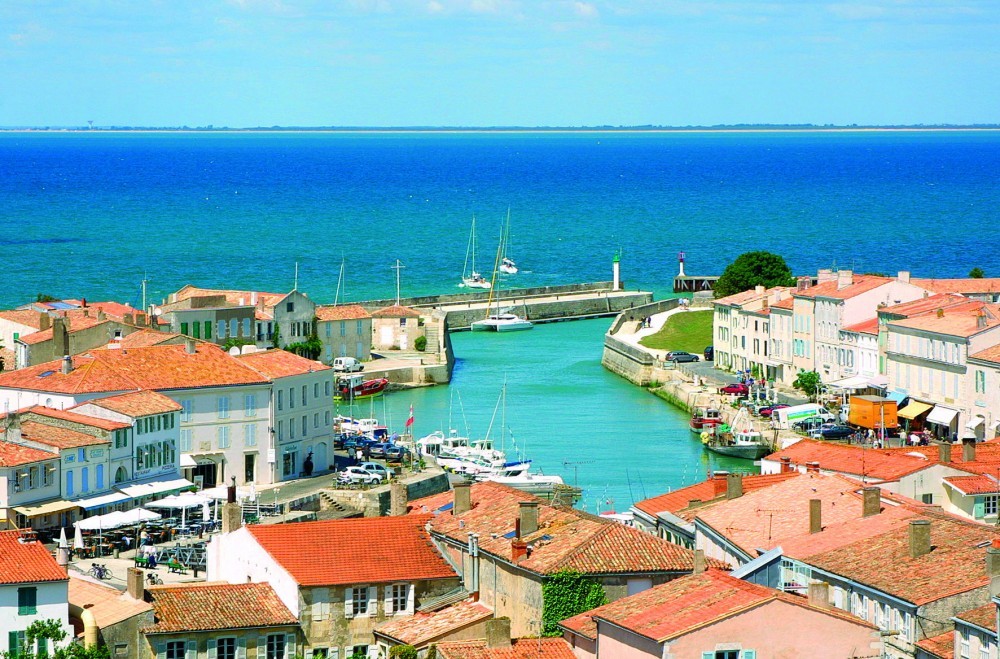 Photo: France Today
Very popular for the high rate of annual sunshine, fine sandy beaches and outstanding natural beauty, Ile de Ré is the perfect holiday destination.
A jewel in the crown of Charente Maritime, off the coast of La Rochelle, Ile de Ré has ten traditional villages. Surrounded by the charm of Ile de Re's varied landscapes, each village has its own individual character. Undeniably similar, and yet each with its own special atmosphere.
Ile de Ré is a blend of marine and rural panoramas, moors, dunes, woodlands, pine forests, marshes and vast beaches of fine sand. There are also ten charming typical villages with traditional white houses and their green shutters in flowered alleys which have crossed the centuries of the island's history. The island is also known as 'Ré la Blanche' inspired by the typical architecture with white houses and villages.
A breathtaking mosaic of landscapes, unique island heritage and a palette of brilliant colours to behold. A preserved lifestyle, a rich history, and culinary traditions to discover during your holidays or a weekend break.
Due to its location in the Atlantic ocean and the warm current of the Gulf Stream along the coast, Ile de Ré benefits from a mild climate all year round. The island has almost 2,600 hours of sunshine per year, hoisting it to the same level as Corsica and southeastern France. The very hot weather in summer is tempered by the proximity to the sea, and winters are mild, according to Holidays Iledere.
5. Paxos, Greece

Photo: Shutterstock
Part of the Ionian islands of Greece, Paxos is mostly off the radar in terms of extreme tourism, especially compared to Mykonos, Santorini, and Crete.
What's advantageous about Paxos is its close proximity to Corfu, which is a major airport and boat hub. It can still take a full day of travel by boat to get to many other Greek islands after an already-long flight, but Paxos is only a one-hour hydrofoil or 90-minute ferry ride from Corfu.
Paxos is too small to receive large cruise ships filled with day-trippers but big enough to offer everything one would expect for an idyllic Greek island: a wide selection of hotels and villas for any budget, charming villages, quiet beaches, shops and boutiques, and restaurants and cafes.
At the northern tip of Paxos lies Lakka. Small but compact, Lakka has two main beaches with full access and a few smaller beaches reachable by foot. Two main squares are where most local services are clustered, along with the town's restaurants and cafes. Water skiing and scuba equipment and lessons are available here.
6. Norfolk, England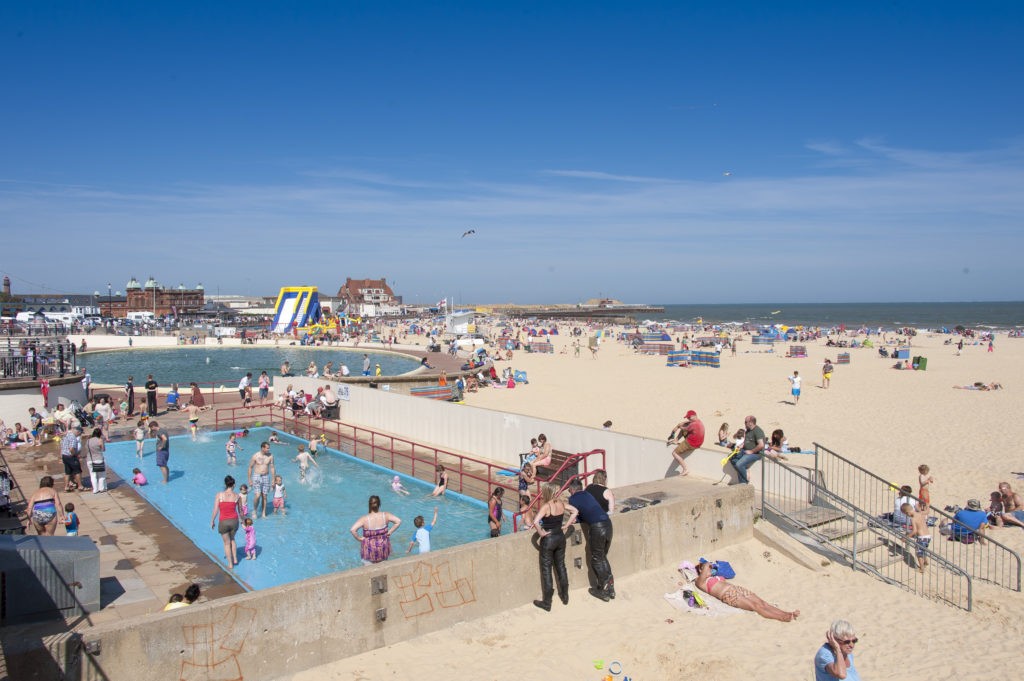 Gorleston Beach. Photo: Visit East of England
The county of Norfolk is the fourth largest in England and with its long coastline protruding into the North Sea, it has tended to become isolated from the rest of the country. This was especially true in times gone by, when the fens to the west were flooded, forming a natural barrier and Norfolk people have therefore acquired a sense of independence. In medieval times Norfolk was the most populated and achieved great prosperity, leading to the building of some of the finest churches in England. Since these times the population has steadily declined and over 100 villages have been lost. Norfolk was also a great sea faring county and it developed strong links with Northern Europe, which has influenced the architecture. Fishing has declined over the years, but the crabs from Cromer remain world famous to this day.
Breathe in the fresh sea air of the tranquil Norfolk coast, walk on unspoiled sand where the kids can build sandcastles, play cricket, have a picnic, walk the dog, look for bird life and paddle in the shallow surf.
Better get to the beach at Gorleston-on-Sea before the rest of the world does. The beautiful sands star in the new Beatles-inspired Danny Boyle/Richard Curtis film Yesterday. In May 2018 more than 6000 people gathered to be extras on the film, which stars Himesh Patel, Lily James and Ed Sheeran, according to Visit Norfolk. 'It's one of the great secrets of England, Gorleston beach,' said Danny. 'It's beautiful.'
7. Languedoc, France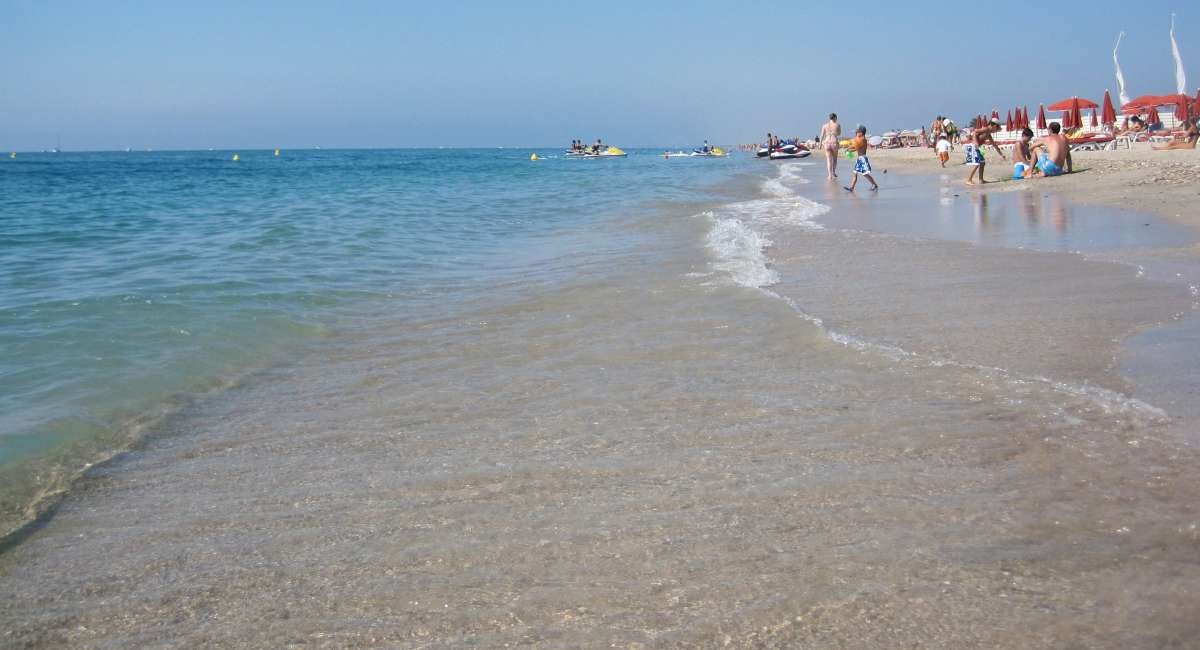 Maguelone beach. Photo: The Travel Magazine
Stretching from Provence to the Pyrenees, this sultry, sun-baked territory (now part of the greater Occitanie region) feels like a country in its own right. It's been a strategic border since Roman times and is awash with historical reminders, from Roman aqueducts to hilltop Cathar castles. Today it's best known for its vineyards, which produce a third of France's wines, and the busy beaches sprawling along its Mediterranean shore.
In many ways, Languedoc, also referred to as Languedoc-Roussillon, is more an idea than a geographical entity. The modern région covers only a fraction of the lands where Occitan (or the langue d'oc – the language of oc, the southern Gallo-Latin word for oui) once dominated, which stretched south from Bordeaux and Lyon into Spain and northwest Italy.
Each of Languedoc-Roussillon's three main areas has its own distinct landscape and character. Bas-Languedoc is home to the biggest beaches and the captivating cities of Montpellier and Nîmes. Inland lies the high, wild country of the Grands Causses and Cévennes, with a fascinating mix of hills, caves, gorges, forests and surreal moonscape plateaux. Roussillon, in the southwest, shares close ties with Catalonia just across the Spanish border, including traditional sardanes folk dances and a passion for rugby and vibrant summer festivals, according to Lonely Planet.
8. Galicia, Spain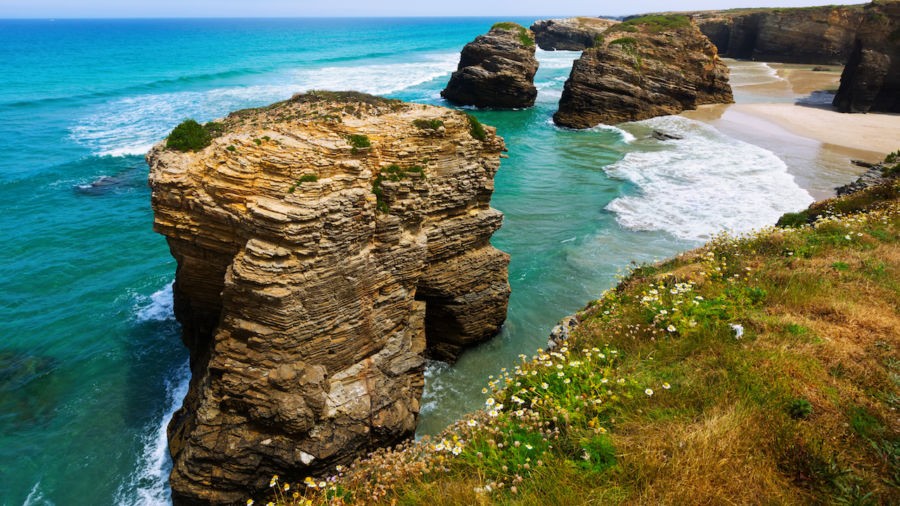 Cliffs at Cantabric Coast. Photo: Matador Network
Galicia, a unique region with its own language and distinctive culture, is home to Santiago de Compostela, the destination of more than quarter of a million souls who travel each year along the Camino de Santiago pilgrim trails. Santiago is one of Spain's most beautiful and magical cities, an exceptionally good reason for any traveller to make their way to Spain's northwestern corner.
But Galicia is much more than Santiago. The wild coastline is frayed up and down its 1200km length by majestic rías (coastal inlets), and strung with cliffs, beaches, islands and fishing ports – which bring in arguably the best seafood in Europe. Inland is a labyrinth of deep-green valleys, speckled with stone villages, medieval monasteries and age-old vineyards. And as you travel you'll repeatedly run into reminders of Galicia's unique cultural identity: the sound of bagpipes, the wayside cruceiros (carved-stone crosses), the castro fort-villages of Galicians' Celtic ancestors, according to Lonely Planet.