Binh Thuan Province is located on the coast of South Central Vietnam. This place is not only famous for beautiful beaches, stunning landscapes, and immense sand beaches but also preserves many cultural characteristics of the Cham community. Coming to Binh Thuan, visitors will admire the beauty of the sea and sand beaches, enjoy many interesting dishes and learn about the unique culture of the Cham community. There is also one spectacular pristine and unique island that you will not want to miss in your journey here.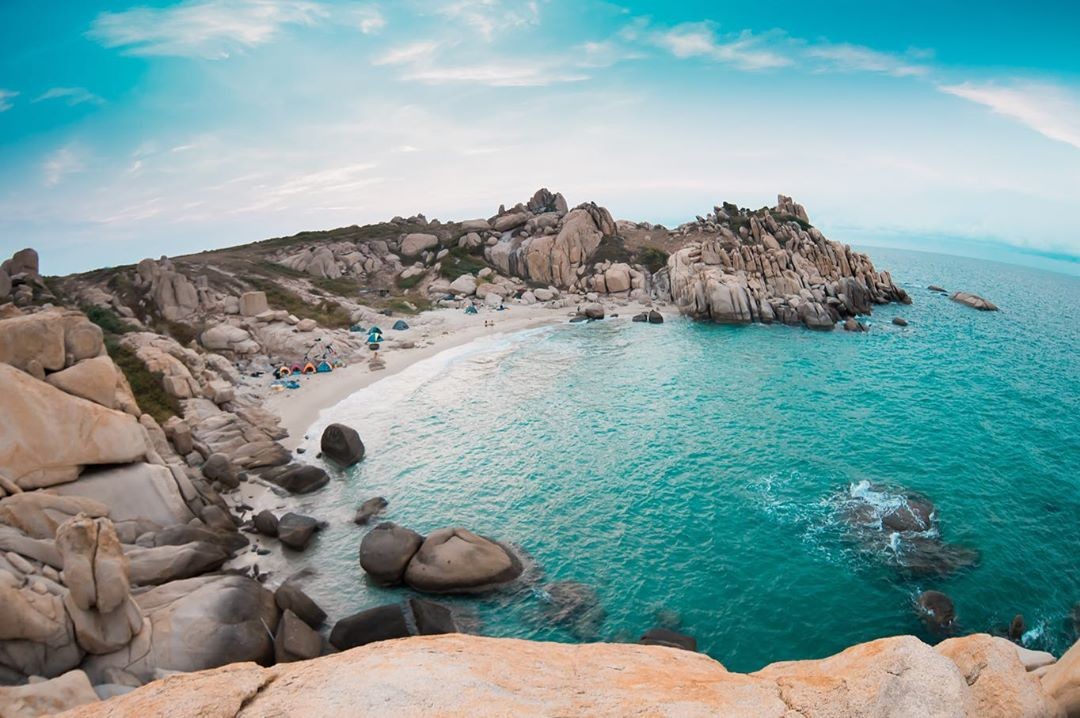 Photo: Phan Thiet – Mui Ne
Cu Lao Cau (also known as Cau Island) is located right in Tuy Phong district, Binh Thuan province, about 110km northeast of Phan Thiet City. Since tourism in Cu Lao Cau island is not as developed as in Phu Quy, so it is not easy to travel here. Therefore, you need to plan everything carefully and bring all the necessary items such as water, food, clothes, and shoes with you before coming here.
When you arrive in Binh Thuan, you can take different routes to reach your destination, such as from the wharf in Lien Huong town, from Ca Na port, or Phuoc The fishing port. It depends on each route and the departure time to determine how long it will take for you to come to Cu Lao Cau island.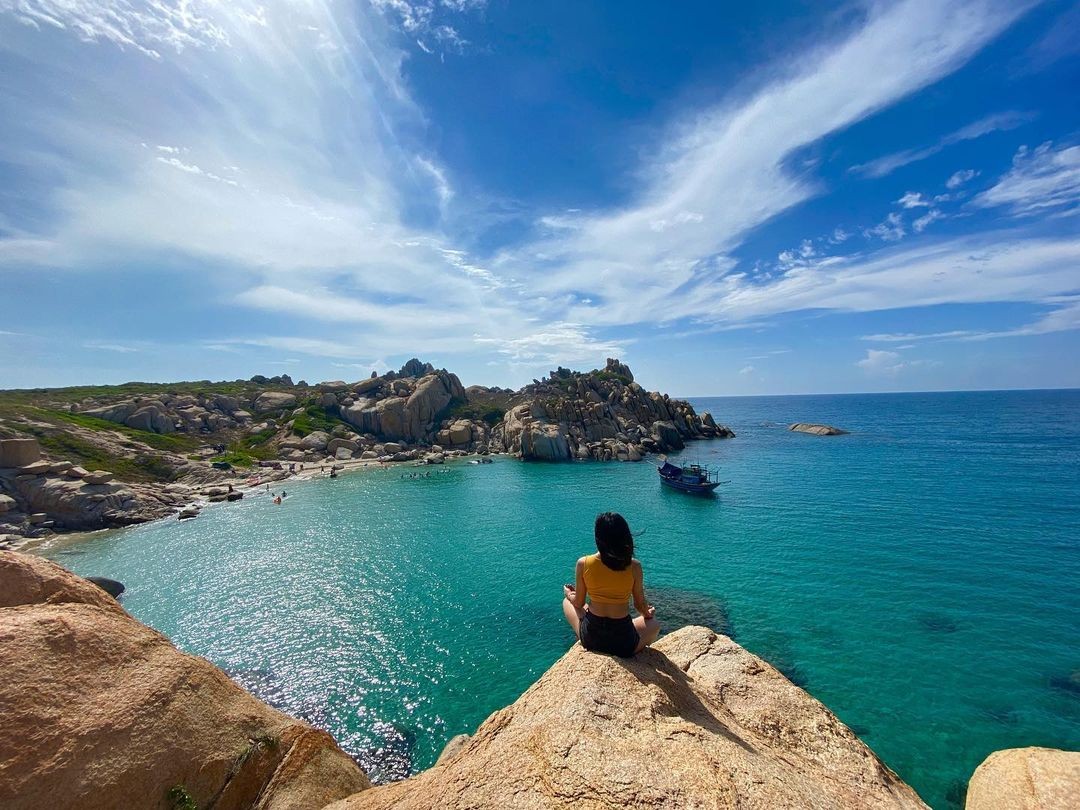 Photo: Phan Thiet – Mui Ne
Because this place is still very pristine with almost no people living here since there is no electricity or sweet water, tourists can experience camping overnight on Cu Lao Cau island with their friends or family. Nothing is more perfect than spending time enjoying the cool wind and looking up at the stars to temporarily forget everything. It is a lovely space for friends and relatives to enjoy the evening and have some good times together.
The beach on Cu Lao Cau island brings a natural beauty with crystal clear water and golden sand that sparkles under the sunlight. The best time to visit this place is from January to June because the weather will be comfortable with quiet waves and a cool atmosphere.
Cu Lao Cau also has a special natural feature when it has coral reefs of various sizes and colors, which are extremely beautiful. You will be able to experience the feeling of immersing yourself in the blue sea water and snorkeling to see the corals to your heart's content.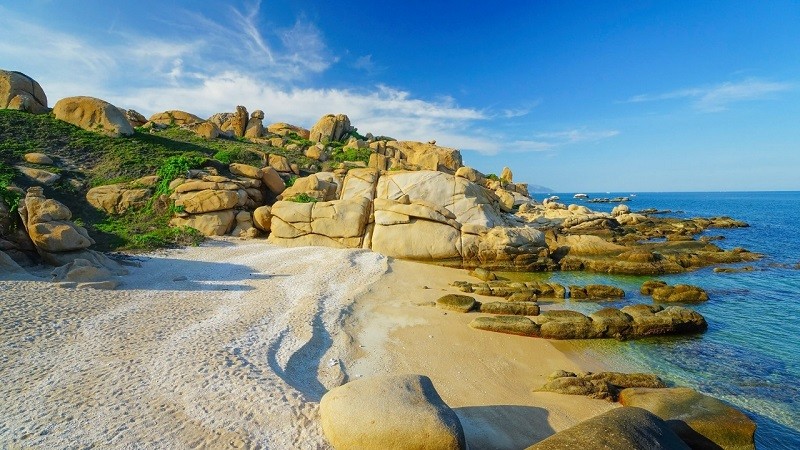 Photo: VNTraveller
If you want to go to a spiritual tourist destination, you can visit the temple of Nam Hai God on Cu Lao Cau island. This is a sacred deity worshiped by fishermen to protect them when they travel out to the sea to avoid danger and catch a lot of fish.
The island is also home to an annual primitive celebration, well worth considering. Each year, during April's full moon, fishermen gather at the sacred temple of the Nam Hai god. Here, the people pray to "Ong Fish" (the God of their seas), for calm waters, a bounty of fish, and the safety of the sailors. This festival truly celebrates the spiritual life of the sea. If you can not participate in the festival, the temple is well-worth experiencing.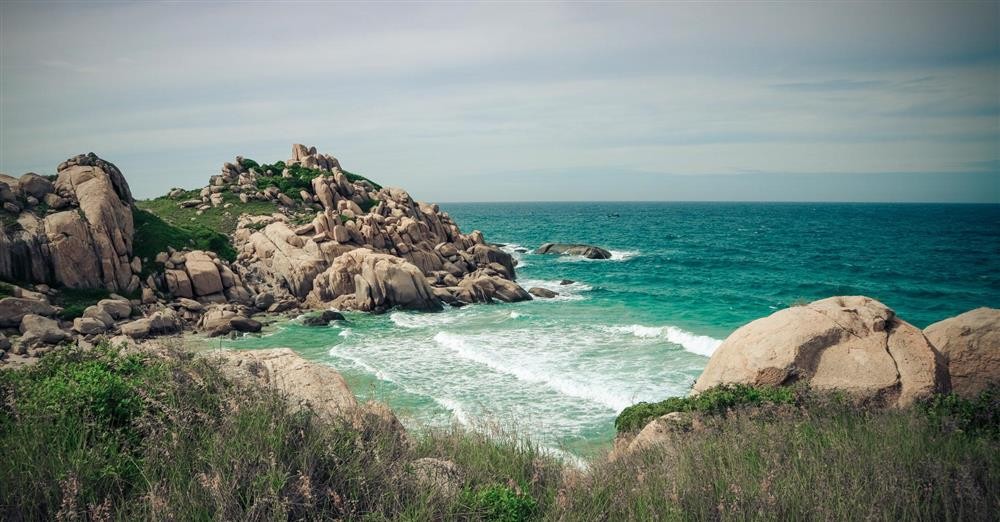 Photo: Vietrek Travel
One of the interesting points when traveling is enjoying the specialties of that place. In Cu Lao Cau, you will taste extremely fresh specialties such as Oc Vu Nang (Cellana), Moon Crab, grilled seafood, and Cui So. Moon Crab is an off-the-beaten-path crustacean. It's not common and is difficult to catch, but it's an island staple. Cui So is another specialty. This scallop dish is prepared with crushed peanuts and special island seasonings. Grilled oysters are popular (actually many of the dishes are prepared barbeque-pit style). The delectables are decidedly diverse and all come fresh from the surrounding waters.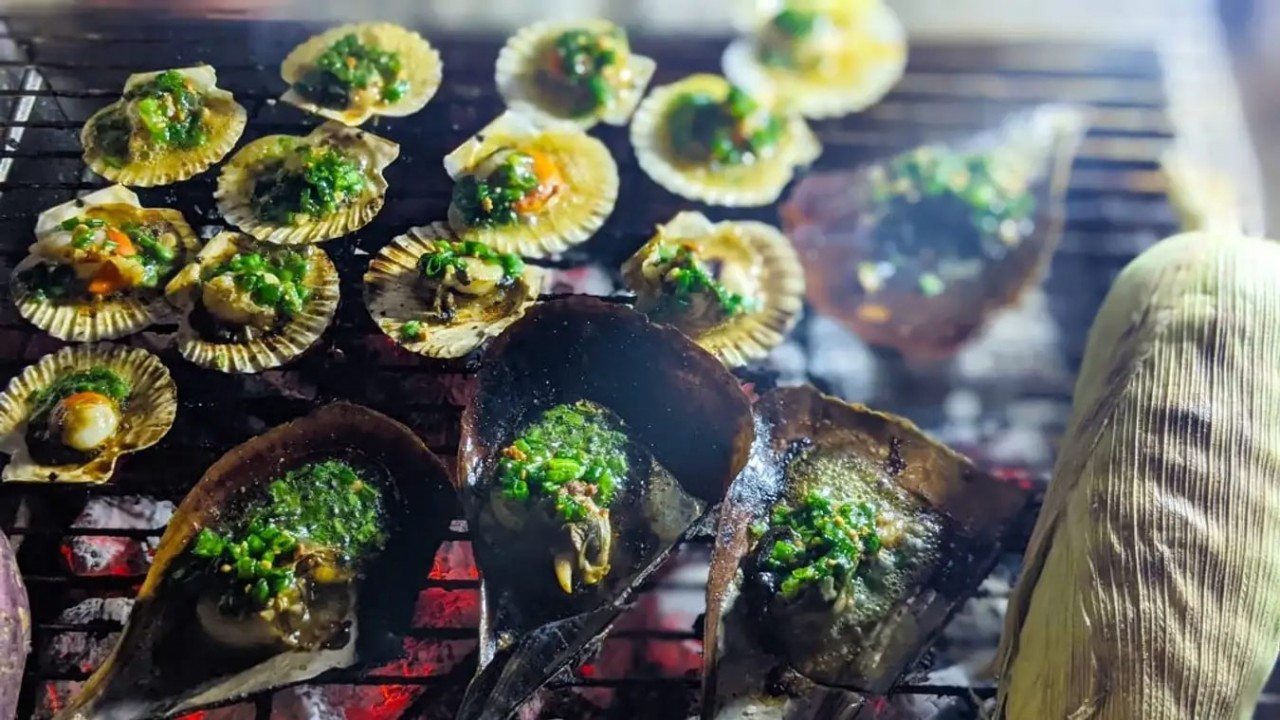 Photo: Traveloka