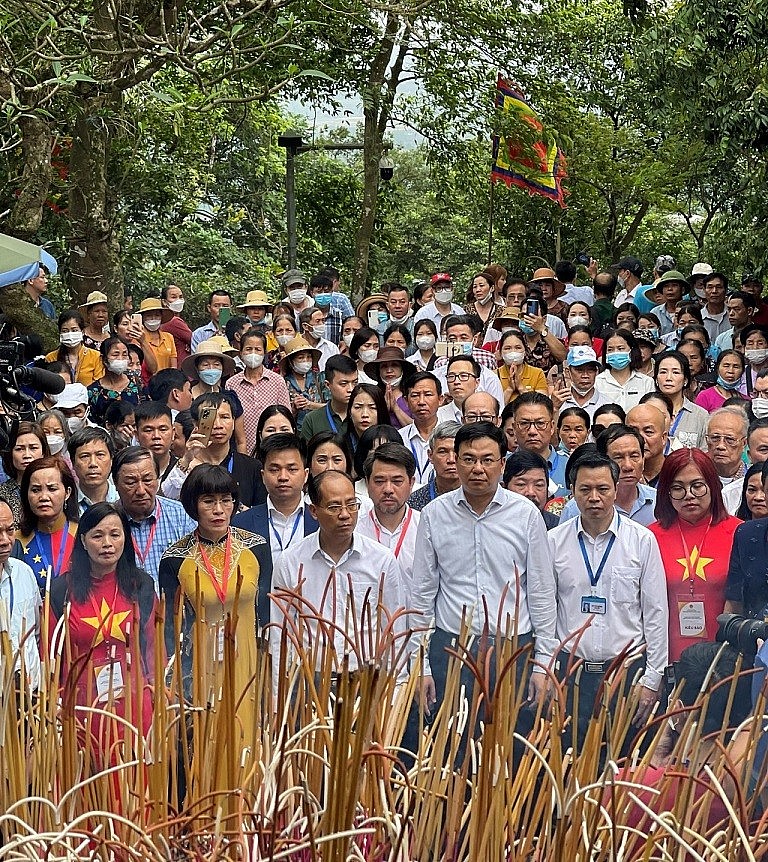 On April 25 and 26, 75 overseas Vietnamese from 23 countries visited Phu Tho to attend the 2023 Hung Kings Commemoration.
I was deeply moved when I heard the introduction about the origin of our nation and paid tribute to it by offering incense at the Lower, Middle and Upper Temples. The ceremony was filled with a strong feeling of pride. Phan Bich Thien, Vice President of the Association of Vietnamese in Hungary, expressed her gratitude for being a descendant of King Hung.
Attended the Hung Kings Commemoration for the first time in her life, Thien said she was filled with excitement and anticipation to tell her friends and family in Hungary about her experience. She couldn't wait to share the stories she had gathered on her journey.
Nguyen Thi Hong Trang, a Vietnamese expat living in Singapore, has fulfilled her dream of returning home to pay tribute to King Hung. "This journey has given me the chance to reconnect with my native land and gain a better understanding of its history and cultural traditions. It has also enabled me to instil in my children a greater sense of pride and appreciation for their homeland."
According to Vu Anh Dung, a Vietnamese living in the Czech Republic, not many countries pay homage to their ancestors in the same way that Vietnam does. Visiting the Hung Kings' temple during this time of the year is an opportunity for overseas Vietnamese to gain further insight into the Hung Kings worshiping culture, which has been recognized by UNESCO as an intangible heritage.
Dung and the Vietnamese community in the Czech Republic have gone to great lengths to share their cultural traditions with their international friends. They strive to instill a sense of patriotism and appreciation for their homeland's history and culture in their children. By doing so, they are preserving and celebrating their cultural heritage for generations to come.
Born in Thailand, Luong Xuan Hoa is always proud of his Vietnamese origin. The Vietnamese Association of Udon Thani (Thailand) organizes an annual Hung Kings Anniversary event, where people come to offer incense in memory of the Hung Kings. According to Hoa, this is the most practical way to instill patriotism in the Vietnamese community of Udon Thani.
Nguyen Trung Hieu, who resides in Qatar, has visited the Hung Temple relic twice in the past three decades. "When I first came here 30 years ago, the Hung Temple relic was much narrower and less attractive. But now, the festival is organised much better. This summer, I'm planning to take my children to Vietnam and take them to this relic so that they can have a better understanding of the country and be proud of their Vietnamese heritage," Hieu said.
Dang Thu Ha visits the Hung Temple every time she returns to Vietnam, but this is her first time entering the Lang Suong Temple, which worships Son Tinh—the saint of Tan Vien Mountain. Son Tinh is an important figure in Vietnamese folklore, one of the "Four Immortals."
I was deeply moved to hear the captivating stories about Son Tinh, the husband of Hung King's daughter, who triumphed over the country's adversaries. I hope the legends of King Hung and his progeny can be shared with overseas Vietnamese and the young generation so that we don't forget our origin and culture," said Thu Ha.
Seventy-five overseas Vietnamese from twenty-three countries, led by Deputy Minister of Foreign Affairs and Chairman of the State Committee on Overseas Vietnamese, Pham Quang Hieu, gathered to celebrate the Hung Kings Anniversary on April 25 and 26.
The trip contributes to nurturing the affection of overseas Vietnamese towards their homeland and strengthening national unity. It also demonstrates the attention and responsibility of the Party and State for overseas citizens in fulfilling their cultural and spiritual needs. Furthermore, it encourages overseas Vietnamese to promote the national tradition, in accordance with the Politburo's Conclusion No. 12-KL/TW, dated August 12, 2021, which states: "Overseas community is an integral part of the Vietnamese community".