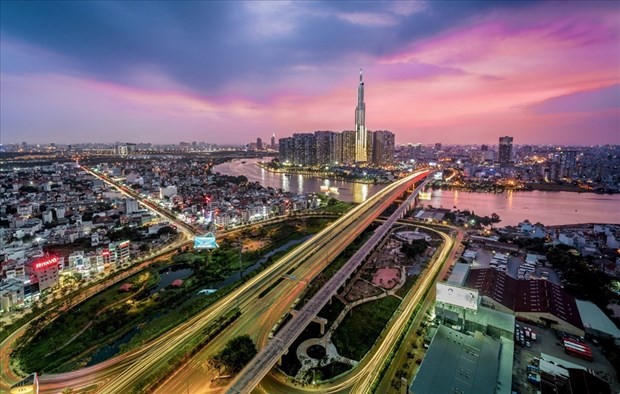 A view of Ho Chi Minh City from above. Photo: VNA
Ho Chi Minh City has been named the trendiest Asian destination this year, as compiled by the famous United States-based travel website Travel off Path, VOV reported Thursday.
According to the information given by the website, although Asia has yet to fully reinstate normality like in Europe, there's no denying that the situation is in a much better place now than it was at the beginning of the year.
For instance, it added that several Asian countries which had completely banned tourism in response to the health crisis now welcome them back with open arms, without all of the usual pandemic-era bureaucracy.
Based on popular online travel agency Kayak's recent data, Travel off Path released the top seven Asian destinations for visitors to consider in the upcoming year.
HCM City topped the list to be named as the trendiest Asian destination for 2023, becoming the most sought-after destination overall.
According to details given by the travel website, when visiting tourists will be able to enjoy a wide assortment of architectural influences, such as Buddhist, French colonial, and Communist-era modernist.
It also quoted Kayak searches as sayings that HCM City is an absolute leader with a staggering 769% increase in clicks, 480% more compared to Taipei in Taiwan (China), the Vietnamese city's closest competitor.
"Americans are heading to Vietnam in droves in 2023, and we can understand why. Covid regulations no longer apply, international flights have resumed, and most importantly, it is perfectly safe to visit," Travel off Path stressed.
Rounding off the list of the top seven trending destinations were Tel Aviv of Israel, Tokyo of Japan, Bangkok of Thailand, Hong Kong (China), Singapore, and Taipei of Taiwan (China).
World Travel Awards describes HCM City as a metropolis of boundless energy which draws together both old and new Vietnam. Photo: VNA
With roughly 1.6 million vacationers during the recent New Year holiday, HCM City tourism sector hopes to attract more visitors to the locality during the New Year 2023, reported VNA.
The city Department of Tourism on January 3 announced that the locality welcomed roughly 35,000 foreign arrivals and 1.6 million vacationers during the recent three-day New Year holiday, earning more than USD 250 million.
As Tet (Lunar New Year) – the longest and most important annual festival for Vietnamese – is just around the corner, the city's tourism sector will continue to launch assorted programmes and events to attract more visitors.
The city will host its annual floating flower festival in District 8 to celebrate Tet holiday. The "Tren Ben Duoi Thuyen" (On the Wharf – In the Boat) Flower Festival 2023 will be held at Binh Dong Wharf and Nguyen Van Cua street from January 6-21, or 5th-30th of the 12th lunar month.
The city will strengthen support activities for tourists via Information Portal hotline which helps intensify collaboration among provinces, cities and travel agents, meeting visitors' information demands, creating a professional and friendly tourism atmosphere for holiday-makers coming to the city.
The city aims to greet 5 million international arrivals and 35 million domestic visitors in 2023.
With a history spanning more than 300 years, the southern metropolis of HCM City has strived to become a dynamic and attractive destination for both domestic and foreign guests.
According to the department, the southern economic hub received nearly 30 million domestic and foreign tourists in 2022, doubling the previous year's figure. Its tourism revenue reached VND 120 trillion (USD 5.1 billion), an increase of 171.2% year-on-year.