A training course on solid waste management was held in Yokohama, Japan on September 4th. The course was attended by representatives from local units and authorities in Da Nang, who are implementing waste sorting and 3R (Reduce, Reuse, Recycle) programs. This initiative is part of a project sponsored by the Japan International Cooperation Agency (JICA) and implemented in collaboration with the Japanese Institute for Global Environmental Strategies (IGES). The successful first stage of the project took place five years ago, with the support of these organizations, resulting in the implementation of waste sorting models in the community of Hai Chau and Thanh Khe districts. Building on this success, Da Nang plans to implement solid waste classification at source by 2025.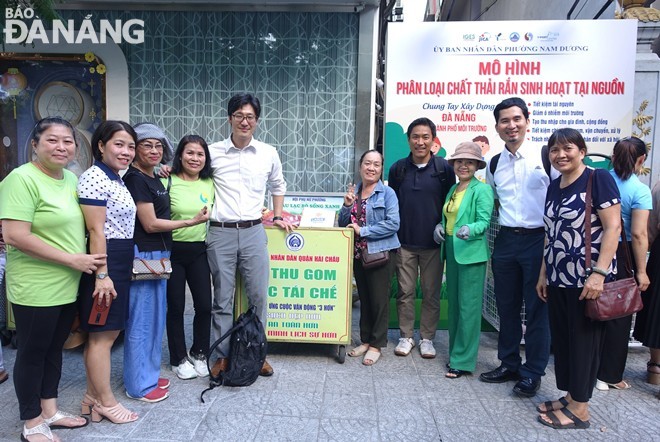 Experts from Yokohama City and the Japanese Institute for Global Environmental Strategy (IGES), along with officials and residents of Nam Duong Ward, Hai Chau District, participated in the waste sorting model in July 2023. Photo: Hoang Hiep/Da Nang newspaper
After the successful completion of the first stage, Yokohama is continuing to provide technical support to Da Nang in order to meet the new regulations of the 2020 Environmental Protection Law. The second phase of the project, titled "Collaboration with Yokohama Municipal Solid Waste Management Experience (D-3RYM) during the 2022-2025 period," aims to strengthen the municipal solid waste management system in Da Nang, including waste separation at the source, sustainable resource recycling, and treatment.
During their week-long learning experience and training course on solid waste management in Yokohama, the delegation from Da Nang, consisting of officials, civil servants, and local authorities, discussed the progress of the second phase of the project. They also visited and learned from various experiences, including the construction of the Kawasaki eco-town, recycling leftover cooking oil to produce soap, the Takakura composting method, soil mixing and composting methods in Seya district, oil recycling in Saga City, and food waste recycling for businesses at the J Bio Food Recycle.
Yokohama began developing waste treatment facilities and expanding waste collection in the 1970s during Japan's "Mass Consumption Age," when rapid economic growth and urbanization resulted in a significant increase in waste generation. The G30 plan was implemented in 2003 to address the rising levels of solid waste. Through collaboration with citizens and businesses, the plan successfully achieved its targets, resulting in significant economic and environmental benefits.