There are a multitude of renowned and esteemed restaurants located throughout the city, boasting both popularity and legacy. These dining establishments have stood the test of time, remaining open for business and delighting patrons for years. If you find yourself craving authentic local cuisine, we highly recommend paying a visit to these handpicked restaurants in Da Nang.
Discover the Deliciousness of Mi Quang Ba Mua: Vietnam's Premier Dish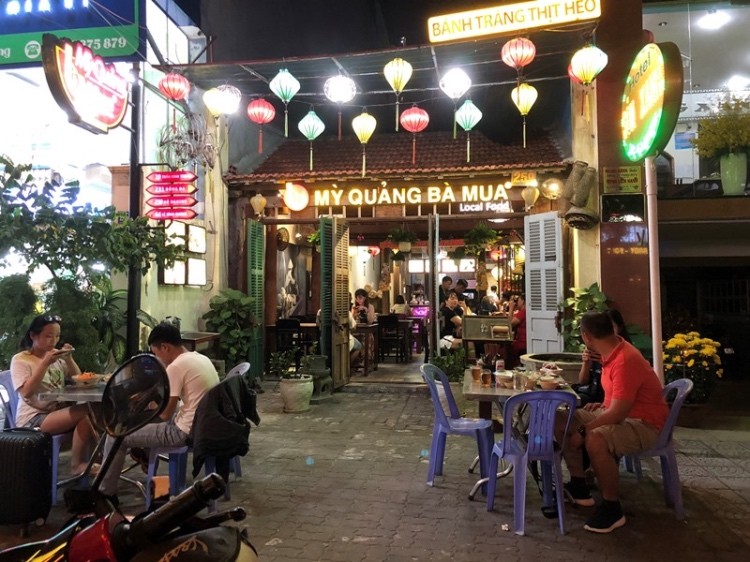 Photo: Mi Quang Ba Mua
If you have a passion for noodle dishes, Mi Quang Ba Mua is the perfect destination to satisfy your cravings. At Mi Quang Ba Mua, we offer the delectable Mi Quang – a flavorful dish consisting of yellow turmeric noodles immersed in a rich bone broth. Our noodles are expertly seasoned with a delicate blend of black pepper, shallots, garlic, and fish sauce. Indulge in the enticing flavors and unique combination of ingredients that make Mi Quang a truly unforgettable dining experience.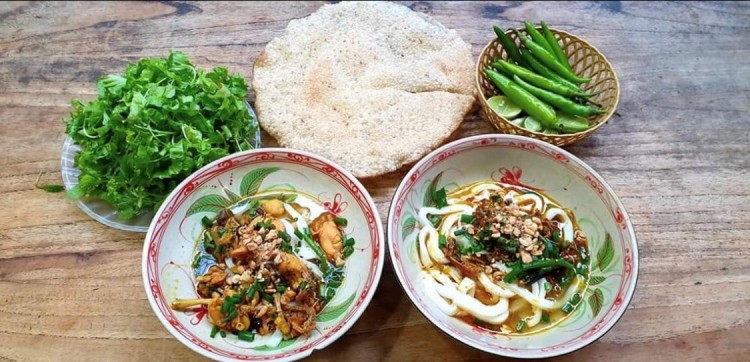 Photo: Mi Quang Ba Mua
Enjoy our customizable selection of toppings for your meal. Choose from a wide range of options including beef, chicken, eels, prawns, pork, and frogs. Enhance your dish with a sprinkle of fresh basil leaves, peanuts, coriander, and sliced banana flowers. We also offer rice crackers as a delectable side dish. Indulge in a delicious and personalized dining experience with us.
This restaurant is renowned for its popular local delicacy, Mi Quang, which has gained significant popularity due to its exceptional and delectable flavors. A bowl of this traditional Vietnamese dish is priced at VND 65,000 or US $3.1. Considered as the finest destination in Vietnam for noodle lovers, the restaurant offers an array of noodle dishes alongside the famous Mì Quảng.
Opening Hours: 6:30AM – 9:30PM
Experience Deliciously Fresh Fish At Bun Cha Ca 109, Hanoi
This restaurant specializes in serving traditional fish cake noodle soup and has proudly been in business for 50 years. Despite its humble appearance as a small shop, it embodies a rich legacy of culinary excellence. Prepare to be pleasantly surprised by the exquisite flavors and mouthwatering experience that awaits you at this hidden gem.
Bún chả cá, a popular Vietnamese dish, is offered at a reasonable price of VND 30,000 or US $1.32. This delectable bowl contains grilled fishcakes, shallots, mint leaves, bamboo shoots, beansprouts, and vermicelli noodles. It is served with an accompaniment of fresh lettuce, beansprouts, pickled shallots, and a flavorful dipping sauce.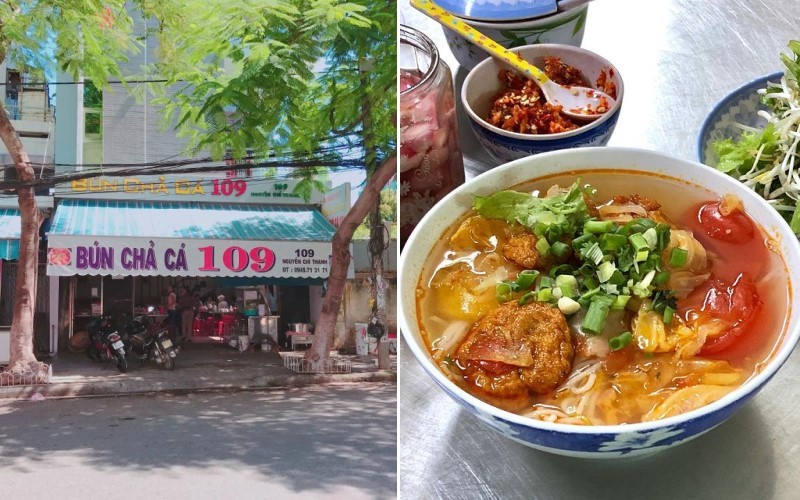 Photo: Bach Hoa Xanh
Store Hours: 10:00AM – 10:00PM
A Taste of History: Dining at Quan Hue Ngon in Hanoi
The restaurant is conveniently located just 5 minutes away from Da Nang Cathedral. Indulge in a delightful Vietnamese BBQ at this humble establishment, perfect for a quick and enjoyable dining experience.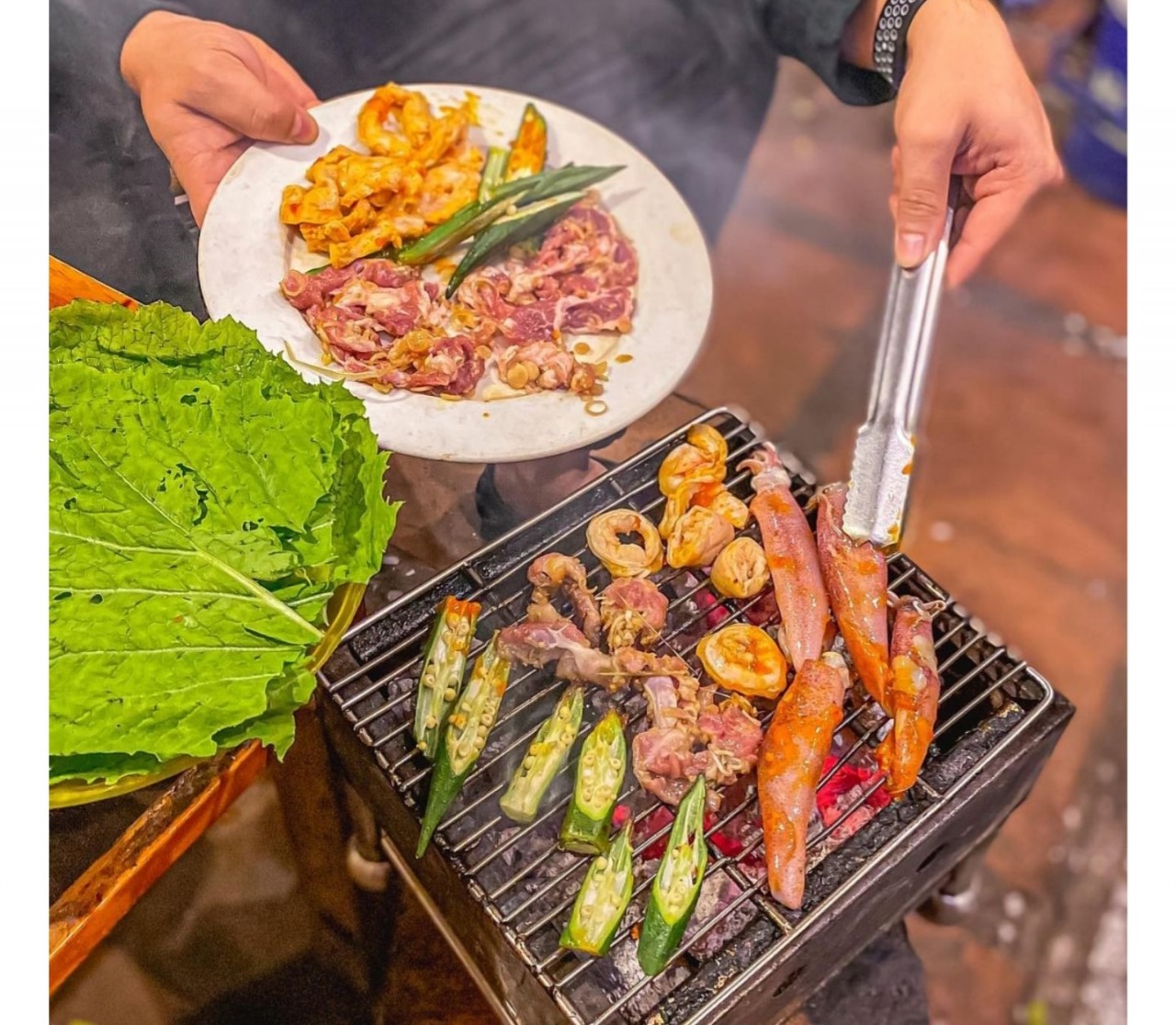 Photo: Quan Hue Ngon
Our menu includes a delectable selection of dishes such as barbecued octopus, barbecued pork, squid in stone, cow tendon, and more. Prices for our dishes range from VND 30,000 (US $1.28) to VND 60,000 (US$ 2.64), depending on the meat choice.
The dining options at this establishment may be considered modest in comparison to Western standards. However, this offers the opportunity to explore a variety of other delectable dishes. The attentive and accommodating staff are readily available to assist, should you require an English-written menu for ease of ordering if you are not familiar with Vietnamese.
The restaurant boasts comfortable seating options with wooden tables and chairs for your utmost comfort. Additionally, ceiling fans are strategically placed throughout the establishment to ensure a pleasant dining experience. However, it is recommended to opt for seating near the entrance during peak hours, as the ambiance near the back may become slightly smoky.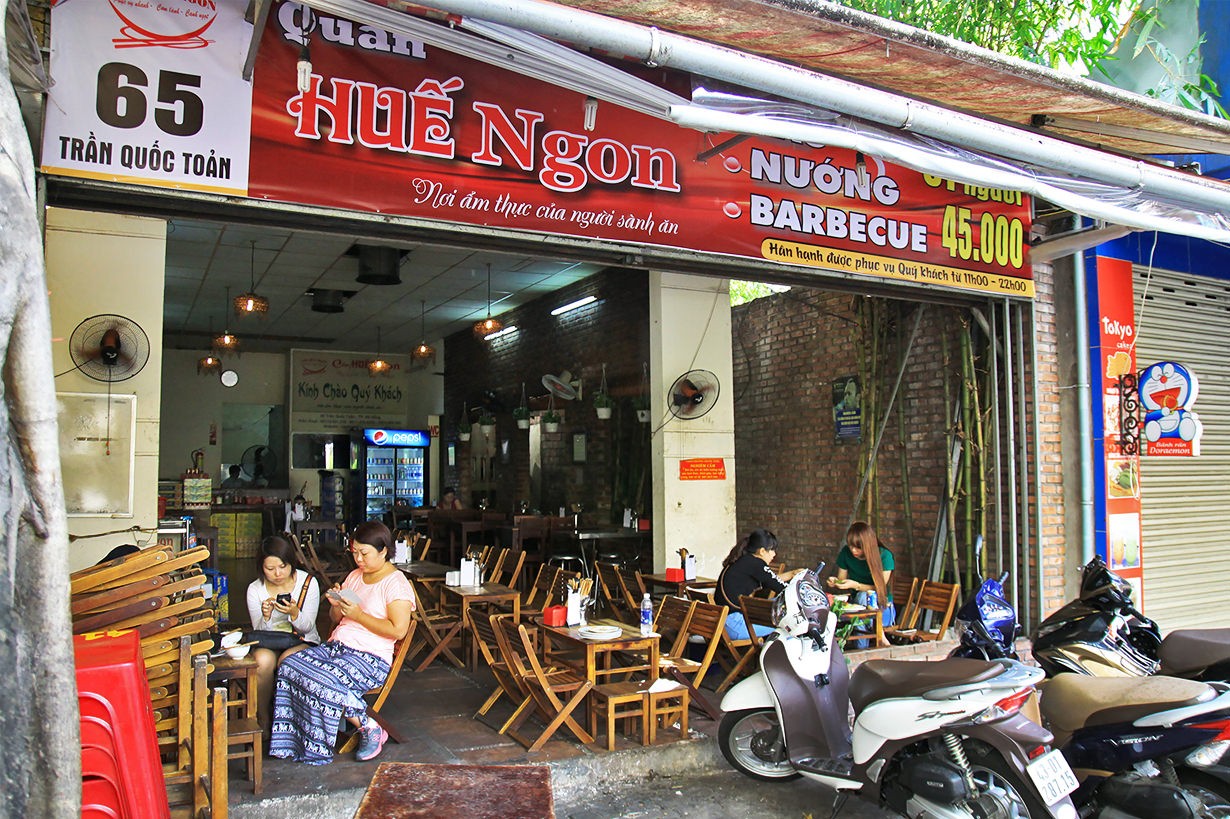 Photo: Focus Asia Travel
Opening hours: 11:00AM to 11:00PM
Try the Traditional Delicacy Banh Xeo Ba Duong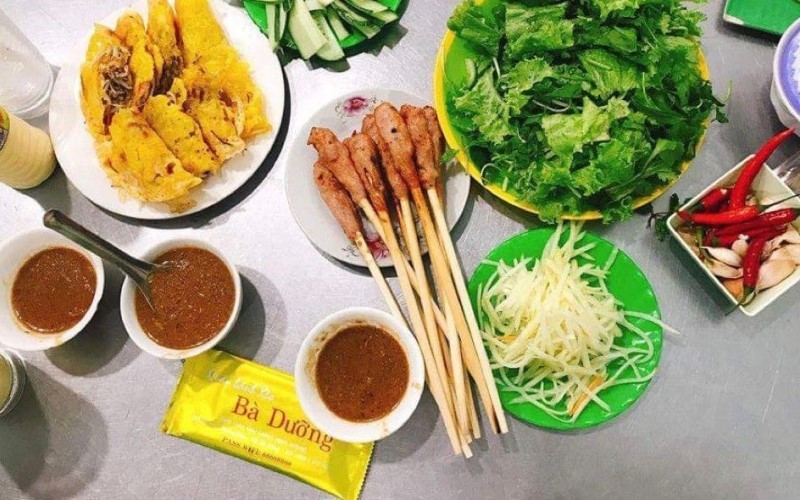 Photo: Bach Hoa Xanh
If you are looking to try Banh Xeo, a traditional Vietnamese pancake, we highly recommend checking out this establishment, particularly on a rainy afternoon. The delectable pancake boasts a flavorful filling of choice meat or seafood, complemented with crisp bean sprouts.
Experience the unique and delectable specialties at our small dining establishment. Indulge in the tantalizing flavors of our Nem Lui, succulent grilled pork served on lemongrass skewers.
For a truly authentic Vietnamese experience, enhance the flavor of Banh Xeo and Nem Lui by wrapping them in delicate rice paper, complemented by fresh mint leaves and fragrant basil. Indulge in the exquisite combination by dipping it into our house-made fish sauce. Alternatively, for those who prefer an alternative taste, we also offer a selection of delectable sauces including peanut sauce and pork liver pate.
The delicacies at this restaurant are priced between VND 40,000 (US $1.7) and VND 80,000 (USD 3.51). The restaurant operates for a limited period, from 3:00 pm to 10:00 pm.
Cách Nhập Khau Của Doanh Nghiệp Nhật Bản Là Gì?
Indulge in the renowned Vietnamese lemongrass-flavored rice at our establishment. In addition to this must-try dish, our menu offers a delectable selection of other recommended options including fried beef slices, BBQ chicken, braised fish, and an array of tantalizing choices.
Discover the perfect destination to indulge in the authentic flavors of Vietnamese cuisine, presented to you in a traditional manner. Immerse yourself in the cultural experience as our rice dishes are delicately served in clay pots, enhancing the true essence of authenticity.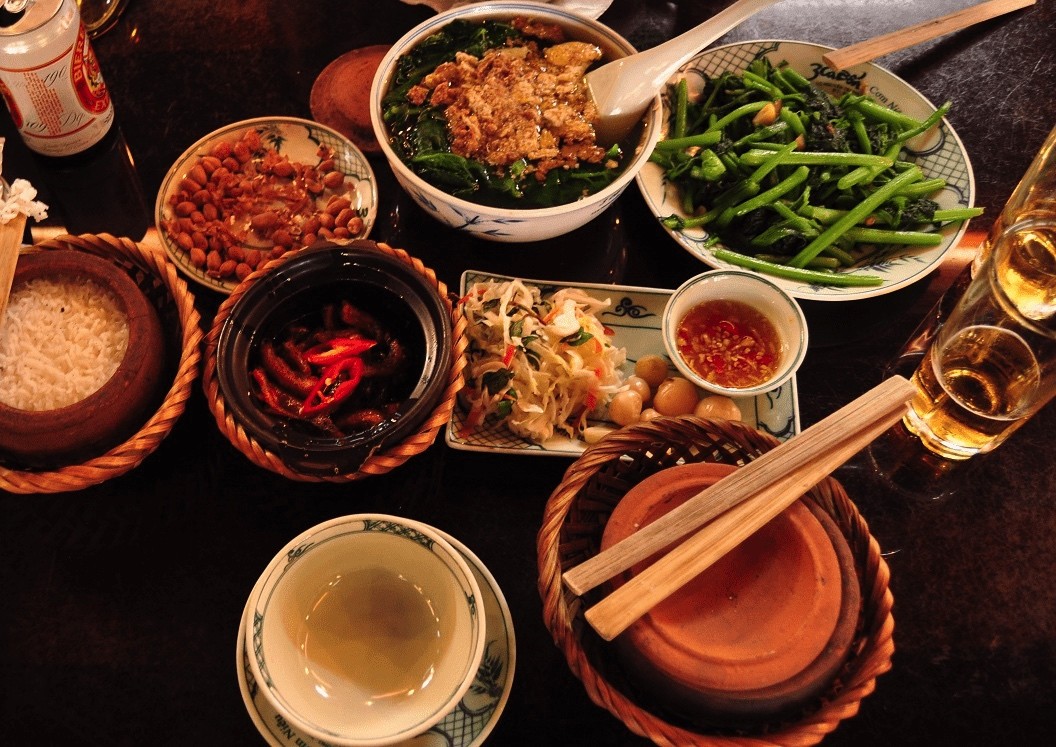 Photo: Just go
Opening Hours: 9:00 AM to 9:00 PM
Exploring Cuisine Without Boundaries of Ingredients
The restaurant in Da Nang is renowned for its delectable Banh Trang Cuon Thit Heo, a delectable combination of pork and vegetables, delicately wrapped in rice paper. In addition, this establishment offers a variety of other local favorites such as Bún Măm, flavorful Vietnamese noodles with fish sauce, and Mì Quảng, a savory noodle dish.
Dac san Tran is a reputable chain of family-friendly restaurants in Da Nang. With its cozy ambience and affordable prices, ranging from VND 70,000 (US $3.07) to VND 165,000 (US $7.25), this establishment offers a delightful dining experience. Conveniently located in various locations throughout the city, Dac san Tran is a popular choice for both locals and visitors.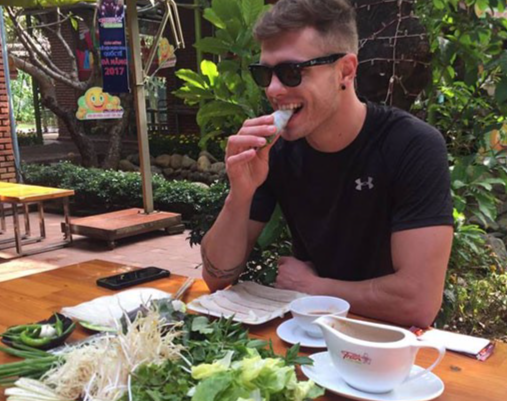 Photo: Pasgo
Address: 04 Le Duan Street, 300 Hai Phong Street, and 11 Nguyen Van Linh Street
Experience the vibrant and delectable culture of Vietnam by visiting Da Nang, where a wide array of mouthwatering delicacies awaits you. Immerse yourself in the flavors and colors of this captivating city and discover the true essence of Vietnamese cuisine.