UAE Football team coach Bert van Marwijk. (Photo: VN Express)
UAE Head Coach: Vietnam match is a tough one
"We know Vietnam are playing with a different style now and we also know how they played the last time against us. UAE will prepare for the next game based on this knowledge. However, Vietnam have been getting good results and it's going to be a tough game," Coach Bert van Marwijk said.
He wants UAE players to pull out all the stops in their decisive clash with Vietnam on Tuesday. "I always talk to my players about overconfidence and how it can work against us if we do not deal with it carefully… We still have one final big game against Vietnam to finish. I fully trust the players to do their best," he added.
UAE manager Bert van Marwijk said in a pre-match press conference held in Dubai on June 14 that he only cared to win, not to gain scores in tomorrow's match, according to Pakistan Point News.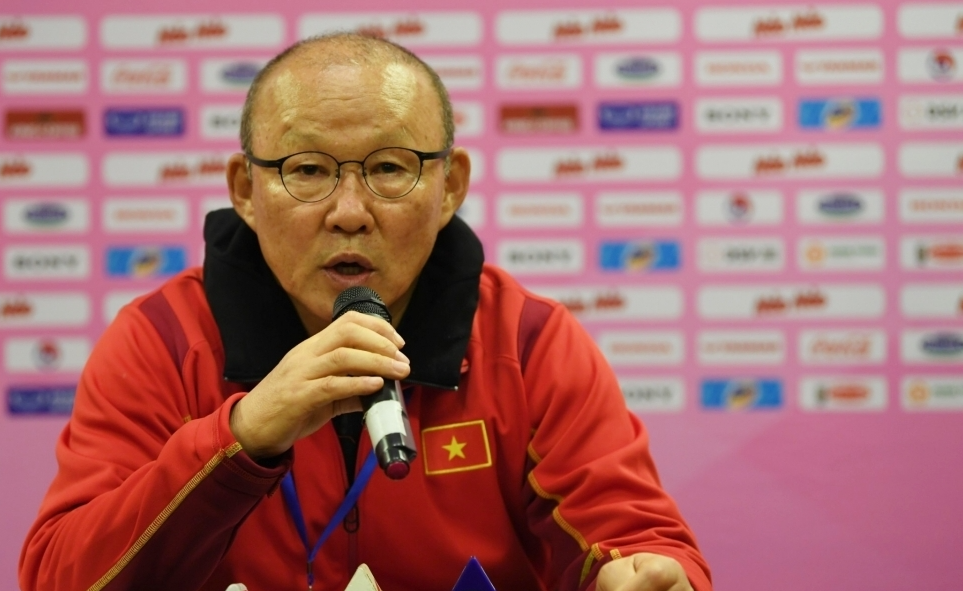 Head coach Park Hang-seo is not allowed to lead the Vietnam team in UAE match. (Photo: VOV)
Vietnam Head Coach: "We will find a way to win that game"
"I have watched them (UAE) play with Malaysia. Vietnam have also faced them before. This is a strong opponent. Although Vietnam are leading the group but the UAE have the top quality in Asia, in terms of physique and skills. However, we will find a way to win that game," Vietnam Head Coach Park Hang-seo said.
Due to overreacting with the referee, Park received a yellow in the game. That was his second yellow card in the World Cup qualifiers, after the game with Thailand in 2019. Therefore, Park will be suspended from the sideline in the next match with the UAE on June 15. "I have no worries despite being absent in the upcoming game. My ultimate goal is to get the team into the final round of World Cup qualification and I believe Vietnam can do it," he added.
In the most recent press conference, which took place late afternoon June 14, the head coach said though the match would be challenging, yet he did not allow the team to only play to draw. "UAE is not the team with the best attack. We met Iran and Iraq in the Asian Cup. Tomorrow we will play the way we prepared," said the coach.
Assistant coach Lee Young-jin (front) and Vietnam team in a training session. The team is focusing on tactical exercises for the match against UAE. (Photo: VN Express)
How each team prepares for the deciding match?
Vietnam: Focusing on tactical exercises
The Vietnamese team was back to training on the evening of June 13 with a focus on tactical exercises. Earlier, yesterday morning, Park and his assistants held a professional meeting with the whole team to assess the strengths and weaknesses of the hosts for appropriate tactical plans, according to Nhan Dan.
Tonight (June 14), the Vietnamese team will have a familiarisation session at Zabeel Stadium, the venue chosen by the UAE as the home ground for all three of their remaining matches in Group G. Before tonight's training session, Park and defender Do Duy Manh will attend a pre-match press conference.
UAE: Maintaining their attacking and pressing style
According to The National, UAE midfielder Ali Salmeen said his side recognize exactly the challenge that awaits in their decisive World Cup qualifier against Vietnam on Tuesday, but that they will "fight with all their might" to reach the third and final phase. "We are facing a strong and experienced competitor whose recent results confirm that they are performing to their best level, but despite all that we have great confidence in our abilities," he said.
Coach Bert van Marwijk named an unchanged lineup for the Vietnam clash, which appeared in previous wins against Malaysia, Thailand and Indonesia. "We need to maintain our playing style and not change our philosophy," he said, mentioning the team's continuous pressing skills and striking attacking force that enabled it to score 12 goals in the last three matches.
The important match between Vietnam and hosts UAE will take place at Zabeel Stadium at 11:45 pm on June 15 (Vietnam time).
Expected lineup:
Vietnam team: Tan Truong; Ngoc Hai, Tien Dung, Duy Manh, Van Hau, Trong Hoang; Xuan Truong, Quang Hai, Van Duc, Van Toan; Tien Linh.
UAE team: Ali Khaseif; Walid Abbas, Shaheen, Khamis; Ali Salmin, Ramadan, Canedo, Fabio Lima; Khalfan Mubarak, Al Ahbabi, Ali Mabkhout.
Match referees:
Three Iraqi referees and a Bahraini referee were assigned by AFC to control the match between the host UAE and the Vietnamese team on the evening of June 15, namely Ali Sabah Adday Al-qaysi, Hayder Abdulhasan Ali Ubaydee, and Ameer Dawood Hussein, and Ammar Ebrahim Hasan Mahfoodh.