Chill Skybar
Chill Skybar is not a strange name to anyone who likes going to bars and clubs in Saigon. The rooftop bar is located on the 26th floor, attracting a lively crowd every night, Vietnam Guide reported.
The music policy here comprises of chill-out tunes in the early evenings before its resident DJ livens things with popular dance and hip-hop music from 22:00 onwards. Due to its upmarket ambience, it must be said that drinks here are very expensive but happy hour promos from 17:30 to 20:00 offer all cocktails, long drinks, beers, selected wines, and snacks at half price.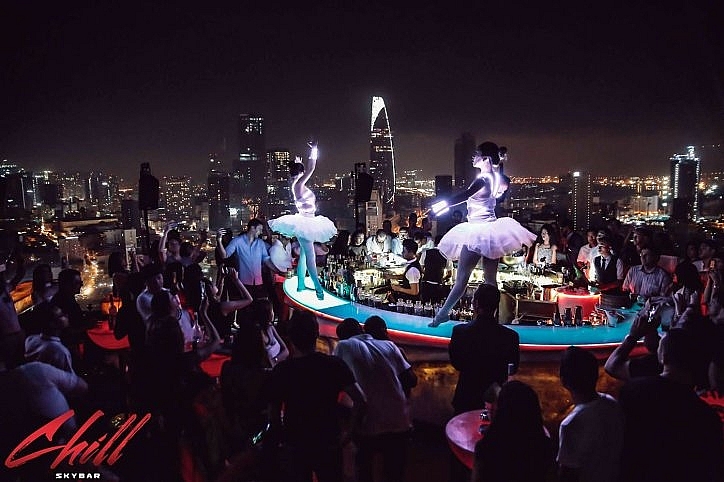 Photo: ChillSky
There's also a strictly enforced dress code at Chill Sky Bar make sure you dress the part (and leave the flip-flops back in your hotel room). However, it is always crowded and noisy as the tourists come for the cool vibe, great views and take photographs.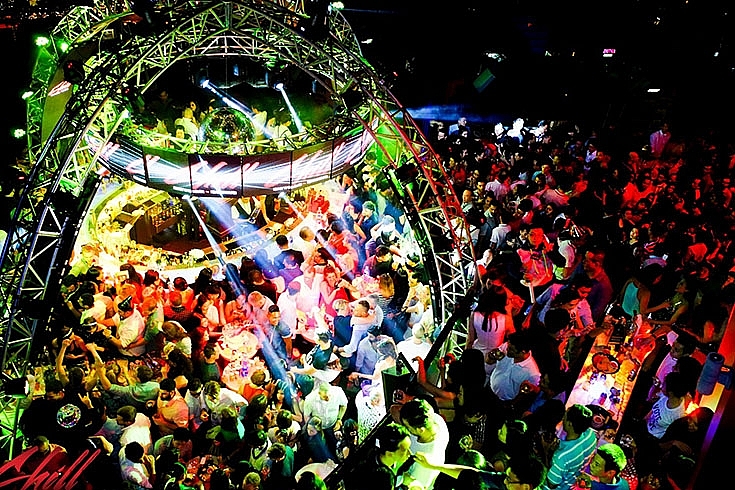 Photo: ChillSky
Location: AB Tower, 26th Floor, 76A Le Lai Street, Ben Thanh, District 1, Ho Chi Minh
Tel: 0938822838
Opening hours: 5:30 pm to 2:00 am
Price: 8.6 USD – 23.6 USD
The View Rooftop Bar
This place is the most suitable bar in Saigon for those who are traveling with a modest budget. The price is quite cheap, starts from just VND 30.000 for a beer. Although located in crowded in Bui Vien Street, the place is not too noisy. It is best to escape the heat and hustle of the backpackers' area in Bui Vien without leaving the street. You can enjoy watching crowds mingle below while drinking a cocktail or just enjoy the lovely lantern-lit ambiance at night.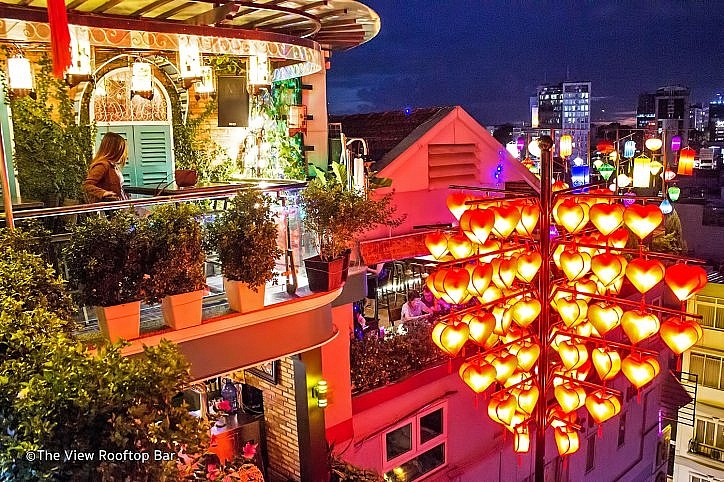 Photo: The View Rooftop Bar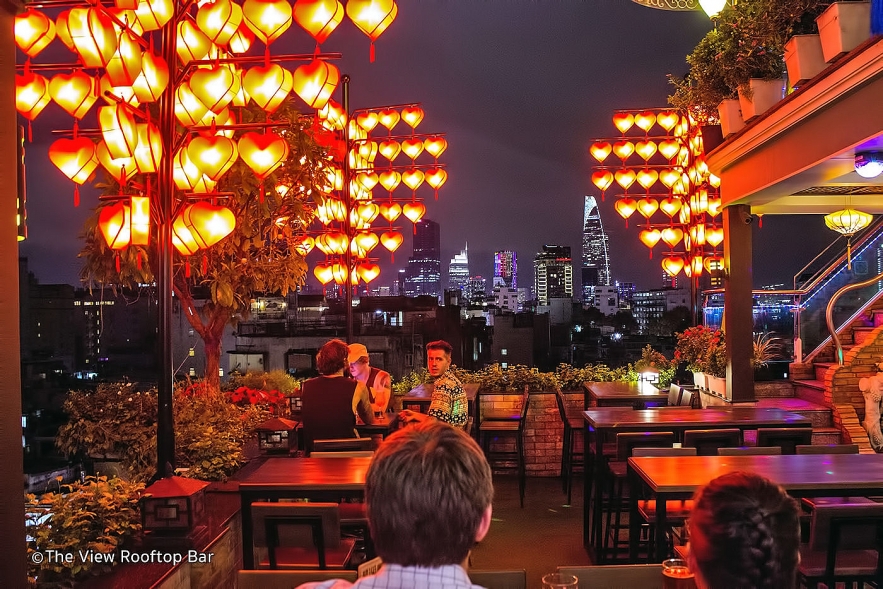 Photo: The View Rooftop Bar
Location: 195 Bui Vien Street, Pham Ngu Lao, District 1, Ho Chi Minh
Tel: 0936363505
Opening hours: 10:00 am to 01:00 am
Price: VND 1.5 USD – 12.9 USD
The Deck Saigon
According to Vietnam Discovery, The Deck Saigon is a classy restaurant and bar located in the riverside. It is a top dining choice for locals and travelers. Customers may love the restaurants' excellent pan-Asian cuisine in a romantic atmosphere and scenic locale.
The Deck Saigon offers various dishes that even satisfy vegetarians. Some highly recommended dishes you should try are marinated tuna spring rolls, miso-marinated black cod, sautéed Chinese vegetables with udon noodles.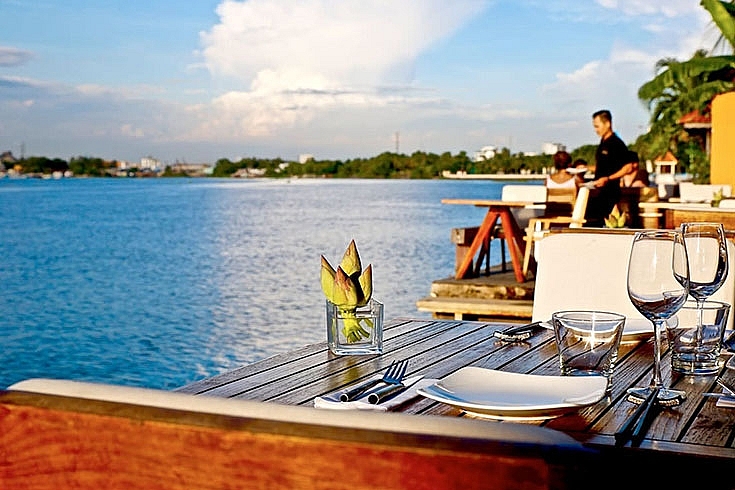 Photo: Vietnam Discovery
Location: 38 Nguyen U Di Street, District 2, Ho Chi Minh
Tel: 02837446632
Opening hours: 08:00 am to 11:00 pm
Price: 4.3 USD – 17.2 USD
SKYXX Garden & Lounge
SKYXX is a luxurious club designed in a classic European architectural style and warm tones. The Lounge is divided into 2 parts. If you want to stay in a bustling atmosphere with professional dancers and DJs, you can sit inside. And the outdoor space is completely different, more peaceful and romantic with an amazing view from above. Located in the center of District 1, the price for meals and drinks is quite high but the service and food are worth your money.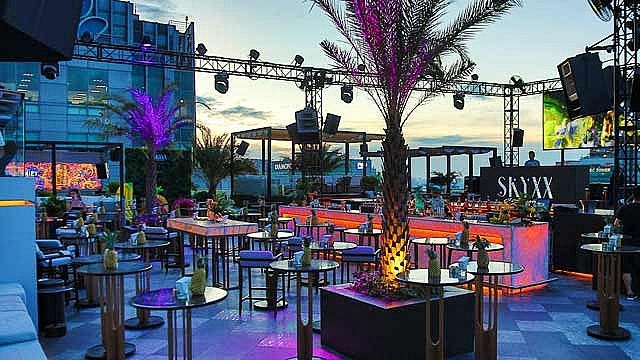 Photo: The Roof Top Guide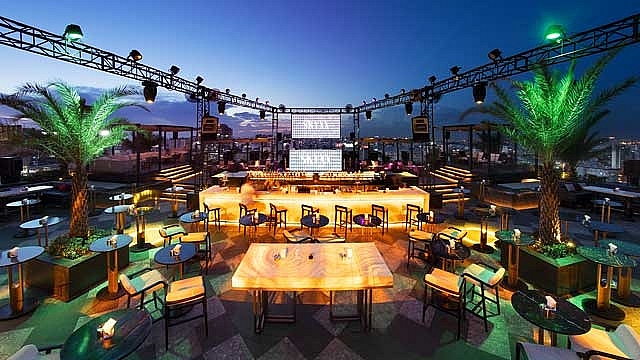 Photo: The Roof Top Guide
Location: Deutsches Haus Building, 20th Floor, 33 Le Duan Street, Ho Chi Minh
Tel: 0906693138
Opening hours: 05:00 pm to 02:00 am
Price: 12.9 USD – 43 USD
Saigon Saigon Rooftop Bar
Located on the 9th floor, Saigon Saigon Rooftop Bar is one of the oldest bars in Saigon. It is also famous for its view where customers can see many famous sites from the bar like Lam Son Square, Saigon Opera House, Notre Dame Cathedral and the People's Committee Hall.
The bar provides customers private and romantic atmosphere with fairy lights, small tables, plenty of foliage and Latino style lounge music performances. The menu has a wide range of western favorites such as best steaks and burgers.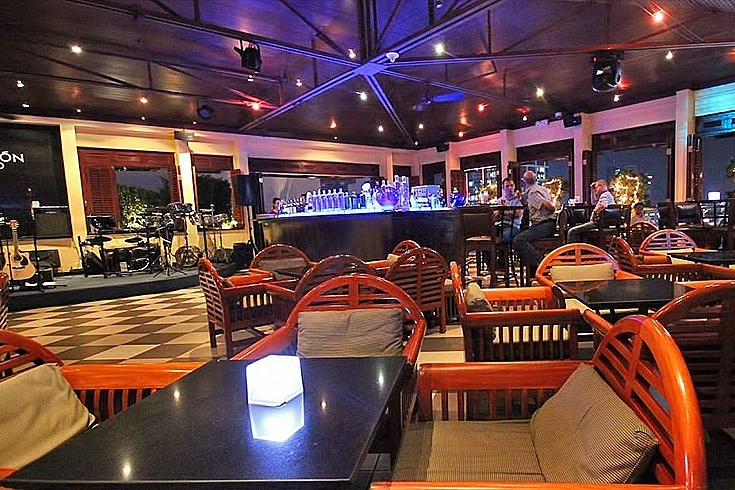 Photo: Saigon Saigon Rooftop Bar (source: asiawebdirect)
Location: 19 Cong Truong Lam Son, District 1, Ho Chi Minh
Tel: 02838234999
Opening hours: 11:00 am to 01:00 am
Price: 8.58 USD – 47.2 USD
Game On – Saigon Sports Pub
Different from other bars in Saigon, Game On is the most popular sports bars for expats. The first floor is a lounge space with nice natural light and two big tables, while the second floor is the main bar with many sports action and a nice little balcony which overlooks the street with pretty good views. The food is a notch and you should try their chicken wings which is the best in Ho Chi Minh. The beer menu is well-priced, starts at VND 35.000. It is now doing a great job at its claim "Bringing Live & Loud Sports to Saigon".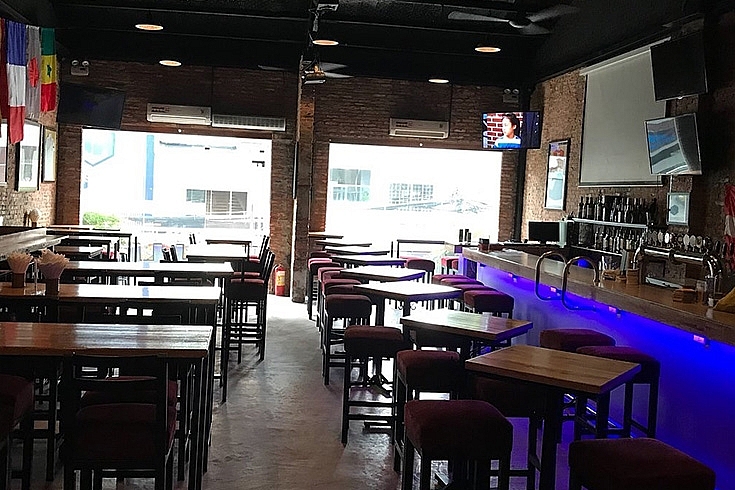 Photo: Vietnam Discovery
Location: 81 – 83 Nguyen Cong Tru Street, Nguyen Thai Binh, District 1, Ho Chi Minh
Tel: 02866539993
Opening hours: 04:00 pm to 00:00 am
Price: 1.5 USD – 6.45 USD
Eon Heli Bar
Located on the top of Bitexco Financial Tower – one of the highest buildings in Ho Chi Minh, you may feel like you are now on top of the world. It is well known for a nice venue to have a drink and see the sunset, especially on weekdays.
The bar comes to life with the best local and international DJ spinning house, hip-hop tunes. For the spectacular view of the city by night, the bar's drink rate is quite reasonable. The best time to visit the bar maybe around 8 pm to 9 pm when the ambiance is wonderful with low and soothing music. In late night, the music is much louder and participants sing and dance a lot.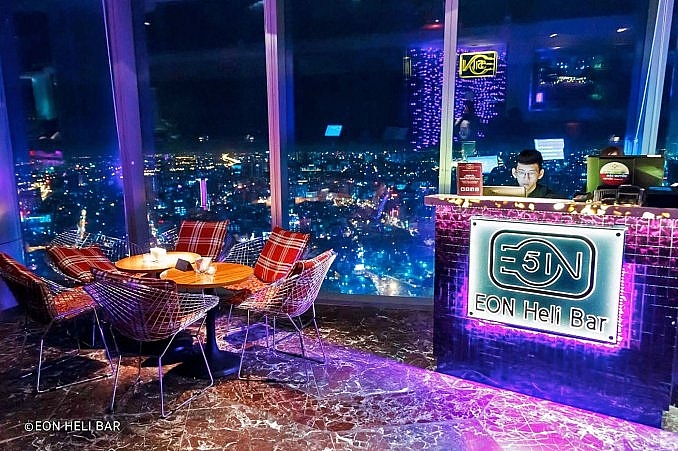 Photo: Eon Heli Bar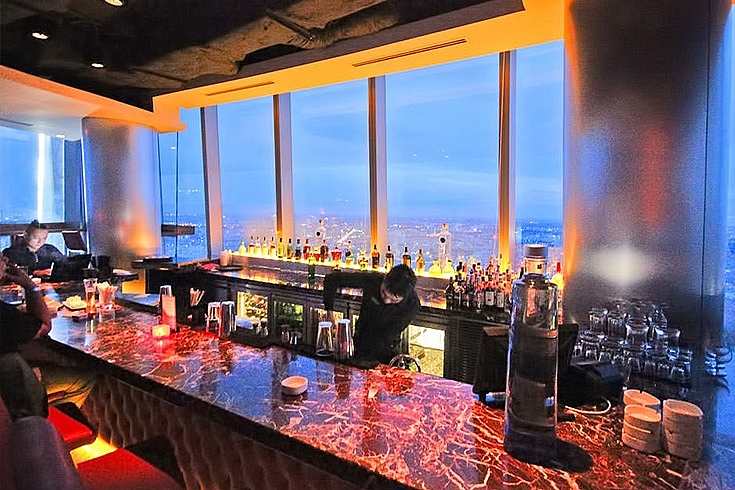 Photo: Vietnam Discovery
Location: 52nd Floor, Bitexco Tower Building, Hai Trieu, District 1, Ho Chi Minh
Tel: 10:30 am to 01:00 am
Opening hours: 02862918752
Price: 8.6 USD – 23.6 USD
Indika Saigon
Indika Saigon, or so-called House of Curiosity, lies at an old wooden French-style house in District 1. It is a popular destination of not only Vietnamese but also foreigner for its musical events at night and delicious meals.
To satisfy its customers, Indika often changes its menu and adds more unique dishes. Moreover, the inside space is especially suitable for group meetings or getaways from hustle and bustle life in Ho Chi Minh. The price is cheap in comparison to other bars and restaurants (only VND 30.000 for a beer).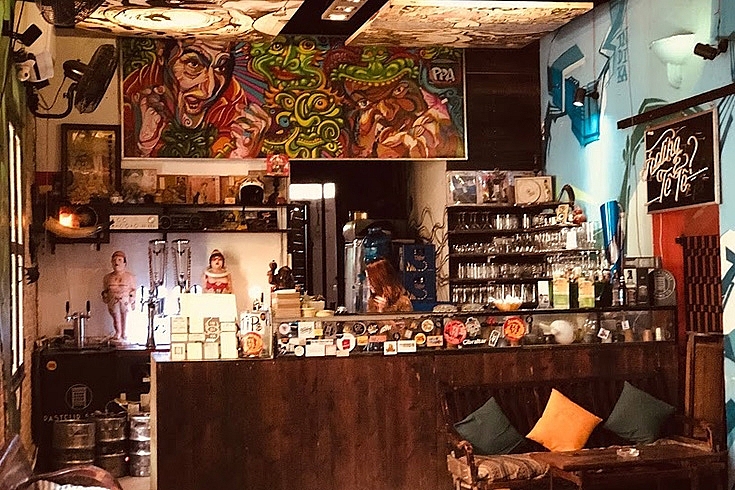 Photo: Vietnam Discovery
Location: 43 Nguyen Van Giai Street, Da Kao, District 1, Ho Chi Minh
Tel: 0356581648
Opening hours: 04:00 pm to 00:00 am
Price: 1.29 USD – 4.2 USD
Firkin Bar
Hidden behind a tiny entrance and up a narrow stairway, you may think of gloomy feelings. But no, these feelings will quickly disappear when you open the door to see the sophisticated classical bar. The bar gives the customers the warm feelings with its wooden textures, low music, dim lighting, and comfy seats. You may be surprised with its large collection of more than 400 different bottles from many countries.
There is also a wide variety of bar foods to accompany your spirit concoction, especially scotch eggs. The price is a little bit expensive but worth your try.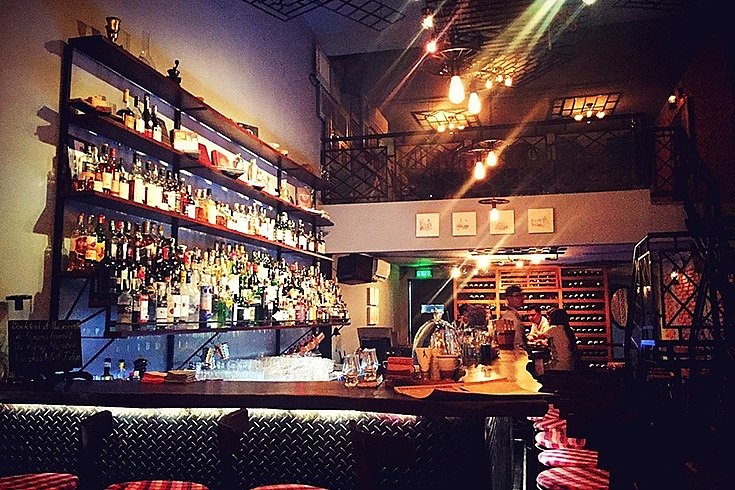 Photo: Vietnam Discovery
Location: 20 Mac Thi Buoi Street, Ben Nghe, District 1, Ho Chi Minh
Tel: 0931312723
Opening hours: 05:00 pm to 02:00 am
Price: 6.44 USD – 343.4 USD
Broma Not A Bar
Broma Not A Bar has a large space with 4 floors in a building in Nguyen Hue Street. It has a unique rooftop area where you are able to look over Nguyen Hue Street and the Saigon River. Broma is an ideal relaxing spot and unwind after work with various types of beer imported from other countries.
When Ho Chi Minh City has festivals, you even can enjoy the fireworks from the bar's rooftop. The live music plays all throughout the weekdays and weekends, and the bar sometimes holds some events following customers' requirements. It will surely make you come back time and time again with its mellow and seductive atmosphere.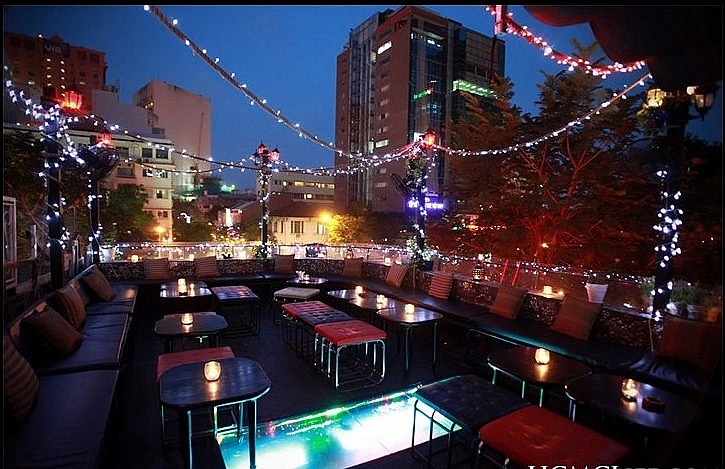 Photo: HCMC Life
Location: 41 Nguyen Hue Street, Ben Nghe, District 1, Ho Chi Minh
Tel: 02838236838
Opening hours: 05:30 pm to 02:30 am
Price: 4.29 USD – 18.9 USD