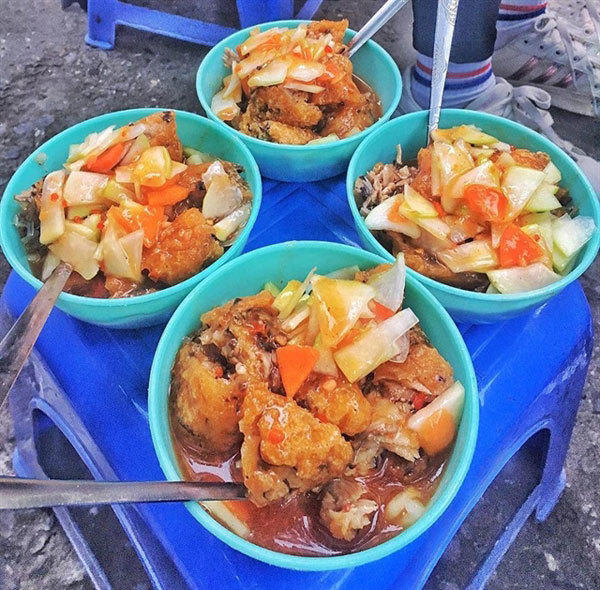 Banh ran man (salty glutinous rice doughnuts) served on Lac Long Quan Street is addictive to many Hanoians. — Photo Địa Chỉ Ăn Ngon Hà Nội Facebook
One of the most famous addresses to taste the dish in Hanoi is a food stall located down a small alley on Lac Long Quan Street.
However, getting your hands on these tasty treats is not exactly a piece of cake. It seems at this time of the year, half of the district's population has the same thought in mind, so you'll have to take a number and stand patiently in line for your turn.
But once you taste the puffy little delicacies, it is worth the wait.
The doughnuts are prepared to order. Besides the stall's owner who is focused on frying the doughnuts, around ten other women are always seen busy mixing the flour, moulding the doughnuts and serving the crowd of awaiting customers.
Banh ran man are fried from four to five times in different pans to make the crust particularly crunchy. — Photo Trà Ly Phan Thị Facebook
Banh ran man are fried four to five times in different pans to make the crust particularly crunchy. They taste best when they are piping because they become a little bit hard when they cool down.
The filling includes vermicelli, wood ear mushrooms and meat. However, unlike other kinds that use minced pork in their stuffing, bánh rán mặn on Lac Long Quan Street have boiled sliced pork that gives a clearer taste and flavour.
A special feature of this food stall is the eye-catching viscous orange sauce, unlike other shops where the doughnuts are normally served with fish sauce.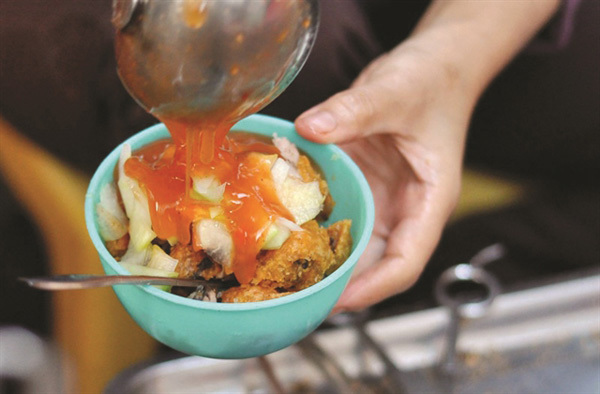 The sauce is poured directly onto the chopped doughnuts, together with papaya and carrot salad. — Photo kenh14.vn
The sweet and sour sauce, which is as smooth as syrup, is poured directly onto the chopped doughnuts, together with papaya and carrot salad. All of the charming flavours blend together, instantly stimulating the taste buds.
"When the weather is cool, my stall is crowded with customers from 3pm, particularly at weekends. Sometimes I don't have time to make enough to serve on time," said Nguyen Thi Mai Hoa, the owner.
Hoa inherited the stall from her mother, who established it in the early 1990s.
"My mother is over 80 years old now. She is still sharp, but not strong enough to sit outdoors to make the doughnuts in the hot pans," the owner said.
"My mother was born and raised in Yen Thai Village (presently Thuy Khue Street) which specialised in making do (poonah) paper. However, the traditional craft gradually faded, so she managed to make ends meet by making banh ran for sale," she recalled.
The 30-year-old food stall has become a popular spot for many Hanoians, particularly those residing near West Lake, who enjoy their favourite snack on winter evenings.
Despite the long wait, there have never been any complaints from customers.
The food stall is always crowded with customers, each of whom receives a number and waits for their turn. — Photo afamily.vn
"It's just a sidewalk snack bar but we have a queuing culture. I think that this is a remarkable plus point for the restaurant," said Nguyen Thi Nga from Cau Giay District.
"The service here gives us nothing to complain about and it's always fair because each customer receives a number and waits for their turn. There is no jostling for attention. The owner and the staff are both gentle and attentive."
Even people living as far away as Long Bien or Ha Dong make the trip to enjoy banh ran man on Lac Long Quan Street with their friends or families.
According to Nguyen Phuong Thao, a regular customer, the secret to the dish is its flavours and reasonable price.
"The doughnuts served here are bigger than other stalls, and cost VND9,000 (US39 cents) each. Normally I have two to three in my bowl, which is enough to satisfy my craving," Thao said.
In addition, the stall also prioritises sanitation, particularly clean ingredients.
"We never re-use leftover ingredients or oil. Everything is guaranteed to be fresh, delicious and clean," Hoa said.
Although the stall doesn't open until 10am, the owner and her staff are busy preparing the ingredients from the early morning.
She revealed that around 500-600 doughnuts are made per day, but that's sometimes not enough.
"Sometimes when there is no flour left, I feel very happy, but at the same time, I also feel bad for my waiting customers," Hoa said. VNS
Phuong Ha