'Goi ca' (raw fish salad) is one of local special delicious dishes that can't be missed when you are in Da Nang.
The dish is made from many kinds of fresh fish, including small herrings, sardines and anchovies. Fish fillets are carefully mixed with seasonings including spicy peppers, minced garlic, ginger, lemon, and vinegar. They are then covered with roasted corn powder to make it medium rare. This special cooking method helps to eliminate the uncomfortable smell of raw fish.
Raw vegetables are indispensable ingredients, making this nutritious dish even more delicious. These include mango leaves, polyscias fruticosa, and especially other colorful edible vegetables picked from local forested areas.
This dish is served with thinly sliced carambola, unripe bananas and chilies, soft rice papers, and a tasty dipping sauce. The taste of the dish heavily relies on dipping sauce which feature the wonderful combination of condensed Nam O fish sauce, a little of boiling water, sugar, chilies and garlic.
By trying this special dish in the Nam O fishing village itself, visitors will not only enjoy the quintessence of the traditional cuisine, but also experience the local hospitality and culture.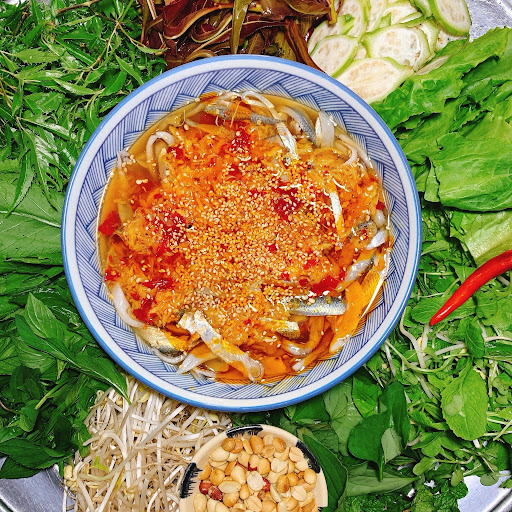 Hien Linh