Anyone who once visited Hanoi downtown area cannot miss Ngoc Son temple. A famous sacred and architecturally beautiful temple located on the Jade Island within Hoan Kiem Lake of Hoan Kiem district.
Ngoc Son Temple relic was built in the Ly Dynasty (1009–1225) in the Northeast of Hoan Kiem Lake. At the gate of the temple is the Pen tower engraved with three Han-Nom character of "Ta Thanh Thien" means "Writing on the clear blue sky". To get to Jade Island and Ngoc Son Temple visitors have to go through a bridge named The Huc which means "Light of Dawn" because it faces East where the sun rises. The bridge stands out with a vermilion color, crossing the emerald Hoan Kiem Lake.
Ngoc Son Temple was originally called Ngoc Son Pagoda. Later, the pagoda was changed to Temple. The relic site worships Van Xuong De Quan (Wenchang Dijun), who is a Taoist deity of dignity and good fortune and general Tran Hung Dao (1228-1300).  Undergoing several demolitions in history, in 1865 the temple was repaired by scholar Nguyen Van Sieu. He also built the The Huc bridge spanning from the shore of the lake to the temple.
Ngoc Son Temple was built according to the Chinese character of "three" with three main sections including the external section  for kowtowing; the central section for worshiping Van Xuong De Quan; and the internal section for worshiping Tran Hung Dao. There are also many paralleled sentences, paranormal and sacred decorations displaying at the temple and each of which contains a thoughtful meaning. It's two-storey roof was built in a square shape with eight supporting columns beneath.
So far, Ngoc Son Temple has been a popular destination for international visitors and Vietnamese people who coming to pray for good fortune or simply to have a new point of view to admire the beauty of Hoan Kiem Lake. Hanoitimes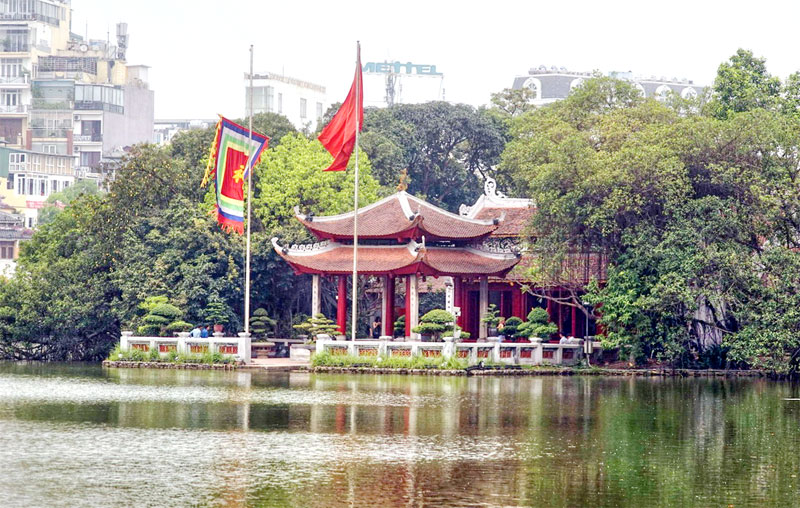 The temple was originally called Ngoc Son Pagoda. Photo: Bich Hoi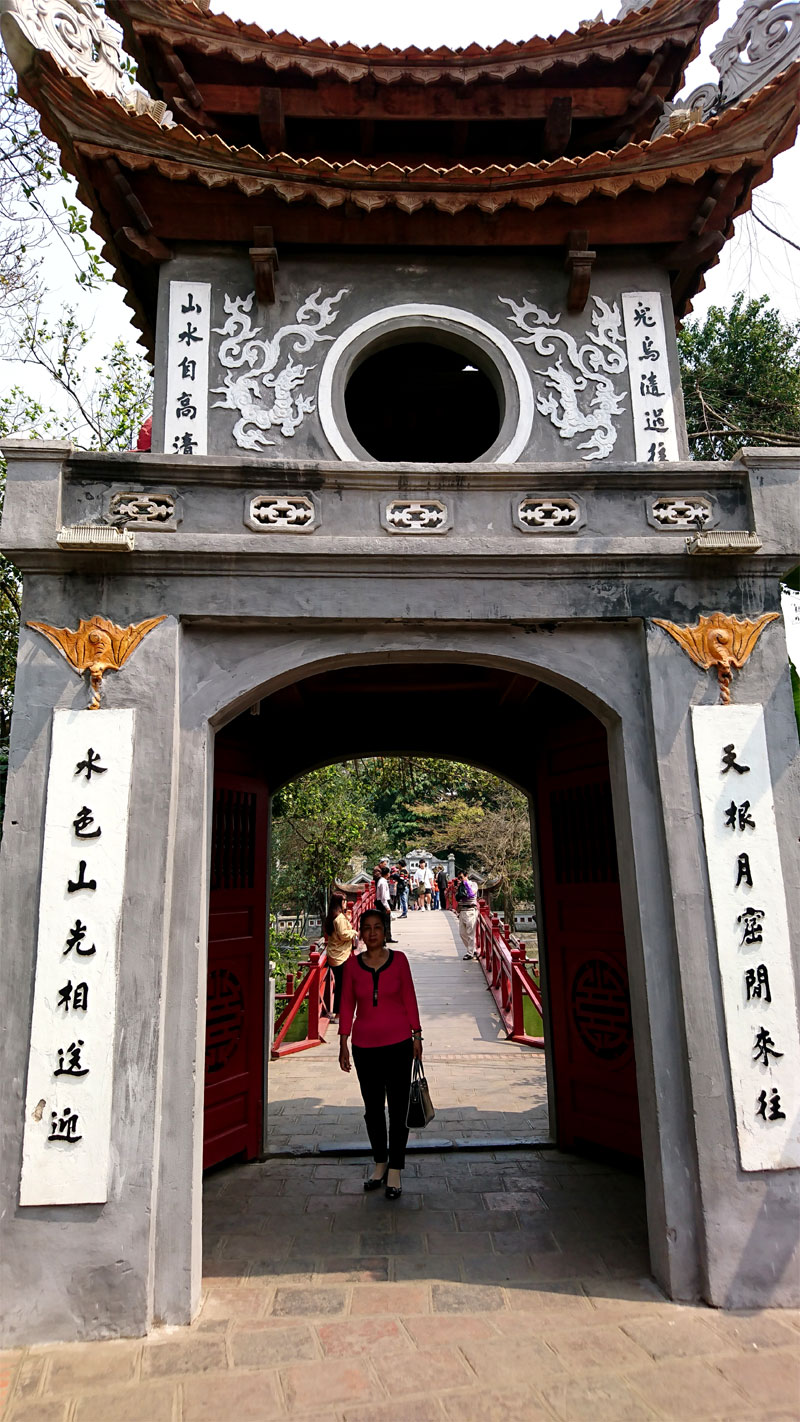 The entrance to Ngoc Son Temple in front of The Huc bridge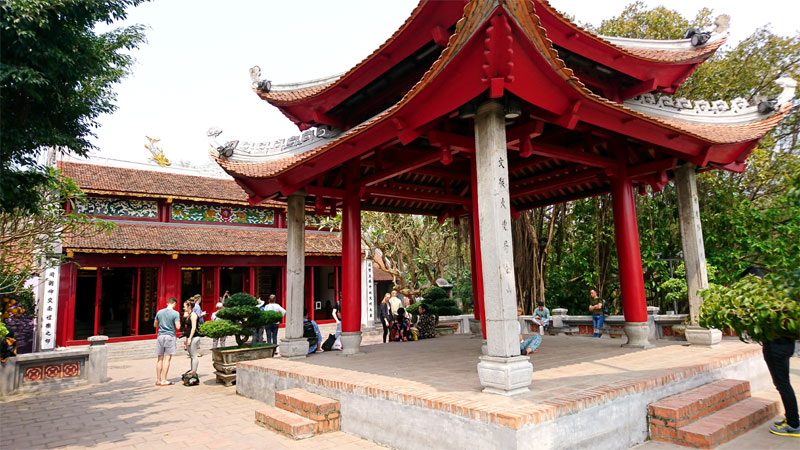 The temple features double-layer tiled roof and bright red-painted doors.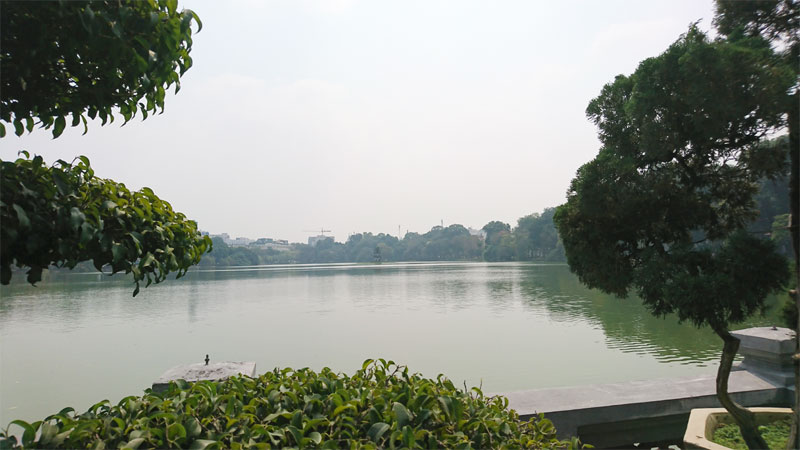 The tranquil and beautiful scenery of the Hoan Kiem lake, viewing from the gate of Ngoc Son temple.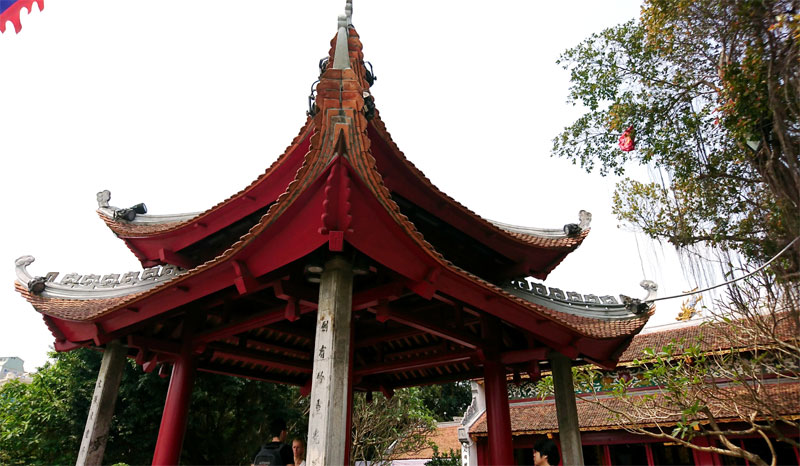 The architecture of Ngoc Son Temple has ancient beauty in harmony with nature.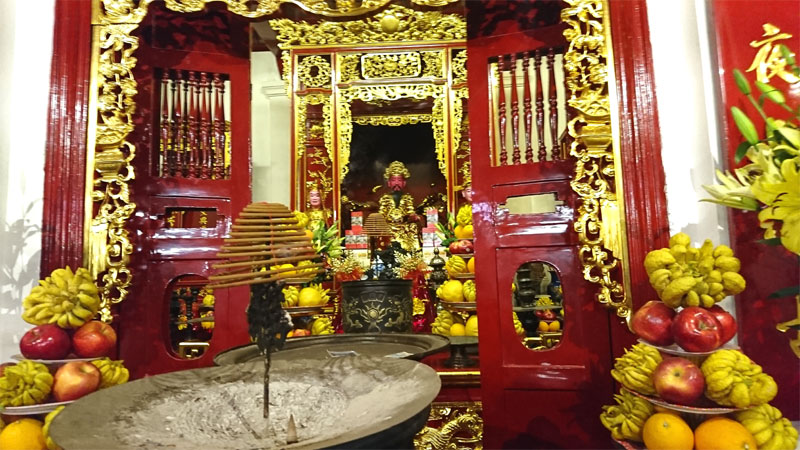 The relic site worships Van Xuong De Quan (文昌帝君 – Wenchang Dijun), and King Tran Hung Dao (1228-1300).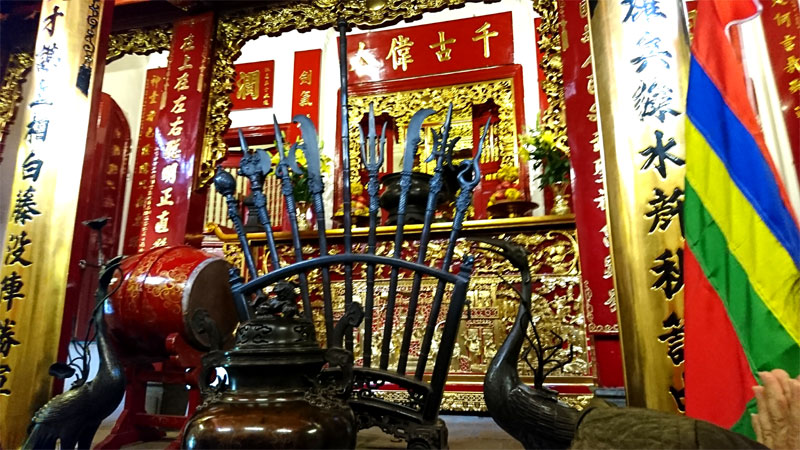 Being constructed in a Taoist style, Ngoc Son temple features quite a few parallels, hung  on the pillars at the main worshiping hall.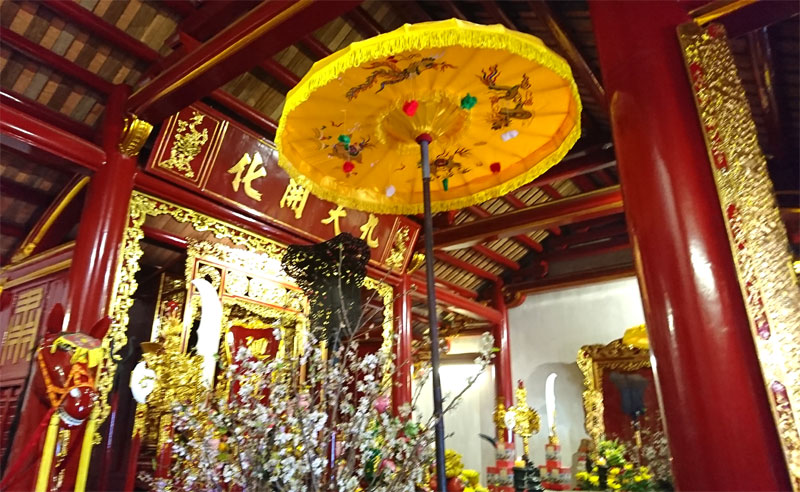 Horses and parasols – means of transportation and sun-protection using by feudal mandarins and the kings.
Hanoitimes