Tran Uyen Phuong.
When examining Tan Hiep Phat, it is evident that the imprint of women is the company's most distinctive feature. Tran Uyen Phuong once remarked, "My mother, Pham Thi Nu, has had a major impact on the company's success; when she is strong, so is Tan Hiep Phat, and when she is weak, so is Tan Hiep Phat."
Though rarely appearing in the media, Nu is Tran Quy Thanh's right-hand woman, who has aided him in constructing the "beverage empire" from the ground up.
While Thanh runs the business and works to release the products, Nu handles the next steps. She is an experienced and adept saleswoman, having been in the game since the days when they had to deliver their products by bicycle. Now, their success has enabled them to attain trillions of dollars in revenue. Nu always has clever and advantageous policies for each distributor and supplier, showing them care and consideration with thoughtful gifts.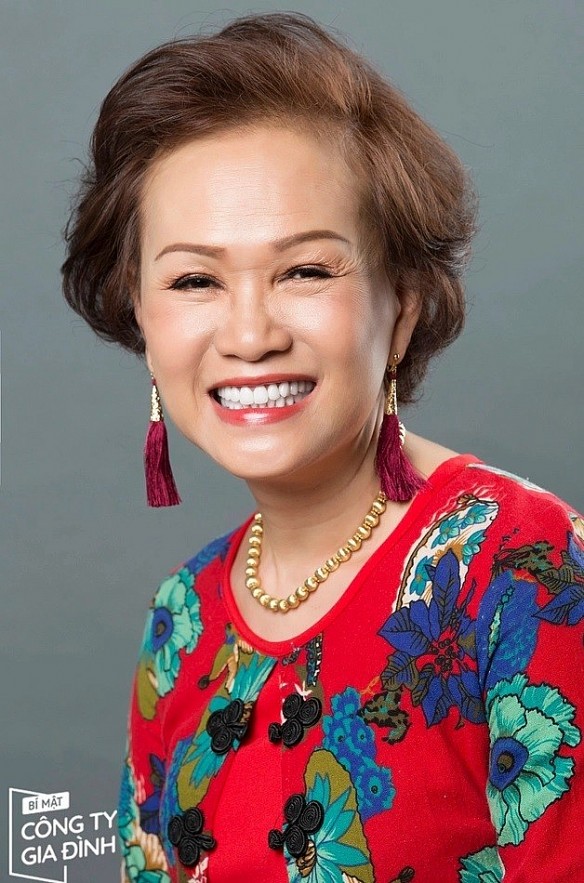 "Madame" Pham Thi Nu.
Phuong said that, up to this day, Nu has been making thousands of jars of fish sauce to give away as Tet gifts to the staff of Tan Hiep Phat. Moreover, she never fails to remember the children of her employees on International Children's Day, which has earned her the title of "Madame Nu" from her staff, who regard her as a mother and a sister.
Nu has a strong commitment to her customers: if she makes a product, she will give it to her children first, followed by her relatives and finally, the society. She is meticulous and passionate about her craft, and her tenderness and affection have added a special touch to the products her husband, Tran Qui Thanh, makes. By supporting each other, they have created a unique and lasting value.
At the transitional stage of Tan Hiep Phat's generation, Tran Uyen Phuong and Tran Ngoc Bich shocked many when they were declared the company's new successors. Their elevation to the top spots was met with surprise from the public, as the two had just entered the business world. Nonetheless, their expertise and commitment to the craft has since proven to be a suitable choice.
"My parents have a progressive outlook when it comes to building families and organizations. They don't place restrictions on their children, but instead provide us with the opportunity to reach our full potential. My brother, Dung, doesn't want to become involved in the family business, so he is free to pursue his own interests. As for Bich and I, we have the freedom to choose which roles, if any, we want to take on in running the company," said Uyen Phuong.
Tran Uyen Phuong emphasized that at Tan Hiep Phat, the only thing that matters is the potential of each individual. Over the years, Tran Uyen Phuong has been heavily involved in corporate communication and marketing, while Tran Ngoc Bich focuses her efforts on internal management, human resources, and finance.
Tran Qui Thanh's eldest daughter stated that Tan Hiep Phat stands out from many other companies due to the fact that a large proportion of its management positions are held by women. In fact, more than 35% of management roles within the business are filled by female employees.
"Women are often seen as having exceptional management and interpersonal skills due to their flexibility and adeptness at interacting with other people," said Uyen Phuong.
She emphasized: "Not all women are vulnerable. When they need to be fierce, they can be tougher than men."
Although she does not deny that many women prioritize their families, Uyen Phuong proudly shared that female employees around her find ways to fulfill both family and work commitments. "I'm so proud to be surrounded by such strong and capable women," Phuong said excitedly.
Phuong said that society has also slowly been reducing its prejudices towards female leaders. Just a few years ago, in a predominantly male-dominated society, women were faced with tremendous challenges as leaders. However, nowadays, both men and the community as a whole are becoming "more open" to the idea of women leading, which was once exclusively thought of as a man's domain.