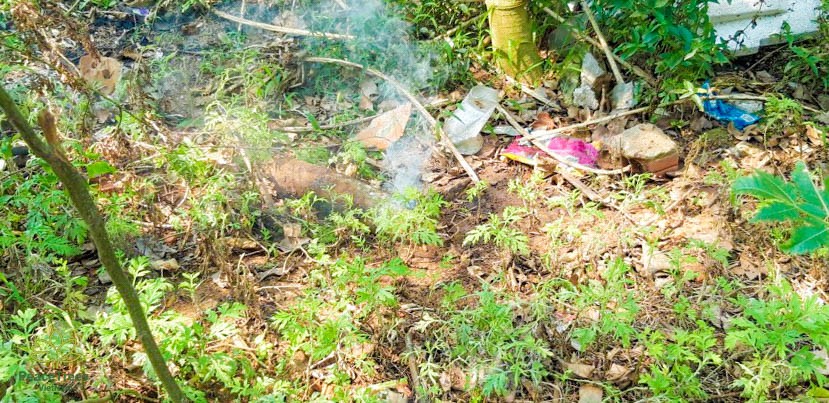 White phosphorus is used in bombs, artillery, mortars, and short-range missiles which burst into burning flakes of phosphorus upon impact. Source: PeaceTrees Vietnam
A fisherman accidentally found a long metal object at the bottom of Nhat Le river while searching for oysters there on March 22. Fortunately, PeaceTrees Vietnam, a US-based humanitarian organization, successfully removed and destroyed a burning White Phosphorous rocket near Quan Hau market, Quan Hau townlet, Quang Ninh district, the central province of Quang Binh.
After this object was picked up from the river and placed near a local market, it began producing white smoke. After receiving the report, Quan Hau Town People's Committee had to evacuate half of the market out of the danger area and concurrently informed the Quang Binh Database and Coordination Unit through the hotline number.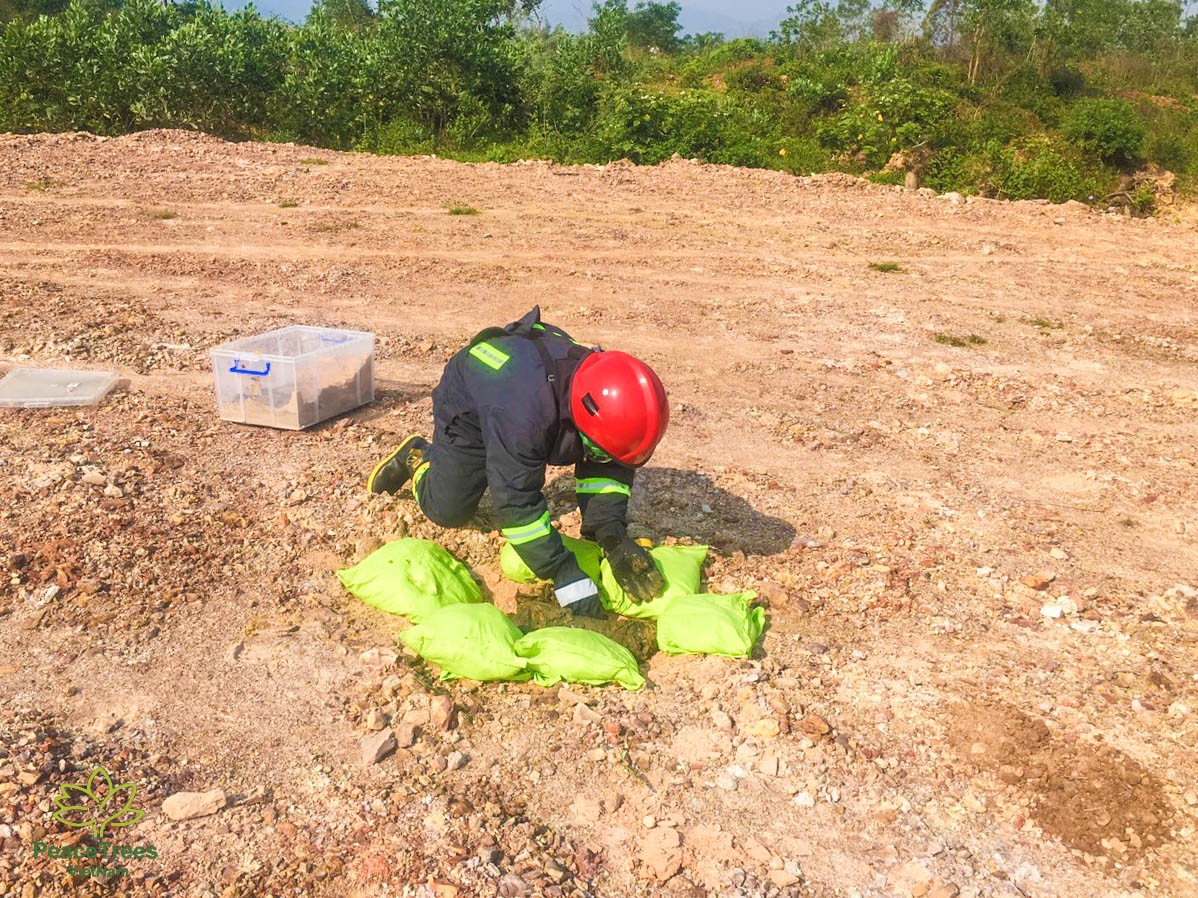 As an incendiary weapon, white phosphorus burns fiercely and can ignite cloth, fuel, ammunition and other combustibles. Source: PeaceTrees Vietnam
White phosphorus munitions were used extensively by US forces in Vietnam. Source: PeaceTrees Vietnam
Upon receipt of the request, the Multi-tasks team 2 urgently moved to the site to deploy an Explosive Ordnance Disposal (EOD) spot task. As a result of identification, this EO was known as White Phosphorous MK 67 2.75 in Rocket.
White phosphorus munitions cause particularly severe injuries, including chemical burns down to the bone. Wounds contaminated by white phosphorus can reignite days later when bandages are removed, produce poisoning that leads to organ failure and death, and lead to lifetime health problems.
After using the technical measures to stop the release of white smoke, the team moved this rocket safely to an open and uninhabited ground 2 km away from the market for detonation. The demolition was conducted successfully.
Explosive ordnances still pose a big threat to communities even many years after the war. Please make a phone call to the hotline channel including 0901 941 941 (in Quang Tri) and 1800 1741 (in Quang Binh) to report the suspicious items.
In 1995, PeaceTrees Vietnam was the first international non-governmental organization (NGO) to come to the province to help address post-war consequences through demining and mine risk education, victim assistance, community-building projects, and citizen diplomacy in partnership with the people of Quang Tri province.
PeaceTrees Vietnam's Quang Binh project is implemented under the Consortium formed by Mines Advisory Group (MAG), PeaceTrees Vietnam, and Norwegian People's Aid Vietnam (NPA), in the joined effort to address the issue of UXO contamination in Quang Binh province. The project is funded by the US Department of State.
Earlier this month, in Hanoi, a Memorandum of Understanding was signed between PeaceTrees Vietnam and the Vietnam National Mine Action Center (VNMAC).
With the desire to promote cooperation in order to expand mine action programs effectively, the two sides agreed to coordinate in implementing unexploded ordnance clearance projects and supporting landmine victims, implementing explosive ordnance risk education activities, field training for International Mine Action Standards (IMAS) trainees trained by VNMAC, application of new technologies to mine clearance.