You'll find plenty of unusual places in Vietnam, like those bathrooms where you have to scoop water out of a bucket to clean yourself – or sidewalks where motorbikes force pedestrians to jump out of the way. Those are nothing compared to the spots on this list, though. Here are the weirdest places in Vietnam.
Wax statue museum at Ba Na Hills
Hoi An and Da Nang itinerary is an unforgettable experience. You can discover the beauty of hoi an ancient town and know about local culture. Especially you can also come and visit wax museum before travel to Hoi An.
As you know when traveling to Vietnam, you can not skip two places with the sightseeing. These are Da Nang and Hoi An, which are the cities in the central of Vietnam. Hoi An and Da Nang itinerary certainly is worthy choice for your trip. Further your exoerience by visiting the wax museum, where there are many interesting wax statues displayed.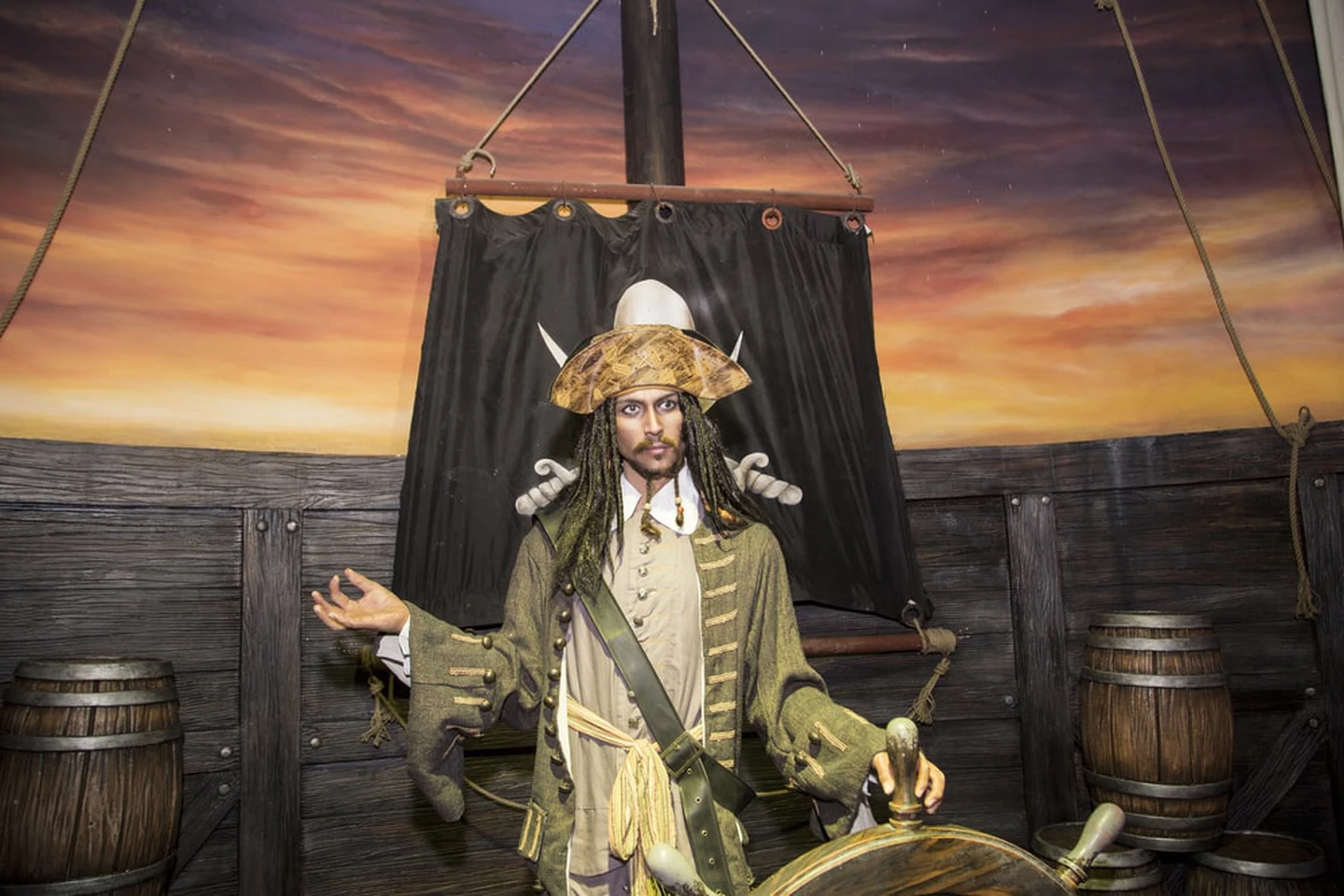 Captain Jack Sparrow steering with Zen | © Ovu0ng/Shutterstock
Wax Museum of Ba Na Hills Resort opened on July 11, 2013 to serve tourists, this is the first wax museum in Vietnam with nearly 50 copies of politicians, athletes, famous movie actors around the world.
Bana Wax Museum can welcome 1,000 visitors from the Ba Na hill tours. The museum displays copies of famous politicians, athletes and movie stars from around the world. There is also an area for the guests, souvenir shop, refreshments.
You can even take photo with your favorite idols like Michael Jackson, "Mr and Mrs Smith": Brad Pitt and Angelina Jolie, Leonardo Dicaprio, Mr Bean. Sports fans also met with Messi star David Beckham and singer wife, designer Victoria Beckham.
All waxes are made of beeswax or plastic, size is about 1: 1. The process of meticulous work with the sculptors collected parameters for the character to accurately simulate the face, hair color, height, eye color, ring size, style characteristics, …
Crazy House in Dalat
Dalat has the power to not only romanticize but also inspire people to go beyond their limits. Designed by Vietnamese architect and impressionist Dang Viet Nga, this extraordinary building of non-rectilinear shapes has appeared in many international architectural journals and finally made its way to the list of the world's ten most creative buildings (according to the Chinese People's Daily).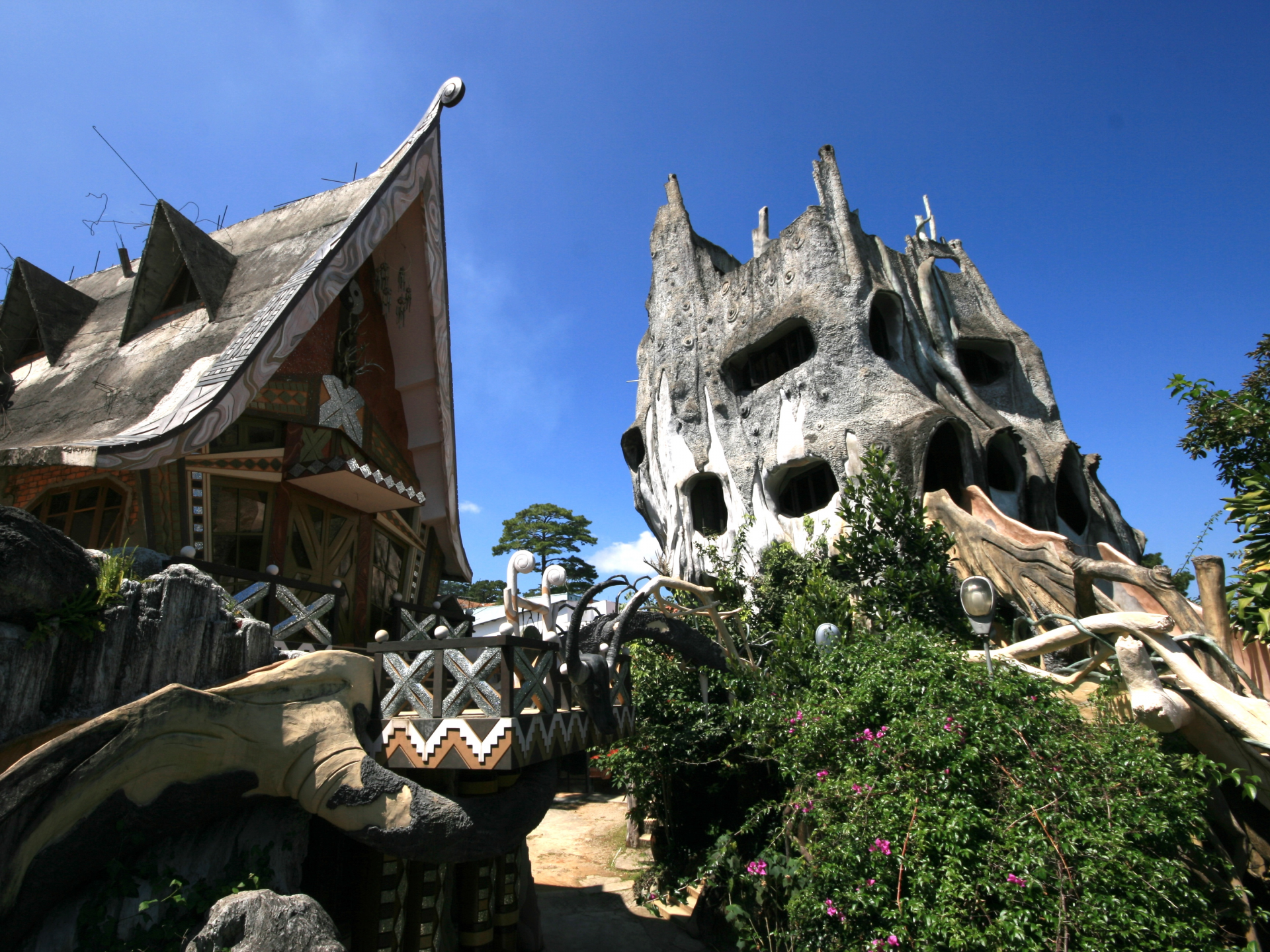 Photo: Wikipedia
The house is located at 3 Huynh Thuc Khang St., Ward 3, Dalat City, covering an area approximately 1,600m2. Stemming from the need to build something completely on her own, Architect Nga's house was started constructing in 1990. The construction as well as the process of claiming for possession of this house are both long stories. Started from scratch, there was time that Ms. Nga was on the verge of bankruptcy when all banks refused to lend her. It was at this point that she came up with the idea of selling tickets for tourists visiting the house. Moreover, after 18 continuous years and 6 times filing, she has been given the possession of this house, as well as its recognition as a piece of art. Still, she doesn't want to relax at all but is going to add up more constructions, such as a communal house inside the existing area.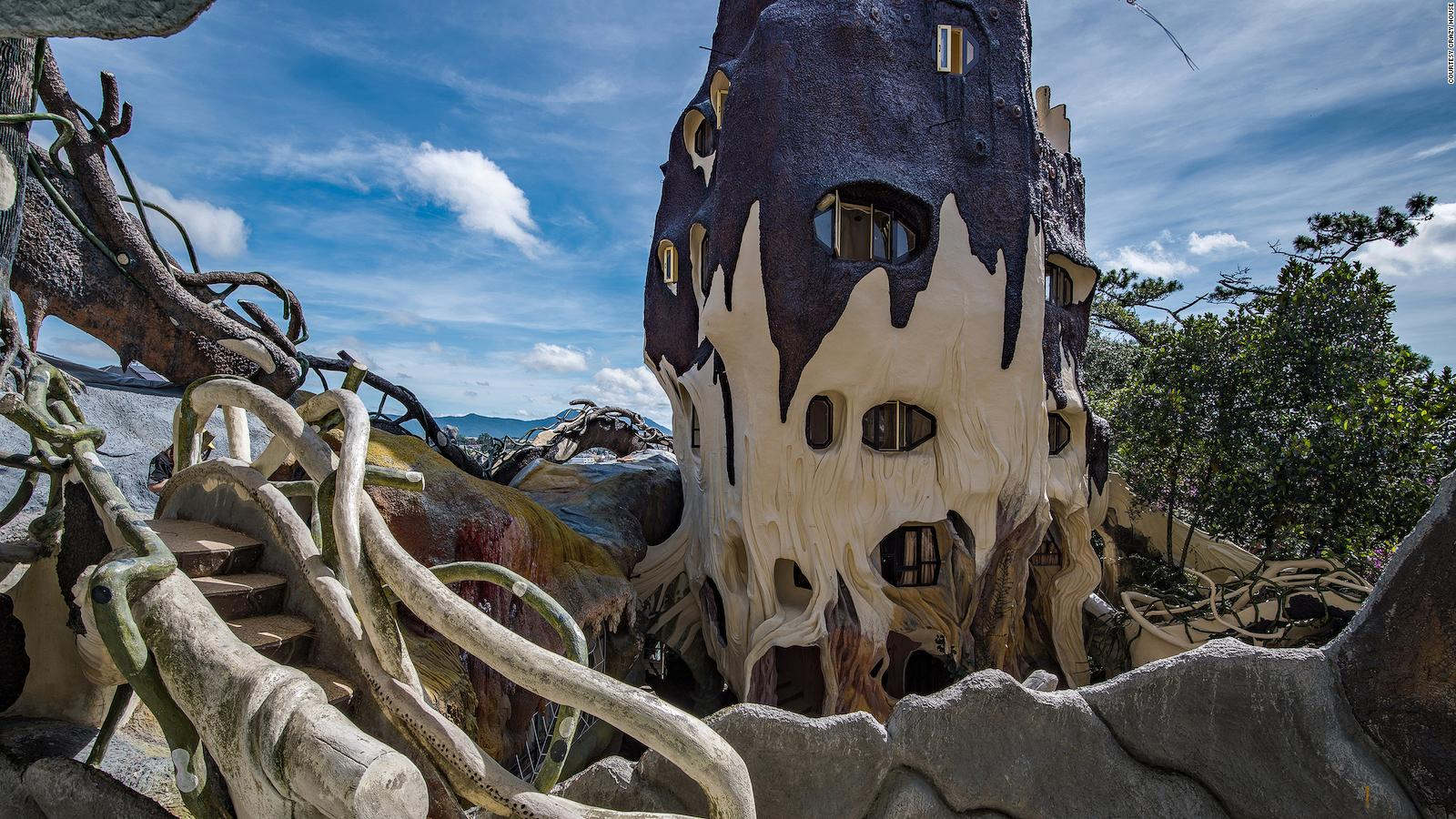 Photo: CNN
As the intention of the architect is to make a fairy tale house, the "crazy house" resembles a tree with uneven windows, tunnel-shaped stairways, etc. Both the exterior and the interior of the guesthouse are created and decorated with twisting organic forms and very few right angles. The hollow "tree" extends in many directions, rising above to reach to the sky of the amazing Dalat. Walking along the cave-shape hallways inside the house is not simply a visit but an exhilarating experience, a departure from the norm; wild mushrooms and spider webs popping up on your way is not unusual.
Besides, the guesthouse is really a spectacular construction with ten themed guest rooms such as the tiger room, the eagle room, the ant room and the kangaroo roo, with decorations and handcrafted furniture matching the theme. According to Viet Nga, each room has its own meaning: the tiger room refers to the Chinese; the eagle room describes the American; and the ant room represents the Vietnamese, etc.
Hell Cave
In the Marble Mountains of Vietnam there is a huge cave known as Am Phu, and deep inside is a re-creation of a Buddhist hell where sinners confess crimes, suffer punishments, and hope to reach heaven's light.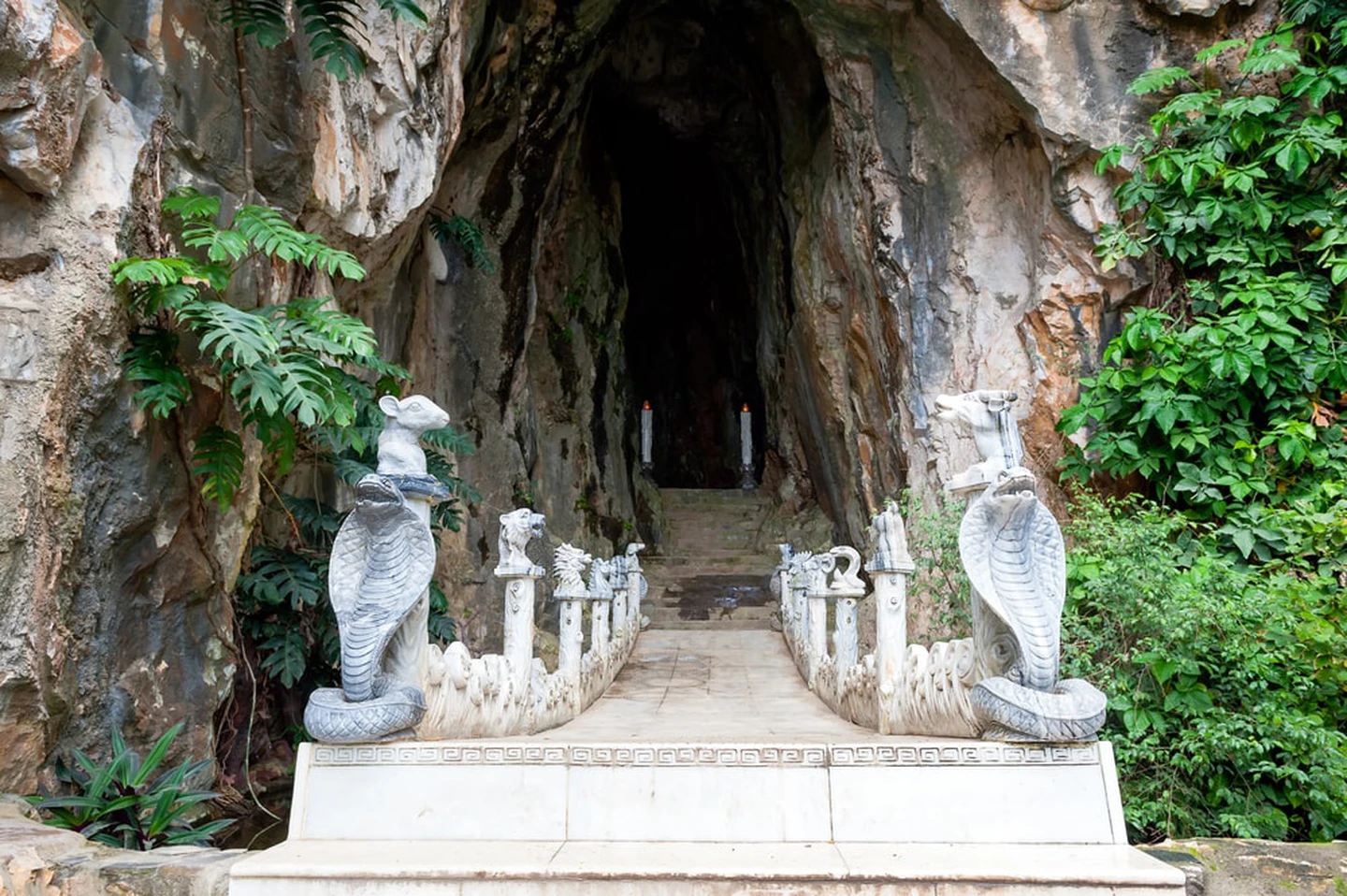 Time to atone for your evil ways | © Eagerrr/Shutterstock
At the city limits of Da Nang sits a cluster of five outcroppings known as the Marble Mountains. Sculptors once mined their white marble to make Buddhist statues, and while they are still crafted and sold in the surrounding villages, the marble is now imported from China. Each mountain is named for a different element, with the largest and most famous, Thuy Son (the Water Mountain), housing the notorious Am Phu cave.
Discovered in the 19th century, King Minh Mang named the cave Am Phu (Vietnamese for "hell") to signify a yin-yang dualism: while the mountain's topside is considered heaven, visitors first pass through subterranean caverns representing hell. Opened to tourists in 2006, the natural rock formations, stalactites, and pitch-dark tunnels are enhanced with frightening figures and altars created by local artists. It is not unlike walking through a haunted house, with surprises lurking around every corner.
Climbing the stairs to salvation isn't supposed to be easy, but this is where heaven begins—next door, on top of Thuy Son there are more caves, as well as divine shrines and pagodas. There are also reminders of the Vietnam War, including a chamber once used as a Viet Cong field hospital, and a plaque commemorating a Women's Artillery battalion that was based nearby and destroyed 19 U.S. aircraft. Along with the heavenly shrines and carvings, the yin and yang of war and peace.
Snake Village
Hanoi's Snake Village of Le Mat The villagers of Le Mat, just 7 km northeast of central Hanoi, welcome many curious travellers craving a different type of lunch, namely, one of snake meat. Surely a dining experience that cannot be filed under 'blasé'. The restaurant's owner is a man of few words and many scars. Indeed, his arms are covered with wounds, ugly souvenirs from the slithering reptiles with whom he shares a roof.
Photo: Asian Tour Advisor
Says the snake wrangler: "I have been handling snakes since I was a child. A bite from one of our snakes is very painful, yes, but not fatal. There is no venom. The first thing we do is extract the venom from the snake."
Most of the snakes are cobras, arranged in securely closed boxes. Some of them are quite large. In Vietnam a snake dinner is considered a 'man's dish' and thought to promote strength and virility.
There are roughly 100 snake-farming households in Le Mat. These farms employ nearly 400 people. As well there are two large specialized farms that breed snakes and produce snake meat. Every day Le Mat receives around 1000 Vietnamese and foreign travellers looking to try this serpentine speciality.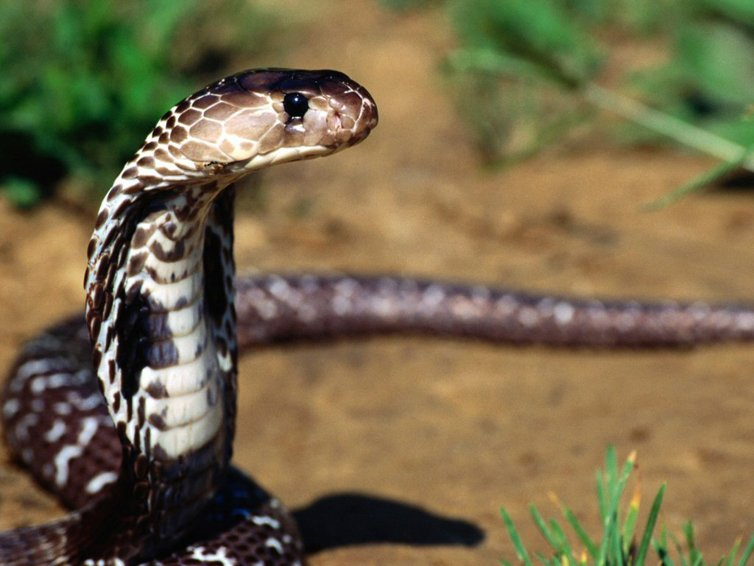 Photo: City Pass Guide
Hard to believe that not long ago the business of snake breeding and meat production almost disappeared. From the 1960s to 1990s snakes around Le Mat were bred for restaurants and pharmaceutical purposes. Then, in 1993, Vietnam ratified the international convention on the protection of wildlife and imposed restrictions on the snake-breeding industry.
Snake meat disappeared from menus. In 2007, aware of the negative repercussions on the local dining economy, Vietnamese authorities granted Le Mat a 'craft village' status. On this basis plans for development were drawn to reconcile snake breeding and meat production with increasing tourists eager to sample this most unique Vietnamese dining experience.
Hanoi's Train Street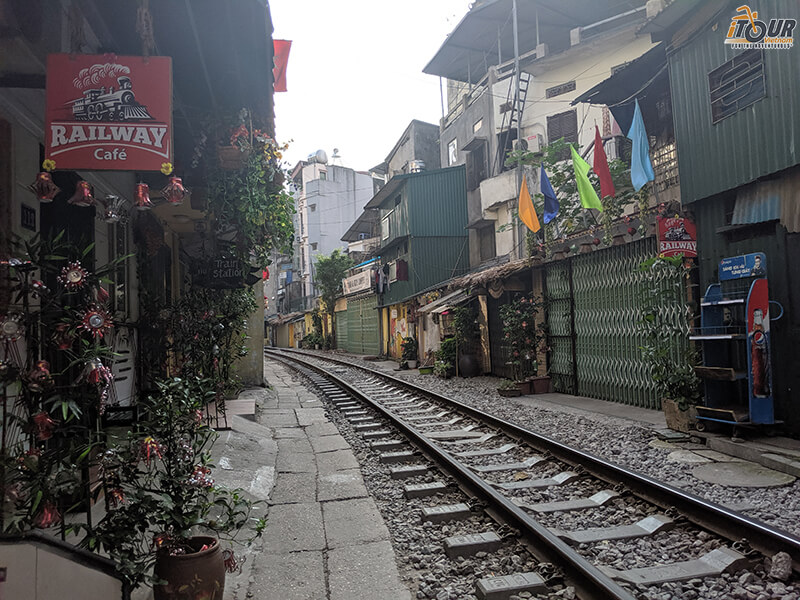 Photo: Itour
In Hanoi, you can find the bustle and excitement in the Old Quarter with bars and pubs. You can also find the peacefulness in famous pagodas such as One Pillar Pagoda, Ly Quoc Su Pagoda. But, in the heart of Hanoi capital, there is a place where you can enjoy all of the above at the same time. That place is the iconic Hanoi Train Street. To enter this street, visitors can start going from the intersection with Dien Bien Phu, Tran Phu, or Phung Hung.
The rail corridor from Kham Thien street to Giai Phong – Dai Co Viet intersection, from Dien Bien Phu street to Tran Phu street, from Phung Hung street to Long Bien bridge is home to old houses which embrace a part of Hanoians' memories. Due to the railway, those corridors were dubbed "Pho Duong Tau" (or just Google map "Hanoi Train Street" and it'll take you there).
The North-South railway of Vietnam was built during the French colonial era. Since then, people working in the railway industry began building houses by the trail corridor area. Each home becomes part of the little town, straight from Long Bien station to the end of Le Duan street. For more than 30 years, many generations have lived in this place. There are children born and grown up with the sound of the trains going through the street every day.