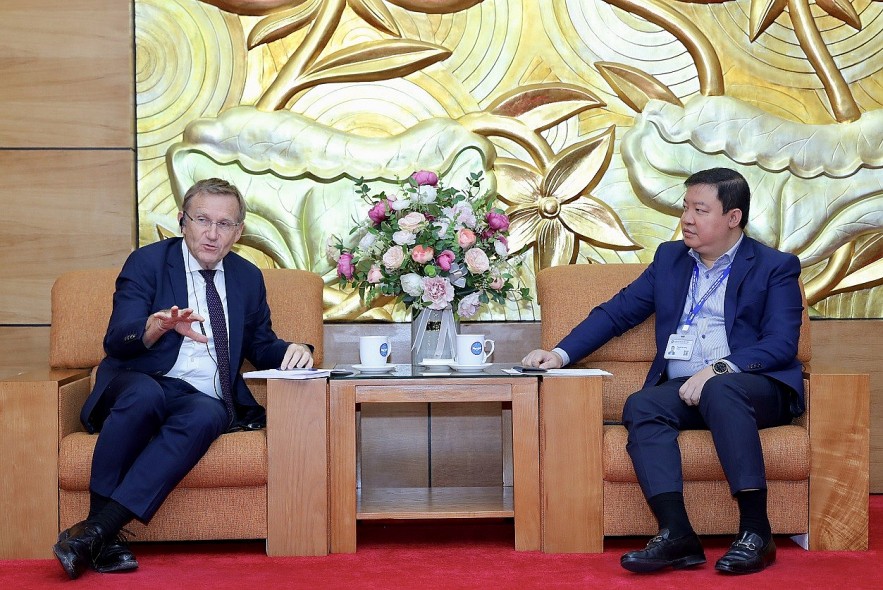 Vice President of the Viet Nam Union of Friendship Organizations Nguyen Ngoc Hung (right) received Herve Conan, Director of AFD in Vietnam. (Photo: Dinh Hoa)
In September 2022, a delegation led by VUFO's leader visited France and worked with AFD to strengthen people-to-people cooperation between the two countries. Following the results of that meeting, AFD hopes the discussed plans will be quickly implemented to support French NGOs operating in Vietnam," said Herve Conan. Through these programs, AFD will support Vietnam in improving the implementation capacity and operational efficiency of local NGOs.
Nicolas Le Guen, Head of AFD's Non-Governmental Cooperation Department, said that during their business trip to Vietnam, the delegation surveyed the activities and gathered feedback from French NGOs in Vietnam that receive ADF support. Generally, these organizations are active and cooperate effectively with local partners. However, there are still challenges in implementing administrative procedures and activities.
Nguyen Ngoc Hung, Vice Chairman of the Viet Nam Union of Friendship Organizations, emphasized that Vietnam's Party, Government, and State attach great importance to non-governmental work and consistently strive to create favorable conditions for their activities.
Currently, nearly 50 French NGOs are operating in Vietnam, with approximately 10 receiving AFD support. These organizations demonstrate high professionalism and operational efficiency. VUFO highly appreciates AFD's role in supporting, guiding, connecting, and providing resources for NGOs. Recognizing the difficulties and challenges faced by French NGOs, VUFO agreed to continue supporting these organizations in their activities in Vietnam.
The two sides have agreed to promote cooperation, exchange information, and share experiences in working with NGOs, localities, and donors. They have also agreed to collaborate on answering questions from organizations and coordinate in organizing business trips, conferences, seminars, and expert exchanges.