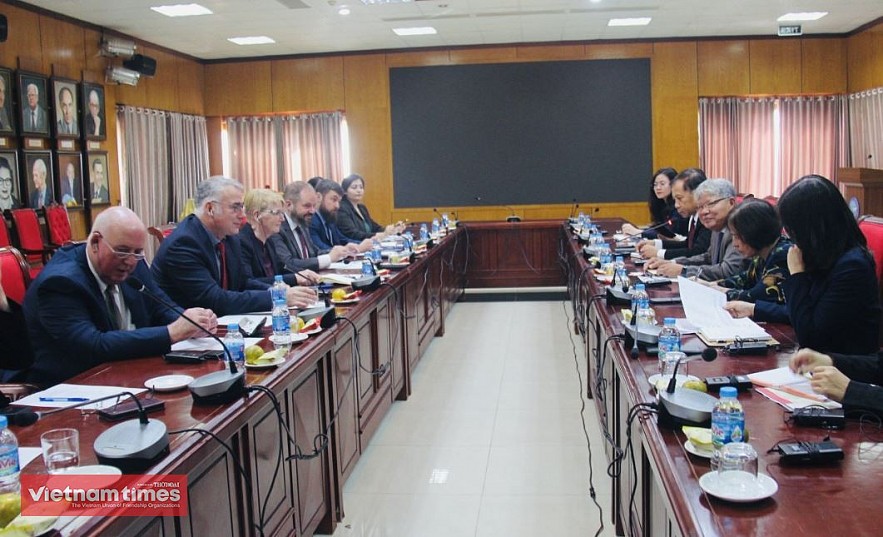 Leaders of the Vietnam Peace and Development Foundation (VPDF) had a meeting with the high-level delegation of the Rosa Luxemburg Foundation (RLS).
During the meeting, VPDF President Ha Hung Cuong provided a brief introduction about VPDF's history, organizational structure, functions, tasks, and main activities. According to him, VPDF has three main tasks: organizing and participating in people-to-people diplomacy activities, conducting policy research, and providing external information. These tasks aim to contribute to Vietnam's construction and development process, as well as promote a world of peace, democracy, social progress, and sustainable development.
Gabriele Zimmer, a member of the RLS Executive Board, mentioned that RLS was established in 1992 and named after the female revolutionary soldier Rosa Luxemburg. The foundation is committed to maintaining and developing her legacy. RLS is an internationally operating non-profit organization that focuses on building progressive political elements, sponsoring political education activities, and improving the natural and social environment. In April 2009, RLS officially opened a representative office in Hanoi to support developing countries in achieving a fair and sustainable society. RLS has established relationships with approximately 20 Vietnamese partners.
The delegates took a group photo.
During the meeting, Standing Vice President of VPDF Tran Dac Loi shared information about the peace and security situation in the Asia-Pacific region, including the challenges and possible solutions.
Both sides also discussed various topics such as the development of peace movements globally, the establishment of security mechanisms to prevent conflicts, United Nations reform, and the imposition of sanctions for violations of international law.
They agreed to strengthen the cooperation between VPDF and RLS in activities for the benefit of people, peace, and development.
Rosa Luxemburg was born on March 5, 1871 in Zamosc, Poland. She dedicated her life to social movements and protesting against injustice and war. Rosa Luxemburg is known for her independent thought, tenacious fighting spirit, and unwavering commitment to freedom and social equality. Together with Karl Liebknecht, she vehemently opposed war, supported international ideology, and opposed militarization in Germany. Her economic analysis accurately identified the root causes that led to World War I. Sadly, she was assassinated in Berlin on January 15, 1919.
The Rosa Luxemburg Stiftung Foundation is one of six political foundations in Germany that focuses on building progressive political elements, sponsoring political education activities, and improving the natural and social environment.
In Vietnam, the Rosa Luxemburg Stiftung Foundation has supported numerous research projects and practical activities in localities to drive economic transformation, develop livelihoods, and encourage people to participate in policy dialogues, creating an ecological environment for sustainable development. Examples of typical projects include finding alternative clean energy sources, changing perceptions about women and children, transforming the roles of adolescents, and conducting research on social justice.