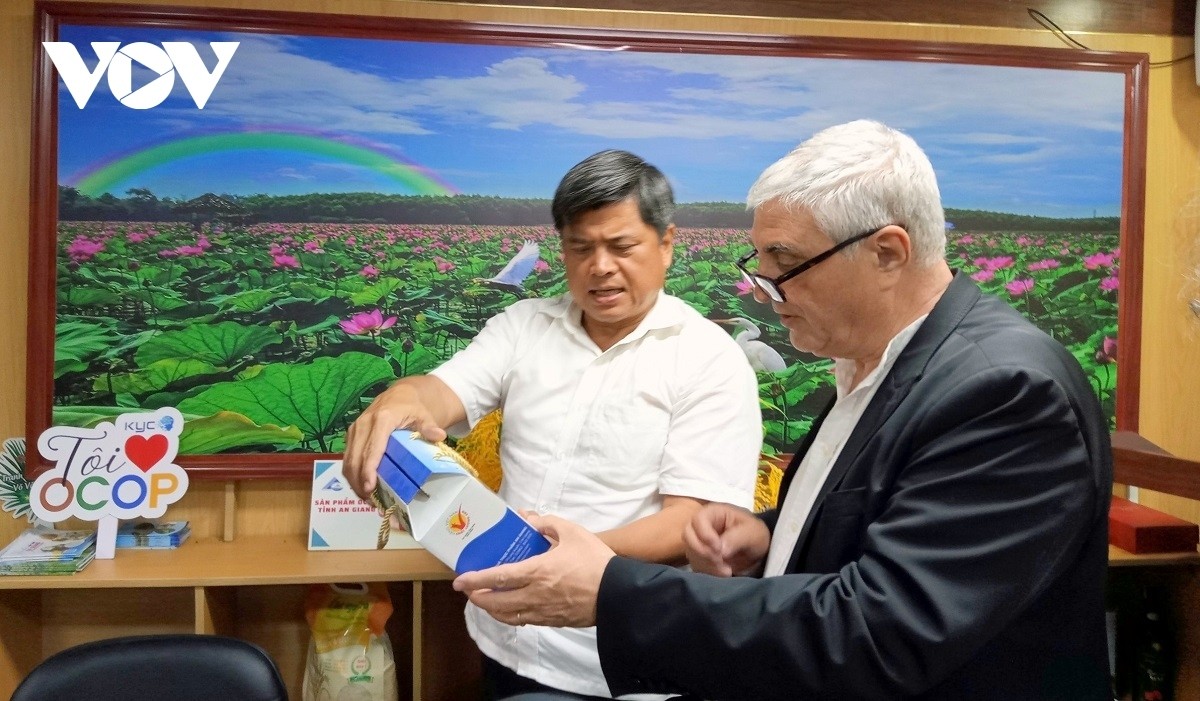 Deputy Minister of Agriculture and Rural Development Tran Thanh Nam introduces Vietnam's OCOP products. Source: VOV
Five-star Vietnamese One Commune One Priority (OCOP) products will be showcased at the upcoming European Craft Fair in Italy this December, in an effort to introduce and promote the nation's OCOP products to foreign friends, as reported by the Voice of Vietnam (VOV). This is a great opportunity for the people of Vietnam to showcase their unique and high-quality goods to the world.
The European Craft Fair representatives were invited to a meeting on May 4th in Can Tho, chaired by Deputy Minister of Agriculture and Rural Development Tran Thanh Nam. The purpose of the gathering was to discuss the details of the proposed scheme.
At the meeting, Antonio Intiglietta, president of Ge.Fi – the organizer of the European Craft Fair in Italy – gave a brief overview of some of the activities the fair has seen in recent years.
The fair is an important platform to introduce handicrafts and agricultural products, while also serving to promote national images and brands to overseas audiences. Intiglietta remarked that the nine-day event is anticipated to draw in millions of visitors, with many countries such as India, China, and Vietnam taking part in the fair.
This presents a great opportunity for Vietnam to showcase its OCOP products to an even larger customer base, by leveraging the power of social networks and supplier search engines on social media platforms.
The nation not only showcases its products, but also its tourist attractions at the event, allowing visitors to gain further insight into its agricultural tourism, he added.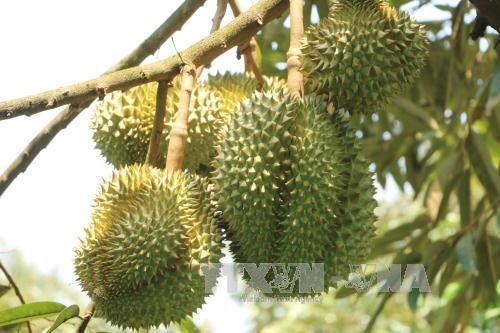 Ri6 durian, a specialty from the Mekong Delta of Vietnam, is now available in the UK market for the first time. Photo: VNA
The Deputy Minister, Nam, emphasized that establishing additional booths to showcase OCOP products is essential to advertise and present Vietnamese products to foreign acquaintances.
He urged agencies and units of the Ministry to take comprehensive steps to showcase and present Vietnamese products to European countries.
The One Commune-One Product (OCOP) program, initiated by the Ministry of Agriculture and Rural Development (MARD) in 2008, is based on the Japanese "One Village, One Product" program and Thailand's "One Tambon, One Product" scheme. It is an economic development initiative designed to improve rural areas and to help implement the national target program for constructing new-style rural areas.
OCOP products are created using an amalgamation of local resources, traditional culture, and cutting-edge technology. This program provides farmers with the opportunity to join forces and form cooperatives, which enables them to manufacture goods with higher quality, improved design and packaging, and higher standards that are suitable for the market.
By the end of 2022, Vietnam had 8,689 OCOP products, with 65.5% of these products being rated as three-star, 33.6% being rated as four-star, and a small percentage being considered to have five-star potential or five-star.
OCOP products are renowned for their unique, eco-friendly designs and packaging that suit the needs of the market, while promoting sustainable growth.
The program has also brought about an escalation in production levels and revenue for local communities, as well as the stimulation of specialty raw material areas, rural industries, and the conservation of traditional craft villages.
Moreover, the OCOP program has significantly advanced livelihood development in remote and ethnic minority areas, especially for women, providing them with additional resources and opportunities to better their lives.
Each year, Europe imports farm produce worth over USD 160 billion, and Vietnamese farm produce have become high-value export items that raked in USD 3.34 billion in 2022.