On April 7, the Vietnamese Embassy in Ukraine, in collaboration with the Vietnam Red Cross, held a ceremony to provide financial aid to Vietnamese citizens in Kiev. The event was attended by representatives from both organizations, who were there to show their support to the Vietnamese community living in the Ukrainian capital. During the ceremony, the Vietnamese Embassy and the Vietnam Red Cross presented their contributions to the local Vietnamese citizens, which will help them in times of need. The Vietnamese Embassy also expressed its commitment to continue to support the citizens of Vietnam living abroad. The event concluded with a warm atmosphere of camaraderie and gratitude from both sides.
The prestigious event was attended by the esteemed Vietnamese Ambassador Nguyen Hong Thach, the Counselor in charge of overseas Vietnamese affairs Pham Nhu Lan, as well as officers and staff of the Embassy.
Pham Van Bang, Chairman of the Vietnamese Association in Kiev City, attended the event along with 15 individuals and representatives of eligible Vietnamese households who were set to receive support.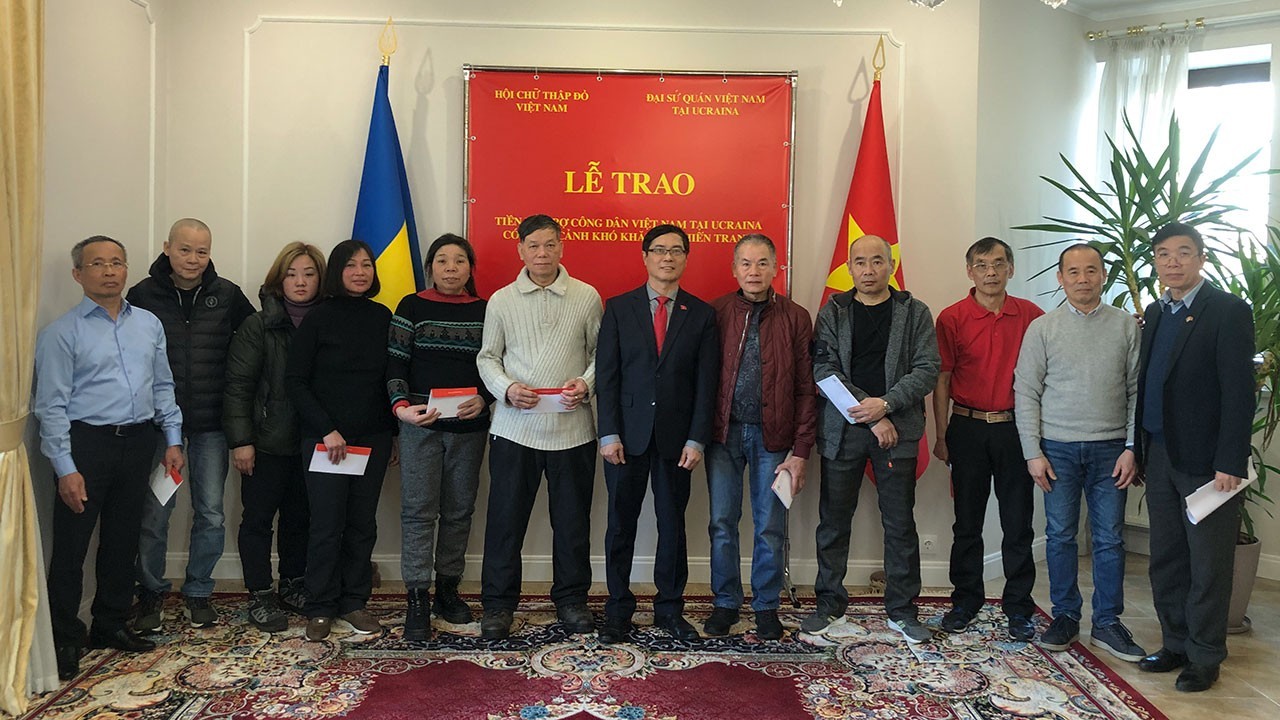 Vietnamese Ambassador to Ukraine Nguyen Hong Thach gave money to support Vietnamese citizens in Ukraine in difficult circumstances due to the conflict. (Photo: TGVN)
According to Ambassador Nguyen Hong Thach, the Vietnamese community in the Czech Republic has been heavily impacted by the Russian conflict in Ukraine. Leaders of the Vietnamese Party, State, and other organizations have continuously shown their care and support for this community. The Vietnamese Embassy is also doing its best to assist them in overcoming their current challenges.
The Embassy of Vietnam is taking steps to assist Vietnamese expats currently residing in Ukraine through a monetary donation ceremony. This is just one of the many ways the Embassy is striving to provide aid and support to those living abroad.
Ambassador Thach emphasized that although material support is modest, he still hopes to partly encourage the community in these difficult times.
The Ambassador expressed his hope that, through the power of solidarity and mutual assistance, the Vietnamese community in Ukraine will continue to support one another, surmounting any hardships in order to stabilize their lives when the conflict ends.
Speaking on behalf of the citizens receiving support money, Bui Van Sau expressed his heartfelt emotion and profound appreciation for the generous concern and solidarity of the Vietnam Red Cross, the people in the country, and the Embassy. He firmly believed that material help to the Vietnamese people in the context of conflict and loss is extremely valuable, illustrating the care, love, and tradition of the Vietnamese people.
Sau expressed his heartfelt gratitude to the Vietnam Red Cross and domestic organizations for their prompt and meaningful attention and material aid.