At the working session with Alina Grumpert, Director of the German Agribusiness Alliance (GAA), Dung proposed the union support Vietnamese agricultural enterprises to improve their competitiveness, apply science and technology, promote innovation to improve added value and product quality.
Grumpert said in the context that Vietnamese farming products have to compete fiercely with their competitors, improving the entire value chain is essential.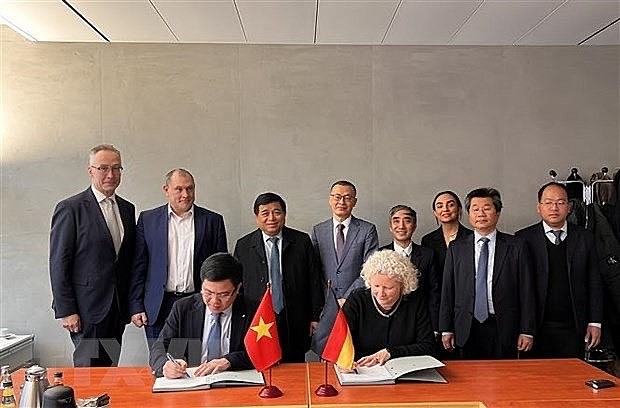 Le Manh Hung (L), head of the Vietnamese ministry' enterprise development department, and Alina Grumpert, Director of the German Agribusiness Alliance (GAA), signed a MoU establishing a common cooperation framework (Photo: VNA).
Talking about measures to assist Vietnamese enterprises, Tobias Fausch, IT director of BayWa – one of the largest German corporations in trade, logistics and services for agriculture and energy, noted one of their biggest advantages is the enforcement of the EU-Vietnam Free Trade Agreement (EVFTA) from August 2020.
Building an institutional dialogue system, with better tax rates, will help Vietnam's farming products access large markets, he added.
The GAA and German firms said they are committed to supporting Vietnamese businesses in the field. The German side will coordinate to bring them to Germany to learn about the local technological transition and application models in agriculture.
While in Germany, the delegation also toured the Adlershof hi-tech park in Berlin, and the Infineon Semiconductor Group, one of the 10 largest of its kind in Germany.
On February 25, the delegation met with Chief of the State Chancellery and State Minister of Saxony Oliver Schenk, discussing measures to meet the demand for skilled labour; cooperation in semiconductor industry and high technology; and economic transformation toward sustainability.