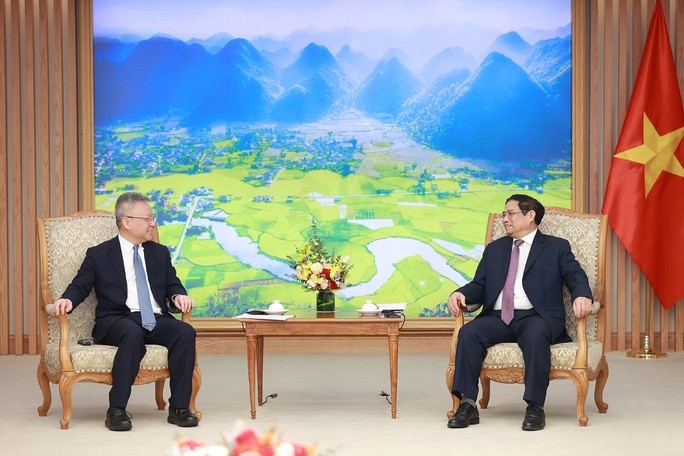 Prime Minister Pham Minh Chinh (R) and Secretary of the Party Committee of Hainan province Shen Xiaoming. Photo: VNA
Prime Minister Pham Minh Chinh on February 22 suggested China's Hainan province enhance its exchange and cooperation with Vietnamese ministries, agencies and localities, particularly Ho Chi Minh City and the northern province of Quang Ninh, VNA reported.
At a reception for Secretary of the Party Committee of Hainan province Shen Xiaoming in Hanoi on February 22, the PM said the sides should step up mutually beneficial cooperation in tourism, transport, education, health care, culture, climate change response, search and rescue operations at sea and humanitarian treatment towards fishermen, contributing to maintaining maritime peace, stability and collaboration.
Chinh expressed his belief that Shen's visit will contribute to strengthening exchanges and cooperation between Hainan and ministries, agencies and localities of Vietnam in various spheres.
He rejoiced at the good development of the relations between the two Parties and countries over the past time, and suggested the two sides effectively implement high-level common perceptions reached during the official visit to China by Party General Secretary Nguyen Phu Trong last October.
The PM said he hopes that the two sides will step up all-level exchanges, promote cooperation across fields, especially trade towards a balanced fashion, expand investment collaboration, enhance people-to-people exchanges, and restore tourism links. He also urged China to soon include Vietnam in the list of pilot group outbound tours.
The two countries should work together to maintain peace and stability in the Bien Dong Sea in line with international law, including the 1982 UN Convention on the Law of the Sea, he continued.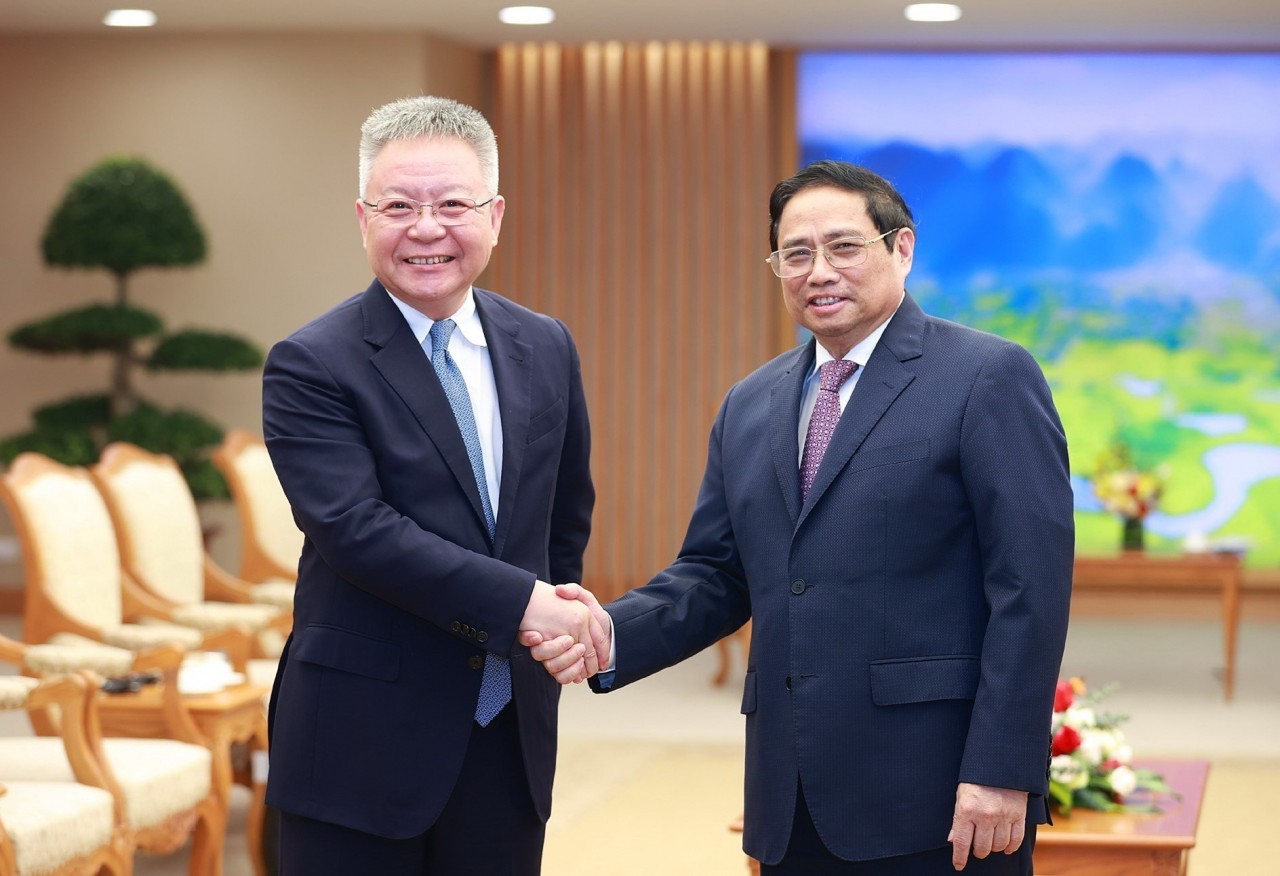 Prime Minister Pham Minh Chinh (R) and Secretary of the Party Committee of Hainan province Shen Xiaoming. Photo: VNA
Shen, for his part, congratulated the Vietnamese Party, State, and people on the great achievements they have recorded in Doi Moi (reform) process and socio-economic development.
Hainan attaches importance to and stands ready to boost cooperation with Vietnamese ministries, agencies and localities, he stressed.
Hainan agencies, he added, will closely coordinate with the Vietnamese side to effectively implement the common perceptions reached during Party General Secretary Trong's visit, as well as PM Chinh's proposals, including those on the restoration of flights and cruise routes to Vietnam, the establishment of a Vietnam trade promotion office in Hainan and the increase of the import of Vietnamese agricultural products, including coconuts, contributing to the China-Vietnam comprehensive strategic cooperative partnership.
Previously, on February 21, Secretary of the HCM City Party Committee Nguyen Van Nen received Shen in the city.
Nen welcomed Shen's visit, describing it as the first step for the two localities to strengthen their partnership in many fields.
He recalled the support from international friends, including China, when the fourth wave of Covid-19 hit the country.
Highlighting the similarities between HCM City and Hainan, Nen said both acts as an economic hub in each country, expressing hope to receive the sharing of experience from the Chinese province and promote bilateral partnership in various fields such as high technology, health care, new and renewable energy.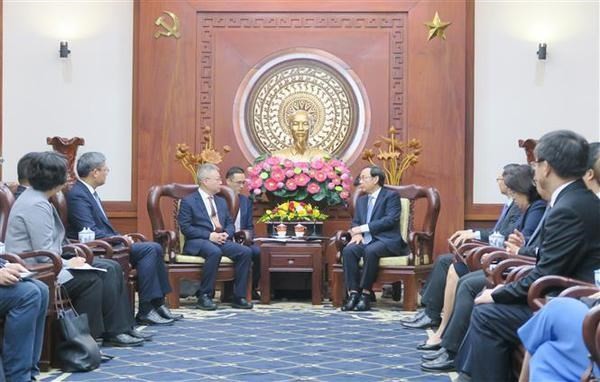 Secretary of the Ho Chi Minh City Party Committee Nguyen Van Nen received visiting Secretary of the Party Committee of China's Hainan province Shen Xiaoming in the city on February 21. Photo: VNA
Nen said he hopes for more visits and direct meetings between leaders of the two localities and their departments in the future, enabling the two sides to share experiences and continue to foster their cooperative and strategic partnership.
For his part, Shen said that in June 2020, the Chinese Government decided to turn Hainan into a free trade zone. The policy has proved its efficiency, as the province has topped Chinese localities regarding GDP growth. Hainan is also the leading locality in foreign investment attraction, he added.
Shen said that in recent years, Hainan has seen breakthrough development in the green energy economy, especially electricity vehicle manufacturing.
Commenting that HCM City is the most dynamic and developed locality in Vietnam, Shen proposed the two sides learn from each other and promote their collaboration in many areas for common development.
He suggested that the two localities should resume their direct air route and bolster cooperation in tourism, agriculture, biotechnology, services, and green economy.
Vietnam and China share a border of almost 1,450 km, including 1,065.6 km on land and 383.9 km over water. It traverses seven Vietnamese provinces – Dien Bien, Lai Chau, Lao Cai, Ha Giang, Cao Bang, Lang Son, and Quang Ninh – and China's Yunnan province and Guangxi Zhuang Autonomous Region.
The Vietnamese northern border provinces of Cao Bang, Lang Son, Ha Giang, and Quang Ninh and China's Guangxi Zhuang Autonomous Region on February 22 also held a video conference on enhancing cooperation between border localities of the two countries.
At the event, the two sides inked an agreement on cooperation in personnel training in the 2023 – 2027 period, and eight agreements in other areas.
Within the framework of the conference, the 14th meeting of the Joint Working Committee of the provinces of Ha Giang, Quang Ninh, Lang Son, and Cao Bang, and the Guangxi Zhuang Autonomous Region was organized.