Vietnam is prepared to accompany the UN in assisting Cuba with the implementation of the 2030 Agenda on Sustainable Development, according to Ambassador Dang Hoang Giang, Permanent Representative of Vietnam to the UN. This statement was made during a recent working session with UN Resident Coordinator in Cuba Francisco Pichon, as reported by VNA.
Ambassador Giang emphasized the special friendship between Vietnam and Cuba and informed the UN official of Vietnam's active support for Cuba through various mechanisms, including South – South Cooperation and trilateral cooperation, especially in the fields of agriculture and food.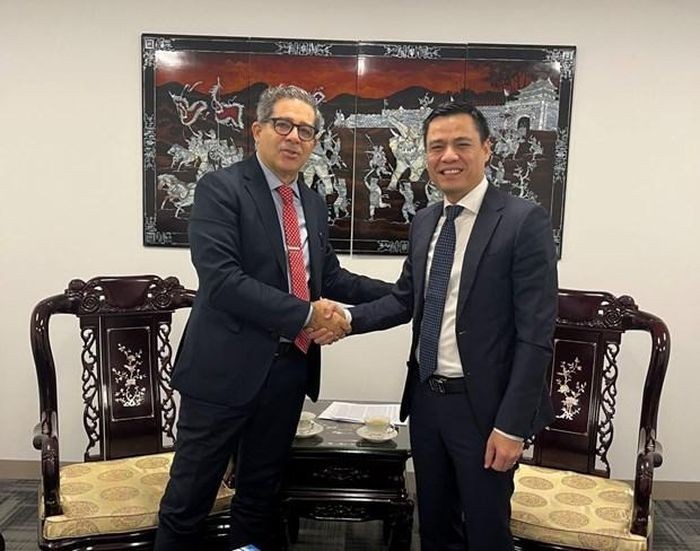 Ambassador Dang Hoang Giang, Permanent Representative of Vietnam to the UN, and UN Resident Coordinator in Cuba Francisco Pichon. Photo: TG&VN
Pichon, who previously served as the representative of the International Fund for Agricultural Development to Vietnam, mentioned that Cuba is facing formidable challenges in post-pandemic recovery and the implementation of the 2030 Agenda.
The UN is implementing a cooperation framework for sustainable development during 2020-2024 to support

Cuba

, with a focus on economic issues, natural disaster mitigation, agriculture, and food security. Pichon expressed hope that Vietnam would collaborate with the UN by sharing its development experience and good practices.
Ambassador Giang stated that Vietnam is willing to be a partner of the UN, helping Cuba overcome existing challenges and make significant progress in the implementation of the 2030 Agenda.
Previously, Ambassador Dang Hoang Giang joined representatives from other countries in opposing the US's economic and trade embargo against Cuba. He emphasized that these measures violate international law and go against the fundamental principles and norms of the UN Charter.
During the UN General Assembly's annual debate on the "Necessity of ending the economic, commercial and financial embargo imposed by the United States of America against Cuba," Giang reaffirmed Vietnam's opposition to all forms of unilateral imposition and sanctions on sovereign nations.
Expressing sympathy for Cuba's difficulties, the Vietnamese diplomat called on the US to lift the embargo, remove Cuba from the list of countries sponsoring terrorism, and reverse its current policies on Cuba. He emphasized the importance of moving towards normalizing relations between the two nations based on equality, reciprocity, and respect for each other's sovereignty and political independence.
Vietnam is ready to share its experiences and contribute to promoting dialogue and building trust throughout this process, he affirmed, reiterating Vietnam's close cooperation, friendship, and solidarity with the Cuban people.
During the debate on November 1 and 2, the 193-member body voted overwhelmingly against the embargo that was first imposed in 1960. A total of 187 states voted in favor of the annual resolution against the embargo, with the US and Israel opposing and Ukraine abstaining.