Vietnam News Today (Jun 23) notable headlines
RoK President begins State visit to Vietnam
Khanh Hoa strives to fully tap maritime tourism potential
Vietnam moves up 11 places on 2023 Global Gender Gap Index
Vietnam logistics sector offers attractive investment opportunities
Vietnam highlights substantive dialogue, effective cooperation to promote human rights: Ambassador
HCM City' tourism promoted in Thailand
M&A in Vietnamese real estate heat up
Vietnam attends Int'l Oceanographic Commission Assembly's session
Hanoi's economy sees effective recovery
Chairman of the President Office Le Khanh Hai welcmes RoK President Yoon Suk Yeol at the airport (Photo: VNA)
RoK President begins State visit to Vietnam
President of the Republic of Korea (RoK) Yoon Suk Yeol and his wife Kim Keon Hee touched down in Hanoi on the morning of June 22 to begin their three-day State visit to the nation at the invitation of President Vo Van Thuong.
Those welcoming the RoK delegation at Noi Bai International Airport included Le Khanh Hai, chairman of the President Office, Tran Sy Thanh, chairman of the Hanoi People's Committee, Permanent Deputy Minister of Foreign Affairs Nguyen Minh Vu, Vietnamese Ambassador to the RoK Nguyen Vu Tung, and RoK Ambassador to Vietnam Oh Young Ju.
This marks the first visit to the nation by RoK President Yoon, with Vietnam also being the first Southeast Asian nation that he has visited since taking office in May, 2022.
It takes place amid the bilateral relationship being upgraded from a strategic partnership to a comprehensive strategic partnership in December, 2022, on the occasion of the 30th anniversary of both nations' diplomatic ties.
Vietnam and the RoK set up joint diplomatic ties on December 22, 1992. The RoK is currently one of the country's leading important partners, cited VOV.
According to details given by the Vietnamese Ministry of Foreign Affairs, the first official activities of the Korean leader will take place on June 23. After a welcome ceremony held at the Presidential Palace, President Thuong and President Yoon are set to hold talks.
The two leaders will then witness the signing of a number of co-operation documents and meet the press in order to announce the outcomes of the meetings.
Trade and investment are set to be the highlights of the Korean president's visit, particularly as accompanying him is a delegation of 205 Korean businesses, including leaders of leading groups such as Samsung, SK, Hyundai, and Daewoo.
According to information given by RoK Ambassador to Vietnam Oh Young Ju, this makes up the largest number of businesses during President Yoon's recent overseas visits. This highlights that economic, investment, and trade links between the two countries have seen rapid and impressive development.
Last year's bilateral trade turnover reached roughly US$87 billion, with the two countries setting a target of raising trade turnover to US$100 billion this year and US$150 billion by 2030.
Khanh Hoa strives to fully tap maritime tourism potential
The central coastal province of Khanh Hoa has taken a wide range of solutions to promote the development of cruise ship tourism – seen as potential and an advantage of the locality.
According to Director of the provincial Department of Tourism Nguyen Thi Le Thanh, Khanh Hoa has become an attractive destination in the itinerary of international cruise ships.
Since March this year, the province has welcomed five cruise ships which carried nearly 4,000 passengers.
The strong rebound in number of high-spending cruise ship tourists from many countries around the world to the locality shows a positive sign, affirming the attraction of Nha Trang-Khanh Hoa, Thanh said.
Tour operators for cruise ship visiting Nha Trang-Khanh Hoa often tours to popular destinations such as Long Son pagoda, Ponagar tower, Truong Son craft village; and those to explore Cai river and the countryside around Nha Trang. Travelers can also learn to cook local dishes.
Experts said cruise ship tourism in Khanh Hoa has not developed to a level matching the locality's potential and existing advantages, according to VNA.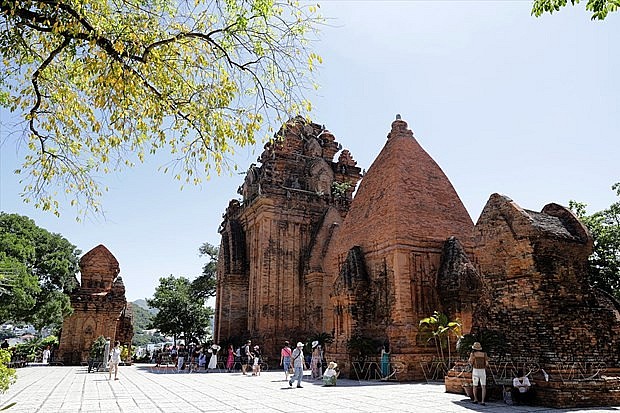 Ponagar tower in Khanh Hoa (Photo: VNA)
According to the Nha Trang Port JSC, Nha Trang is expecting to serve over 30 cruise ships in 2023, including many carrying 2,000 – 4,000 passengers each.
The local tourism sector has focused on developing new tourism products, building and upgrading infrastructure facilities, and improving the quality of tourism services as well as labour force serving tourism.
The province has proposed the Government to have mechanisms to attract investment to transport infrastructure development serving the tourism development in three key areas in Khanh Hoa, namely Cam Ranh, Nha Trang, and Van Phong.
The locality has paid attention to accelerating the administrative reform to make it easier for cruise ships to enter or leave international ports.
This year, the Khanh Hoa tourism sector targets to welcome about 4 million tourists, including 1.5 million international ones, and get a revenue of 21 trillion VND (885.5 million USD).
In the first two months of the year, the province welcomed more than 573,000 visitors, earning nearly 3.3 trillion VND, more than 3 times the amount the same period last year.
Vietnam moves up 11 places on 2023 Global Gender Gap Index
The nation has climbed 11 places on the latest World Economic Forum (WEF)'s Global Gender Gap Index over the past year, marking a rise from 83rd to 72nd place out of 146 countries, with a score of 0.711.
The leading position was maintained by Iceland with a score of 0.912, followed by Norway and Finland. Elsewhere, Austria dropped sharply from 21st to 47th place.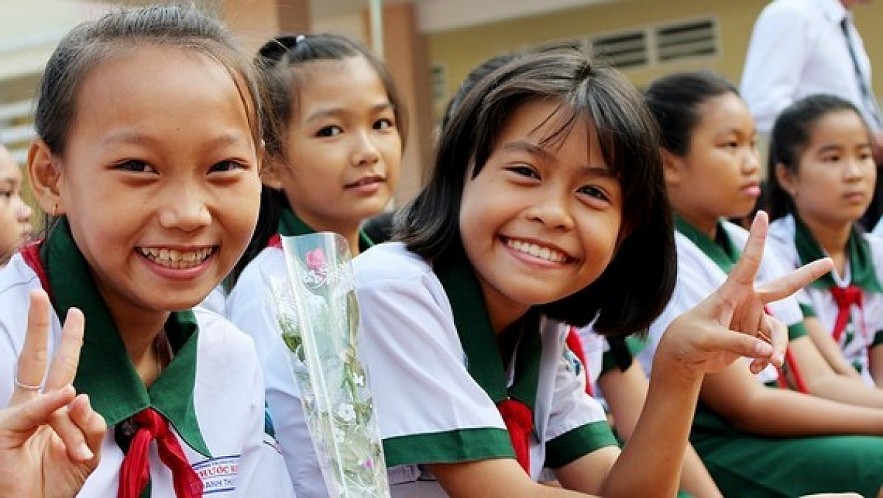 Vietnam has climbed 11 places on the latest World Economic Forum (WEF)'s Global Gender Gap Index over the past year. (Photo: Sggp.org.vn)
Liberia, Estonia, Bhutan, Malawi, Colombia, and Chile all showed strong increases in the global index thanks to improvements recorded in closing the gender gaps across the four main components of the index: Economic Participation and Opportunity, Educational Attainment, Health and Survival, and Political Empowerment.
In terms of the Economic Participation and Opportunity sub-index, Vietnam remained in 31st position, behind countries such as Liberia in first, the United States in 21st, and Slovenia in 30th, as well as regional neighbors such as Laos in fifth, the Philippines in 17th, Thailand in 24th, and Brunei in 29th out of 146 countries assessed.
Indicators at this level reveal that lower workforce participation and lower parity in terms of workforce participation have both contributed to poorer gender outcomes, the report outlined.
Vietnam duly ranked 89th place in terms of Educational Attainment, with the country being near the bottom of the ranking for the Health and Survival sub-index at 144th place, just above China and Azerbaijan, VOV reported.
However, the country climbed from 106th to 89th place in terms of Political Empowerment, with the majority of European countries populating the highest places.
The Global Gender Gap Index records the current state and evolution of gender parity in a country and can be viewed as the longest-standing index which tracks progress towards closing these gaps over time since its inception back in 2006.
The latest index was updated by the WEF on June 21.
Vietnam logistics sector offers attractive investment opportunities
Vietnam might have one of the fastest-growing logistics industries in the world, but it remains highly fragmented.
This presents attractive investment opportunities for private equity firms and other well-capitalised investors, who could help the industry accelerate earnings by adopting best international practices, Michael Kokalari, chief economist at VinaCapital Fund Management JSC, said.
The sector had grown at 14-16% annually in recent years, but logistics costs accounted for over 20% of GDP, among the highest in the world because of the industry's innumerable inefficiencies.
Kokalari said the rapid growth of Vietnam's logistics sector growth was sustainable because of the ongoing expansion of the country's manufacturing sector driven by high-tech products, and the continued growth of its middle class, which also presented numerous investment opportunities, especially in niches such as cold-chain logistics because of a greater demand for fresh food, certain perishable pharmaceutical products and in ecommerce such as last-mile delivery.
E-commerce was growing at more than 25% annually, and the Government targeted a much bigger role for e-commerce going forward, which was likely to lead to a regulatory environment especially favourable for "last mile" and other logistics firms, he added.
Vietnam's logistics industry comprised of foreign and local firms, but the latter were essentially absent from the international shipping business with the exception of the handling and delivery of goods overland across the northern border with China.
The industry's biggest challenge was improving the quality and reliability of its services, and these could be addressed by replicating best practices in other logistics markets, cited VNA.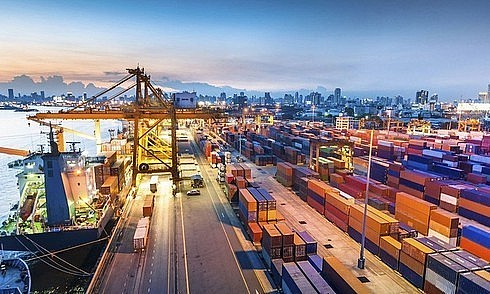 Photo: VNN
The logistics businesses most in need of investments were capital intensive ones and in segments that were highly fragmented, he said.
For instance, transportation firms accounted for around two-thirds of the industry, but over 80% of trucking firms in Vietnam had a fleet size of fewer than five, and after an estimated 70% of deliveries, trucks returned to its home base empty.
Middlemen got nearly 30% of trucking companies' final service fees as commission.
Even in cold storage transport, considered to be one of the most promising segments in the logistics industry and dominated by foreign-invested firms, an estimated 70% of firms had less than 10 trucks.
"In our view, some very compelling opportunities for local firms stem from the fact that sophisticated foreign customers are willing to pay premium prices for reliable logistics services, and that middle-class customers' demand for products and services that entail high-quality logistics, such as online shopping with home delivery and demand for perishable foods and medicines, is soaring."
But logistics operators with sufficient scale and professional management would experience falling costs over time as bottlenecks stemming from Vietnam's infrastructure and other issues were eventually addressed.
"We also expect attractive investment returns for logistics firms that are beneficiaries of increased high-tech manufacturing in Vietnam, and from the ongoing growth of its emerging middle class.
"Finally, we see three potential investment strategies: invest into leading logistics companies to aggressively grow their assets into an integrated platform which offers clients economies of scale; identify particular assets which need capital for upgrading or can be re-purposed, and drive new business by increasing efficiencies and M&A or consolidation.
"One attractive niche in Vietnam's logistics industry is the customs clearance business, in which brokers with good relationships with the proper officials can expedite the clearance of goods in and out of the country by assuring compliance with the complex regulations entailed."
Most of Vietnam's 800 freight forwarding companies provided customs clearance services, according to the Vietnam Logistics Business Association, but firms which could bundle customs clearance services as part of a "core carrier" relationship, capable of satisfying all of the shipping and logistics needs of high tech manufacturing firms could enjoy enhanced pricing power in exchange for providing premium logistics services to those firms.
Vietnam highlights substantive dialogue, effective cooperation to promote human rights: Ambassador
Ambassador Le Thi Tuyet Mai, Head of the Permanent Mission of Vietnam to the United Nations, WTO and other international organisations in Geneva, has affirmed Vietnam's commitment to promoting substantive dialogue and effective cooperation with all member states and human rights mechanisms of the United Nations at the interactive dialogue on the annual report of the UN High Commissioner for Human Rights (UNHCHR) on June 20, 2023.
In her speech, Ambassador Mai emphasised that Vietnam supports the fundamental principles of universality, fairness, objectivity, non-choice and non-interference in internal affairs of countries. Substantial dialogue and cooperation as well as adherence to the above-mentioned principles is the most effective way to promote and protect human rights, she added.
Apllauding the efforts of the UNHCHR as well as of the Office of the High Commissioner for Human Rights (OHCHR) in promoting and protecting human rights, the ambassador affirmed Vietnam's commitment to continuing to work closely with the UNHCHR and OHCHR to address human rights issues.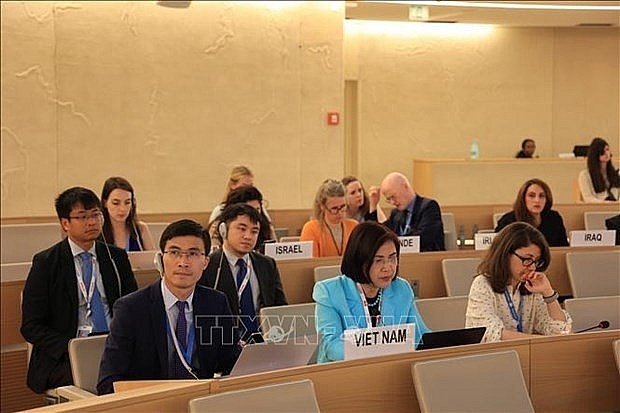 Vietnam highlights substantive dialogue, effective cooperation to promote human rights: Ambassador Le Thi Tuyet Mai.
Although Vietnam and other countries are facing with many challenges in promoting and protecting human rights, Vietnam is determined to ensure that its people fully enjoy human rights, Ambassador Mai said.
She stressed that Vietnam's priority is to focus on strengthening the rule of law, transparency, security and social safety as well as carrying out necessary legal and economic reforms to support the post-pandemic recovery process and inclusive and sustainable developmennt.
At the 53rd session of the UN Human Rights Council, which run from June 19 to July 14, Vietnam continues to promote its participation as a member for the 2023-2025 tenure. A central theme of Vietnam is human rights in climate change, cited WVR.
Vietnam, Bangladesh and the Philippines will co-host a discussion on climate change and human rights, and introduce the draft Resolution 2023 on climate change and human rights. Vietnam's active participation in the formulation and adoption of this resolution as well as in core group activities reflects the country's efforts in responding to climate change.
Besides, the Vietnamese delegation will chair and coordinate with a number of partners to organise a thematic discussion on combating gender-based violence, discrimination and harassment in the workplace as well as join discussions and consultations on the draft resolution as well as sidelines events.