Enterprises in the woodworking industry have begun to receive orders again to serve the furniture shopping season in the year-end months on the world market, as reported by VNA at a recent forum.
Despite the challenges posed by the volatile and unpredictable global markets, agile businesses in the woodworking industry are finding opportunities to thrive, according to experts at the forum.
The Department of Forestry has reported that forestry product exports reached an estimated USD 6.42 billion in the first half of the year, experiencing a year-on-year decrease of 28.8%. Wood and wood product exports were particularly affected, dropping by 29% to USD 5.96 billion.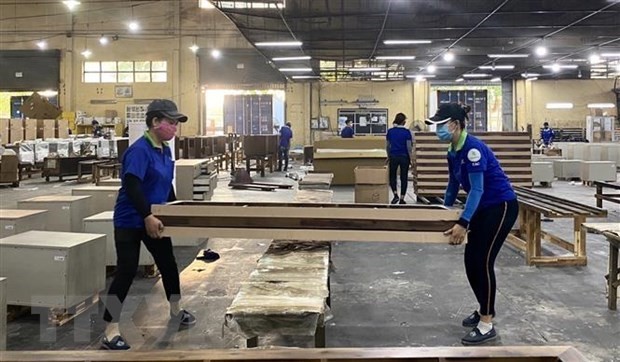 Vietnam aims to earn 25 billion USD from wood and wooden product exports by 2030. Photo: VNA
A preliminary survey by the Handicraft and Wood Industry Association of Ho Chi Minh City (HAWA) found that export orders in the industry initially decreased by 30% but began to recover in July, ahead of the global year-end furniture shopping season.
Speaking at the Vietnam Wood and Furniture Industry Forum held by HAWA in HCM City, Pham Phu Ngoc Trai, Chairman of Global Integration Business Consultants, expressed his belief that the current reduction in export orders is temporary, and the furniture industry has significant growth potential in the next five to ten years.
Compared to the forecasted 3% growth of global GDP this year, the world furniture industry is expected to grow at a compounded rate of 4.5%.
According to Statista Market Insights, the world furniture market revenue is projected to reach USD 766 billion in 2023 and is estimated to exceed USD 932 billion in 2027.
Vietnam is ranked among the world's top five largest wooden furniture exporters, reflecting the country's abundant internal resources, added Trai.
Nguyen Quoc Khanh, Chairman of HAWA, shares a similar view, stating that woodworking firms have demonstrated their business integration initiative. During market downturns, businesses remained proactive by reorganizing production, streamlining operations to reduce costs, and seeking support from trade promotion agencies to explore new markets.
Khanh identified a new trend in the woodworking industry, with significant Vietnamese furniture brands expanding into promising export markets, particularly in super-rich countries in the Middle East like Saudi Arabia and Dubai, targeting new super real estate projects.
With the industry's internal strength and the return of orders, the industry's export target for 2023 is considered achievable.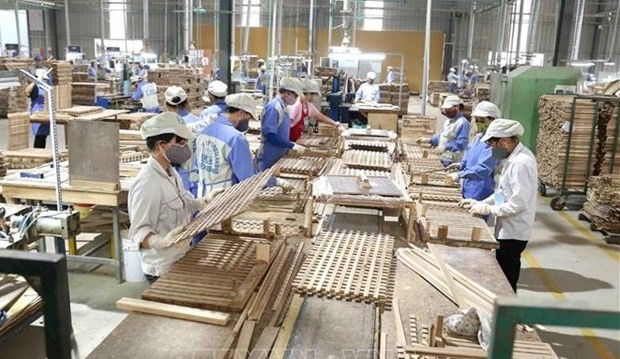 A preliminary survey by HAWA found that export orders in the industry decreased by 30% initially but began to recover in July ahead of the global year-end furniture shopping season. Photo: VNA
Experts at the forum emphasized the importance of businesses strengthening their internal resources to be prepared for the resumption of orders in the recovering market and embracing green transformation to improve competitiveness.
Trai stated that sustainability in interior products is now a mandatory requirement, not just a voluntary standard.
Vietnamese businesses will face new demands such as the EU's Carbon Border Adjustment Mechanism (CBAM), which will come into effect in October 2023, and may result in additional costs for goods imported into the European market if they do not adopt lower-emission production models and earn carbon credits.
According to the Department of Forestry under the Ministry of Agriculture and Rural Development, Vietnam generated an estimated USD 6.42 billion from forestry product exports in the first half of 2023, representing a year-on-year decrease of 28.8%. Of this revenue, USD 5.96 billion came from wood and wood products, while non-wood items accounted for USD 455.7 million, reflecting respective drops of 29% and 26.2%. These numbers also resulted in a trade surplus of USD 5.32 billion, which is 70% of the figure from the same period in 2022.
Trai highlighted that Vietnam's wood industry possesses significant reserves of planted forests, which, if well-managed and connected, offer opportunities for Vietnamese furniture enterprises to capitalize on the carbon credits market.
Pham Thi Ngoc Thuy, Director of the Private Economic Development Research Board, pointed out that market challenges related to the European Union Timber Regulation (EUTR) and the net-zero goal will push Vietnam's wood and forest product processing industry towards a more positive direction, encouraging further outreach and attracting foreign investment.