Vietnam News Today (Mar. 9) notable headlines
Vietnamese women contribute to national development, global peace
HCM City, Western Australia look to boost trade ties
Vietnam puts forward development initiatives at UN conference on least developed countries
Vietnam takes drastic action to combat wildlife trafficking and protect biodiversity
Vietnam ranks 3rd among Laos' markets
Workshop discusses smart and sustainable tourism development in Mekong region
Top Vietnamese legislator receives Japan Business Federation representatives
Vietnam tourism industry sees huge growth for 2023
UN Under-Secretary-General visits Vietnam's engineering unit in Abyei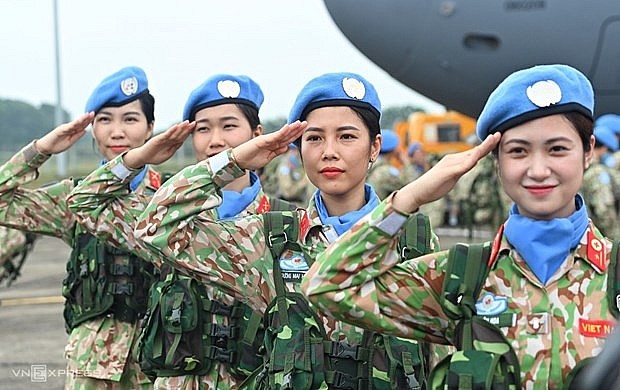 Vietnamese women have made great contributions to national peace, independence, construction and development, as well as regional and global peace, stability and development. (Photo: UN)
Vietnamese women contribute to national development, global peace
Over the past years, Vietnamese women have made a significant contribution to national development and global peace and security, affirmed a Vietnamese diplomat to the United Nations.
Addressing a UN Security Council debate in New York on March 7 (local time), Ambassador Dang Hoang Giang, head of the Vietnam Delegation to the UN, noted that generations of Vietnamese women, through experiencing wars and countless hardships, have sacrificed and made great contributions to peace, independence and construction and development of the nation.
Vietnamese women are now continuing to make significant contributions to peace, stability and development in the region and the wider world, he said.
The UNSC debate was held to discuss women's role and contributions to peace and security toward 25 years of Resolution 1325 on women and peace and security adopted by the UNSC on October 31, 2000, cited VOV.
The resolution reaffirms the important role of women in the prevention and resolution of conflicts, peace negotiations, peace-building, peacekeeping, humanitarian response and in post-conflict reconstruction. It stresses the importance of their equal participation and full involvement in all efforts for the maintenance and promotion of peace and security.
The resolution urges all actors to increase the participation of women and incorporate gender perspectives in all United Nations peace and security efforts. It also calls on all parties to conflict to take special measures to protect women and girls from gender-based violence, particularly rape and other forms of sexual abuse, in situations of armed conflict.
Ambassador Giang emphasized that since the adoption of the resolution, women have played an active role in and greatly contributed to conflict prevention and resolution, national reconstruction and promotion of social progress and development.
To address the challenges and inequalities faced by women today and promote women's role in security and peace, Vietnam maintains that the international community needs to strengthen international cooperation and coordinate policies to ensure women's rights and gender equality.
The Ambassador called on all stakeholders to promote programs and measures to support capacity building at local, national, regional and global levels so that women are able to engage and fully, equally and significantly contribute to sustainable peace-building and economic empowerment for women in accordance with UNSC Resolution 1889 adopted in 2009 at the request of Vietnam in its role as President of the Security Council.
HCM City, Western Australia look to boost trade ties
Vice Chairman of the Ho Chi Minh City People's Committee Vo Van Hoan has called on Western Australia's businesses to invest in strong fields such as food processing industry, agricultural biotechnology, and education- training in the southern hub.
During his reception on March 7 for Deputy Premier of Western Australia Roger Cook Mla, who is on a working visit to the city, Hoan said the visit is a meaningful activity in the year when the two countries celebrate the 50th founding anniversary of the diplomatic ties, contributing to further promoting cooperation between HCM City and the Australian state, and strengthening the bilateral relations as well.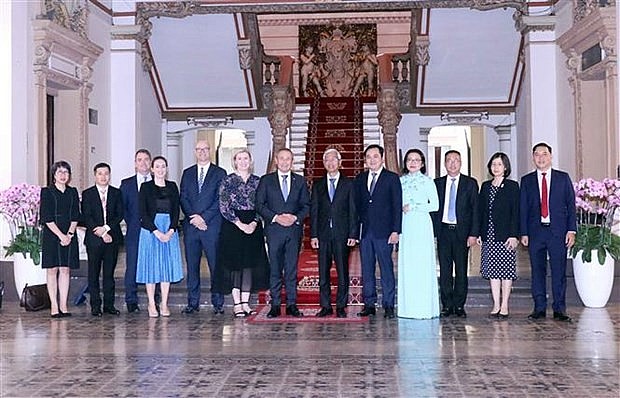 Participants take a group photo at the reception (Photo: VNA)
The strong development of bilateral relations has created favorable conditions for cooperation between the localities of the two nations, the city leader stressed.
Western Australia is the fourth state of Australia after Victoria, Queensland, and New South Wales to open a trade and investment representative office in the locality, Hoan said, adding that the move has contributed to creating new connections between the two sides, especially in trade, investment, tourism, education, innovation and entrepreneurship.
For his part, Mla said Western Australia is eager to strengthen cooperation with HCM City in the fields of energy, tourism, creativity, culture, and education – training.
He affirmed that the operation of its trade and investment representative office is a specific measure to promote trade cooperation between the Vietnamese and Australian localities, reported VNA.
According to the official, there are over 12,000 Vietnamese people living in Western Australia. The Vietnamese community has made many contributions to the development of the state.
At the local level, Western Australia has signed a memorandum of understanding on cooperation with the southern province of Ba Ria Vung Tau in 2021.
Australia has so far run nearly 800 projects with a total investment of over 900 million USD in HCM City, ranking 19th among 117 countries and territories investing in the southern hub. Two-way trade between HCM City and Australia reached more than 1.4 billion USD last year.
Vietnam puts forward development initiatives at UN conference on least developed countries
Vietnam has proposed ways of improving the internal capacity and national competitiveness of the world's least developed countries, taking into account their strengths and characteristics, while also promoting the growth engine of trade and integration.
Vietnamese Deputy Minister of Foreign Affairs Le Thi Thu Hang made the proposals at the fifth United Nations conference of the world's least developed countries (LDC) that is currently taking place in Doha, Qatar, from March 5 to 9, according to VOV.
She said the multilateral trading system should be maintained in a rules-based, fair, transparent, and inclusive manner, adding that it's important to further enhance market access for LDCs.
The Vietnamese diplomat stressed the need to promote science-technology and innovation in order to create breakthroughs for growth. She called on developed countries to help transfer technology, improve capacity, and financially support LDCs who are in the process of green transition and carbon emissions reduction.
She went on to call on countries to uphold the role of peace, international co-operation, and partnerships in addressing global challenges.
On this occasion, Deputy Minister Hang shared Vietnam's socio-economic development experience, with a specific focus on combining internal resources and external forces, proactively integrating into the world, as well as putting people at the center of the development process.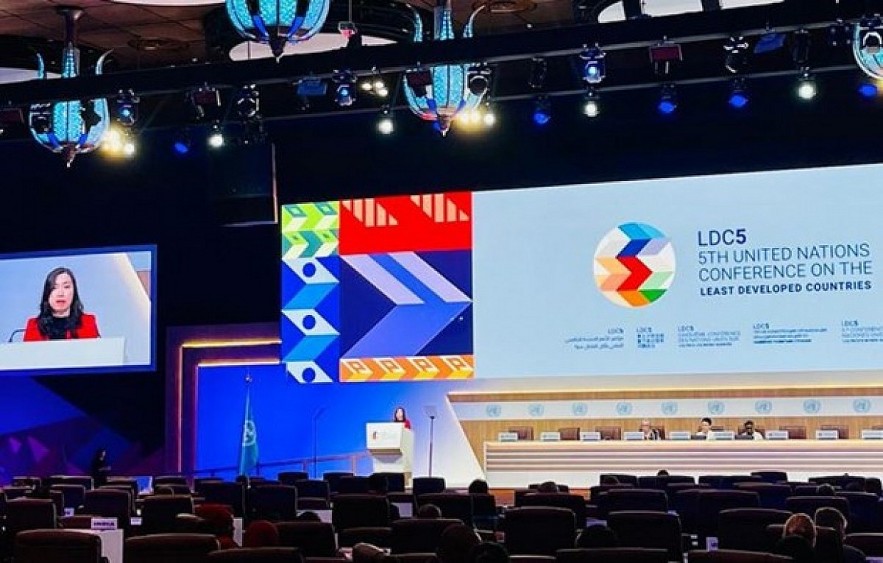 Vietnamese Deputy Minister of Foreign Affairs Le Thi Thu Hang speaks at the fifth United Nations conference of the world's least developed countries (LDC) taking place in Doha, Qatar, from March 5 to 9.
Vietnam is willing to play a role as a cooperation bridge between development partners and LDCs, especially through the South-South and tripartite cooperation models, she affirmed.
The fifth LDC conference was attended by approximately 5,000 delegates, including many heads of state, senior leaders of LDC countries, the Secretary-General and President of the UN General Assembly, leaders of many international organizations, academia, the press, and the business community.
Delegates examined the implementation of the Istanbul Programme of Action since 2011 and set orientations and priorities for cooperation in the 2023 – 2031 period with the aim of helping LDCs to swiftly leave the group and properly implement the 2030 Sustainable Development Goals (SDG) roadmap.
LDCs worldwide are in a race against time to deliver the SDG goals by 2030. The remaining years must strive to usher in a new global partnership that ensures 46 countries benefit from social, economic, and environmental development.
The conference adopted the Doha declaration, affirming its strong commitment to implementing the Doha Programme of Action adopted by the UN General Assembly in March 2022. They set out priorities focusing on investing in people, promoting science-technology and innovation for sustainable development, turning economic restructuring into a driving force for growth and prosperity, strengthening both international trade and regional integration of LDC countries, responding to climate change, enhancing resilience to shocks, and seeking to strengthen global partnerships.
While staying in Doha, the Vietnamese diplomat held meetings alongside lead delegates of bilateral and multilateral partners such as Cuba, India, Benin, Uganda, eSwatini, Venezuela, Kazakhstan, Venezuela, the World Bank, and UNESCO.
Vietnam takes drastic action to combat wildlife trafficking and protect biodiversity
Statistics from the Forest Protection Department show that the number of violations related to wildlife across the nation decreased by 147 cases per year from 2018-2022 compared to 2013-2017.
Vietnam has taken significant measures to combat the illegal wildlife trade and protect biodiversity, according to officials, implementing a range of measures, including improving laws, increasing public awareness, and enforcing strict penalties for violations.
According to Do Quang Tung, director of the Ministry of Agriculture and Rural Development's Endangered Wildlife Conservation project, the country's legal framework for controlling the exploitation and trading of wildlife is comprehensive and appropriate for practical requirements. This includes the 2017 Forestry Law and related legal documents.
Tung noted that the dissemination of legal regulations and coordination among stakeholders in legal enforcement has led to strict punishments for several violations and a significant reduction in demand for wildlife and its products which include food, medicine, and jewelry.
Statistics from the Forest Protection Department show that the number of violations related to wildlife across the nation decreased by 147 cases per year from 2018-2022 compared to 2013-2017.
However, illegal trading, transportation, and consumption of wildlife still occur with much more sophisticated tricks to evade law enforcement, notably the case of 17 captured tigers in the central province of Nghe An in 2021.
Tung admitted that the illegal trade of wild animals across the border remains a complex issue, requiring increased coordination and cooperation at the national, regional, and global levels.
Prevention also involves the improved capacity of law enforcement agencies and higher awareness among consumers.
Last year, the MARD and the US Agency for International Development (USAID) launched a project to protect endangered wildlife species over five years, VNS reported.
The project will coordinate with the Coalition to End Wildlife Trafficking Online, the Vietnam Chamber of Commerce and Industry (VCCI), and the Vietnam E-commerce Association (VECOM) to effectively adopt measures to prevent content related to wildlife trafficking crimes on social media platforms, advertising websites, and actions that encourage wildlife consumption.
It will also help raise awareness among the public and businesses on the risks associated with illegal wildlife trade, assist enterprises in building technical barriers, and take specific actions on each platform and website.
Joint efforts
It should be recognized that the public's reporting of wildlife infractions and the authorities' responsiveness have proven useful for the fight against wild game trafficking in the recent past.
An annual report released by the Education for Nature – Vietnam (ENV) has shown efforts by authorities in 62 provinces and cities, excluding Bac Lieu Province, that reported no infringements.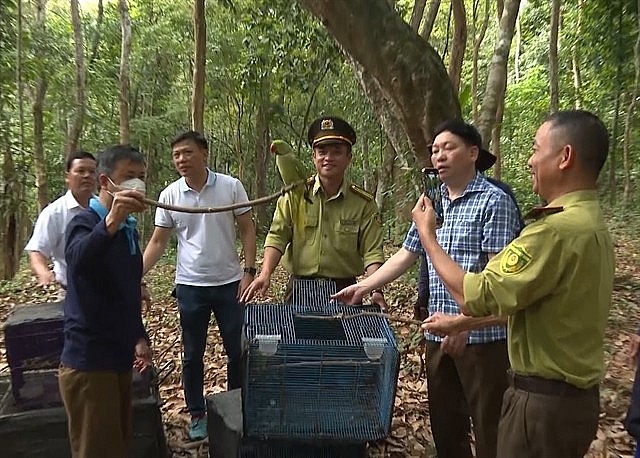 200 wild animals saved from trafficking are released at the Phong Nha – Ke Bang National Park, Quang Binh Province. Photo: VNS
In 2022, law enforcement bodies, mainly the public security and forest protection forces, responded to 97% of the wildlife violations reported via the ENV hotline 1800-1522, which helped people quickly liaise with authorities and report violations.
Authority responsiveness is key to establishing and maintaining effective cooperation with residents to combat wildlife crimes.
However, despite a relatively high response rate to reports, the rate of cases successfully dealt with remains low, at 28.9%. Only one in every three violations related to living wild animals was successfully handled.
According to the ENV, local authorities must improve the effectiveness to raise the rate of successfully handled cases to at least 50% in the coming years.
ENV Deputy Director Bui Thi Ha said the report's results, first launched in 2020, are submitted to the people's committees of provinces and cities to understand the situation compared to others nationwide.
With a relatively complete legal system on wildlife protection, the most important thing now is to enhance the effectiveness of law enforcement, she said.
She hoped that relevant agencies would pay more attention to the effective settlement of wildlife crimes regardless of whether the animals involved are rare or if violations are committed online or in reality.
In the Central Highlands province of Dak Lak, there are 37 domesticated elephants, a sharp fall from the 502 recorded in the early 1980s.
To promote wildlife protection, the ENV and the provincial Department of Information and Communications have connected the app Dak Lak Truc tuyen (Dak Lak Online) with a hotline for wildlife protection 1800-1522 since September 2022.
The province's center for elephant conservation, animal rescue, and forest management has instructed its staff members to install the app to introduce it to residents and encourage the public to report wildlife crimes and animals that require rescue.
In addition, the ENV and the Dak Lak department have also coordinated to hold seminars and training courses on wildlife crime settlement for press agencies, released short films, texted telephone subscribers, and shared images and messages online to disseminate legal regulations and discourage the public from wildlife trafficking and consumption.
Vietnam ranks 3rd among Laos' markets
Vietnam ranked third among Laos' export markets in January with a total value amounting to about 65 million USD, while China remained the top export destination for the country and was followed by Thailand, with 156 million USD and 128 million USD, respectively.
At the same time, Vietnam was also the third among the countries from which Laos imported the most with a total value of about 21 million USD. Thailand topped the list while China came second with 255 million USD and about 121 million USD, respectively.
The Laos' total trade value in the month amounted to 935 million USD, of which 461 million USD were exports. The country recorded a trade deficit of 13 million USD.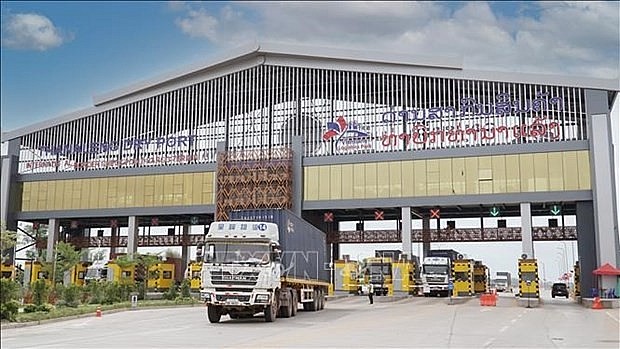 Thanaleng Dry Port (Photo: VNA)
Laos' main exports included cassava, mixed gold and goal bars, copper ore, salt, paper and paper products, bananas, clothes, pulp and paper scraps, sugar, and iron ore.
The country's main imports included diesel, mechanical equipment, land vehicles, gasoline, auto spare parts, steel and steel products, plastic products, electrical wires and cables, electric appliances and electrical equipment, wood pulp and paper waste.
Bilateral trade between Vietnam and Laos reached 99.2 million USD in January, a year-on-year decrease of 27.3%, cited VNA.
Vietnamese shipments to Laos were valued at 27.8 million USD, down 35% from a year ago, while its imports from Laos reached 71.4 million USD, a year-on-year decline of 23.8%.
Two-way trade revenue between Vietnam and Laos in 2022 grew 24% year-on-year to reach some 1.7 billion USD.
Vietnam exported 656 million USD worth of goods to the neighboring country in 2022, up over 10%. They included mainly oil and gas, fertilizers, steel, machinery and accessories, and means of transport. Meanwhile, Vietnam's imports were valued at over 1 billion USD, a year-on-year rise of 35%, with main items including wood and wood products, fertilizers, rubber and corn.