Vietnam News Today (Mar. 7) notable headlines
Vietnamese, Russian agencies celebrate International Women's Day
First Vietnam Town in the world set to take shape in Thailand
Vietnam's overseas investments rise sharply in January-February
Vietnam among Top 21 life-changing trips for travelers
Myriad tours on offer for visitors during Buon Ma Thuot Coffee Festival 2023
Inbound and outbound tours fully booked ahead of coming public holidays
Vietnamese oranges hit the shelves of UK market
Da Nang welcomes 742,500 visitors in first two months
Football: AFC praises Vietnam's triumph over Qatar in U20 Asian Cup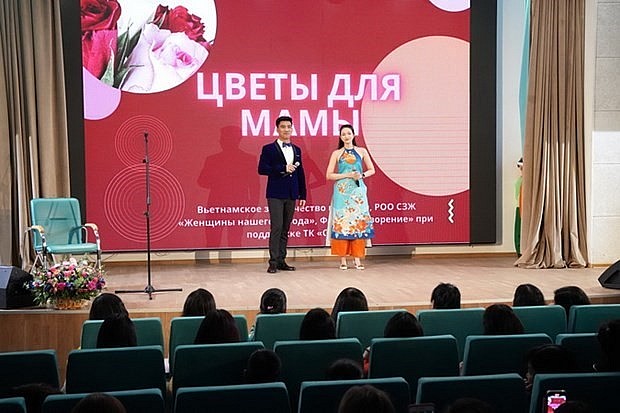 A performance in the musical show celebrating International Women's day in Moscow. (Photo: VNA)
Vietnamese, Russian agencies celebrate International Women's Day
Moscow's regional public organization for women's rights protection "Women of our city", the Vietnamese Association in Russia, and the "Creation" Funding on March 4 organized a musical show to celebrate International Women's Day.
The event saw the participation of representatives from the Vietnam Embassy in Russia, businesswomen, and their family members.
Vietnamese and Russian participants joined in performing songs in both languages and a play, cited VNA.
At the event, the organization "Women of our city" awarded certificates of merit to individual Vietnamese women who have made many contributions to strengthening the solidarity and friendship between Vietnam and Russia.
First Vietnam Town in the world set to take shape in Thailand
Udon Thani city of the Thai province of the same name is set to develop the first-ever Vietnam Town in order to popularise Vietnamese goods, delicacies, and culture within the local community.
Udon Thani is home to more than 60,000 Thai people of Vietnamese origin, the largest Vietnamese community in Thailand. After more than 70 years of establishment and development, the Vietnamese Thai community has maintained aspects of their traditional culture and upheld the spirit of their fatherland. They have also been making important contributions to local socio-economic development, with many now holding high positions in the locality.
Vietnam Town is a joint cooperation project between the local administration and the Thai Vietnamese Association of Udon Thani under the auspices of the Vietnamese Embassy in Thailand. According to the Bangkok-based VOV resident correspondent, the local administration supports and encourages the activities undertaken by Vietnamese expatriates living and working there. Notably, it has allocated THB3 million for building and upgrading the infrastructure system of the town over recent months, according to VOV.
During a recent fact-finding trip to Alley 2 of Si Suk street where the Vietnam Town project is getting underway, Vietnamese Ambassador to Thailand Phan Chi Thanh and Mayor of Udon Thani city Thanadorn Phuttharaksa examined the building of two Welcome Gates at the two ends of Vietnam Town. The Ambassador also revealed a number of Vietnamese organizations and individuals have made practical moves as part of efforts to support the construction of Vietnam Town. Among them, the Bank for Foreign Trade of Vietnam (Vietcombank) has donated a total of THB1.5 million in order to build the Welcome Gates.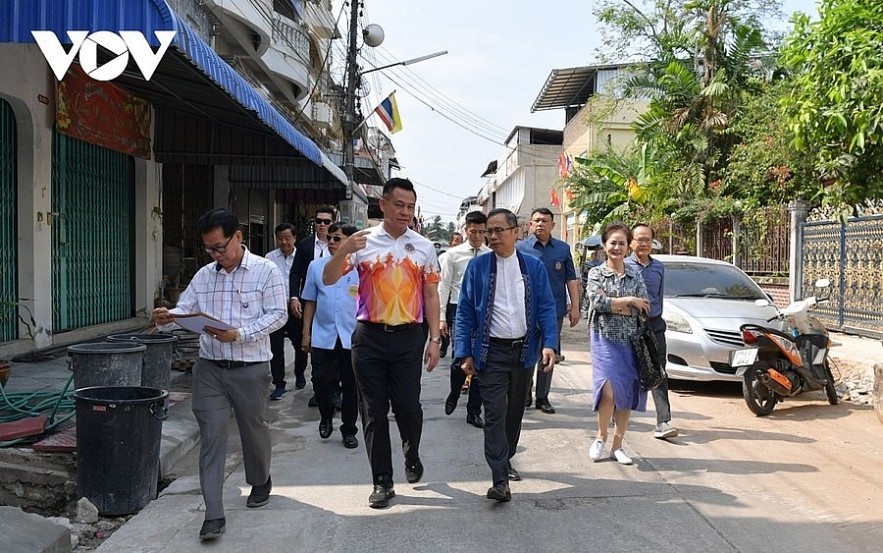 Vietnamese Ambassador to Thailand Phan Chi Thanh and Udon Thani City Mayor Thanadorn Phuttharaksa examine the progress of the Vietnam Town project.
After the hard infrastructure is completed, relevant parties will get down to work on soft infrastructure, including the construction of Vietnamese eateries and souvenir shops which introduce famous brands of Vietnam, along with developing places for cultural exchanges. They aim to attract a large number of tourists from throughout the region, specifically targeting overseas Vietnamese living in Thailand, overseas Vietnamese in Laos, and Vietnamese people, all of whom are keen to visit, shop, and enjoy Vietnamese cuisine.
Indeed, the formation of Vietnam Town will bring about great values in many aspects. From a political-diplomatic perspective, the project will contribute to promoting the country's image, especially its traditional beauty, to Thai people, as well as tourists from all over the world. It will also serve as a vivid manifestation of the friendship and cultural exchanges between the people of Udon Thani and the Thai people of Vietnamese origin residing there. The project will also be a testament to the traditional friendship and comprehensive ties between both countries.
From a cultural perspective, once Vietnam Town is inaugurated, it will be a place that strives to preserve the traditional culture of Vietnamese people in Thailand. It will also become the cultural centre of not only the Vietnamese community in Northeast Thailand, but also Vietnamese expatriates throughout the country.
Economically, making this neighborhood crowded and attracting a large number of tourists to visit and shop will serve to stimulate local economic development, and at the same time generate steady income sources for Vietnamese expatriates there.
Vietnam's overseas investments rise sharply in January-February
Vietnam's outbound investments reached 115.1 million USD in the first two months of this year, 2.16 times higher than that the same period last year, according to the General Statistics Office (GSO) under the Ministry of Planning and Investment.
Of the sum, 109.4 million USD was poured into 10 new projects, a 2.1-fold rise year-on-year. Meanwhile, four other projects increased their capital by nearly 5.7 million USD.
Notably, Vietnamese conglomerate Masan Group's subsidiary The Sherpa received a license to place 105 million USD in Singapore-based tech firm Trust IQ Pte. Ltd. The project is part of Masan's strategic goal by 2025 to create a consumer-retail – technology ecosystem.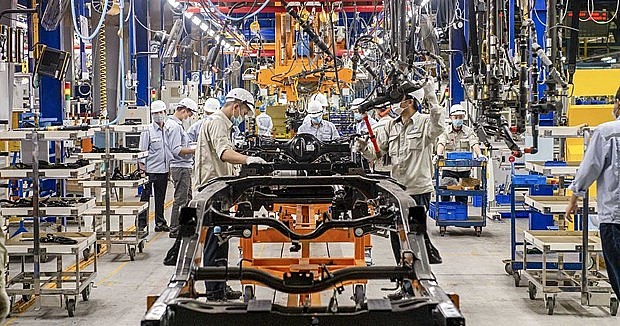 Vietnam's outbound investments reach 115.1 million USD in the first two months of this year, 2.16 times higher than that in the same period last year. (Photo: VNA)
Vietnamese firms invested in 10 sectors abroad, including information communications, services, wholesale and retail, health care, processing, and manufacturing, reported VNA.
Singapore was the biggest recipient of the investments, with a combined capital of 105.5 million USD poured into a new project and another existing one. It was followed by Israel and Laos.
As of February 20, Vietnam counted 1,617 valid overseas projects valued at more than 21.89 billion USD, with 141 by State-invested firms worth some 11.67 billion USD, making up 53.3% of the total.
Laos, Cambodia, and Venezuela lured the most Vietnamese investments, mainly in mining, agriculture, forestry, and fishery.
Vietnam among Top 21 life-changing trips for travelers
Travel+Leisure magazine of the United States has named Vietnam among its list of the Top 21 life-changing trips holiday goers should experience at least once.
According to Elizabeth Rhodes, an associate digital editor of the magazine, a trip throughout Southeast Asia is a must for any traveler, especially foodies who love street food.
"While you could spend weeks in each of these countries, Thailand and Vietnam can easily be paired for an exciting trip packed with lush scenery, cultural experiences, and delicious food," she explained.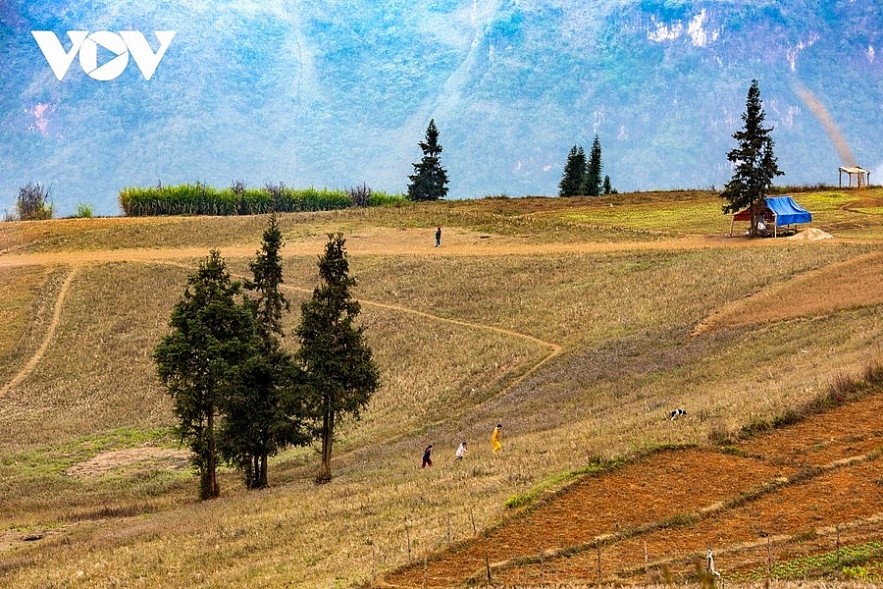 Suoi Thau Steppe in the northern mountainous province of Ha Giang.
Travel+Leisure also recommended Cambodia for visitors who have a little extra time to spare during their trip to Southeast Asia, particularly highlighting a visit to the vast site of Angkor Wat.
Other destinations included in the list were Italy, New York of the US, Tokyo of Japan, Paris of France, Morocco, Greece, Machu Picchu of Peru, an African Safari, Egypt, the Maldives, Australia, the Galapagos Islands of Ecuador, India, the Himalayas, the Great Wall of China, and Petra of Jordan.
Myriad tours on offer for visitors during Buon Ma Thuot Coffee Festival 2023
Travel businesses and agencies in Dak Lak Province have launched 42 tours and programs for visitors during the 8th Buon Ma Thuot Coffee Festival (2023) in order to promote the brand of local coffee and the majestic natural landscape, the diverse traditional cultures of the ethnic groups and the attractive tourism potential of the province.
Visitors can go for one-day tours to join selected activities held within the framework of the festival, including the opening ceremony, a street festival, the Buon Don Elephant Festival, the Lak District boat racing festival, a coffee fair, and a light festival.
They can also join outdoor activities such as, cycling to Gia Long Waterfall, mountain climbing, trekking, and rafting on Serepok River.
For adventure lovers, can join a supercar tour across the forest and waterfall at the Dray Nur-Gia Long waterfalls by Serepok River, which flows toward Cambodia before merging with the Mekong River, then flows into the Southwest region of Vietnam, and finally joins the sea.
With a duration of 4 days and 3 nights, participants in the 'Buon Ma Thuot Coffee Festival' tour will be invited to visit the Ko Tam Community-based Ecological Tourism Area, where they can learn about the indigenous culture of Central Highlanders, participate in the coffee trade fair and the street festival, and take tours to the World Coffee Museum and Ako Dhong Village, where houses are built in the traditional architectural style of Ede ethnic people.
The tour will also take travelers to Lak Resort, one of Dak Lak's most beautiful tourist attractions; Voi Me (Mother Elephant) rock in Yang Tao Commune, Lak District, which is the largest monolith in Vietnam; the villages of Le and Jun in Lak District, to discover the cultural life and customs of the M'Nong people; and Bao Dai House, where they can admire the scenery of Lak Lake from 700m above sea level.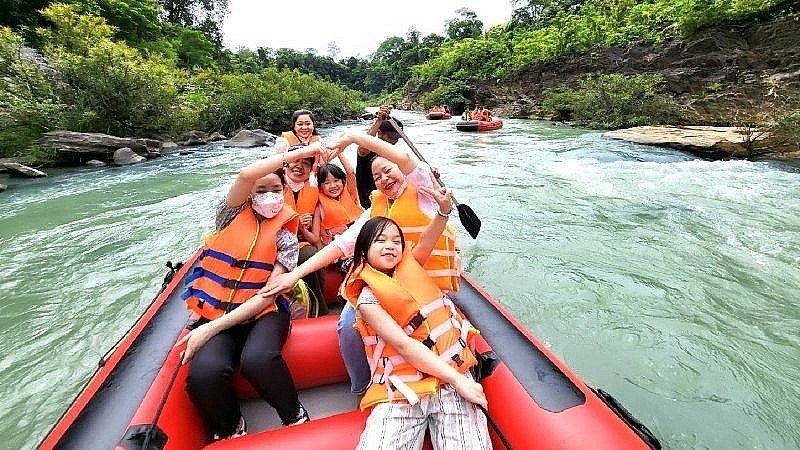 Rafting on Serepok River.
On the next day, the visitors will attend the traditional wharf worshiping ritual and the ceremony to pray for good health for elephants, admire houses built in the traditional architectural style of Lao ethnic group, and visit tombs of M'nong ethnic people in Krong Na Commune, Buon Don District.
There are also tours to Don Village, which are designed to help visitors learn more about elephants and the hunting and raising of elephants by the Central Highlanders, NDO reported.
Tourists will have an opportunity to participate in a wharf worshiping ritual, the ceremony to pray for good health for elephants, bathing elephants, and a buffet party for elephants, while learning about the practice of elephant hunting and breeding and listening to the stories about Ama Kong, the legendary elephant hunter of the village.
According to Director of the Dak Lak Provincial Department of Culture, Sports and Tourism of Thai Hong Ha, the department has set up teams to inspect the operation of local tourism businesses, and launch a hotline to receive complaints and feedbacks from tourists in order to timely address rising problems related to tourism services and products in the locality.
Marking its 8th event, Buon Ma Thuot Coffee Festival 2023 will take place from March 10-14 under the theme 'Buon Ma Thuot – The destination of world coffee'.
The biennial festival aims to honour coffee growers, processors, and traders, while promoting the brand of Buon Ma Thuot coffee and introducing the locality's potential to attract more investment in coffee processing and agricultural products throughout Dak Lak Province.
It also provides an opportunity to advertise Dak Lak as a safe and friendly destination imbued with identities of the Central Highlands region.
This year's festival is expected to welcome around 40,000 to 50,000 visitors from both at home and abroad.