Vietnam News Today (Jan. 28) notable headlines
Vietnam records sharp influx of foreign arrivals during Tet
Vietnam remains good business partner of Hong Kong
Hoi An, HCM City among world's top 25 trending destinations in 2023
Severe cold continues to blanket northern, north central regions
Sea tourism and expectations for a 'made in Vietnam' fleet
No traffic congestion as people back to work after week-long break
1973 Paris Peace Accords – a decisive victory for Vietnamese diplomacy
VN female scientist named among most influential globally
Vietnam supports the expansion of the UN Security Council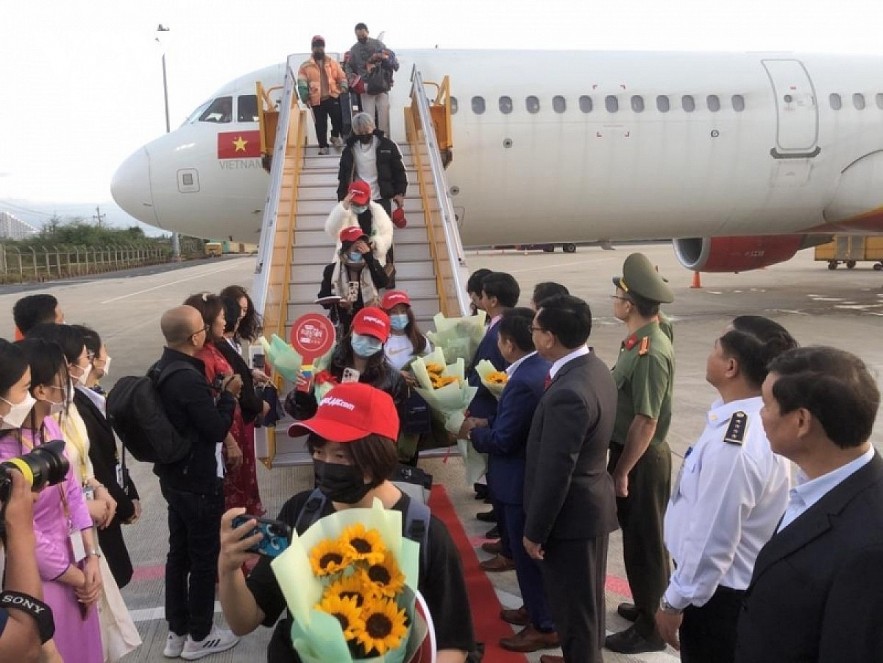 Photo: VOV
Vietnam records sharp influx of foreign arrivals during Tet
The number of foreign tourists visiting Vietnam during the Lunar New Year (Tet) has increased remarkably, with bookings from foreign citizens making up between 30% and 40% of the country's total room occupancy rate, according to the Vietnam National Administration of Tourism (VNAT).
Hanoi received roughly 32,000 international travelers, while Ninh Binh was estimated to have welcomed more than 29,000 guests from abroad, said VNAT.
The increasing number of foreign visitors was largely attributed to China's recent decision to reopen its borders from January 8, making the international tourism market more hectic.
Domestically, localities across the country served nine million local visitors during Tet, representing a rise of 47.5% compared to the same period from last year, and earned VND17.5 trillion from tourism services.
Ho Chi Minh City took the lead with 1.7 million visitors, followed by Ba Ria – Vung Tau, Khanh Hoa, Thanh Hoa, Can Tho, Kien Giang, and Hanoi, cited VOV.
Along with positive signs for tourism recovery, VNAT leaders pointed out that due to the impact of the global economic recession and the country's socio-economic fluctuations, the purchasing power of tourists has dropped significantly due to visitors spending money on medium and high-class travel services.
The national tourism industry has set a target of receiving 110 million holidaymakers, including eight million foreign arrivals in 2023.
Vietnam remains good business partner of Hong Kong: official
Vietnam is always a very good business partner of Hong Kong (China), and the two sides have maintained effective trade and investment ties over the past years, according to Hong Kong's Secretary for Commerce and Economic Development Algernon Yau.
Algernon said that Hong Kong businesses are very interested in investment in Vietnam and Vietnamese firms also expressed their interest in investment in Hong Kong.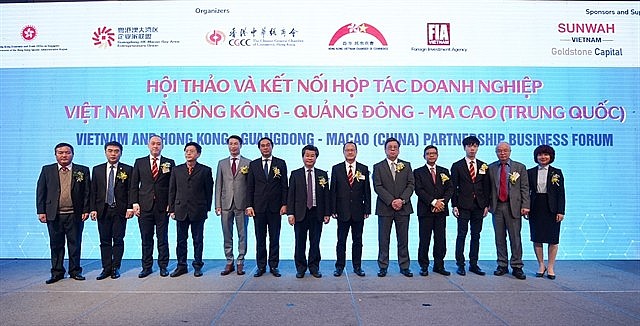 Hong Kong's Secretary for Commerce and Economic Development Algernon Yau. (fifth, right) and representatives from Vietnam and Hong Kong attend the Vietnam and Hong Kong – Guangdong – Macao (China) partnership business forum. Photo: Hong Kong Commerce and Economic Development Bureau
Algernon said he saw substantial opportunities for trade and investment cooperation between the two sides in the time ahead.
Vietnam is a member of the Regional Comprehensive Economic Partnership (RCEP) and the Hong Kong Special Administrative Region Government has applied for accession into the RCEP since early 2022, Algernon said.
He explained that the membership would help to further facilitate the trade between Hong Kong and the RCEP countries.
During the 2017-2021 period, trade between Vietnam and Hong Kong grew 11.8% each year. In 2021 alone, the value reached 220 billion HKD (28.1 billion USD), up 19% year-on-year, according to VNA.
Hong Kong is the fifth largest trade partner of Vietnam, while Vietnam is the seventh largest trade partner of Hong Kong, and the second biggest among the ASEAN countries, only after Singapore. The two-way trade in the first half of 2022 stood at 125 billion HKD, a year-on-year rise of 21%.
Hoi An, HCM City among world's top 25 trending destinations in 2023: TripAdvisor
Germany's famous travel site reisereporter.de has run an article highlighting the world's top 25 trending destinations for 2023, including Vietnam's Hoi An ancient city and Ho Chi Minh City, recently voted by readers of TripAdvisor – the world's largest travel guidance platform.
Specifically, Hoi An in the central province of Quang Nam occupied the second place on the list as part of the annual Travelers' Choice Best of the Best Awards, following Cuba, while the southern metropolis secured 11th place.
The category reveals destinations with the greatest year-over-year growth in interest on Tripadvisor based on travelers' reviews over a 12-month period between November 1 and October 31.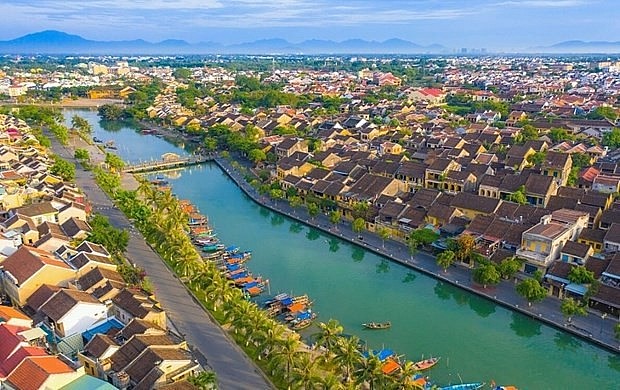 Hoi An ancient city. Photo: VNA
"Hoi An on the central Vietnamese coast is a well-preserved example of the important Southeast Asian trading port it was from the 15th-19th centuries," Tripadvisor commented. "Already a common stop for backpackers, it is becoming better known to tourists."
Meanwhile, Vietnam's bustling largest metropolis of Ho Chi Minh sets the cultural and economic pace for the country, Tripadvisor said, adding the former Saigon boasts charming French colonial architecture and wide boulevards.
The US-based travel site advised tourists to visit the War Remnants Museum at 28 Vo Van Tan Street in District 3 as well as the Jade Emperor Pagoda, which former US President Barack Obama visited during his trip to Vietnam in 2016.
Siem Reap in Cambodia and Chiang Mai in Thailand also made it onto the top 10.
Severe cold continues to blanket northern, north central regions
Severe cold continues covering the northern and north central regions on January 27 – the first working day of Vietnamese people after a week-long Lunar New Year (Tet) festival.
This weather condition is forecast to last until January 30. Some areas in the northern mountainous region may record the lowest temperature of below 3°C, cited VNA.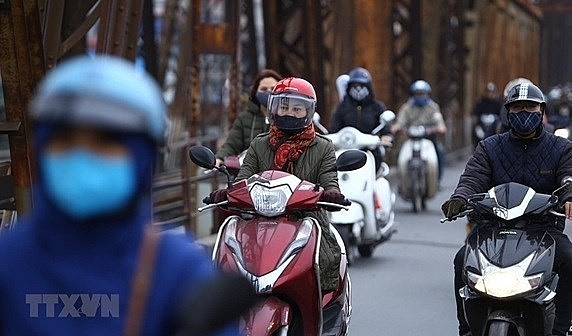 Severe cold continues covering the northern and north central regions. Photo: VNA
According to the National Centre for Hydro-Meteorological Forecasting, people in other parts of the central region can also experience the cold.
Downpours and thunderstorms are predicted to occur in several places across the country.
Sea tourism and expectations for a 'made in Vietnam' fleet
The number of cruise tourists accounts for only 2-3% of the total number of international visitors to Vietnam.
With a long coast and beautiful beaches, Vietnam has become a destination for international cruise vessels, said Duy Vu, former Deputy General Director of Saigontourist Travel Company at a recent workshop.
The number of cruise tourists to Vietnam are increasing, and cruise ships to the country are getting bigger, carrying up to 4,500-4,800 passengers. The time of stay at Vietnamese ports is also longer, and they stop at more ports instead of only 1-2 ports as before, according to Vu.
However, the number of cruise tourists accounts for only 2-3% of the total number of international visitors to Vietnam. According to Vu, cruise tourism in Vietnam has not been promoted properly.
Vietnam does not have representative offices in key markets such as the US, Europe, Australia, and Southeast Asia to attract cruise tourists. There are no cruise ports in some port cities, which are popular tourist destinations. Cruise products are not diverse, and cannot meet the needs of dining, shopping and entertainment of tourists.
Moreover, the visa policy for cruise passengers is still complicated. It takes shipping lines a lot of time preparing and arranging passports for passengers on board to get visas. This puts great pressure on shipping lines as cruise ships have large numbers of passengers (2,000-4,000 or more).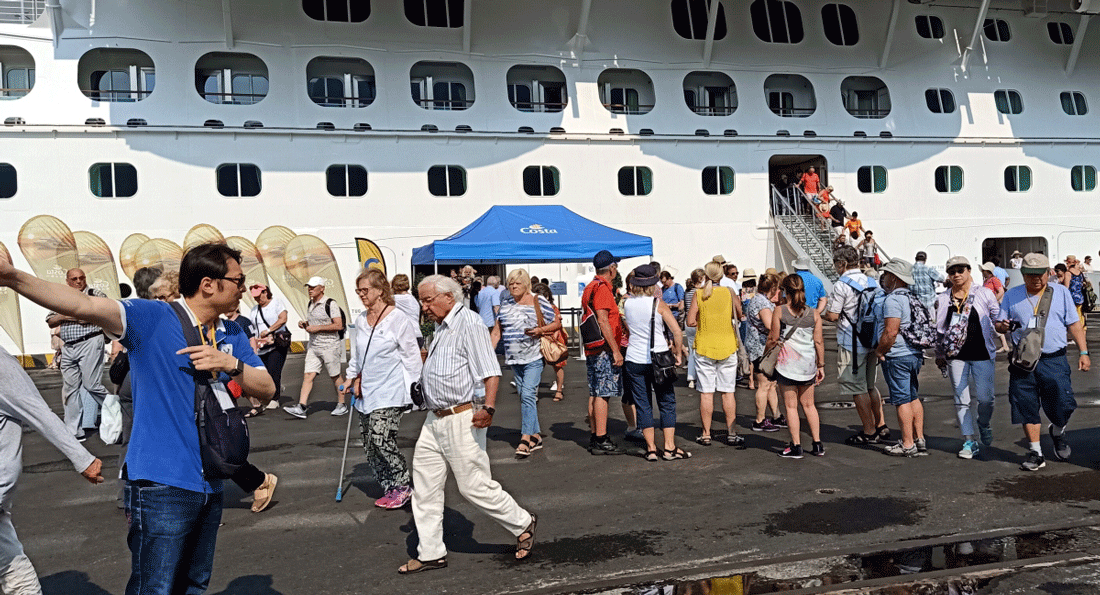 Photo: VOV
Vu The Binh, Chairman of the Vietnam Tourism Association, said that although Vietnam has 3,000km of coastline, hundreds of beautiful beaches, hundreds of islands, and dozens of coastal cities, it still does not have a cruise ship fleet.
Cao Tri Dung, Chairman of Da Nang Tourism Association, said that Vietnam has only a strategy to develop inbound cruise tourism. He suggested that it is necessary to actively reach out, because sea tourism is one of the pillars of the marine economy. Vietnam must have cruise ships to carry passengers from Vietnam to other countries.
Pham Ha, Chairman of Lux Group, emphasized that it is necessary to attract investors to invest in cruise ships and yachts with Vietnamese nationality that run along the coast.
Cao Tri Dung pointed out that the current legal framework only applies to inland waterways, not to sea tourism and maritime routes. That framework also only applies to passenger ships and line ships, not cruise ships.
He said when traveling by restaurant boat on the Han River (Da Nang), passengers must wear life jackets, and cannot move or take pictures. Dancers have to wear life jackets so they can't perform. These are regulations that apply to passengers traveling by sea, but also to passengers on cruise ships.
The connection between regions is very poor. For example, tourists who want to move from Lan Ha Bay (Hai Phong) to Ha Long Bay (Quang Ninh) and vice versa must change ships because cruise boats operating in each bay are not allowed to go to another bay, cited VNN.
Environmental pollution at sea has become an urgent issue, said Chairman of Lux Group Pham Ha. In some coastal localities, garbage in the sea and coastal waste is abundant. In Lan Ha Bay, businesses have to set up their own association, then hire boats to pick up trash at least in places where cruise ships operate. This is an urgent issue that needs to be solved.
Travel businesses have asked for a national strategy on developing Vietnam's sea tourism.