Vietnam News Today (Feb. 27) notable headlines
Vietnam wishes to boost cooperation with Germany in farming, innovation
Southern localities on alert as fresh avian influenza outbreak recorded near border
Expert optimistic about prospects of Vietnam-Australia relations
Philippe Troussier arrives in Vietnam, stays ready for a new mission
Vietnam posts US$1.7 billion trade surplus in mid-February
Vietnam, Dominican Republic parties ink cooperation document
Vietnam Town project underway in Thailand's Udon Thani province
Hanoi kicks off net zero tree-planting project
Son La: Moc Chau tourism shows great potential
Le Manh Hung (L), head of the Vietnamese ministry' enterprise development department, and Alina Grumpert, Director of the German Agribusiness Alliance (GAA), signed a Memorandum of Understanding establishing a common cooperation framework under the witness of Minister Nguyen Chi Dung (standing, third, from left). (Photo: VNA)
Vietnam wishes to boost cooperation with Germany in farming, innovation
Minister of Planning and Investment Nguyen Chi Dung led a Vietnamese delegation to visit Germany from February 23 to 25, working with German departments on measures to concretize cooperation with Europe's largest economy, especially in agriculture and innovation.
At the working session with Alina Grumpert, Director of the German Agribusiness Alliance (GAA), Dung proposed the union support Vietnamese agricultural enterprises to improve their competitiveness, apply science and technology, promote innovation to improve added value and product quality.
Grumpert said in the context that Vietnamese farming products have to compete fiercely with their competitors, improving the entire value chain is essential.
Talking about measures to assist Vietnamese enterprises, Tobias Fausch, IT director of BayWa – one of the largest German corporations in trade, logistics and services for agriculture and energy, noted one of their biggest advantages is the enforcement of the EU-Vietnam Free Trade Agreement (EVFTA) from August 2020.
Building an institutional dialogue system, with better tax rates, will help Vietnam's farming products access large markets, he added.
The GAA and German firms said they are committed to supporting Vietnamese businesses in the field. The German side will coordinate to bring them to Germany to learn about the local technological transition and application models in agriculture, cited VNA.
While in Germany, the delegation also toured the Adlershof hi-tech park in Berlin, and the Infineon Semiconductor Group, one of the 10 largest of its kind in Germany.
On February 25, the delegation met with Chief of the State Chancellery and State Minister of Saxony Oliver Schenk, discussing measures to meet the demand for skilled labour; cooperation in semiconductor industry and high technology; and economic transformation toward sustainability.
Southern localities on alert as fresh avian influenza outbreak recorded near border
The National Pasteur Institute in Ho Chi Minh City has issued an urgent telegram requesting 20 southern provinces and cities to strengthen surveillance and prevent avian influenza virus entering after Cambodia recorded two cases of A/H5N1 virus infection.
One of the two cases, an 11-year-old girl, died of the lethal strain, according to the World Health Organisation that is closely monitoring the outbreak in the Cambodian locality.
As the virus was detected in Prey Veng province that borders Vietnam, the Pasteur Institute in its telegram requested that the health departments of 20 southern provinces and cities direct their agencies to closely monitor and detect severe pneumonia cases caused by the H5N1 virus strain, type A, at all medical facilities in their localities.
It asked them to pay special attention to those going to/from the epidemic area, timely take samples and send them to the Pasteur Institute for testing.
International health quarantine units must coordinate with the plant and animal quarantine units to monitor poultry and aquatic products entering Vietnam through border gates and open crossings, said the Pasteur Institute in its telegram.
The Centre for Disease Control of the provinces and cities were asked to coordinate with provincial departments of animal husbandry and veterinary to early detect any possible avian influenza outbreaks in the community and promptly handle them according to regulations.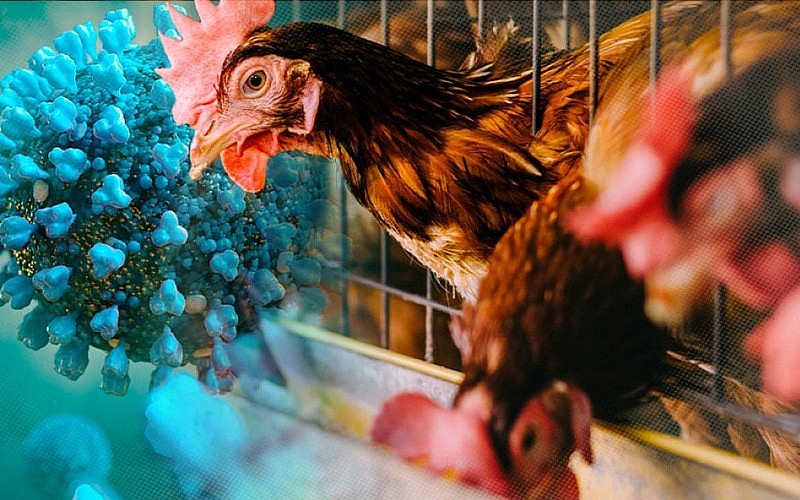 Photo: truyenhinhdaknong
In Ho Chi Minh City, the municipal Department of Health requested the Ho Chi Minh City Centre for Disease Control to closely monitor people going to/from avian influenza hit areas and coordinate with animal quarantine stations in monitoring poultry and waterfowl entering Vietnam through border gates.
The Department also requested relevant agencies to enhance communication about measures to detect and prevent avian flu at border gates and in the community, according to VOV.
Ho Chi Minh City Hospital for Tropical Diseases was required to ensure personnel, equipment, medical supplies, and medicines to receive, isolate and treat suspected or confirmed cases of influenza A (H5N1) in accordance with regulations.
On hearing about the two avian influenza cases in Cambodia, the Department of Animal Health under the Ministry of Agriculture and Rural Development (MARD) has contacted the Food and Agriculture Organization of the United Nations (FAO) to get information about the situation in Cambodia, but has not received any response.
The MARD has also sent a telegram to localities, especially those in the south, requesting that they strictly control the transportation and trade of live poultry and poultry products.
In particular, in the southern provinces, it is necessary to control and prevent poultry smuggling across the border from Cambodia to Vietnam to prevent influenza A/H5N1 virus from entering the country, said the ministry in its telegram.
Every year, Vietnam still records a number of scattered outbreaks of avian influenza caused by the A/H5N1 virus. Currently, there are only two outbreaks of avian influenza in poultry flocks in Nghe An and Cao Bang provinces that both occurred in less than 21 days. About 5,000 birds in the outbreak hit localities have been culled by veterinarians, and there have been no signs of the virus transmission in the community.
In addition, the Department of Animal Health annually deploys a bird flu monitoring and sampling programme at markets, breeding farms, and poultry slaughterhouses to promptly nip in the bud any possible outbreaks.
Expert optimistic about prospects of Vietnam-Australia relations
The Vietnam-Australia relations continue to grow strongly across fields, reaping great successes in the past five decades, as the two countries have built strategic trust based on mutual respect and common interests, said Prof. Carl Thayer, an expert on Vietnamese studies from the University of New South Wales (UNSW).
On the occasion of the 50th anniversary of the countries' diplomatic relations, Thayer added that trade and investment have also been a motivating force for the ties. Vietnam and Australia participate in many economic cooperation frameworks, including the Comprehensive and Progressive Agreement for Trans-Pacific Partnership (CPTPP) and the Regional Comprehensive Economic Partnership (RCEP).
He said the bilateral relationship has geo-strategic convergence. It is based on many different pillars, but trade and investment have always been among the top priorities, noted the expert.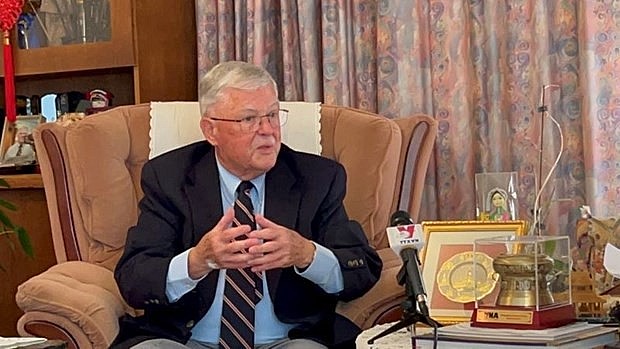 Prof. Carl Thayer from the University of New South Wales (Photo: VNA)
The nations are recovering from COVID and opportunities are there with economic interests, Thayer said, believing that the two can work together to address the new post-COVID issues at a time when the world is settling down. Trying to move in a different direction of multipolarity suits both, he added.
Commenting on the future and prospects of the ties, he said what they have achieved together is impressive, but there is still room for further development. Vietnam and Australia need to improve and strengthen their people-to-people exchange, as well as their relations in such fields as education, tourism, sports, and climate change response, reported VNA.
The professor is optimistic that the leaders of the two countries will continue to promote and elevate bilateral relations to a new height. He recommended they focus on a number of other sectors, including digital economy, energy transition, decarbonisation, education and training, and public health.
According to him, Australian Foreign Minister Penny Wong visited Vietnam and more high-level visits have been made, showing very bright prospects for the bilateral relations.
Thayer said that the two sides will set new priorities for joint works, strengthen some existing ones, and discuss cooperation mechanisms and high-level talks to facilitate bilateral collaboration programmes.
Philippe Troussier arrives in Vietnam, stays ready for a new mission
French strategist Philippe Troussier who will coach the Vietnam national football team and U23 team arrived at Noi Bai International Airport on February 26 after a direct flight from Paris to Hanoi.
He was welcomed at the airport by Vietnam Football Federation (VFF) General Secretary Duong Nghiep Khoi and Deputy General Secretary Nguyen Thanh Ha, as well as crowds of Vietnamese spectators.
Returning to Vietnam this time, Troussier was accompanied by his compatriot assistant Moulay Lahsen Azzeggouarh Wallen, who will be with him in the upcoming years.
"I feel honoured and proud to take the helm of the Vietnam national team. I'm ready for a new mission," said Troussier at the airport.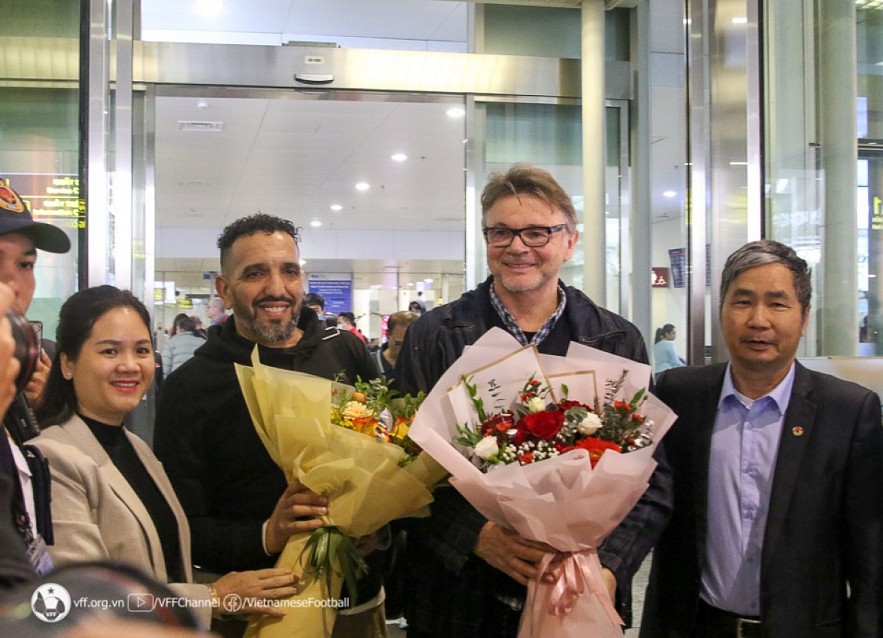 Vietnam Football Federation (VFF) leaders welcome Philippe Troussier and his assistant Moulay Lahsen Azzeggouarh Wallen at Noi Bai International Airport in Hanoi on February 26. (Photo: VFF)
He said Vietnam is a promising team, and managing such a team will make him feel motivated and excited.
Troussier had worked in Vietnam as a strategic adviser and then technical director at the Promotion Fund of Vietnamese Football Talent (PVF) Academy between 2018 and 2021 before leading the Vietnam U19 team to qualify for the 2020 AFC U-19 Championship. Unfortunately, his plans became unfinished at that time due to the impact of the COVID outbreak.
Troussier will sit in the hot seat to replace his predecessor Park Hang-seo whose contract expired in late January 2023. The Frenchman's contract with the Vietnam Football Federation initially lasts for three years, from March 2023 to July 31, 2026.
The first task of the new coach is to lead the U23 Vietnam at the coming the 32nd SEA Games due to take place in Cambodia in May, cited VOV.
Meanwhile, the national team will flex their muscle at the 18th Asian Games (ASIAD) to be held in Hangzhou (China) in September and the 2023 Asian Cup to be held in Doha (Qatar) in January 2024.
Troussier has also set the ambitious goal of taking Vietnam to the FIFA World Cup in 2026, when the global biggest men's football tournament plans to increase the number of participating teams to 48 instead of 32 at present.
The French coach will make his debut at a ceremony hosted by the Vietnam Football Federation on February 27.
Vietnam posts US$1.7 billion trade surplus in mid-February
Vietnam has seen a trade surplus of US$1.68 billion in the year to February 15, with the surplus of the first half of February alone contributing US$1.1 billion, official data showed.
Of the amount, Vietnam's goods exports in the first half of February amounted to US$13.4 billion, up 49% over the second half of January, thanks to a strong surge in exports of computers, electrical products and parts thereof (up 54%), machinery and equipment (up 47.7%), and textiles and garments (up 78%).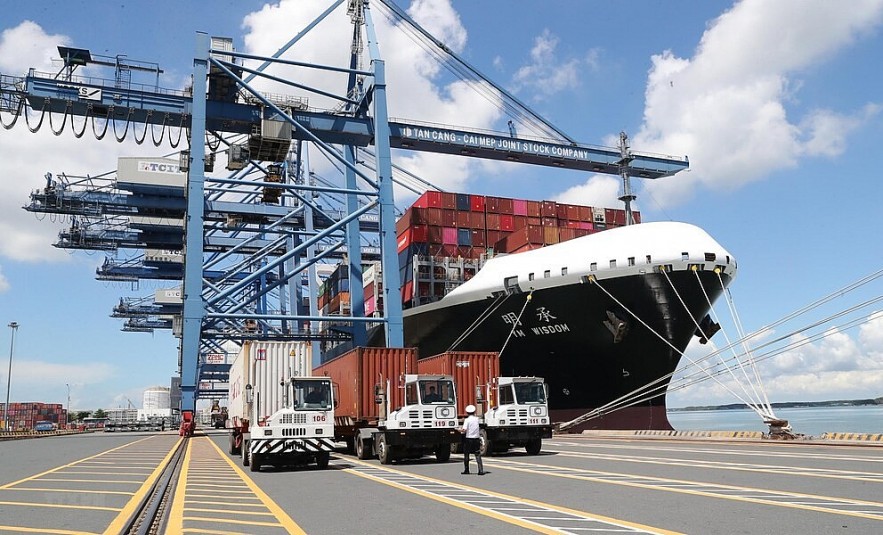 Container trucks at the Tan Cang – Cai Mep International Terminal. Photo: VNA
Meanwhile, the total value of imports surged 36.6% compared to the second half of January to US$12.4 billion, with shipments of computers, electrical products and parts thereof, machinery and equipment, and plastic materials from foreign countries soaring by 24.6%, 44%, and 100.2%, respectively, SGGP reported.
The import and export turnover from January to mid-February dropped by 18% and 9.2% over the year-ago period, at US$35.3 billion and US$37 billion, respectively.