Minister of Education Nguyen Kim Son on September 25 concluded his US working trip that aimed to strengthen the education partnership between the two countries, VNA reported.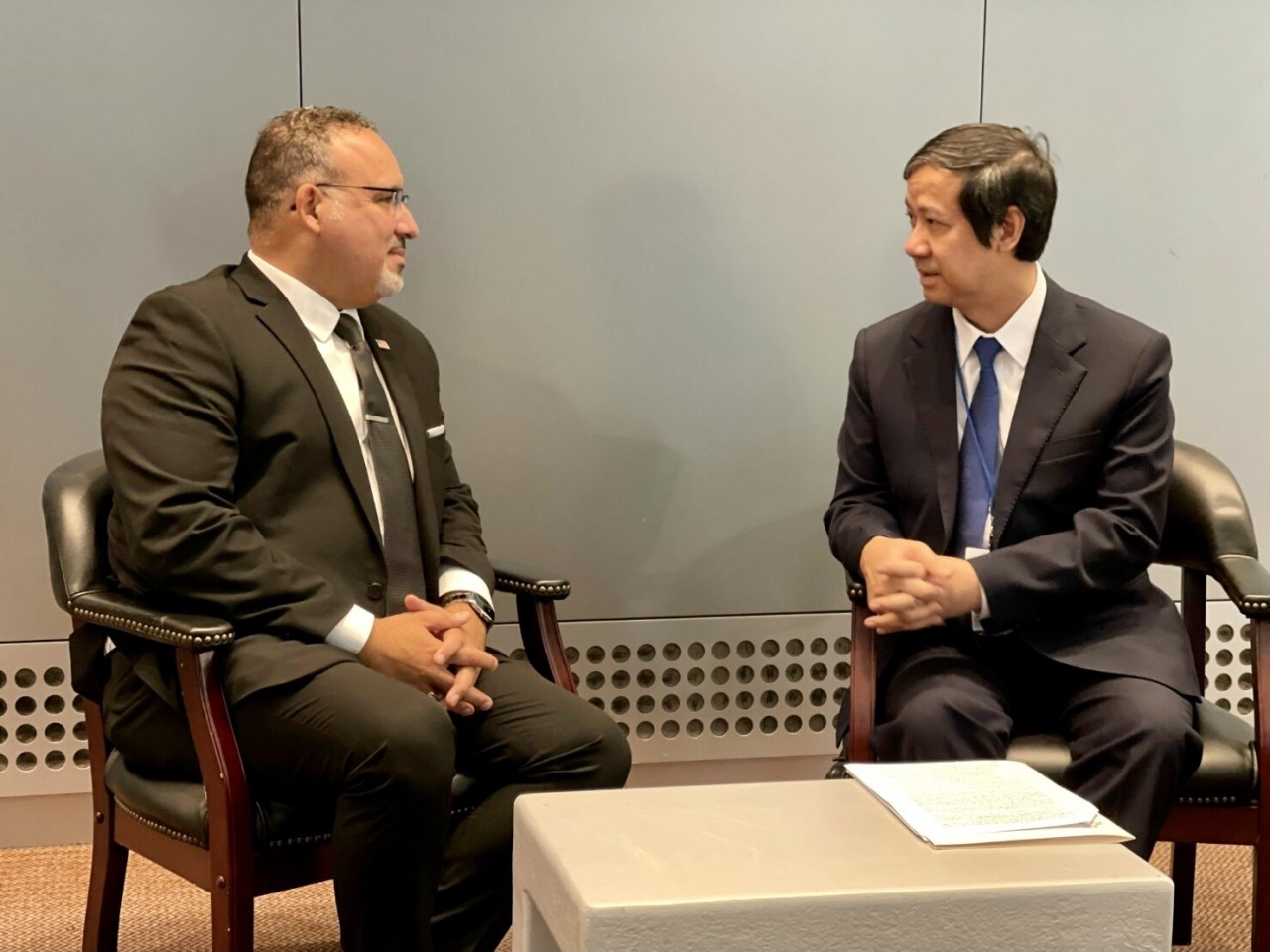 Minister of Education and Training Nguyen Kim Son (R) meets Secretary of Education Miguel Cardona. Photo: VNA
Along with attending the Transforming Education Summit, Son had meetings with the US Secretary of Education and representatives from the World Bank, Microsoft, and New York University.
He also had a working session with the President of the US Educational Testing Service (ETS) Amit Sevak and held a Vietnam-US education cooperation forum that drew leading US educational organizations.
Participants at the event discussed major cooperation issues in education training between the two sides.
On the sidelines of the forum, the minister had a meeting with leaders of the College Board – a global non-profit organization connecting students to universities and career opportunities.
College Board Vice President Rushi Sheth said that the number of Vietnamese students joining the advanced placement program has increased 219% since 2018, while those taking SAT tests rose 45%, showing the increasing demand for international education programs.
He said that online SAT tests are likely to be made online from March 2023, helping save costs and time for students across the world.
College Board hopes to become a strategic partner of the Vietnamese Ministry of Education and Training in expanding opportunities to approach high-quality education for students, he said.
At a meeting with General Director of c Encyclopedia Britannica (EB) Jorge Cauz, Son expressed his hope that EB will partner with Vietnam through cooperation activities with the national foreign language training project and the Vietnam Academy of Education Science while helping the country develop general education and creating a firm foundation for the training of high-quality human resources in the country.
Son also had a meeting with Andrew B. Raupp, CEO of STEM, one of the oldest educational organizations of the US that has provided services for 4,500 schools and organizations in more than 25 countries, including Vietnam.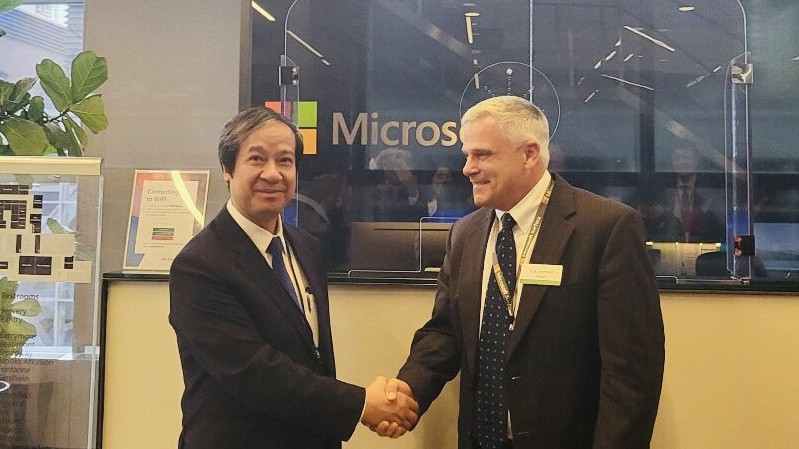 Minister of Education and Training Nguyen Kim Son (R) meets Vice President of Education for Microsoft's Industry Solution Group Rick Herrmann. Photo: VNA
He received Assistant Secretary of State for Educational and Cultural Affairs Lee Satterfield and Acting Assistant Administrator for Asia at USAID Ann Marie Yastishock on September 22.
Son and the Vietnamese delegation also visited a number of educational facilities in the US, including Arizona University and Jacson Reed High School.
Investment in education in Vietnam tended to increase steadily over the past decade, VNA cited a report analyzing the education sector during 2011-2020 released by the Vietnam National Institute of Educational Sciences (VNIES) in August.
According to the report, the investment in the education sector accounted for more than 18% of the total state budget expenditure but was still lower than the set rate of 20%.
Vietnam's 2018 Revised Law on Higher Education is prompting significant changes to move the country toward a more open higher education system.
The United States Agency for International Development (USAID) supports Vietnam's efforts to modernize its higher education system. In partnership with US higher education institutions and the private sector, USAID is helping Vietnamese universities to improve academic quality and enhance institutional governance to serve as modern models of higher education and drive Vietnam's socio-economic development.