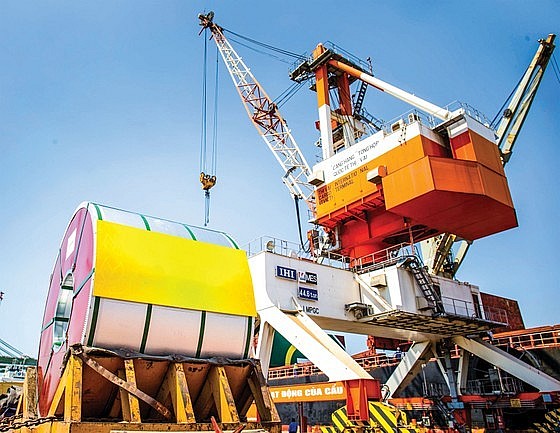 Loading export goods at Cai Mep port, Ba Ria-Vung Tau. Photo: Hoang Hung
Two main port clusters
According to the Vietnam Maritime Administration, Vietnam's seaport system currently consists of 286 ports, distributed in five seaport groups, with a total wharf length of over 96 kilometers, capable of handling a volume of goods exceeding 706 million tons.
Among them, two large seaport clusters, Hai Phong City and Ho Chi Minh City, are ranked among the top 50 largest container ports in the world.
Deputy Minister of Transport Nguyen Xuan Sang stated that a significant breakthrough in the plan is the formation of two special-type seaport clusters in Vietnam to accommodate international ships, namely Lach Huyen (Hai Phong City) and Cai Mep-Thi Vai (Ba Ria-Vung Tau).
Lach Huyen Port, located in the North, is the deepest seaport in Vietnam, covering a total area of 57 hectares and featuring a main wharf 750 meters in length. Goods transported through Lach Huyen Port can be shipped directly to the US and Europe without transiting through ports in other regions, such as Singapore and Hong Kong. This helps significantly reduce transportation costs and increase competitiveness for Vietnam's imports and exports.
According to the plan, Lach Huyen Port is expected to handle 45-50 million tons of goods per year and accommodate container ships of up to 6,000 TEU (twenty-foot equivalent unit) by 2025. After 2030, the port will be upgraded to accommodate general ships weighing up to 100,000 tons and container ships of up to 8,000 TEU.
Following Lach Huyen Port, the Cai Mep-Thi Vai Port cluster in Ba Ria-Vung Tau is designated as an international transshipment port.
This port is one of 23 ports in the world capable of receiving ships weighing up to 250,000 tons and is among the top 50 seaports with the highest container output globally. It contributes over VND20,000 billion (US$817.8 million) in import and export tax to the central budget annually.
Cai Mep-Thi Vai currently handles more than 16% of the total volume of goods handled through seaports nationwide, 35% of container cargo volume nationwide, and 50% of container cargo volume in the Southern region.
In addition to these two special port clusters, the Ministry of Transport will explore appropriate policy mechanisms for the gradual development of the international transshipment port in Van Phong, Khanh Hoa. The development of the international transshipment seaport at Bac Van Phong wharf area will begin after 2030.
Addressing investment challenges
According to the Vietnam Maritime Administration, Vietnam's seaport system is projected to have a throughput capacity of 1,140-1,423 million tons of goods (including 38-47 million TEU of container goods) and serve 10.1 to 10.3 million visitors by 2030. By 2050, the goal is to develop Vietnam's seaport system to a level that is synchronous, modern, and on par with the region and the world.
To achieve this goal, an investment capital of about VND313,000 billion (US$12.7 million) is estimated to be needed in the seaport system by 2030 (only for ports providing cargo handling services). The majority of this capital will be mobilized from extra-budget sources, corporate capital, and other legal capital sources.
The state budget will focus on investing in public maritime infrastructure and key areas to create spill-over effects and attract private investment.
Deputy Minister of Transport Nguyen Xuan Sang expressed confidence in attracting seaport investment capital, highlighting that only about 16%-17% of the capital invested in this field has come from the state, while the remaining 83% is from private sources.
There is currently strong interest from domestic and foreign investors in many seaport projects. However, the key challenge lies in ensuring the effective operation of these invested superports.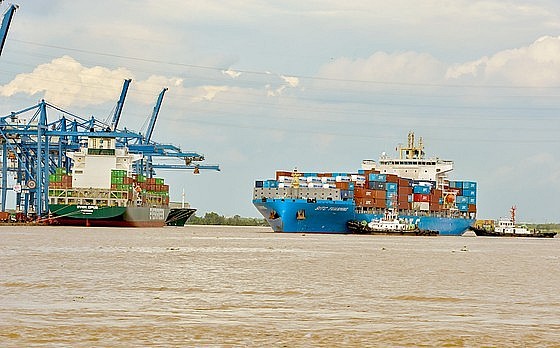 Ships carrying goods enter Tan Cang Cat Lai port. Photo: Cao Thang
Tran Khanh Hoang, Vice Chairman of Vietnam Seaports Association, emphasized the importance of developing high-quality seaport infrastructure and utilizing the seaport system effectively to support the successful implementation of a marine economic development strategy, especially for export-oriented countries.
However, to ensure effective investments, policies for seaport construction need to be carefully calculated. Failure to accurately forecast demand and match it with investment can result in underutilized infrastructure, unnecessary competition, and resource dispersion, leading to increased costs and financial risks.
Given the goal of developing seaports, Minister of Transport Nguyen Van Thang has urged the Vietnam Maritime Administration to address these investment challenges. He specifically requested the development of a plan to secure medium-term funding for the period 2026-2030 to invest in transportation infrastructure, particularly projects that connect to major seaport areas and upgrade Vietnam's seaports.