Vietnam News Today (Oct. 28) notable headlines
Vietnam ready to serve as bridge helping EU connect with Southeast Asia
Mongolian President to visit Vietnam next week
Vietnamese e-commerce represents a potential market for Korean businesses
Newly registered FDI surges 54% in 10 months
Dengue fever cases see sharp rise in Hanoi
Vietnam secures 94th place in FIFA ranking
USAID helps Vietnam phase out TB by 2030
Vietnamese legislature supports operations of foreign business communities
More international flights to Phu Quoc: opportunities, challenges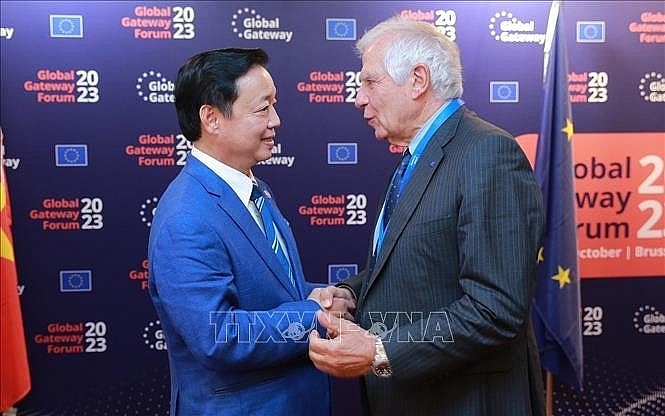 Deputy Prime Minister Tran Hong Ha (L) and Vice President of the European Commission (EC) and High Representative of the European Union (EU) for Foreign Affairs and Security Policy Josep Borrell.
Vietnam ready to serve as bridge helping EU connect with Southeast Asia
Vietnam stands ready to serve as a bridge helping the EU to connect with Southeast Asia, while also wishing to closely co-ordinate in implementing the ASEAN – EU strategic partnership, as well as dealing with regional and global issues.
This statement was made by Deputy Prime Minister Tran Hong Ha at a working session held on October 26 with Josep Borrell, vice president of the European Commission (EC) and High Representative of the European Union (EU) for Foreign Affairs and Security Policy.
The meeting took place on the sidelines of the Global Gateway Forum organized by the EU.
Deputy PM Ha hailed the initiative and congratulated the EU on successfully organizing the Global Gateway Forum which is viewed as a framework for developed and developing countries to co-operate and complement each other to reach sustainable development goals.
He emphasized that the Vietnamese policy is to promote and deepen the partnership and comprehensive co-operation framework between the country and the EU, cited VOV.
He therefore proposed that the two sides fully and effectively implement existing collaboration mechanisms in order to deepen the trade investment pillar through the implementation of the EU-Vietnam Free Trade Agreement (EVFTA) and other countries.
The Vietnamese Deputy PM said he hopes that EU member states will swiftly ratify the Vietnam – EU Investment Protection Agreement (EVIPA) and the EC will soon remove the IUU yellow card, while also expanding co-operation in potential fields such as climate change response, energy transition, especially through the Just Energy Transition Partnership (JETP) framework.
In response, Borrell congratulated Vietnam on its success in the process of innovation and development in all aspects, while also affirming that the nation is an important partner of the EU in the region. He went on to applaud the comprehensive development of mutual relations, especially in economics and trade, with the EVFTA being effectively exploited, thereby helping bilateral trade turnover soar by 20% in 2022.
Borrell outlined that there remains plenty of room to build closer ties, including in the energy field; whilst agreeing to strengthen comprehensive linkages between the two sides, especially the full and effective implementation of the EVFTA Agreement and other cooperation frameworks.
The EC will consider soon removing the illegal, unreported, and unregulated (IUU) yellow card for Vietnamese seafood exports, as well as closely co-ordinating in the process of resolving regional and global issues, for peace, stability, co-operation, and development in the region and the world, Borrell said, adding that the commission has pledged to support Vietnam within the JETP framework towards a just energy transition and sustainable development.
Regarding IUU, the EC official positively noted Vietnamese efforts in recent times, requested that the nation closely co-ordinate and fully implement the EC's recommendations, making it possible for the yellow card to be removed soon.
The two sides also shared views on international and regional issues and consented to maintain peace, stability, freedom, aviation, and maritime safety, as well as resolving disputes by peaceful means, on the basis of international law and the 1982 UN Convention on the Law of the Sea (UNCLOS).
At a meeting held with Wopke Hoekstra, EU Commissioner for Climate Action, on the same day, Deputy PM Ha highly appreciated the EU's role and contribution to the process of stepping up global climate change response efforts, especially the policy to provide financial aid to support developing countries in reducing greenhouse gas emissions and responding to the impact of climate change.
He affirmed that the nation is determined and remains proactive in implementing commitments at the 26th UN Climate Change Conference (COP26), suggesting that the EU continue to boost close coordination to soon complete the planned mobilization of resources for JETP implementation.
The EU Climate Commissioner asked Vietnam to support EU initiatives at COP28, including the global commitment on renewable energy and energy efficiency, while affirming that the EU always accompanies the Vietnamese side in green transformation.
Within the framework of the Forum, Deputy PM Ha met with Francois Michel, CEO of John Cockerill Group of Belgium, to discuss the implementation of investment projects in the Vietnamese market.
At the meeting, Deputy PM Ha welcomed John Cockerill Group's long-term investment commitment in the nation in a very important field- green hydrogen energy and noted his appreciation for John Cockerill's urgent implementation of the Group's investment projects.
He asked the group to enhance close coordination with Vietnamese ministries during the project implementation process.
Mongolian President to visit Vietnam next week
President of Mongolia Ukhnaagiin Khurelsukh and his spouse will pay a State visit to Vietnam from November 1-5, according to VNA.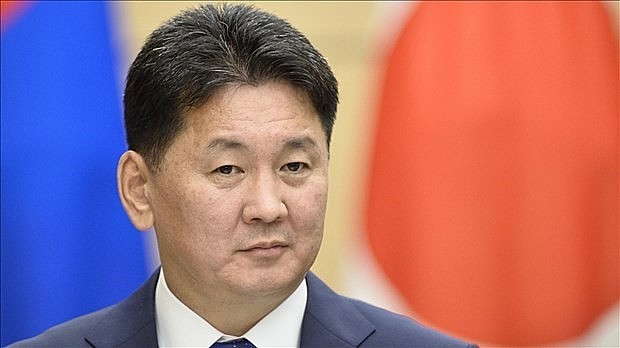 Mongolian President Ukhnaagiin Khurelsukh. (Photo: Anadolu)
Vietnamese e-commerce represents potential market for Korean businesses
Shopee Korea, one of the major e-commerce sites in Southeast Asia, has highlighted Vietnam as one of the fast-growing e-commerce markets that boasts great potential for Korean businesses.
According to Shopee Korea, the scale of the Vietnamese e-commerce market in 2022 reached US$16.4 billion, equivalent to a triple increase over the past five years.
In the large-scale discount event "September 9 Super Shopping Day", the nation ranked first in terms of the number of orders and ranked second in sales among all markets where Shopee organized the event.
In line with this, US market research company eMarketer has also chosen the nation as one of the top 5 e-commerce growth countries in the world.
Shopee Korea clearly stated that Korean beauty products are the best-selling category on Shopee Vietnam. From January to August the cumulative number of orders for beauty products surged by 90% compared to the same period from last year.
Not only long-standing brands, but also newly-launched brands also recorded high growth, VOV reported.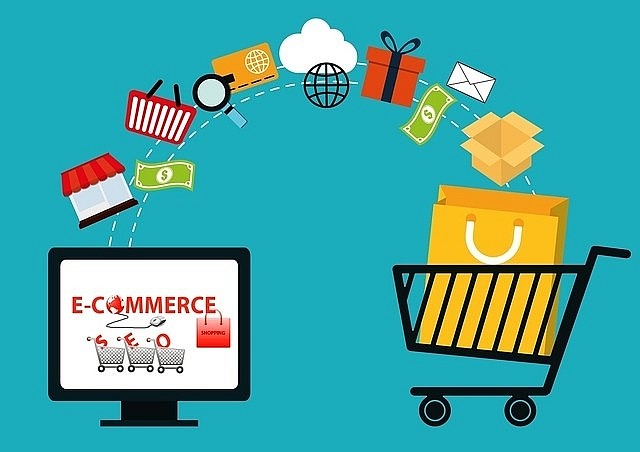 Photo: VOV
For example, domestic cosmetic brands that have just entered the market such as 'Torriden' and 'd'Alba' have recorded huge number of orders over the past eight months, marking respective increases of 28 and 20 times compared to last year's corresponding period.
Right behind beauty products are products related to K-pop music. Indeed, by the end of August the number of cumulative orders and sales of this item increased by 109% and 278%, respectively, compared to last year.
Shopee Korea predicts that the demand for Korean products in the Vietnamese market, including beauty products, will continue this upward trend in the future.
Hanoi and Ho Chi Minh City are the two localities which are striving to promote the highest consumption of Korean products, with major customers typically being women aged 20 to 30 who are greatly influenced by the Korean Wave (Hallyu).
Newly registered FDI surges 54% in 10 months
Over US$15.29 billion was channelled into 2,608 new foreign direct investment (FDI) projects as of October 20, respectively up 54% and 66.1% year on year, statistics showed.
It added up to more than US$25.76 billion in total FDI during the period, rising 14.7%, reported the Foreign Investment Agency (FIA) under the Ministry of Planning and Investment
Of the total, over US$5.33 billion was added to 1,051 existing projects. Though the additional capital fell 39%, the project number still increased 19.4% from a year earlier, showing investors were confident in Vietnam's investment climate so they decided to expand their projects.
Meanwhile, foreign investors spent over 5.13 billion on contributing capital to and purchasing shares of domestic companies via 2,836 transactions, respectively rising 35.4% and dropping 5.4%, cited VNA.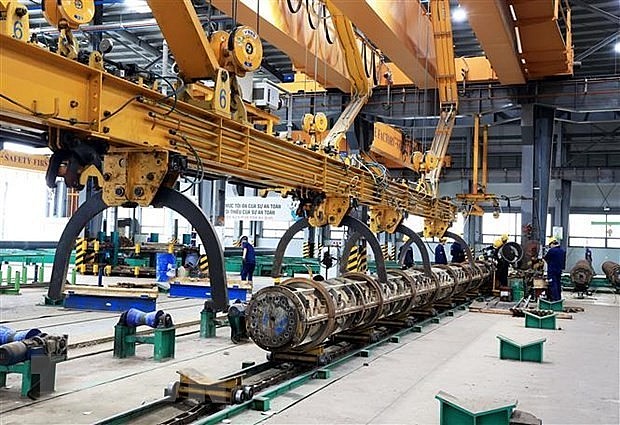 Producing concrete piles at a factory in Phu My 3 Industrial Park, Ba Ria – Vung Tau province (Photo: VNA)
During the period, about US$18 billion was disbursed for FDI projects, up 2.4% year on year, according to FIA.
Up to 18 of the 21 economic sectors received FDI during the first 10 months. Among them, the processing and manufacturing industry took the lead with nearly US$18.84 billion , accounting for almost 73.1% of the total and rising 45.8% year on year. It was followed by real estate (nearly US$2.14 billion , down 44.8%), finance – banking (nearly US$1.54 billion , up 61.4-fold), and wholesale – retail (nearly US$907 million , up 6.3%).
Processing and manufacturing also ranked first in terms of new projects (32.8% of the total) and those with additional capital (54.4%). Meanwhile, the wholesale and retail sector recorded the biggest number of capital contribution and share purchasing transactions (41.6%).
During the 10 months, 108 countries and territories poured money into Vietnam. Singapore topped the list with nearly US$4.65 billion , making up over 18% of the total and declining 13%. It was followed by the Republic of Korea (RoK) with nearly US$3.93 billion (making up 15.2% and rising 0.5%), and Hong Kong (China) with nearly US$3.54 billion (making up over 13.7% and rising almost 2.6-fold).
While China took the lead in the number of new projects (accounting for 21.7%), the RoK ranked first in terms of the projects with additional capital (25.7%) and capital contribution and share purchasing transactions (28.2%).
Asian investors still dominated FDI flows into Vietnam during the period, with Singapore, China, Japan, the RoK, Hong Kong, and Taiwan accounting for up to 81.7% of the total value.
Of the 55 provinces and cities recording FDI inflows, Quang Ninh attracted the most capital with nearly US$3.09 billion , accounting for nearly 12% and increasing 41.3% from a year earlier. Hai Phong city stood second with over US$2.8 billion , accounting for 10.9% and surging 2.14-fold, followed by Hanoi, Ho Chi Minh City, and Bac Giang province.
HCM City was the best performer in attracting new projects (38%), those with additional capital (25.3%), and capital contribution and share purchasing transactions (66.6%), FIA noted.
Dengue fever cases see sharp rise in Hanoi
According to the Hanoi Center for Disease Control (CDC) one person has died as a result of the infection.
Hanoi has become a hot spot for dengue fever, with 2,766 cases detected last week, increasing 165 cases compared to the week before.
According to the Hanoi Center for Disease Control (CDC) one person has died as a result of the infection.
Health officials say dengue infections have been recorded in 30 districts and towns across Hanoi, mostly in the districts of Ha Dong, Thanh Oai, Phu Xuyen, Nam Tu Liem, Dong Da, Chuong My, Cau Giay, Thanh Xuan, and Hoang Mai.
Notably, during the past week, the city also recorded 113 outbreaks in 24 districts and towns, with the highest number in Dong Da District with 12 outbreaks, and 11 outbreaks in Bac Tu Liem District, bringing the total number of dengue fever outbreaks from the beginning of the year to 1,419.
So far this year, Hanoi has recorded 23,314 cases of dengue fever and four fatalities. The number of cases has increased compared to the same period in 2022.
In HCM City, the city's Department of Health reported that there were 371 cases of dengue fever reported in the past week, an increase of 10 cases compared to the previous seven days.
A health worker sprays chemicals to kill mosquitoes.
From the beginning of the year until now, the whole country has reported 113,962 cases of dengue fever, with 31 fatalities.
Compared to the same period last year, the number of cases has decreased by 56.8 per cent, and there have been 97 fewer deaths.
In addition, in the past week, Hanoi recorded 101 cases of hand, foot, and mouth disease.
Some districts and towns reported more cases, including Hoang Mai, Soc Son, Quoc Oai, Me Linh, Phuc Tho, and Dong Da.
The new infections have brought a total of 2,354 cases of hand, foot, and mouth disease in Hanoi so far this year, with no fatalities, VNS reported.
In response to the development of dengue fever, many regions have put a series of precautionary and control measures into action.
Chuong My district has been actively rolling out a series of environmental sanitation campaigns to halt the spread of dengue fever.
The People's Committee of Gia Lam District has instructed relevant departments and the People's Committees of communes and townships to enhance their communication efforts in guiding the public on the methods for preventing and managing dengue fever.