Vietnam News Today (Sep. 18) notable headlines
Vice State President holds talks with South African counterpart
China a strategic choice and top priority in Vietnam's foreign policy
Foreign delegates praise Vietnam's hosting of young parliamentarians conference
Technology-cooperation projects announced during Biden's visit to VN
Vietnamese cultural space delights South African people
Ninh Thuan attempting to preserve biodiversity
Autumn – The most stunning time to visit Hanoi
German businesses interested in Vietnam
Technology a larger part of museum artifact management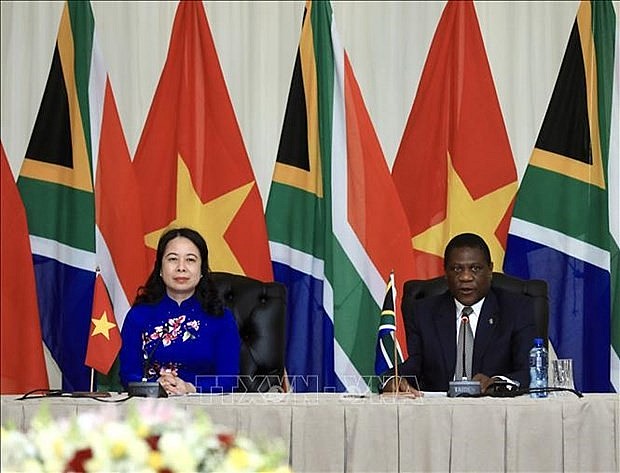 Vice State President Vo Thi Anh Xuan holds talks with South African Deputy President Paul Mashatile. (Photo: VNA)
Vice State President holds talks with South African counterpart
Vice State President Vo Thi Anh Xuan held talks with South African Deputy President Paul Mashatile on September 15, within the framework of her official visit to the country.
Xuan spoke highly of South Africa's leading role in the continent as well as its important contributions to international forums, and congratulated the country on successfully organising the recent BRICS Summit.
For his part, Paul Mashatile welcomed the Vietnamese Vice President's visit and described it as an important event taking place on the occasion of the two countries celebrating the 30th anniversary of their diplomatic relations (1993 – 2023).
He expressed his impression with Vietnam's dynamic development achievements as well as its increasing role and position in Southeast Asia and the Asia-Pacific, and emphasised that solidarity and mutual supports in the fight for national independence and freedom are important factors for the two countries to promote multi-faceted cooperation in national construction and development.
The two sides spoke highly of the positive developments in cooperative relations between the two countries over the past three decades, cited VNA.
Vietnam and South Africa have become important partners of each other in Africa and Southeast Asia. South Africa is currently Vietnam's largest trade partner in Africa, with two-way turnover reaching nearly US$1.3 billion in 2022.
Collaboration in defence-security, economic, agricultural investment, culture, education-training and people-to-people exchanges has also made positive progress.
On the same day, Xuan met General Secretary of the South African Communist Party (SACP) Solly Mapaila and Minister of South African Public Enterprises Pravin Ghordan, cut the ribbon at an inauguration ceremony of the Vietnamese Cultural Space in South Africa, and attended a ceremony to mark the 78th anniversary of Vietnam's National Day and the 30th anniversary of the diplomatic relations between Vietnam and South Africa.
China a strategic choice and top priority in Vietnam's foreign policy
The Vietnamese Party and State place great importance on and consider the development of a friendly, stable and healthy cooperative relationship with China a strategic choice and top priority in Vietnam's external policy.
According to Prime Minister Pham Minh Chinh, during his talks with Chinese Premier Li Qiang in Nanning city, Guangxi province of China, on September 16 on the occasion of attending the 20th China-ASEAN Expo (CAEXPO) and China-ASEAN Business and Investment Summit (CABIS).
During the talks, the two Government leaders showed their elation at and hailed the progress in Vietnam-China relationship in recent years, especially since the historical China visit last year by Party General Secretary Nguyen Phu Trong, according to VOV.
Chinese Premier Li Qiang (right) greets Vietnamese Prime Minister Pham Minh Chinh on Saturday in Nanning. Photo: VNA
The Vietnamese cabinet leader conveyed greetings from Party leader Trong, State President Vo Van Thuong, and National Assembly Chairman Vuong Dinh Hue to Chinese Party General Secretary and President Xi Jinping, Premier Li Qiang, Chairman of the Standing Committee of the National People's Congress of China Zhao Leji, and Chairman of the Chinese People's Political Consultative Conference Wang Huning.
Premier Li also conveyed regards of Chinese high-ranking leaders and others to their Vietnamese counterparts and asserted that his nation always considers its relationship with Vietnam a priority in the overall framework of its neighborhood policy.
China backs Vietnam's efforts to build and successfully develop its socialist-oriented market economy that suits the country's situation and stays ready to keep expanding and deepening bilateral substantial cooperation, while greatly appreciating Vietnam's active and effective participation in and its important contributions to the CAEXPO and CABIS.
Both sides consented to continue effectively realizing the common perceptions reached by their Party leaders to further strengthen and deepen bilateral comprehensive strategic cooperative partnership as well as the agreements and results achieved during PM Chinh's official visit to China in June this year and other high-level visits.
Accordingly, they will facilitate all-level visits, bolster substantial cooperation in economy, trade, investment, and people-to-people exchanges, maintain their coordination in multilateral mechanisms and forums, manage land borders effectively, and properly control differences while jointly maintaining peace and stability at sea.
The Vietnamese Government leader underlined the importance of the Vietnam-China relations in the overall foreign policy of each country and stressed the need for both sides to leverage geographical advantages and complement each other to nurture substantive cooperation in balanced and sustainable development areas.
He suggested that China accelerate the market opening for Vietnam's agricultural and aquatic products, create favorable conditions for the early establishment of Vietnam's trade promotion offices in Chengdu (Sichuan) and Haikou (Hainan), and jointly improve customs efficiency to prevent goods congestion at border crossings.
PM Chinh affirmed Vietnam's readiness to offer favorable conditions for Chinese firms to do business in the country, especially in large-scale, high-quality, and modern technology projects that represent China's level of development, thereby bringing about economic and social benefits.
According to him, the two countries need to enhance transportation and border infrastructure connectivity, study joint work in planning and building several railway lines in northern Vietnam, and improve cargo transportation capacity bilaterally and through third countries.
Chinh called for joint efforts to boost tourism cooperation, resolve any lingering issues in several projects in the spirit of harmonizing interests and sharing risks, and accelerate the implementation of non-refundable aids from China to Vietnam.
The Chinese Premier affirmed that China will continue opening its market for Vietnamese goods, especially quality agricultural and aquatic products, expand the scale and improve the efficiency of trade by upgrading border infrastructure, policy connectivity, and the building of smart border crossings. Efforts will be stepped up to promote transactions using the Chinese yuan for trade between the two nations.
He said he has directed relevant Chinese ministries to actively engage with Vietnam to step up specific cooperation areas and jointly build stable supply and production chains.
Proposing increased people-to-people exchanges and public awareness of bilateral traditional friendship, especially among the young generations, Premier Li said the Chinese Government will encourage its citizens to travel to Vietnam, support the opening of new air routes between the two countries, and hasten the implementation of humanitarian, healthcare, and education assistance projects in Vietnam.
The two leaders agreed on the importance of managing differences properly and maintaining peace and stability in the East Sea.
Chinh asked the two sides continue strictly follow the high-level common perceptions and the agreement on the fundamental principles guiding the settlement of the maritime issues between Vietnam and China. He called for respect for each other's legitimate rights and interests, settling disputes and differences through peaceful means in accordance with international law, including the 1982 United Nations Convention on the Law of the Sea (UNCLOS).
They also promised to work hand in hand together at global and regional forums.
On the occasion, Premier Li extended his profound condolences to the families of the victims in a disastrous fire in Hanoi on September 12.
Foreign delegates praise Vietnam's hosting of young parliamentarians conference
Many foreign legislators attending the ninth Global Conference of Young Parliamentarians in Hanoi have expressed their pleasure with Vietnam's preparations for and organization of the event.
"I warmly applaud the organizers for their inclusive approach in involving young people and the young MPs in preparing this conference. It is truly commendable to see such a proactive approach in shaping the agenda and discussions," said Dan Carden, President of the Board of the IPU Forum of Young Parliamentarians and member of parliament (MP) of the UK in his speech delivered at the opening session.
In a sidelines interview granted to the Vietnam News Agency, he said that this is a big conference with over 300 parliamentarians from more than 80 countries in attendance.
"It's no mean feat to bring us all together here in Hanoi, Vietnam, and we have been welcomed and have the support of the volunteers as well. And that's been really important," he noted.
"Vietnam is a fascinating country with a fascinating history, but it's also a country of the future. It's going to be developing rapidly in the years ahead. And digital technology will be key to combating challenges, like climate change, where Vietnam is one of the most vulnerable countries to climate change," he added.
Speaking highly of the conference's theme, Mojtaba Rezakhah, MP from Iran, said this conference in Hanoi is very practical because it focuses on two main issues which are cyberspace and online content management, and the role of the young generation in the parliament, VNA reported.
Dan Carden, Member of Parliament of the UK, President of the Board of the IPU Forum of Young Parliamentarians, speaks at the opening ceremony. Photo: VNA
Meanwhile, Gilang Dhielafaraez S.H. from the Indonesian House of Representatives said that when coming here, he saw that Vietnam had prepared very carefully for this conference. He expressed his hope that Vietnam can play a big role in innovation, thereby helping ASEAN become a strong community.
Regional countries such as Malaysia, Vietnam, Thailand, Singapore are focusing on this field and can coordinate with each other for greater efficiency in promoting innovation, he added.
Commenting on Vietnam's digital transformation, Fusanori Iwasaki, Director of the Economic Research Institute for ASEAN and East Asia (ERIA), said the Vietnamese Government is actively pushing the process. When Vietnam achieves net zero emissions by 2050, it will make maximum use of artificial intelligence and other digital technologies.
This is a challenge, he stresses, suggesting the Vietnamese Government build a legal framework for this field.
The ninth Global Conference of Young Parliamentarians, themed "The Role of Young People in Promoting the Realisation of Sustainable Development Goals via Digital Transformation and Innovations," took place September 15-16.
Drawing more than 300 participants, the conferences featured three sections on digital transformation, innovation and startups, and promoting respect for cultural diversity in support of sustainable development.
Technology-cooperation projects announced during Biden's visit to VN
In the press release issued on September 10, the White House affirmed that the US and Vietnam are working to strengthen and develop cooperative relationships in science and technology, and a creative economy.
During an official visit to Vietnam, US President Biden and Secretary of State Antony Blinken, together with Vietnamese Prime Minister Pham Minh Chinh, Minister of Planning and Investment Nguyen Chi Dung, Minister of Information and Communications Nguyen Manh Hung and other ministry leaders attended a talk on Vietnam-US investment and innovation.
They discussed priorities in enhancing cooperation in technology and cooperation between the two countries, including the promotion of Vietnam's investments in the US.
A number of representatives of leading technology corporations of the two countries, including Boeing Global Marvell, Intel, Amkor Technology, Google, Vietnam Airlines, VinFast, VNG and FPT, attended the event.
The press release said the US welcomes the progress in cooperative relations between Vietnamese and American enterprises with new and expanded projects, which will strengthen two-way trade exchange.
A series of technology cooperation projects are either operating now or are going to be executed in the time to come. Arizona-based Amkor Technology is developing a $1.6 billion project on a semiconductor supply chain with a factory in the northern province of Bac Ninh, scheduled to become operational in October 2023.
Synopsys, headquartered in California, is planning to introduce a semiconductor design and creative incubation center within the framework of cooperation with the HCM City High-tech Park.
Meanwhile, Marvell, with a head office in California, will announce the construction of a semiconductor design center of international stature in HCM City.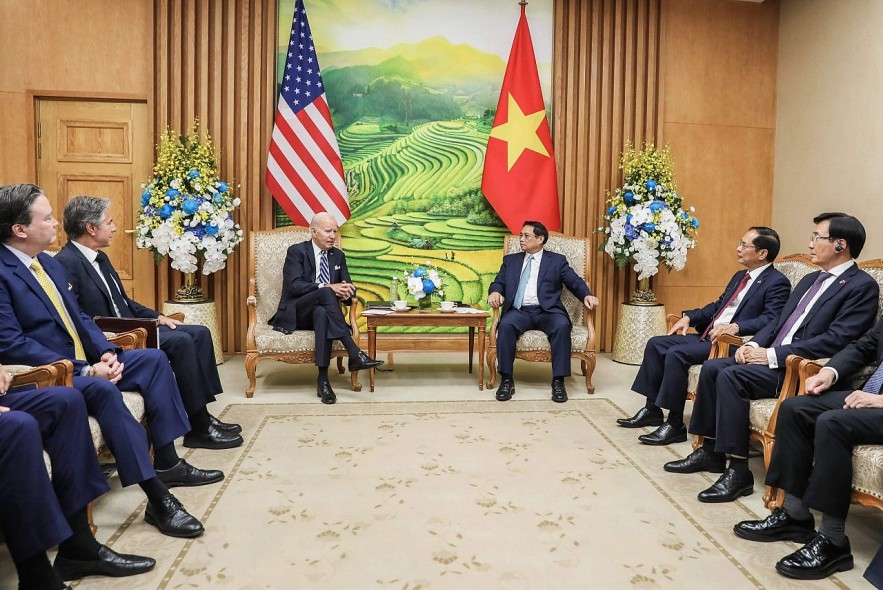 Vietnamese Prime Minister Pham Minh Chinh meets US President Joe Biden on September 11.
Regarding financial services and capital market development, VNG has recently filed for an IPO (initial public offering) on Nasdaq. It will be the first Vietnamese technology firm listing shares in the US.
Other Vietnamese companies are also approaching the US capital market to serve their needs for creativity and growth.
Microsoft and Trusting Social are expected to announce an agreement on developing an AI-based solution, specifically designed for Vietnam and emerging markets.
NVIDIA plans to cooperate with FPT, Viettel, and Vingroup to deploy AI in computing cloud, automobile industry, and healthcare. Meta Platforms and the Vietnam National Innovation Center will announce a program promoting digital transformation among small and medium enterprises (SMEs).
Regarding the new cooperation in the field of semiconductors, the US praised Vietnam's role and potential in building a semiconductor supply chain. The two sides will cooperate to develop Vietnam's current semiconductor ecosystem, together with a legal framework, workforce, and infrastructure.
With the cooperation program, initiatives on developing human resources to support the semiconductor manufacturing capacity in the US will be built. The two sides will publicize general initiatives on the training courses on semiconductor assembling, testing, and packaging, cited VNN.
The US has agreed to give initial financial support of US$2 million to the initiatives, together with support in the future from the Vietnamese government and private economic sector.
As for the electronics and advanced technology partnership network, the two countries plan to launch the DELTA Network with the participation of many regional countries to coordinate technological strategies, striving for a safe and sustainable technology supply chain.
Regarding the agreement on science and technology research cooperation between Vietnam and the US, the two countries plan to expand joint research in priority areas such as AI, R&D, medicine and health, climate science, biotechnology, and conservation.
When talking to the press on September 10, Vietnamese Party Chief Nguyen Phu Trong said the content of the new cooperative relationship will inherit the existing cooperative issues between the two countries and bring them to new levels by accelerating economic, trade, and investment cooperation.
Innovation will be the foundation, center, and driving force of the relations of the two countries. Enhancing cooperation in science and technology will be the new breakthrough in the Comprehensive Strategic Partnership for the sake of peace, cooperation, and sustainable development.
US President Joe Biden said that Vietnam and the US would strengthen cooperation in key and emerging technological fields, especially in building a supply chain with better resilience capability for the semiconductor industry. The two countries will also expand the economic partnership to further enhance investment and trade cooperation.
Biden cited an example of a Vietnam company last year signing an agreement worth US$4 billion on building an electric automobile factory in North Carolina in the US, which will help create more than 7,000 jobs.
Vietnamese cultural space delights South African people
The Vietnamese cultural space in South Africa opened the series of "Vietnam Day" events abroad, in 2023, and was the first time this cultural diplomacy activity came to Africa.
The 2023 Vietnam Day in South Africa, which took place in Pretoria Capital City of South Africa, on September 14-15, highlighted the image of Vietnam as rich in identity and full of vitality, attracting a large number of South African people to visit and experience.
The event, with the message of "Origins, Vitality, and Continuity," was held on the occasion of the official visit to South Africa by Vice President Vo Thi Anh Xuan, from September 14-17, cited WVR.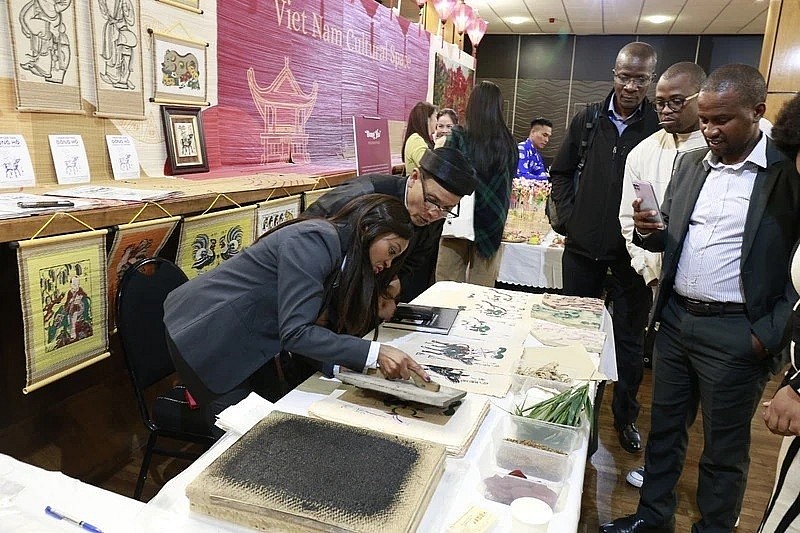 South Africans visit and learn about printing techniques for Dong Ho paintings, which were instructed by artisan Nguyen Dang Tam. (Photo: Department of Cultural Diplomacy and UNESCO)
If "Origins" is an introduction to international friends, "Vitality" is an explanation for today's Vietnam full of energy, dynamism, and friendliness, and "Continuity" is the conclusion that the cultural space wants viewers to imagine Vietnam's future, through the way the young generation deals with traditional values.
At the event, the message of "Origins" was expressed through world cultural heritage sites in Vietnam recognized by UNESCO, in the photo series themed "Vietnam's Vitality" with traditional festivals and life activities, imbued with the identity of a wet rice civilization, or in Dong Ho folk paintings.
The theme of "Vitality" was expressed through the photo exhibition "Vietnam's Vitality," introducing a beautiful and modern country with happy and optimistic people. The vitality of Vietnam today was also recreated through large-scale lacquer paintings depicting the scenery of Hoan Kiem Lake (Hanoi) in four seasons, by artist Tran Anh Tuan and interactive and experiential activities.
It is impossible not to mention the "Continuity" of traditional cultural values of Vietnam that have been accepted, honored, and spread by young people. The exhibition featured royal costumes of the Nguyen Dynasty by young people and the performance of artisans from Dong Ho and Xuan La craft villages, who are following their ancestors to preserve the traditional values, which drew the great attention of viewers.
The experience of dressing in Vietnamese ancient costumes, taking photos, and making 'to he' (toy figurines made from glutinous rice powder), was also highly appreciated.
The Vietnamese cultural space in South Africa opened the series of "Vietnam Day" events abroad, in 2023, and was the first time this cultural diplomacy activity came to Africa. Vietnam Cultural Space will be held in France and Japan, in October and November.