Vietnam and Australia are building increasingly comprehensive, equal and reliable relations, Vietnamese Ambassador to Australia Nguyen Tat Thanh has said.
In an interview with the Vietnam News Agency (VNA)'s resident correspondents in Australia on the occasion of the 50th anniversary of Vietnam – Australia diplomatic ties (February 26, 1973 – 2023), the ambassador said it is time for both countries to look back and recognise efforts to develop their bilateral relations.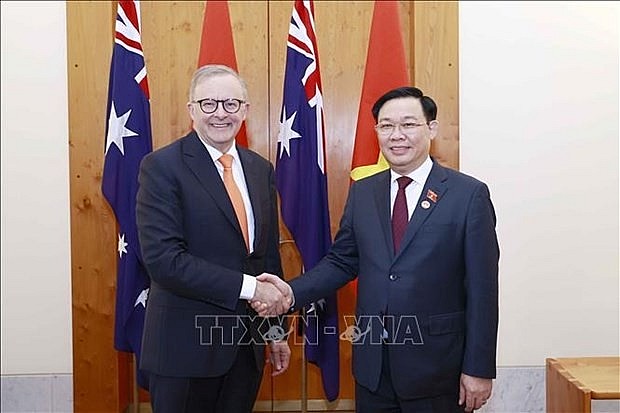 National Assembly Chairman Vuong Dinh Hue (right) meets with Australian Prime Minister Anthony Albanese during his visit to Australia last year. (Photo: VNA)
Right after the Paris Agreement on ending the war and restoring peace in Vietnam was sign in early 1973, Australia immediately established diplomatic relations with Vietnam, he said.
According to the ambassador, in the 1980s, when the US imposed an embargo on Vietnam, Australia actively developed multifaceted relations with Vietnam, providing official development assistance (ODA) for the Southeast Asian country since 1973, and just stopped for a short time. Australia assisted Vietnam in developing essential infrastructure such as North-South 500kV transmission line, My Thuan and Cao Lanh bridges, and modern telecommunications and banking systems. In recent years, many Western countries have cut or reduced ODA for Vietnam but Australia has still maintained ODA, even in the fiscal year 2022-2023, its ODA for Vietnam increased by 18%.
In terms of trade, the two countries have given each other the most-favoured nation status since 1974. For many consecutive years, Australia has ranked in the top 10 trade partners of Vietnam. In 2022, Australia became the 7th largest trade partner of Vietnam. In education, Australia has granted scholarships to Vietnamese students since February 1975.
"As Vietnam and Australia are celebrating the 50th anniversary of diplomatic relations and 5 years of strategic partnership this year, this is a meaningful time for us to look back at history, thereby working towards a common vision for the next 50 years," Thanh said.
"Over the past half-century, Australia has helped Vietnam break sieges and embargoes and explored areas of cooperation for mutual benefits. In the next half-century, the two countries will build increasingly comprehensive, equal, and reliable relations as well as strengthening the friendship between the two nations' people," he emphasised.
Vietnam and Australia are neighbours in the Western Pacific, sharing strategic interests in peace, cooperation and development in the region. The two economies are highly complementary, especially in terms of natural resources, human resources, and technological and financial capabilities.
Australia has a developed knowledge-based economy and leading education in the world. Australia's per capita income ranks second among the world's leading developed and emerging economies (G20). In particular, Australia has not only respected and listened to but also shared sympathy with Vietnam.
Australia has also become a comprehensive strategic partner of ASEAN. Australia and Vietnam have accompanied together in regional and global multilateral cooperation mechanisms such as the Asia-Pacific Economic Cooperation (APEC) forum, Comprehensive and Progressive Agreement for Trans-Pacific Partnership (CPTPP), and the United Nations. These are advantages that the two sides need to take advantage of and promote in the coming years, the ambassador said.
It can be said that the two countries have proper conditions to work together to cultivate a closer relationship in all fields for the benefit of the people of the two countries and for the common interests of the region and the world.
This year, many delegation exchanges and celebrations have been and will be organised in both countries.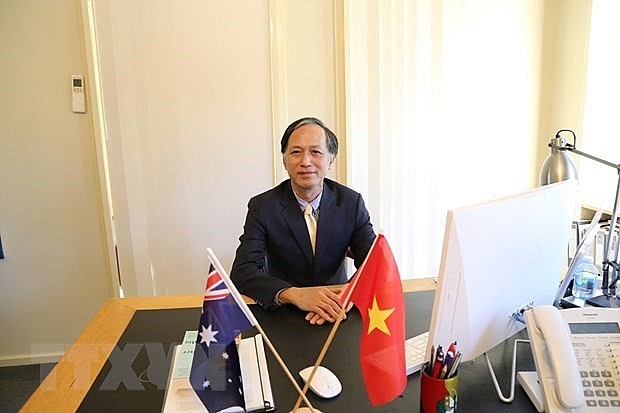 Vietnamese Ambassador to Australia Nguyen Tat Thanh. (Photo: VNA)
Based on the review of the Action Programme to implement the strategic partnership between 2020 and 2023, the two sides are currently working together to develop a replacement document. The three pillars of cooperation are defined in this plan, including economy – trade, security – defence and innovation – creativity are likely to be continued because there is still plenty of room, Thanh said.
In addition, the two sides are considering several new pillars for comprehensive relations in the coming years. Emerging fields such as climate change, green economy, clean energy, knowledge-based economy, digital transformation are expected to be highlighted in this new document.
The Vietnamese Embassy in Australia this year expects to coordinate and promote the exchange of delegations at all levels and through channels, increase strategic dialogue, implement cooperation mechanisms, and establish several new mechanisms.
"We will also continue to support efforts to connect central agencies, ministries, sectors, localities, and businesses with Australian partners," he said, adding that at least 60 delegations of Party, State, and local leaders are expected to visit Australia this year.
Meanwhile, leaders of the Australian State, Government, Parliament and states and territories all have plans to visit, especially Governor-General David Hurley is expected to visit Vietnam in the second quarter of 2023.
During a visit by National Assembly Chairman Vuong Dinh Hue to Australia in late November and early December last year, the top legislator and Australian Prime Minister Anthony Albanese announced the intention to upgrade the two countries' relationship to a comprehensive strategic partnership at an appropriate time.
Thanh said that he believed that conditions have been basically met, so the two sides can fully consider the possibility of upgrading their relations soon.
If the plan is realised on the occasion of the 50th anniversary of the Vietnam-Australia diplomatic ties, it will be of practical significance for the two countries to jointly build a vision for the next 50 years.
Regarding the role of the Vietnamese community in Australia in developing the two countries' relations, the ambassador said that the 350,000-strong community plays an important role in promoting the friendship and understanding between the Vietnamese and Australian people.
He said that Vietnamese-Australian people who are currently participating in politics, holding important positions in the parliament, the federal government and the state administrations have increasingly voiced their support for friendly relations with Vietnam, conveying messages so that Australian politicians and people have a deeper understanding of Vietnam. Many overseas Vietnamese intellectuals, experts and scientists at Australian educational institutions and research centres are increasingly expressing their desire to contribute more to the development of the two countries.
According to the ambassador, overseas Vietnamese businesses also make contributions to the homeland. In addition, generations of overseas Vietnamese students got mature and better aware of the need to nurture the Vietnam-Australia relationship. Many individuals have participated in community activities, helping Australians understand the situations in all aspects of Vietnam.
VNA