On September 26, the Vietnamese Embassy in Ottawa held a ceremony to celebrate the 78th anniversary of National Day and 50 years of diplomatic relations between Vietnam and Canada.
This event was attended by more than 250 guests, including Canadian diplomatic officials, diplomats from ASEAN countries, international experts, and scholars interested in Vietnam. In addition, a large number of overseas Vietnamese women, businessmen, and students from major provinces and cities in Canada also attended.
During the opening ceremony, the Ambassador-Designate of Vietnam to Canada, Pham Vinh Quang, reviewed the country's political, diplomatic, and socioeconomic achievements. He emphasized that Vietnam will continue to be an attractive destination for international investors and tourists.
Vietnam is considered one of the fastest-growing emerging markets in the Asia-Pacific region. In 2022, its GDP grew by 8% despite the disruptions caused by the Covid-19 pandemic. It is expected that Vietnam's economy will continue to grow at nearly 6% this year, positioning it as the 35th largest market in the world, the 14th in Asia-Pacific, and the fourth in ASEAN.
Vietnam's economy is undergoing a strong shift in economic structure, with industry and services now contributing over 80% to the country's GDP. This progress has put Vietnam on the path of industrialization and modernization.
Senator Victor Oh, chairman of the Canada-Vietnam Friendship Parliamentarians' Group, expressed his admiration for Vietnam's vibrant development. He believes that Vietnam will continue to grow rapidly and become a booming economy in ASEAN. As the chairman of the Friendship Parliamentarians' Group, he will actively promote economic and trade relations between the two countries.
Canadian Deputy Foreign Minister Cindy Termorshuizen highlighted Vietnam as a central part of Canada's Indo-Pacific Strategy. She mentioned Canada's significant investment of nearly US$2.3 billion in the region and emphasized the growing economic relations between Vietnam and Canada through the Comprehensive and Progressive Agreement for Trans-Pacific Partnership (CPTPP).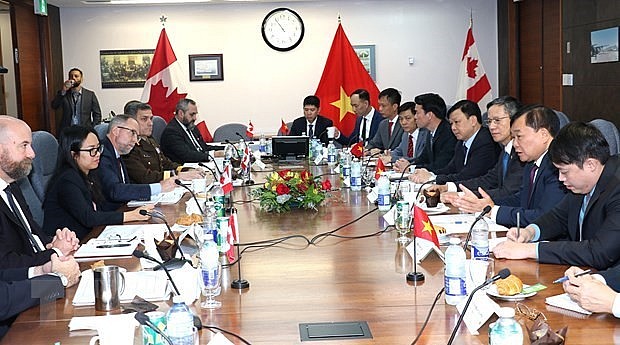 Le Quang Minh, a student at the University of Ottawa, expressed his honor in being invited to this important event. He sees it as a testament to the interests both Vietnam and Canada have in young people and students. He believes that students like himself can contribute to the two countries in the future.
Vietnam and Canada have maintained a friendly relationship and effective cooperation for many years. Despite the negative impact of the pandemic, the trade turnover between the two countries in 2022 exceeded US$10 billion, making Vietnam Canada's largest trading partner among ASEAN countries.
Additionally, Vietnam is an important defense partner of Canada in Southeast Asia. The defense relations between the two countries are expanding, and they recently signed a Memorandum of Understanding on United Nations peacekeeping cooperation.