Vietnam News Today (Sep. 1) notable headlines
HCM City attracts US$1.97 billion in FDI in eight months
New e-visa policy to help lure more foreign visitors
Da Nang to host Vietnam-RoK culture exchange festival
Leaders pay tribute to President Ho Chi Minh on National Day
Holiday travel: Air security increased, ticket sales stagnant
Vietnamese, Japanese parties enhance relations
Central Highlands provinces promote trade connectivity with India
Deputy PM welcomes Secretary-General of Permanent Court of Arbitration
Vietnamese Trade Offices abroad urged to promote mechanical product exports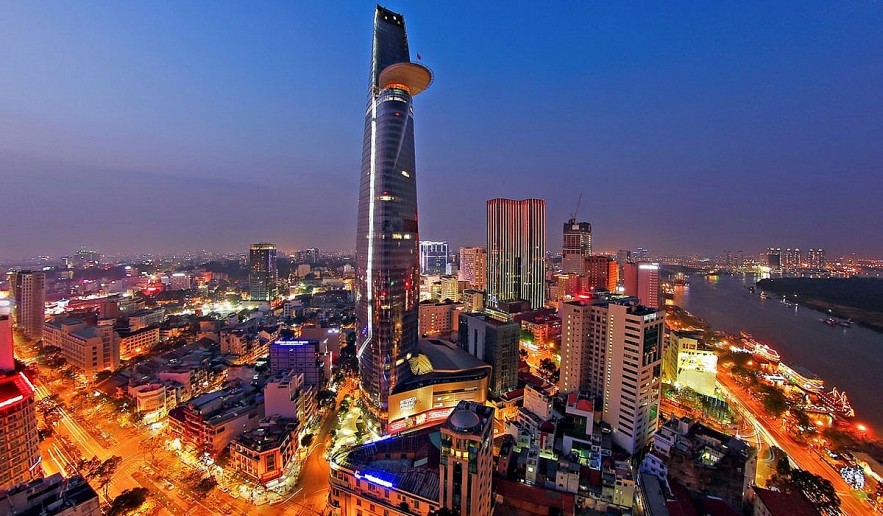 Photo: VOV
HCM City attracts US$1.97 billion in FDI in eight months
Ho Chi Minh City attracted US$1.97 billion in foreign direct investment (FDI) during the eight months of the year, a fall of 27.2% against the same period from last year, according to the Ho Chi Minh City Statistical Office.
Throughout the reviewed period, the southern city granted 762 new projects with registered capital of US$390.4 million, representing an increase of 59.1% in terms of the number of projects and 26.2% in the number of capital on-year, cited VOV.
The wholesale and retail sector along with repair of cars and motorcycles led the way in terms of FDI attraction with 313 projects capitalised at US$124.6 million, followed by professional, scientific and technological activities with 199 projects valued at US$84.3 million. This is along with construction with four projects worth US$54.2 million and processing and manufacturing industry with 12 projects capitalised at US$50 million.
Singapore topped the list of countries pouring investment into the southern metropolis with registered capital reaching US$157.4 million, accounting for 40.3% of newly-registered capital.
The Republic of Korea ranked second with US$56 million, making up 14.3% of the figure, whilst the Netherlands had US$39.4 million, accounting for 10.1%.
Taiwan (China) had the highest adjusted capital in the reviewed period with US$216.4 million, accounting for 37.2% of adjusted registered capital.
According to information given by the Foreign Investment Agency under the Ministry of Planning and Investment, as of August 20, 2023, the country lured nearly US$18.15 billion in FDI during eight-month period, up 8.2% on-year.
New e-visa policy to help lure more foreign visitors: Official
The e-visa policy, which took effect from August 15, is expected to help Vietnam attract a hike in the number of international visitors right in the autumn-winter tourist season of 2023, said Do Van Hao, Deputy Chief of Police at Tan Son Nhat International Airport in Ho Chi Minh City.
According to Hao, the resolution issued by the Government on August 14 on granting e-visas to citizens of all countries and territories represents a breakthrough and reaffirms the Vietnamese Government's commitment to continuing the policy of openness to foreigners, creating favourable conditions in terms of visa, entry and exit procedures for them, especially those visiting Vietnam for the purposes of working, investment, and tourism.
The number of foreign visitors, especially those from Europe and the Americas, is projected to increase sharply after the Autumn-Winter tourist season starts (from late September to early October), Hao said.
Tan Son Nhat International Airport put automatic entry systems (Autogate) into operation in early August, helping reduce the time for security check to about 30-40 seconds per passenger, the official noted.
However, Director of the municipal Department of Tourism Nguyen Thi Anh Hoa said a survey conducted by the agency at travel agencies found that there hasn't been a significant change in tourist numbers to Vietnam following the implementation of the new e-visa policy, reported VNA.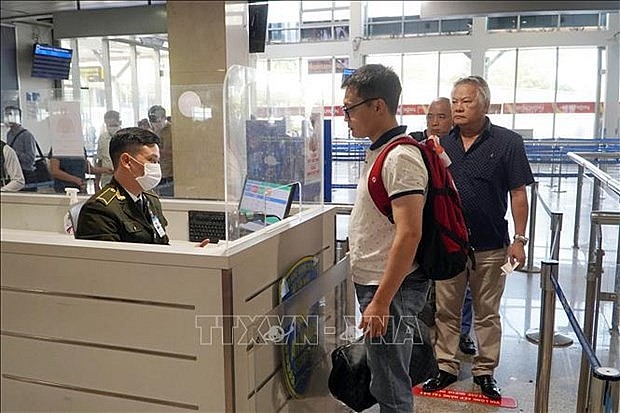 At a security check desk in Tan Son Nhat International Airport (Photo: VNA)
Statistics reported by local hotels show that the number of room reservations for September reached around 70% of the total capacity.
Strong growth is expected in both international and domestic visitors during September and towards the end of the year, Hoa said.
Sharing Hoa's opinion, General Director of Viet Tourism Communication JSC Pham Phuong Anh predicted that the new e-visa policy may increase the number of international tourism arrivals to Vietnam served by the company by 2-25% per year.
According to the Government's decision, foreigners using e-visas are permitted to enter or exit Vietnam via 13 air border gates, 16 land border gates, and 13 sea border gates.
Da Nang to host Vietnam-RoK culture exchange festival
Da Nang is scheduled to play host to the Vietnam-Republic of Korea (RoK) culture exchange festival at Bien Dong (East Sea) Park from September 7 to September 9 as part of activities aimed at marking the 30th anniversary of diplomatic ties.
The highlight of the event will be a street parade along with performances featuring musical instruments of Korean art troupes.
A showcase of Taekwondo performed by Korean club Seung Ri will also be presented as part of the occasion, according to VOV.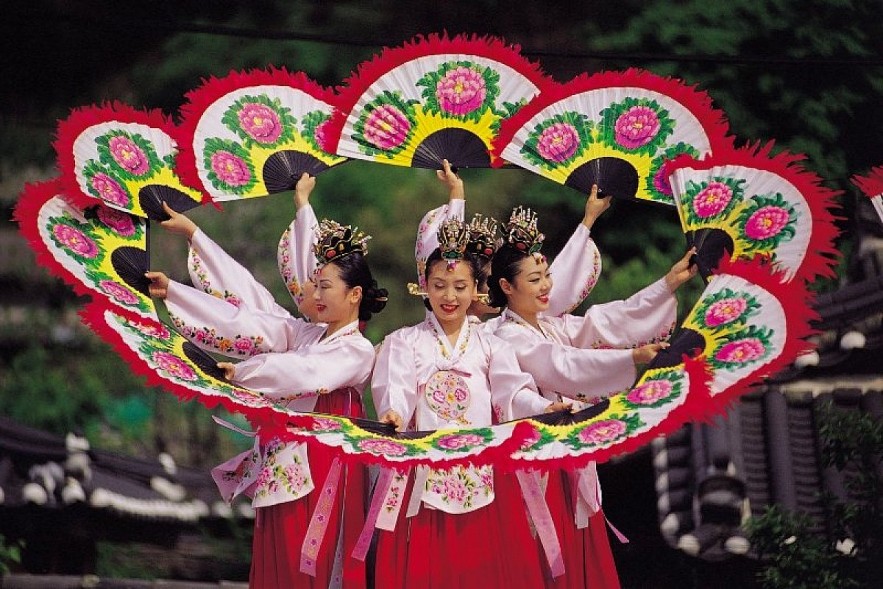 Vietnam-RoK culture exchange festival will take place in Da Nang. (Photo: Internet)
Furthermore, the festival will include 60 stalls showcasing Vietnamese and Korean cuisine and products and visitors will be able to take part in folk games and cooking contests.
The final round of the Vietnam-RoK Talent competition will be held, with the competition featuring over 20 performances of entrants from both countries.
Leaders pay tribute to President Ho Chi Minh on National Day
Leaders and former leaders of the Party, State, Government, National Assembly (NA) and Vietnam Fatherland Front (VFF) paid tribute to President Ho Chi Minh at his mausoleum in Hanoi on August 31, on the occasion of the 78th National Day (September 2, 1945-2023).
Prominent among them were State President Vo Van Thuong, Prime Minister Pham Minh Chinh, and NA Chairman Vuong Dinh Hue.
On September 2, 78 years ago, at Ba Dinh Square, President Ho Chi Minh read the Declaration of Independence, giving birth to the Democratic Republic of Vietnam, now the Socialist Republic of Vietnam.
Later, the delegation offered incense and paid tribute to fallen soldiers at the Monument to Heroes and Martyrs on Bac Son street near the mausoleum, cited VNA.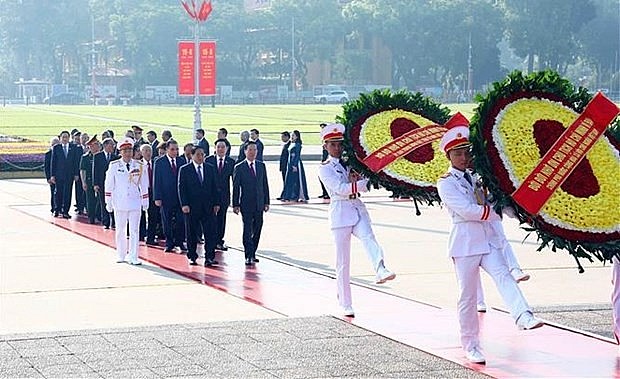 The delegation offers incense and pays tribute to fallen soldiers at the Monument to Heroes and Martyrs on Bac Son street (Photo: VNA)
In the morning the same day, delegations from the Central Military Commission – the Ministry of National Defence, the Central Public Security Party Committee – the Ministry of Public Security, the Ministry of Foreign Affairs, and the municipal Party Committee, People's Council and People's Committee of Hanoi also laid wreaths in tribute to the late leader and fallen combatants.
In Ho Chi Minh City, a delegation of the municipal Party Committee, People's Council, People's Committee, the city branch of the VFF led by Politburo member, and Secretary of the Party Committee Nguyen Van Nen paid homage to President Ho Chi Minh and President Ton Duc Thang at the city branch of the Ho Chi Minh Museum in District 4.
Holiday travel: Air security increased, ticket sales stagnant
The Civil Aviation Authority of Vietnam (CAAV) has decided to apply security control measures at level 1 at domestic airports and aviation service supply facilities during the National Day holiday.
It has asked the Airports Corporation of Vietnam (ACV) to increase security staff and equipment serving the security control activities, avoiding congestion at airports, especially Tan Son Nhat International Airport in HCM City and Noi Bai International Airport in Hanoi.
Domestic airlines are requested to deploy security forces to ensure the strict implementation of security regulations and procedures, and handle violations.
According to current regulations, when there is a high risk to aviation security, enhanced aviation security control measures are implemented at three levels from one to three.
Tran Hoai Phuong, director of Noi Bai International Airport in Hanoi, said "To be ready to serve passengers to the best of our abilities, Nội Bài Airport has developed plans for organising passenger flows and has staff on standby to ensure the provision of services and rapid passenger clearance if there is a sudden increase in passenger numbers."
As of August 29, several domestic flights recorded booking rates of over 70 per cent for August 31 and September 1, the first days of the National Day holidays, reported CAAV.
On August 31, flights on routes from the capital city of Hà Nội to popular tourist destinations such as Da Lat, Quy Nhon, Hue, Phu Quoc, Con Dao, and Nha Trang had booking rates ranging from 73-97 per cent. The Hanoi-Dong Hoi route was fully booked.
Flights from HCM City to the above tourist destinations on the same day also sold over 70 per cent of their seats, VNS reported.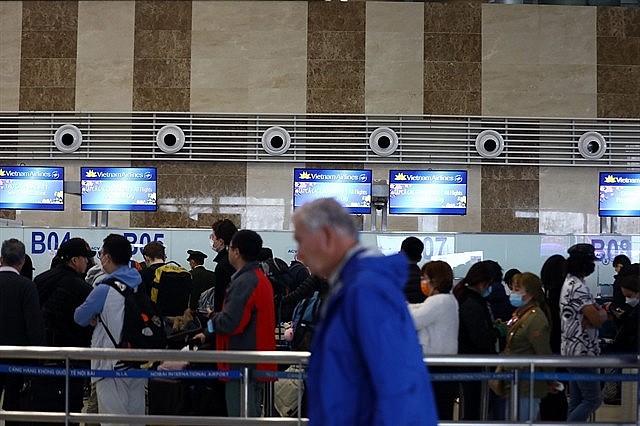 Passenger lining up for check-in at the Noi Bai Airport's Terminal 1. Photo: VNS
Meanwhile, flights on the major route between Hanoi and HCM City during the four-day holiday has sold between 52-64 per cent of its seats. Only the Hanoi–Da Nang and HCM City–Da Nang routes have booking rates reaching 72-82 per cent for August 31 and September 4.
On September 4, the last day of the holiday, flights returning from Da Lat, Quy Nhon, Nha Trang, Phu Quoc, Tuy Hoa, Con Dao, and Dong Hoi to Hanoi and HCM City have booking rates over 70 per cent.
Huge load for Tan Son Nhat
Tan Son Nhat International Airport in HCM City has prepared its operation plans to serve passengers, which is expected to sharply increase during the National Day holiday from September 1-4.
According to the airport's management board, during peak days from August 31 to September 4, the airport will serve an average of 720 flights with 125,000 passengers per day, even 130,000 passengers per day.
The airport will closely coordinate with airlines and ground service units to update flight schedules, proactively arrange resources and equipment for ground service units.
It has also required airline representatives to be present at the counter/boarding gates to guide and provide information for passengers; and to handle delays and cancellations of flights.
Since August 26, the airport has reopened more gates of international terminals to serve both domestic and international flights.