Vietnam News Today (Oct. 20) notable headlines
Vietnam and RoK set to reach US$100 billion bilateral trade target
Vietnam always treasures ties with Laos: President
Storm Sanba enters Gulf of Tonkin
PM attends Vietnam-Saudi Arabia Business Forum in Riyadh
Activities to be held in action month for gender equality, gender-based violence prevention
Vietnam strives to raise female UN peacekeepers to 20% by 2025
President Vo Van Thuong receives Huawei Chairman in Beijing
Vietnamese, Belgian businesses seek to expand partnership
Vietnam's community learning model honored by Library of US Congress
Photo: VOV
Vietnam and RoK set to reach US$100 billion bilateral trade target
Trade exchange and trade promotion activities have been enhanced by Vietnamese and Korean businesses this year with a view to elevating two-way trade turnover to US$100 billion moving forward.
In attempting to increase two-way trade turnover between the nation and the Republic of Korea (RoK), the Korea Trade and Investment Promotion Agency in Hanoi (KOTRA Hanoi) said that the direct trade event between two business delegations from the RoK's Daegu city and Gyeongbuk province alongside Vietnamese importers, organised recently by KOTRA Hanoi, was a great success.
At the live trade event, nine businesses from Daegu city and six businesses from Gyeongbuk province, along with reputable Korean manufacturers and suppliers, introduced a variety of products such as cosmetics; food, functional foods, and beverages; along with household appliances and LED electrical equipment.
Participating in the trade event, 45 Vietnamese businesses found suitable Korean partners through 90 direct trade exchanges.
Sharing the success of the trade exchange, Lee Jun-dae, director of H&H Group Company, said that the Bilateral Trade Agreement (FTA) between the country and the RoK has created favorable conditions whilst opening up opportunities for Vietnamese businesses to take advantage of the best tax incentives.
"H&H Group products such as food and cosmetics have enjoyed preferential tax rates imported into Vietnam of only 1% – 2% compared to the normal tax rate of over 20%. This is a good opportunity for Korean products to penetrate the Vietnamese market more easily," said Jun-dae.
Echoing this view, Park Jong-won, director of Bathproject Company of the RoK, expressed his pleasure at having direct contact with a number of potential Vietnamese importers.
"We believe that today's working session of Bathproject company will have good results, thus opening up many opportunities for broader co-operation for businesses of the two countries in the future through trade sessions," Jong-won stated.
Park Min-sul, director of the Korea FTA Center under KOTRA Hanoi, informed that there are currently three trade agreements between the two nations, namely the ASEAN-Korea Free Trade Agreement (AKFTA), the Vietnam-Korea Free Trade Agreement (VKFTA) and the Regional Comprehensive Economic Partnership (RCEP), cited VOV.
In particular, the VKFTA has a more preferential roadmap meaning it is used by many businesses. Specifically, cosmetic products have a normal tax rate of 20%, but currently under the incentives specified in the VK FTA the tax rate is reduced to between 1% and 2%.
According to the KOTRA representative, in 2015 joint trade turnover only reached US$36 billion, although this figure has increased more than two times, reaching US$86 billion in 2022 thanks to capitalizing on incentives from the VKFTA.
As a result, trade promotion activities have been enhanced by KOTRA this year with the aim of increasing two-way trade turnover to reach the target of US$100 billion in the near future.
Vietnam always treasures ties with Laos: President
Vietnamese President Vo Van Thuong met with the General Secretary of the Lao People's Revolutionary Party and President of Laos Thongloun Sisoulith on the sidelines of the third Belt and Road Forum for International Cooperation (BRF) in Beijing, China, on October 19.
At the meeting, Thuong affirmed that Vietnam always attaches much importance to its relations with Laos, and considers the neighboring country a priority in its foreign policy. He described the Vietnam – Laos ties as an invaluable common asset of the two peoples, and an exemplary and pure relationship, which is rare in international relations.
Thongloun, for his part, said Laos treasures its relations with Vietnam and has made tireless efforts to nurture and develop the great friendship, special solidarity and comprehensive cooperation in a more sustainable and deeper way. He also promised to make contributions to bolstering the ties between the two Parties and States.
Amidst global complicated changes that posed both opportunities and challenges, the two leaders agreed to continue promoting their close political relations, joining hands to maintain a peaceful and stable environment for development, and focusing on the effective implementation of high-level agreements, deals, and cooperation plans between the two Parties and States.
Along with meticulous preparations for high-level activities as well as sound implementation of bilateral cooperation mechanisms, the two leaders agreed to step up defence-security cooperation, which is a pillar in bilateral relations, according to VNA.
They highlighted the need to maintain cultural, sport and tourism exchange mechanisms, and reached consensus on carrying out the project on improving the quality and efficiency of the Vietnam – Laos cooperation in education and human resources development during 2021-2030.
Besides, they concurred to remove bottlenecks for important economic-trade-investment projects, and boost collaboration in the fields of science, innovation, digital economy and e-commerce, among others.
They affirmed the importance of enhancing cooperation and connectivity among Vietnam, Laos and Cambodia, especially in economy-trade, infrastructure, tourism and cultural exchanges.
The leaders also agreed to promote coordination to ensure that Laos will successfully accomplish its role as the ASEAN Chair in 2024, helping promote the central role of ASEAN and bring practical benefits to the ASEAN people.
Storm Sanba enters Gulf of Tonkin
Storm Sanba has entered the Gulf of Tonkin and is expected to continue gaining strength, becoming the fifth storm to hit the nation this year and causing heavy rains in the northern region, according to the National Centre for Hydro-Meteorological Forecasting (NCHMF).
Forecasters said that by 7:00 am on October 19, the storm's eye was located in the southeastern waters of the Gulf of Tonkin area, with the strongest winds near its centre reaching between 62km and 74km per hour.
Over the next 24 hours the storm is expected to track in a north-northwest direction at speeds of about 10 km per hour, with the weather event likely to get stronger.
By 7 a.m. on October 20 the storm's center will be located in the northern area of the Gulf of Tonkin with gusts reaching level 11.
However, the storm is then forecast to change its direction and move to the south-southwest over the following 24-hour period at speeds of between five km and 10km per hour before gradually weakening into a tropical depression and then a low-pressure zone.
Dr. Hoang Phuc Lam, deputy director of the National Center for Hydrometeorological Forecasting, revealed that Storm Sanba was moving along the coast but away from the mainland, thereby causing heavy rains mainly in the northern area of the Gulf of Tonkin.
The storm, combined with the effects of cold air, will be weakened rapidly and cause moderate and heavy downpours in the eastern area of the northern region on October 20, VOV reported.
Due to the impact of the storm, strong winds, rough seas, and waves of between three to five meters are expected in the Gulf of Tonkin area (including Co To, Bach Long Vi islands) and the waters of central province of Quang Tri.
Meteorologists said rains are also anticipated to hit coastal area of the northeastern part of the northern region from October 19 to October 21, with fishing vessels, aquaculture areas, and sea dykes in the area set to be affected by strong winds and high sea waves.
The National Steering Committee for Natural Disaster Prevention has requested that coastal provinces from Quang Ninh to Binh Dinh closely monitor the storm's developments and instruct vessels to seek safe shelters while ensuring the safety of reservoirs, dykes and infrastructure.
Localities are also advised to take drastic measures aimed at protecting agricultural and aquaculture production zones to mitigate the impact of the natural disaster.
Local authorities should be prepared to evacuate households in dangerous areas, especially those at high risk of landslides and flash floods, to safe places.
PM attends Vietnam-Saudi Arabia Business Forum in Riyadh
Prime Minister Pham Minh Chinh pointed to substantial potential for Vietnam and Saudi Arabia to foster their cooperation while addressing a business forum in Riyadh on October 19 (local time) as part of his trip to the Middle East nation to attend the Association of Southeast Asian Nations – Gulf Cooperation Council (ASEAN – GCC) Summit.
The Government leader briefed the Vietnam-Saudi Arabia Business Forum on Vietnam's situation, saying many reputable international organizations forecast that the Southeast Asian nation will maintain its growth rate among the highest in the region and the world.
He attributed achievements Vietnam has recorded to international support, including that from the Government and businesses of Saudi Arabia.
The PM noted that the friendship and cooperation between Vietnam and Saudi Arabia have been developing well, adding the two sides have maintained high-level contacts and mutual support at multilateral forums, and put in place many legal frameworks and cooperation mechanisms, creating an important foundation to boost the bilateral economic, investment and trade ties.
He affirmed that Saudi Arabia is Vietnam's leading partner in the Middle East, while Vietnam is an important partner of Saudi Arabiaand a bridge between it and the Association of Southeast Asian Nations (ASEAN).
Nevertheless, the cooperation outcomes so far have not matched the two countries' potential, Chinh said, stressing that there is great room to expand the partnership, especially in such fields as urban development, Halal food, employment and personnel training, along with emerging areas like digital transformation, green transition, circular economy, sharing economy, and knowledge-based economy.
Vietnam prioritizes green growth, infrastructure, energy, high-tech industry, innovation and startup, which are expected to create motivation for the country to restructure its economy and reform its growth model, he went on.
Chinh asked ministries, agencies, associations and the Chamber of Commerce and Industry of Saudi Arabia to continue their support for Vietnam in promoting its investment environment, and boosting cooperation between enterprises of the two countries.
With favorable geography, Vietnam and Saudi Arabia play an important role in ASEAN and GCC, the PM said, expressing his hope that the countries will coordinate businesses to not only participate in each other's markets but also expand their operations in ASEAN and GCC.
In the spirit of "harmonious benefits, shared risks", Vietnam is committed to ensuring the legal and legitimate rights and interests of businesses, and facilitating the long-term, sustainable operations of foreign firms, particularly those from Saudi Arabia, he said.
On this occasion, the PM and leaders witnessed the signing of memoranda of understanding between businesses, including one between the Vietnam Chamber of Commerce and Industry and the Federation of Saudi Chambers, and others covering construction steel production, tourism and trade.
Activities to be held in action month for gender equality, gender-based violence prevention
This November, a wide range of activities will be held during National Action Month for gender quality and gender-based violence prevention and response.
The Ministry of Labor, Invalids and Social Affairs (MoLISA) has recently issued a plan to organize the national action month for gender quality and gender-based violence prevention and response.
With its theme of ensuring social security, empowering women and girls to achieve gender equality, and eliminating gender-based violence against women and girls, the action month once again affirms Vietnam's priorities and commitments in promoting practical progress in the matter.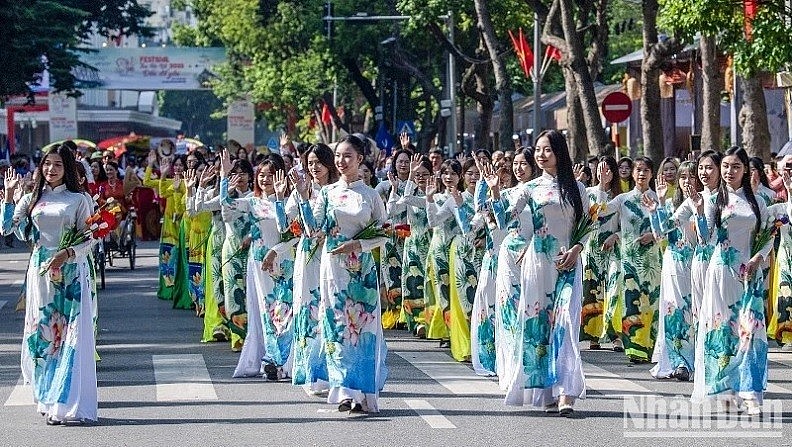 An Ao dai parade at the Hanoi Autumn Festival, October 2023. Photo: Thanh Dat
Accordingly, the MoLISA will chair and coordinate with Vietnam Airlines Corporation and the United Nations entity dedicated to gender equality and the empowerment of women (UN Women), to organize a launch ceremony for the action month, on November 10, reported NDO.
Localities, depending on the specific situation, will also organize launch ceremonies or meetings in response to the action month, from November 10 to 20.
The main activities implemented during the action month include press awards on gender equality, conferences, seminars, training, policy dialogues, communication on social media, parades, street music events, painting/photo exhibitions, cultural and sports exchange programs, and forums for workers in industrial zones, on the topic of gender equality and gender-based violence prevention and response.