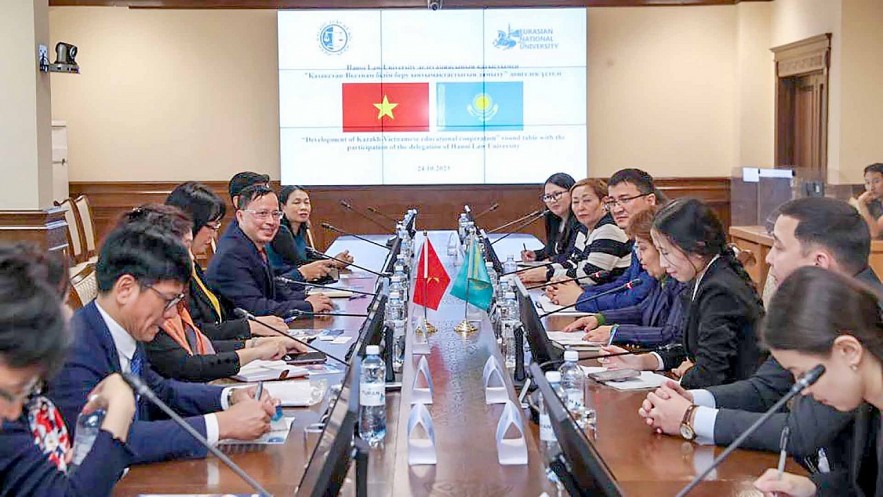 Round table exchange on Vietnam-Kazakhstan education cooperation.
A roundtable exchange on the cooperation in education between Vietnam and Kazakhstan took place at the Eurasian National University named Gumilyov on October 24th in the capital Astana. The event was co-organized by the Embassy of Vietnam in Kazakhstan, the Ministry of Science, the Kazakhstan University, and the Eurasian National University.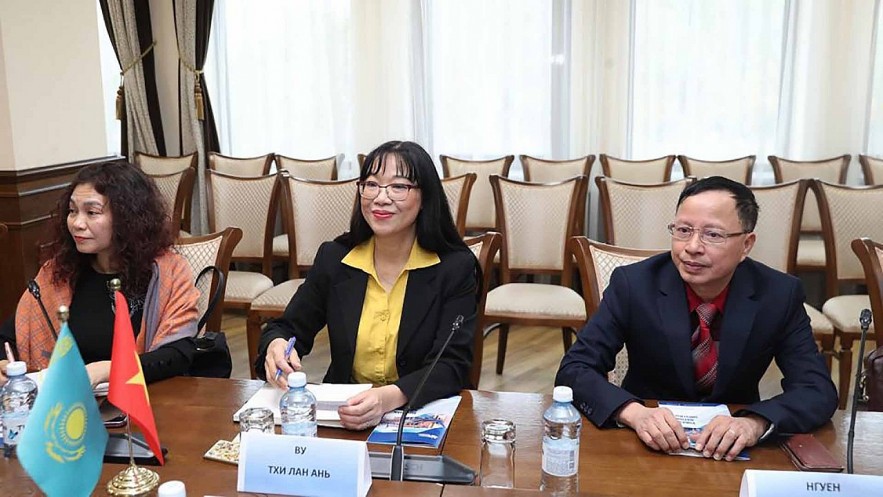 Vu Thi Lan Anh, vice-rector of Hanoi Law University, spoke at the event.
During the exchange, Vu Thi Lan Anh, the vice-rector of Hanoi Law University mentioned that the university aims to enhance international cooperation with foreign higher education institutions, including Kazakhstan.
The university proposed several cooperation measures with the Eurasian National University such as increasing student and lecturer exchanges, and offering short-term law courses for students from both countries.
Both schools conducted specialized seminars, published articles, and researched law journals of each school.
Both parties are considering signing a Memorandum of Cooperation in 2024.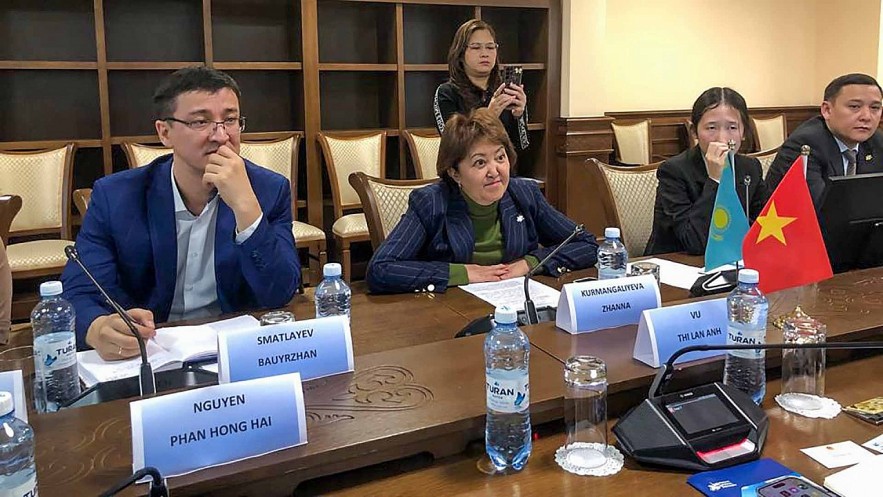 Kurrmangaliyeva Zhana, the vice-rector in charge of scientific work, trade, and international cooperation at Eurasian National University, spoke at the event.
Kurrmangaliyeva Zhana, the vice-rector of Eurasian National University, welcomed the delegation from Hanoi Law University to visit Kazakhstan.
She mentioned that the Eurasian National University is currently one of Kazakhstan's leading training institutions with 28,000 students studying various majors, including law. The university has cooperative relationships with more than 460 foreign universities, with thousands of students from over 25 countries around the world.
Eurasian National University has established cooperative relationships with several Vietnamese universities such as Ho Chi Minh City University of Technology and Hanoi University of Science and Technology.
The university supports the cooperation initiatives of Hanoi Law University, considering them as effective measures to promote educational cooperation between the two countries.
During the event, delegates discussed the current status of educational cooperation between Vietnam and Kazakhstan.
They made several recommendations to promote higher education cooperation between the two countries, such as enhancing the understanding of young generations in Vietnam and Kazakhstan about the potential, strengths, and training programs of higher education institutions in both countries through cultural and educational exchanges, as well as educational fairs.
Delegates also proposed programs to take advantage of government scholarship opportunities, send students to learn each other's languages, and offer Vietnamese language classes.
Both countries are actively promoting various areas of cooperation, including economics, investment, tourism, culture, and humanities.