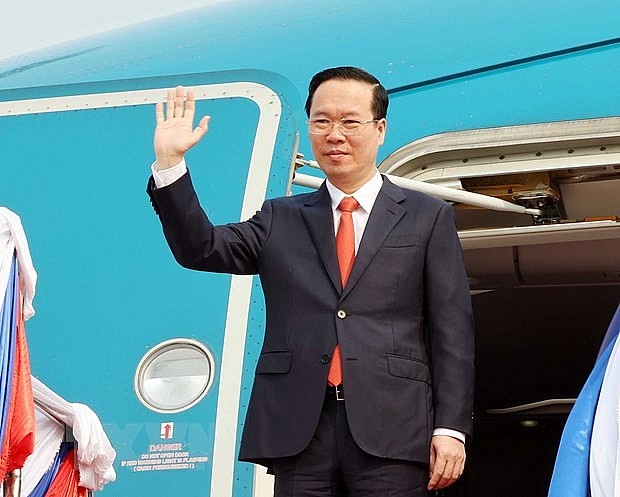 President Vo Van Thuong. Photo: VNA
At the invitation of President of the Italian Republic Sergio Mattarella, President Vo Van Thuong and his wife will pay a State visit to the Republic of Italy.
The visit will contribute to bringing the strategic partnership between Vietnam and Italy to a new height.
Political-diplomatic relations are consolidated
Since Vietnam and Italy established diplomatic relations on March 23, 1973, political relations between the two countries have been consolidated.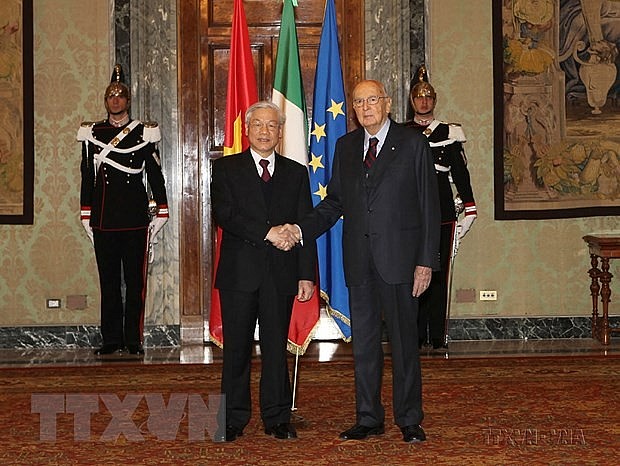 President Giorgio Napolitano welcomed Party General Secretary Nguyen Phu Trong for a State visit to the Italian Republic (January 21, 2013). During this visit, the two sides signed a joint statement establishing the strategic partnership between Vietnam and Italy. Photo: VNA
Especially, since establishing the strategic partnership in January 2013, the two countries promoted practical and effective cooperation in all fields including politics, diplomacy, economy, science, education, defense-security, environmental protection, local connectivity.
High-level delegation exchanges and contacts between the two sides were maintained regularly.
Most recently, in December 2022, Prime Minister Pham Minh Chinh met with Prime Minister Giorgia Meloni on the sidelines of the ASEAN-EU Summit in Brussels.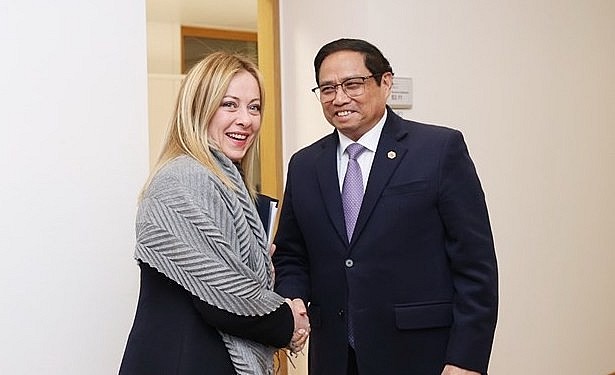 Prime Minister Pham Minh Chinh met with Italian Prime Minister Giorgia Meloni in December 2022. Photo: VNA
In high-level exchanges, Italy always affirms its determination to promote multifaceted cooperation with Vietnam, considering Vietnam as a priority country to develop relations in Southeast Asia.
Regarding security and defense, right after establishing the strategic partnership, the two defense ministries signed a Memorandum of Understanding on defense cooperation, marking a new development, and creating a common framework for bilateral defense cooperation.
In recent years, the two sides promoted cooperation in all three areas, including defense policy, military and defense, and defense industry.
Through the Defense Policy Dialogue at the deputy ministerial level, Italy affirmed its willingness to cooperate in research and manufacture, transfer technology to produce military and civilian ships, cooperate in training and share experiences in UN peacekeeping operations.
In addition, within the framework of Italy-ASEAN cooperation, Italy is trying to implement a number of programs such as training police officers, preserving heritage, and combating climate change.
The agreement on cooperation in crime prevention and control, taking effect on November 30, 2016, marks an important development in the relationship between the Ministry of Public Security and the Italian Ministry of Interior.
Bright spot on trade-investment cooperation
Vietnam is one of 10 emerging markets in Italy's priority to develop trade and investment relations by 2030.
The two sides always create favorable conditions for businesses to strengthen cooperation in areas where Italy has strengths and Vietnam has needs, such as mechanical engineering, infrastructure, textiles, footwear, wood processing, supporting industries, and food processing.
In 2022, two-way trade turnover reached more than US$6.2 billion, up 11% compared to 2021. Italy is Vietnam's 3rd largest trading partner in the EU (after Germany, the Netherlands) and Vietnam is Italy's largest trading partner in ASEAN.
Vietnam's exports to Italy are quite diverse, in which many items have a large turnover such as phones and components, machinery and equipment, vehicles, spare parts, iron and steel, textile products, shoes, and coffee.
Phones of all kinds and components are the group with the leading export turnover, accounting for about 25% of the export turnover of Vietnam's goods to Italy.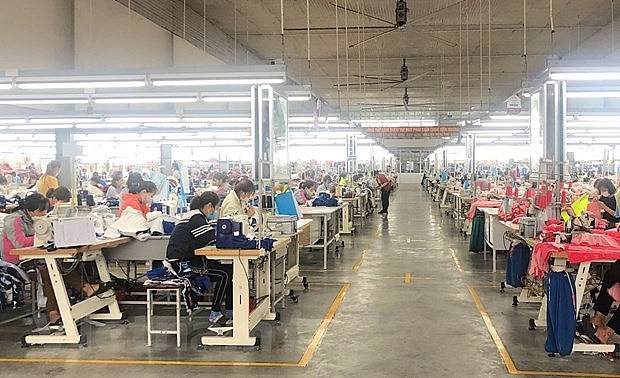 A workshop producing textiles for export. Photo: VNP
Some export items such as Vietnam's steel to the Italian market increased sharply due to the incentives of the EVFTA.
The two sides established the joint committee on economic cooperation after establishing the strategic partnership, and held 7 sessions from 2014 to 2022.
In terms of investment, by the end of 2022, Italy ranked 36th out of 141 countries and territories investing in Vietnam, with 135 projects with a total capital of more than US$412 million, mainly in the leather footwear, construction, water heater, and steel processing industries.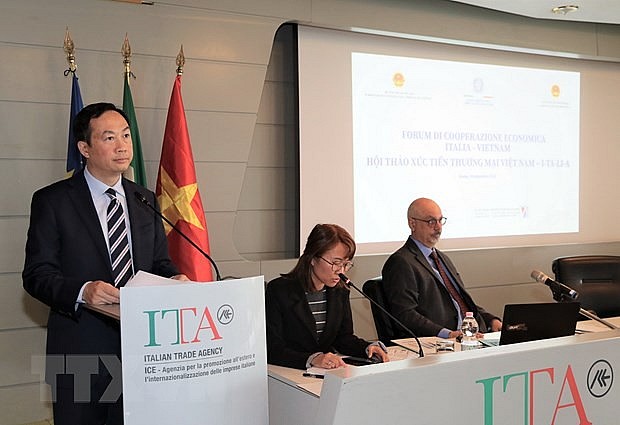 Ambassador Duong Hai Hung speaked at the Vietnam-Italy Trade Forum in September 2022. Photo: VNA
Promoting cooperation in culture, education, science-technology, tourism
Regarding culture, the two countries regularly organize cultural weeks in Italy and Vietnam, Vietnam Year in Italy and Italy Year in Vietnam on the occasion of even-numbered years, and anniversary of the establishment of diplomatic relations.
From 2003-2013, the Italian Government cooperated with UNESCO to help Vietnam restore the My Son relic site with a total cost of US$1.5 million. Vietnam licensed the establishment of the Casa Italia (2019) and the Italian Cultural Center in Hanoi (2022).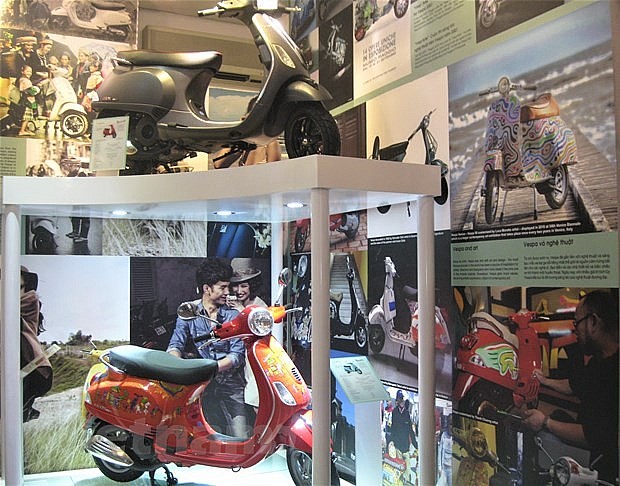 A corner of the Italian House (Casa Italia) on Le Phung Hieu street, Trang Tien ward, Hoan Kiem district, Hanoi. Photo: VNP
In terms of education and training, the educational cooperation program for the period of 2019-2022 mainly focused on language development, with Italy providing teaching aids and scholarships.
It encouraged cooperation between universities and educational institutions.
The two sides successfully organized two Vietnam-Italy Higher Education Forums in 2014 and 2019, with the plan to hold the third in 2023.
The number of exchange students increased in both directions. The Italian government is interested in supporting annual scholarships for Vietnamese students.
The Italian Faculty of Hanoi University has grown and expanded after 20 years of establishment. The two countries signed and cooperated in 72 education and training projects.
Regarding science and technology, the two sides established the joint committee on science and technology cooperation in November 1998, with seven sessions.
The two countries approved seven Vietnam-Italy science and technology cooperation programs, with more than 90 joint research projects signed and implemented in various fields, such as biotechnology and medicine, environment and climate change, nuclear energy cooperation, information and communication technology.
In Vietnam's tourism development strategy, Italy is identified as one of the key and potential markets. The number of Italian tourists to Vietnam grew quite well at an average rate of 15% in the period 2015-2019.
In 2019, the number of Italian tourists reached 70.8 million, an increase of 8% compared to 2018. In 2022, Vietnam welcomed more than 15,000 Italian visitors. Italy is also one of the top destinations for Vietnamese tourists when visiting Europe.
The activities to celebrate the 50th anniversary of the diplomatic relations between Vietnam and Italy (March 23, 1973-March 23, 2023), and the 10 years of the Vietnam-Italy strategic partnership (2013-2023) in 2023 will help the two sides enhance mutual understanding, look to the future with new and brighter cooperation prospects.