Vietnam News Today – Notable Headlines (October 13)
Royal Australian Navy warship HMAS Toowoomba is currently visiting Ho Chi Minh City.
Vietnam, India hold immense potential for trade expansion: Diplomat
Vietnam continues to outperform other Southeast Asian countries in attracting foreign direct investment (FDI). The country has established itself as a preferred destination for international investors due to its strong economic growth, business-friendly policies, and strategic location.
With a population of over 95 million people, Vietnam offers a large consumer market and a skilled labor force. The country's robust infrastructure, improved logistics, and stable political environment also contribute to its attractiveness to foreign investors.
In recent years, Vietnam has seen a significant increase in FDI inflows, with sectors such as manufacturing, services, and real estate receiving a substantial amount of investment. The government has implemented various measures to facilitate foreign investment, such as tax incentives, streamlined regulations, and improved business support services.
Foreign investors in Vietnam can benefit from a business-friendly environment, including a transparent legal system, protection of intellectual property rights, and access to a wealth of investment opportunities. The government is also actively promoting public-private partnerships and encouraging foreign participation in infrastructure development projects.
As the global economy continues to recover from the COVID-19 pandemic, Vietnam's attractive investment climate is expected to further boost FDI inflows. The country's strong economic fundamentals, resilient growth, and favorable demographic trends make it an attractive destination for foreign investors seeking long-term returns.
In conclusion, Vietnam's ongoing success in attracting FDI underscores its position as a leading investment destination in Southeast Asia. The government's commitment to creating a conducive business environment and promoting sustainable development is likely to continue driving FDI inflows in the future.
According to CN Traveler, Phu Quoc has been recognized as one of the world's top islands.
Vietnam: A Promising Global Transit Hub
President Vo Van Thuong will be attending the 3rd Belt and Road Forum in Beijing.
The Chairman of the State Duma of Russia is scheduled to visit Vietnam.
The Hanoi Forum aims to foster the growth of the energy industry and ensure energy security.
Vietnam's Implementation of EC Recommendations in IUU Fishing Combat
Vietnam is actively and seriously implementing the recommendations provided by the European Commission (EC) to combat illegal, unreported, and unregulated (IUU) fishing. In order to ensure sustainable fisheries and responsible fishing practices, Vietnam recognizes the importance of addressing IUU fishing and is committed to taking necessary measures to tackle this issue.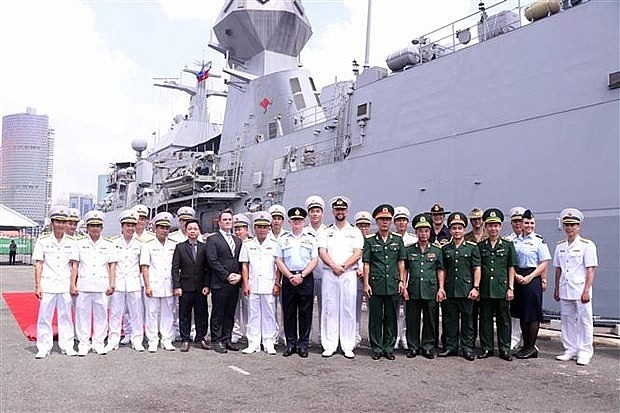 200 naval officers and crewmembers of Helicopter frigate HMAS Toowoomba of Royal Australian Navy (RAN) arrived in Ho Chi Minh City on October 12 on a goodwill visit to Vietnam. (Photo: VNA)
HMAS Toowoomba: Royal Australian Navy Warship Visits Ho Chi Minh City
The HMAS Toowoomba, a helicopter frigate belonging to the Royal Australian Navy (RAN), arrived at Ho Chi Minh City's Nha Rong wharf on October 12 for a diplomatic visit to Vietnam.
During their six-day visit, a delegation of 200 naval officers and crewmembers will engage in meaningful exchanges and knowledge sharing with officers and sailors from the esteemed Vietnam People's Navy. The focus areas for these interactions will encompass the vital domains of health care on naval ships and specialized rescue operations. This valuable collaboration aims to foster mutual learning and enhance the capabilities of both naval forces involved.
During their visit, the Australian crew will extend their courtesy to the leaders of the Ho Chi Minh City People's Committee, the Military Region 7 High Command, and the Naval Region 2 High Command. Additionally, they will also participate in a meaningful gesture by presenting floral tributes at the monument dedicated to President Ho Chi Minh.
Australian sailors will be engaging in friendly sports games with students from the Naval Technical Intermediate School, as reported by VOV.
Commander Tony McCormack, from Indo-Pacific Endeavor (IPE), expressed that the visit, being a constituent of the IPE cooperation program, seeks to foster amicable relations and mutual understanding. This endeavor is anticipated to foster enhanced collaboration between the naval forces of both nations and bolster Vietnam-Australia defense cooperation.
The visit serves as a testament to the robust strategic partnership between Vietnam and Australia, marking the 50th anniversary of diplomatic ties between the two nations (1973-2023).
HMAS Toowoomba is the seventh vessel from the esteemed Anzac Class frigates. Constructed by Tenix Defence Systems in Williamstown, Victoria, this ship was commissioned to serve in the Royal Australian Navy. Its design is inspired by the renowned German Meko 200 frigate.
The warship is equipped with a highly efficient "combined diesel or gas" (CODOG) propulsion plant, enabling it to maintain sprint speeds exceeding 27 knots. Additionally, it boasts an impressive operational range surpassing 6,000 nautical miles at a continuous speed of 18 knots.
The vessel is equipped to accommodate the Navy's advanced Sikorsky/Lockheed Martin MH-60R Seahawk helicopter, which offers improved capabilities in anti-submarine, anti-surface warfare, and Search and Rescue operations. Additionally, the capability to deploy air-launched missiles and torpedoes is provided with the embarkation of the helicopter, as stated by the Royal Australian Navy (RAN).
Diplomat Highlights Vast Prospects for Vietnam-India Trade Expansion
The General Consul of Vietnam in Mumbai, Le Quang Bien, has highlighted the immense potential for enhanced trade and investment cooperation between Vietnam and India. Both countries are home to a significant number of dynamic and enterprising businessmen, who possess the capability to forge mutually beneficial business ventures.
I had the opportunity to attend the 84th founding anniversary ceremony of the Southern Gujarat Chamber of Commerce and Industry (SGCCI) on October 11. During the event, I emphasized the significant potential and reliability of India as a business partner for Vietnam, given its rapid growth and ambitious goal of becoming a 5-trillion-USD economy by 2027.
Vietnam highly values trade cooperation and cultural exchanges with India, exemplified by the selection of numerous destinations in Vietnam, such as Phu Quoc island, for hosting Indian weddings. This was stated by a representative of Vietnam, underscoring the significance the country places on fostering strong ties with India. The report was shared by VNA.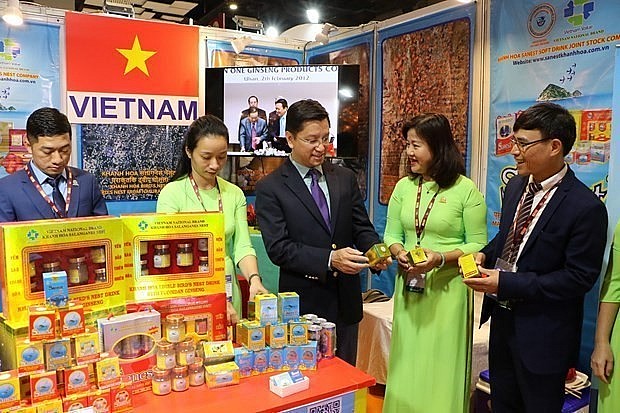 Vietnam and India boast huge potential to further foster cooperation in trade and investment. (Photo: VNA)
He emphasized the importance of establishing a direct route connecting Surat, a port city in the state of Gujarat, and Vietnam to enhance travel and trade opportunities between the two countries.
Bien praised the Global Connect Mission 84, initiated by SGCCI, which seeks to strengthen India's trade relationships with 84 countries globally. The mission aims to foster connections between 84,000 skilled and ambitious entrepreneurs from India and these countries.
He described the initiative as an innovative endeavor that sets itself apart from traditional approaches. Furthermore, entrepreneurs, both Vietnamese and Indian, operating under this initiative will benefit from enhanced trade ties with Indian businessmen as well as the global business community.
Chairman Dinh Vinh Cuong, from the International Entrepreneurs Connection Club, has expressed high praise for the partnership between Vietnamese businessmen and industrial producers in Surat. He is keen to collaborate with the SGCCI in order to establish a conducive environment for connecting their respective members.
A Memorandum of Understanding (MoU) was signed between the International Entrepreneurs Connection Club and the SGCCI (Surat Gujarat Chamber of Commerce and Industry) during this event.
Vietnam offers a favorable socio-political environment, a thriving economy, a skilled workforce, and a strategically advantageous location in the global supply chain. As a result, it presents an excellent opportunity for partnership with India across various areas, including investment, trade, cultural exchange, and tourism.
HSBC: Vietnam Continues to Lead Southeast Asia in FDI Attraction
According to HSBC's report "Vietnam at a glance," despite a decrease in foreign direct investment (FDI) globally, Vietnam continues to excel in attracting FDI within ASEAN, coming in second place after Malaysia. The decline in FDI can be attributed to more stringent global monetary conditions since 2017.
The report highlights that despite current obstacles in the trade sector, the country's long-term potential for foreign direct investment (FDI) remains promising. Particularly, the manufacturing industry holds the majority of FDI, indicating the opportunity for upward growth and positioning the country for a strong recovery when the trade landscape inevitably improves. There has been a significant influx of FDI into the manufacturing sector, surpassing the previous three years' total within this year alone.
During his visit to Vietnam in September, President Joe Biden emphasized the importance of tech supply chain relocation and strengthening the bilateral relationship between the United States and Vietnam. Highlighting the transition to a comprehensive strategic partnership, President Biden revealed that prominent American tech companies such as Amkor and Marvell intend to invest in the Vietnamese market.
Hana Micron, a company based in the Republic of Korea, recently made an announcement regarding its plans to expand chip production. The company will be investing a substantial amount of US$1 billion by 2025 to support this expansion.
Signs of Economic Recovery Seen in Trade Performance
Following a difficult start to the year, the Vietnamese economy demonstrated a robust recovery in the third quarter, surpassing expectations with a growth rate of 5.3%.
The recent improvement in Vietnam's economic performance can be attributed to a positive shift in the trade sector. Notably, September saw a welcome increase in exports, marking the first year-on-year growth in this area. This progress can largely be attributed to China's increasing demand for agricultural products from Vietnam. However, it is important to note that the overall demand from the United States and European Union remains sluggish and has not yet shown signs of significant improvement.
The tourism sector, along with manufacturing, is a significant pillar of the country's services industry. As such, the Government has decided to increase its annual tourism target in order to support and further develop this thriving sector.
According to experts at HSBC, the most significant surprise to us has been the resurgence of Vietnam's manufacturing sector. While it may still be too soon to classify this as a substantial recovery in the global trade cycle, Vietnam's trade sector has experienced a much-needed respite in recent times.
Despite the impact of base effects, exports have finally experienced growth after a period of six months, resulting in a tamer decline of less than 2% year on year in the third quarter. The previous double-digit decrease in export figures during the first half of the year has been mitigated. Although export weakness persists across various sectors, positive performance in computer and agriculture shipments helps to offset potential risks.
The current trend is evident in Vietnamese exports to key trading partners. Despite no significant improvement, exports to the US (representing 30% of total exports) and the EU (representing 15% of total exports) have managed to stabilize and prevent further decline.
According to a report from VOV, Vietnamese exports to China, which constitute a 15% share, displayed robust double-digit growth primarily driven by the remarkable performance in the agricultural products sector.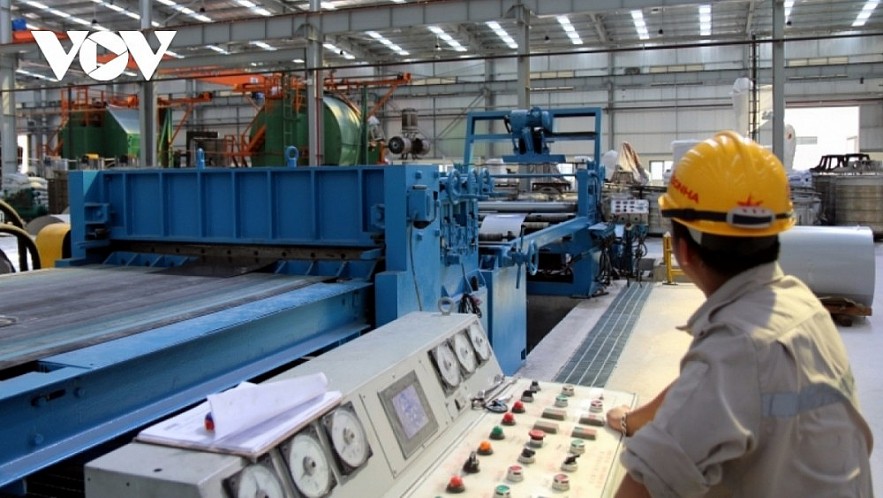 Photo: VOV
In addition to manufacturing, services continue to play a crucial role in driving growth in Vietnam. The tourism sector, in particular, has experienced a remarkable year-on-year growth rate of nearly 10%.
Think tanks have emphasized that ASEAN has experienced a resurgence in tourism, reaching approximately 60% to 80% of the levels seen in 2019. Vietnam, in particular, has made significant progress in its recovery, with tourism reaching a rate of approximately 70% in September. Notably, the country has already welcomed 8.9 million tourists as of September, resulting in authorities revising their full-year target to 13 million compared to the initial goal of eight million.
Forecasts Point to Record-Breaking Heat This Summer
According to experts, there has been a resurgence of upside risks to inflation, leading to an upgrade in the year's average inflation forecast to 3.4%.
According to HSBC economists, the annual growth forecast remains unchanged at 5.0%. However, there is a revised expectation that the State Bank of Vietnam will maintain its policy rate at 4.50% until the end of 2024.
Phu Quoc Ranked as One of the Best Islands in the World by CN Traveler
Phu Quoc island, located off the Mekong Delta province of Kien Giang, is renowned for its picturesque long beaches adorned with pristine white sand and captivating turquoise waters. In recognition of its unparalleled beauty, the esteemed American travel magazine Condé Nast Traveler (CN Traveler) has recently bestowed upon Phu Quoc island the prestigious title of one of the world's top islands for the year 2023.
CN Traveler recently announced the recipients of the highly regarded Readers' Choice Awards for 2023. We are delighted to share that Phu Quoc has been recognized for its exceptional qualities for the second year in a row.
According to the rankings, the Vietnamese island has emerged as one of the top destinations in the Asian island category, securing the 8th position with an impressive score of 88.89. Notably, it surpassed renowned locations such as Japan's Okinawa & Ryukyu islands and the Philippines' Siargao island to claim its spot among the best.
In 2015, Sao Beach in Phu Quoc was voted by readers of Condé Nast Traveler as one of the ten most pristine and tranquil beaches in the world, alongside renowned destinations like Fiji and the Maldives.
Pearl Island in Vietnam is known for its breathtaking landscapes and rich cultural heritage. It offers a wide range of accommodation options, from affordable housing to luxurious resorts, ensuring a memorable and enjoyable stay for every visitor. Along with its stunning natural beauty, Pearl Island also provides a plethora of cultural and historical experiences, making it a truly alluring destination.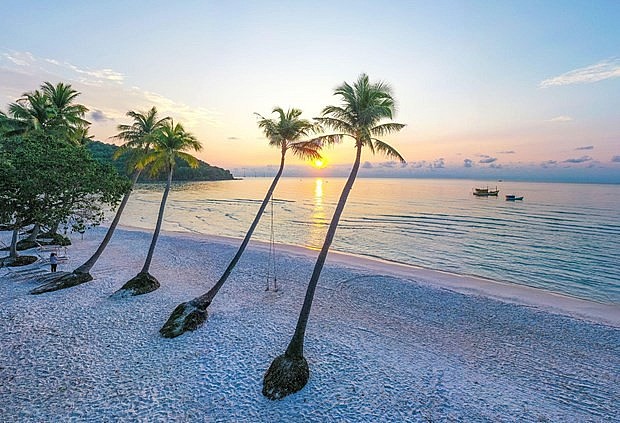 The poetic beauty of Sao beach on Phu Quoc island. (Photo: Sun Group)
Phu Quoc Island has caught the attention of foreign media as it emerges as a promising destination on the global tourism map. With its noteworthy transformations to attract visitors, Phu Quoc has been dubbed a "rising star". One of its latest additions, the captivating Sunset Town situated in the southern part of the island, has impressed Yonhap News from the Republic of Korea. Yonhap News highlights the town's ability to provide visitors with an exceptional experience, allowing them to immerse themselves in the Mediterranean charm amidst a tropical setting. Additionally, Traveller magazine from Australia has proclaimed that every corner of Sunset Town will leave tourists truly astounded.
Phu Quoc boasts several renowned attractions, including the Hon Thom cable car – the world's longest 3-rope cable car system, transporting visitors from An Thoi town to Hon Thom island. Additionally, Kiss The Stars offers an enthralling display of multimedia technology on water, making it the largest show of its kind in Asia.
According to VNA, exploring pepper farms, pearl farms, Ham Ninh fishing village, and Phu Quoc National Park is a great way to immerse oneself in the local culture of Phu Quoc. Additionally, trying local specialties like "bun quay" – a dish consisting of vermicelli noodles with fish cake, shrimp cake, squid, and beef – adds to the authentic experience.
Yonhap News dubbed Phu Quoc as "Vietnam's Maldives" due to its impressive collection of high-quality resorts that cater to discerning travelers in search of luxurious accommodations. These include renowned establishments such as JW Marriott Phu Quoc Emerald Bay Resort, Premier Residences Phu Quoc Emerald, New World Phu Quoc Resort, and Premier Village Phu Quoc Resort.
Phu Quoc, for the second consecutive year, has earned the esteemed distinction of being named one of the world's top islands by CN Traveler. This recognition solidifies Phu Quoc's standing in the global tourism industry. Against all odds, Phu Quoc has transformed from an obscure island to a beloved destination, endorsed by renowned magazines and esteemed tourism organizations, placing it prominently on the international travel map.
Economist Views Vietnam as an Emerging Global Transit Hub
According to experts at Cushman & Wakefield, Vietnam holds immense potential to rival prominent global logistics hubs such as Dubai (United Arab Emirates), Hong Kong (China), Singapore, and Shanghai (China).
There has been a significant rise in e-commerce in Vietnam, leading to an increase in the number of manufacturing and logistics companies establishing their presence in the country. This has resulted in a strong need for top-notch logistics real estate, as highlighted by Trang Bui, the CEO of Cushman & Wakefield.
According to Trang, the combined warehouse supply in Hanoi and HCM City is currently only approximately 2.02 million sq.m and 5.13 million sq.m, respectively. As a result, industrial parks and logistics facilities in these major urban areas, particularly in the two cities, are currently operating at high occupancy rates, with some even reaching close to 100 percent capacity. Given this situation, the demand for warehouse space is anticipated to continue to rise.
Vietnam is strategically positioned adjacent to the economic corridor in southern China, which encompasses prominent areas like Shanghai, Shenzhen, Fuzhou, and Guangdong. These regions have been selected as headquarters for major industrial, chemical, trade, and electronic technology companies. Vietnam's industrial parks have been an attractive destination for global electronics companies for many years, with pioneers including Panasonic (1971), LG Display (1995), Canon (2001), Foxconn (2007), Samsung (2008), Fuji Xerox (2013), and more recently, conglomerates like Pegatron, Goertek, and Jinko Solar. Currently, Vietnam has the opportunity to enhance the value of its manufacturing supply chain.
According to data from the Ministry of Transport, Vietnam currently boasts an extensive road network totaling 595,201 kilometers. Within this network, there are 25,560 kilometers specifically designated as national highways. Additionally, there has been significant development in the expressway system, which now spans 1,239 kilometers. To further enhance transportation infrastructure, there are ongoing construction projects for approximately 14 new expressway routes and sections, amounting to an estimated 840 kilometers in total.
According to VNS, the national railway network in the area spans a total of 3,143 kilometers and includes 277 stations. Additionally, there are two routes that connect with China, one from Dong Dang and the other from Lao Cai. The northern region offers convenient road, waterway, and rail routes to Shenzhen, often referred to as China's Silicon Valley. This accessibility makes it easier for enterprises to expand and allocate production in the area.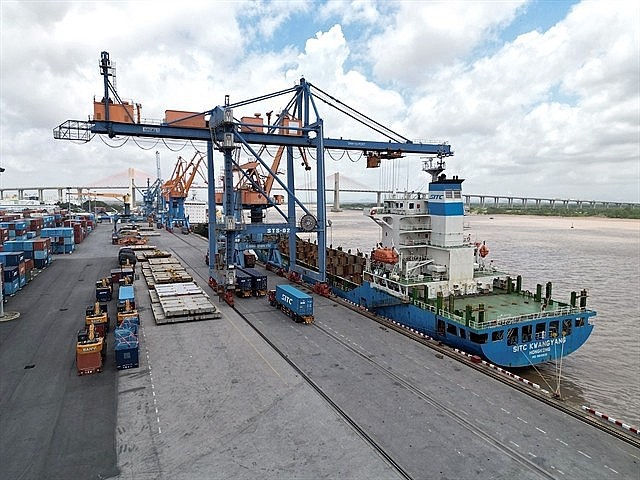 Goods loaded at Dinh Vu Port in the northern city of Hai Phong. Recent significant investments in Vietnam's seaport system have established modern facilities that meet international standards. Photo: VNA
The seaport system in Vietnam has undergone substantial investments recently, resulting in state-of-the-art facilities that adhere to global standards. Notably, Hai Phong and HCM City container ports rank among the top 50 largest ports globally. With a total of 286 port berths and over 96 kilometers of quay length, the seaport system is well-equipped to handle various maritime activities efficiently.
Shipping companies now offer direct services from Vietnam to North America and Europe, eliminating the need for transshipment through regional hubs such as Singapore or Hong Kong (China). This advancement in logistics is saving up to US$150-300 per TEU for containers traveling to and from Vietnam.
The Vietnamese Government has set a goal to meet the growing demand for export-import, regional and nationwide trade, as well as domestic and international cargo transit and passenger transport by 2030.
According to experts from Cushman & Wakefield, Vietnam has the potential to rival established global logistics hubs like Dubai (United Arab Emirates) and Hong Kong (China), as well as emerging ones like Singapore and Shanghai (China). Vietnam not only aims to become a global cargo transit hub but also a crucial component of the global manufacturing supply chain.
According to recent data, Vietnam has seen a significant increase in foreign direct investment (FDI) during the first eight months of this year. The total FDI inflow reached approximately US$18.15 billion, reflecting an impressive growth rate of 8.2 percent compared to the same period last year.