Vietnam News Today: Notable Headlines (August 30)
Vietnam and China are scheduled to hold the 8th Border Defense Friendship Exchange in September.
The President of the United States, Joe Biden, is scheduled to visit Vietnam next month.
Twinning Relations between Localities in Vietnam and Algeria
We are pleased to announce the establishment of twinning relations between municipalities in Vietnam and Algeria. This exciting initiative aims to foster cultural exchange, enhance economic development, and promote cooperation between the two regions.
Twinning, also known as sister city or twin town relationships, is a concept that has been widely embraced globally. It involves forming formal partnerships between cities or towns from different countries or regions. Through these relationships, localities can learn from one another, share best practices, and develop mutually beneficial collaborations.
The twinning relations between Vietnamese and Algerian localities will serve as a platform for cooperation in various fields such as tourism, trade, education, and technology. It will provide opportunities for mutual understanding, friendship, and the exchange of ideas between citizens of both countries.
We believe that this partnership will contribute to the growth and development of both regions, create new business opportunities, and strengthen cultural ties. We encourage businesses, educational institutions, and community organizations to actively participate in various twinning activities and seize the potential for collaboration.
By working together and building strong twinning relations, we can create a better future for our localities, fostering economic growth, cultural enrichment, and global interconnectedness.
Vietnam has been ranked among the top 15 countries for expats to live and work in, according to a survey conducted by InterNations, the world's largest expat network.
The Expat Insider 2021 survey assessed various factors such as quality of life, ease of settling in, working abroad, personal finance, and family life. Vietnam ranked 12th overall out of 59 countries, performing particularly well in the categories of working abroad (4th) and personal happiness (6th).
With its affordable cost of living, vibrant culture, and friendly locals, Vietnam offers expats a unique and fulfilling lifestyle. It is also known for its delicious cuisine, stunning landscapes, and rich history.
If you're considering a move abroad, Vietnam is definitely worth considering as a destination. To learn more about living and working in Vietnam, visit this guide on InterNations.
The Consumer Price Index (CPI) has increased by 3.1% over the past eight months due to a rise in petrol and rice prices.
Vietnamese and Singaporean Prime Ministers Meet with VNU Students
Vietnam's Outward Foreign Direct Investment Reaches US$416 Million in Eight Months
Vietnam has made significant investments abroad, with a total outward Foreign Direct Investment (FDI) of US$416 million over an eight-month period. This is a clear indication of the country's growing presence in the global market.
Amidst the challenges posed by the COVID-19 pandemic, Vietnam has continued to explore opportunities beyond its borders. The government's efforts to encourage and support Vietnamese companies in expanding their business activities internationally have played a crucial role in this achievement.
The sectors that attracted the most Vietnamese investment include wholesale and retail trade, manufacturing, and real estate. These investments have not only contributed to the economic development of other countries but have also helped Vietnamese businesses gain valuable international experience and knowledge.
Vietnam's positive foreign investment outlook demonstrates the country's competitiveness and determination to become a significant player in the global economy. It serves as a testament to the confidence that international investors have in Vietnam's business environment and its potential for future growth.
Moving forward, Vietnam will continue to foster an enabling environment for outbound investment, ensuring that businesses can access the necessary resources and support to succeed in international markets. By leveraging its strengths and embracing global opportunities, Vietnam aims to further strengthen its position as a key player in the global investment landscape.
Dong Thap, China's Guangxi Eye Stronger Trade Ties
The provinces of Dong Thap in Vietnam and Guangxi in China are looking to strengthen their trade ties. Both regions have identified key areas of collaboration, including agriculture, tourism, and manufacturing.
Officials from both provinces have been working closely to develop a roadmap for increased trade and investment. This includes exploring opportunities for joint ventures, promoting business exchanges, and facilitating cross-border trade.
Dong Thap is known for its agricultural products, particularly rice, fruits, and seafood. Guangxi, on the other hand, is a manufacturing hub with a strong focus on industries such as textiles, electronics, and automotive.
With their complementary strengths, the two provinces believe that closer collaboration will benefit both sides and contribute to the overall economic development of the region. It is hoped that this partnership will lead to increased trade volumes and mutually beneficial business opportunities.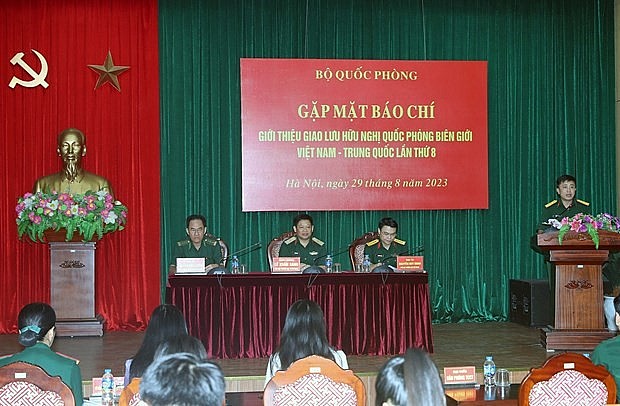 The press briefing held in Hanoi on August 29 to provide information about the 8th Vietnam – China border defence friendship exchange (Photo: VNA)
Vietnam and China Set to Hold 8th Border Defense Friendship Exchange in September
The eighth border defense friendship exchange between Vietnam and China is set to occur on September 7-8 in the northern province of Lao Cai, Vietnam and its neighboring Chinese province of Yunnan.
The Vietnamese delegation attending the event will be led by Phan Van Giang, a distinguished member of the Politburo, Deputy Secretary of the Central Military Commission, and Minister of National Defense. On the Chinese side, Li Shangfu, State Councillor and Minister of National Defense, will spearhead the delegation. This was announced by the Vietnamese Ministry of National Defense during a press briefing held in Hanoi on August 29.
On September 7, several activities will be held in Vietnam to commemorate the occasion. These activities include a formal welcome ceremony for the Chinese delegation at the Lao Cai International Border Gate, a ceremony to honor the border markers, a symbolic tree planting ceremony, the commencement of construction on a friendship house of culture in Ban Phiet commune of Bao Thang district, a visit to the Kim Dong Primary School in Lao Cai city along with the presentation of gifts, and official talks between the two delegations.
China will be hosting several events on September 8th, including a formal welcome ceremony for the Vietnamese delegation at the Hekou International Border Gate. The day's activities will also include a border marker saluting ceremony, the planting of commemorative trees, and a visit to a military unit or school in the Hekou area. Additionally, a bilateral seminar will be held as part of the itinerary.
In preparation for the upcoming exchange, a range of additional activities have been planned. These include offering complimentary health examinations and medicine to residents living in the border area, awarding scholarships to 50 students hailing from underprivileged backgrounds, and providing heifers to disadvantaged households. Furthermore, the authorities will assess the twin relationship between border communities and evaluate the collaboration between the Lao Cai International Border Gate's border guard post and the Hekou border guard unit in Yunnan's Mengzi region.
The Ministry has stated that the eighth border defense friendship exchange seeks to advance the implementation of the Vietnam – China joint statement on deepening and enhancing their comprehensive strategic cooperative partnership. This statement was issued during Party General Secretary Nguyen Phu Trong's official visit to China in November 2022. The exchange aims to foster mutual trust and cooperation between the two Parties, States, and defense ministries. This information was reported by VNA.
The described event holds significant diplomatic significance for the defense ministries involved this year. Its main objective is to strengthen the friendship, solidarity, and substantive cooperation between the border defense forces, administrations of border localities, and local residents. The ultimate goal is to foster a harmonious border that embodies peace, friendship, stability, cooperation, and development.
The inaugural exchange took place in 2014 between the provinces of Quang Ninh in Vietnam and Guangxi in China.
South China Sea Bracing for Typhoon Saola as Haikui Storm Emerges
According to the latest update from the National Center for Hydro-meteorological Forecasting, Typhoon Saola is projected to move into the East Sea within the next 48 hours. Additionally, another storm named Haikui has formed and is currently located approximately 1,500 km east of Typhoon Saola.
As of 1:00 PM on August 29, Typhoon Saola's eye was situated along the northeast coast of Luzon Island, Philippines, accompanied by powerful winds reaching speeds of 150 km to 166 km per hour in close proximity to its center.
According to VOV, within the next 48 hours, the storm is projected to progress in a northwest direction at a velocity ranging from 10 km to 15 km per hour, ultimately making its way into the East Sea. This would mark the third storm occurrence in the country for the year.
Photo: VOV
Typhoon Saola
A powerful storm known as Typhoon Saola has arisen in the Pacific Northwest, positioned approximately 1,500 km east of the currently active storm Haikui.
The meteorologists have highlighted that the interaction of the two storms will result in a double storm effect, commonly referred to as the Fujiwara effect. Consequently, this will make the developments of Typhoon Saola complex and unpredictable.
The emergence of the Fujiwara interaction has significantly impacted the trajectory of Typhoon Saola. Initially, the storm was predicted to make landfall in Taiwan (China) and then continue into the Fujian area of China.
Recently, there has been a notable shift in the trajectory of Typhoon Saola. It is now veering more towards the south and is projected to make its way into the East Sea within the next 48 hours.
Please be advised that the North East Sea region will experience strong winds and rough seas as a result of storm Sao La. From the evening of August 29 to August 30, we anticipate sea waves reaching heights ranging from 3 meters to 5 meters.
Joe Biden to Make Historic Visit to Vietnam in April
According to VNA, Pham Thu Hang, spokeswoman of the Ministry of Foreign Affairs, announced that US President Joe Biden is scheduled to visit Vietnam on September 10-11.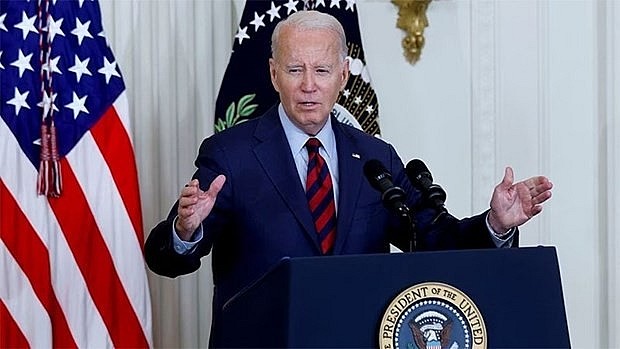 US President Joe Biden (Photo: AP)
The visit is being made in response to an invitation extended by Nguyen Phu Trong, General Secretary of the Communist Party of Vietnam Central Committee, stated Madame X.
"We are confident that the forthcoming visits of the senior leaders from both nations will significantly enhance the Vietnam-US relationship, fostering a steadfast, meaningful, and enduring development across all sectors. This collaboration will play a crucial role in upholding peace, stability, cooperation, and prosperity within the region and globally," she highlighted.
Vietnamese and Algerian Localities Sign Twinning Agreement
On August 28, the local administrations of Batna province in Algeria and Dien Bien province in Vietnam agreed to establish a twinning partnership between their respective localities.
According to VOV, the signing ceremony took place in Batna province and was attended by notable individuals including the Provincial Governor Mohamed Benmalek, Vietnamese Ambassador to Algeria Tran Quoc Khanh, and a delegation from Dien Ben province led by Le Thanh Do, deputy secretary of the provincial Party Committee and chairman of the provincial People's Committee.
At the the signing ceremony (Photo:VNA)
Governor Benmalek highlighted that this agreement is a significant milestone as it marks the first collaboration between two localities from Algeria and Vietnam. Dien Bien holds a special place in the hearts of many Algerians due to its renowned Dien Bien Phu victory, which has been a catalyst for national liberation movements across the globe. Additionally, Algerians have a deep admiration for President Ho Chi Minh and General Vo Nguyen Giap.
During the discussion, Do emphasized the numerous strengths and potential of Dien Bien and emphasized the significance of the recently-signed agreement to foster cooperation and development between the two provinces. He expressed his optimism that the two local administrations will effectively implement the cooperation initiatives and develop practical plans and strategies for action.
The suggestion put forward is for the two provinces to enhance their cooperation in the areas of culture, sports, tourism, and delegation exchanges, while also engaging in promotional activities.
We cordially invite you to visit Dien Bien in 2024 to commemorate the 70th anniversary of the historic Dien Bien Phu victory. This momentous occasion provides an ideal opportunity to celebrate the heroic triumph and reflect on its significance in history.
Additionally, we extend an invitation to send a business delegation to explore potential investment and collaboration opportunities in our province. With its abundant resources and promising growth prospects, Dien Bien offers a favorable environment for fruitful partnerships.
We look forward to hosting you and fostering mutual cooperation between our entities.
Vietnam Ranks Among Top 15 Countries for Expats
According to the most recent survey conducted by International, a global network of expats with a membership exceeding 4 million, Vietnam has been ranked as the 14th best country for expats out of a total of 53 countries. This ranking reflects a decline of seven places compared to its previous rank in 2022.
According to the conducted survey, a total of 12,000 individuals from 171 countries and territories participated. The findings revealed that the top five countries and territories in the 2023 rankings were identified as Mexico, Spain, Panama, Malaysia, and Taiwan (China). Conversely, the bottom five positions were occupied by Germany, South Korea, Turkey, Norway, and Kuwait.
According to a report from VNN, a comprehensive survey was conducted covering 56 different aspects that impact an individual's experience living abroad. These factors include cost of living, quality of living environment, job opportunities, and technological advancements.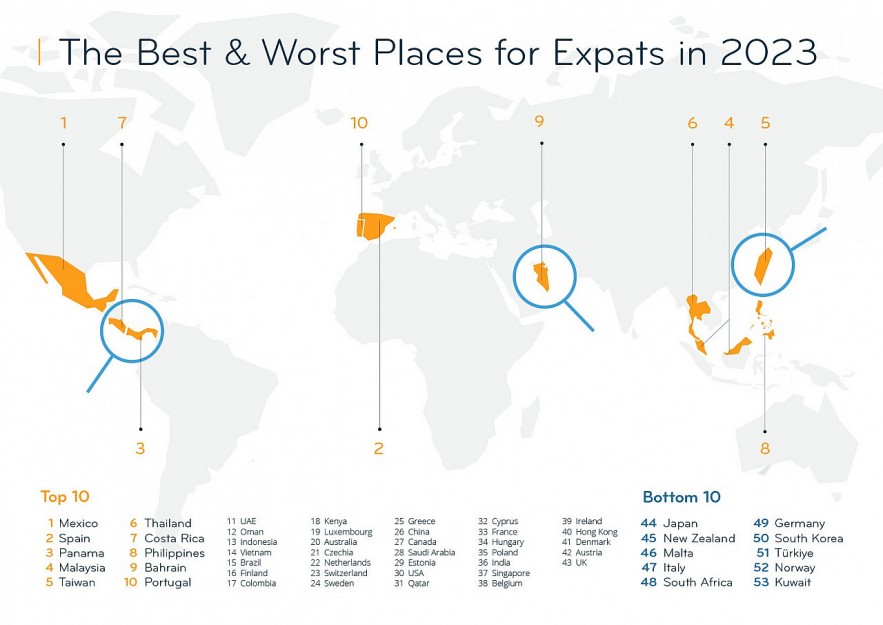 The rankings announced by Internations.
Vietnam has received praise from foreigners for various factors including its rich culture and warm welcome, ranking 16th globally. Additionally, the country is known for being open to making new friends, placing 11th, and the local residents' hospitality, ranking 5th. An overwhelming 82% of foreigners have attested to the friendliness and hospitability of the Vietnamese people.
Vietnam was identified as a destination known for its competitive pricing. The country has ranked highest in the "personal finance" index, which comprises indicators such as contentment with one's financial situation, overall cost of living, and income sufficiency among survey participants. A remarkable 77% of respondents have expressed their satisfaction with Vietnam's cost of living.
According to the safety and security index, Vietnam is ranked 34th globally. In the region of Asia, Vietnam ranks behind countries such as Taiwan (China), the United Arab Emirates, Singapore, Bahrain, Qatar, Oman, South Korea, Japan, and Saudi Arabia.
Vietnam, unfortunately, has been rated as having substandard environmental quality. A staggering 55% of expatriates residing in Vietnam reported feeling dissatisfied with the air quality, a notably high figure that is three times the global average.
According to the report, foreigners residing in Vietnam express a lower level of satisfaction with online administrative services and non-cash payments. Additionally, they encounter challenges when obtaining visas, with the Vietnamese language serving as a barrier. Notably, none of the foreign residents in Vietnam reported being able to speak the language proficiently, in contrast to the global average of 34%.
According to the latest rankings, Mexico has once again secured the coveted first place position, marking its ninth consecutive year in the top 5 on this prestigious list.