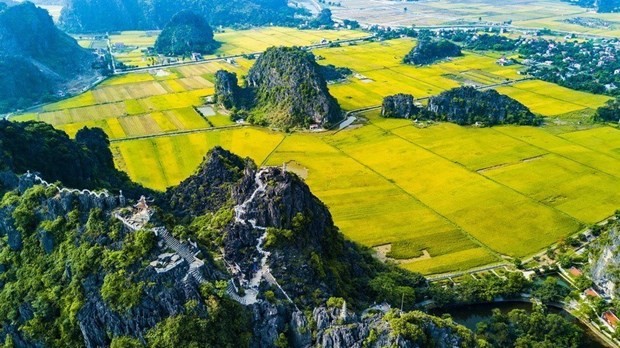 A view of Tam Coc in the Trang An Landscape Complex of Ninh Binh. Photo: VNA
The stunning northern province of Ninh Binh in Vietnam has been selected by the renowned US magazine Forbes as one of the top 23 places to visit in 2023. As reported by the Vietnam News Agency, Ninh Binh is renowned for its spectacular landscapes, diverse culture, and warm hospitality – making it an ideal destination for all types of travelers. From trekking through mountains and caves to exploring ancient temples and pagodas, there's something for everyone in Ninh Binh. Whether you're looking for adventure or relaxation, this stunning region has plenty to offer. So, why not make Ninh Binh your next travel destination?
"Ninh Binh, an oft-overlooked destination in Asia, is increasingly gaining recognition as one of the most picturesque and secluded gems on the continent," says Catarina Mello, an award-winning luxury travel content creator, photographer, entrepreneur, and online educator, as cited by Forbes. This stunning destination has become a much-loved and celebrated spot amongst travelers in recent years.
It's becoming increasingly popular on social media, so it won't remain an unknown treasure for long.
For those looking for a unique travel experience, Ninh Binh offers some of the most stunning landscapes in the world, as well as a variety of local cuisines to tantalize the taste buds. From exploring the breathtaking limestone mountains to indulging in the area's delicious specialties, Ninh Binh is sure to satisfy even the most discerning of travellers. With its unparalleled natural beauty and culinary delights, Ninh Binh is the perfect destination for an unforgettable holiday.
Ninh Binh, a province in Northern Vietnam, is renowned for its stunning natural beauty and many famous destinations. Visitors to the area can explore the incredible Trang An, Hoa Lu, and Tam Coc – Bich Dong sites, all of which boast breathtaking scenery and stunning landscapes. Whether you're looking for a relaxing escape or an adventurous holiday, Ninh Binh has something to offer everyone. (Photo: VNA)
In February 2021, the province was selected as one of the most welcoming regions in the world, according to the annual Traveller Review Awards 2023 by Booking.com – a hotel booking app which covers 228 countries and territories.
Nestled in the northern region of Vietnam, Ninh Binh is a stunning destination boasting an abundance of cultural and spiritual attractions, captivating natural scenery, and a plethora of unique and remarkable caves. Not to be overlooked is the ancient capital of Hoa Lu, which was established during the Dinh Dynasty (968-980). Located just 90 km southeast of Hanoi, Ninh Binh is a must-see destination for any traveler seeking a truly unforgettable experience.
With its unique artistic, geological, geomorphic, and landscape features and evidence of pre-historic life, the Trang An Landscape Complex of Ninh Binh was declared a World Cultural and Natural Heritage Site by UNESCO in June 2014, making it the first mixed natural and cultural property in Vietnam. In addition, the area is home to a variety of attractions that have been designated as special national relic sites.
Nguyen Van Minh, the Director of Ninh Binh Tourism Promotion Center, has revealed that the area has been continuously taking steps to make Ninh Binh a welcoming and perfect destination for both local and international tourists. He added that these measures are expected to bring positive outcomes for the local tourism sector.
In the first quarter of 2023, Ninh Binh welcomed a whopping 3.2 million tourist arrivals, surging an impressive 4.8-fold year on year. That included 3.1 million domestic visitors and nearly 126,000 international ones. Tourism revenue was estimated at nearly VND 2.5 trillion (USD 106 million), a remarkable 5.5-fold increase from a year earlier.