TheCityUK has been appointed by the UK government to support Vietnam's ambitions of developing a regional financial and business centre in Ho Chi Minh City, British Embassy in Hanoi announced on February 22.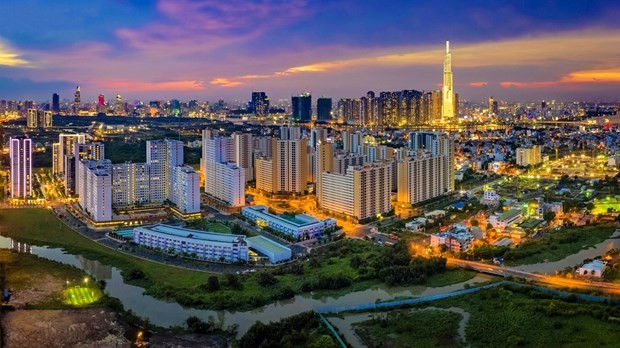 A view of HCM City. Photo: VNA
In partnership with the UK Government, TheCityUK will provide technical support to help create a business and regulatory environment in Vietnam that is attractive to global investors and to further strengthen bilateral ties between the UK and Vietnam.
As a high-growth emerging market, Vietnam's dynamic economy, ambition, and vision to become a high-income country by 2045 and commitment to transitioning to net zero offers great potential for UK-based financial and related professional services firms.
This project will see TheCityUK working alongside the UK Government to bring together regulators and firms across the industry in both the UK and Vietnam to share best practice and develop recommendations that will support Vietnam's long-term sustainable growth and attract UK and international investors.
The collaboration underlines the deep partnership between the two countries which are currently celebrating 50 years of diplomatic relations.
Miles Celic, Chief Executive Officer, TheCityUK, said that they are delighted to work in collaboration with the UK Government and British Embassy in Hanoi to support the development of Vietnam's regional financial and business centre in HCM City.
According to him, Vietnam is a hugely exciting country with a compelling story for growth and prosperity. Given the country's rapid development and increased demand for sophisticated financial products, there is great potential for British firms and other international investors to enter the market. Ensuring robust regulatory, policy and legal frameworks and an open business environment will be essential to its success.
"As one of the world's leading international financial centres, the UK is well placed to support Vietnam's ambitions and provide technical expertise. There will also be mutual benefits gained through the sharing expertise in key areas such as green finance, innovation and digital transformation and the net-zero transition," he said.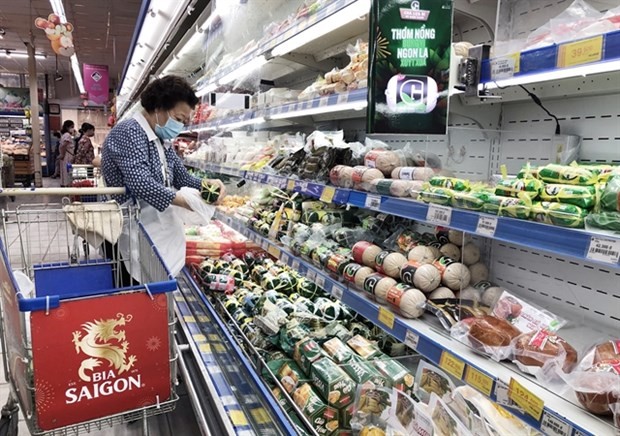 Customers buy food at a supermarket in HCM City. Photo: VNA
Iain Frew, British Ambassador to Vietnam, stressed that supporting the development of HCM City as a regional financial and business centre is another example of the strong bilateral relations between the UK and Vietnam. Vietnam is a high-growth, dynamic market, the diplomat said, and by working collaboratively on this important project and sharing UK expertise on a sector where it has clear global market strength, the UK hopes to align mutual policy priorities and support long-term sustainable growth across the country.
Meanwhile, Nguyen Hoang Long, Ambassador of Vietnam to the UK, highlighted that establishing a regional financial and business centre in HCM City is a key part of the Vietnamese government's Economic and Social Development Strategy. Vietnam has a dynamic economy, good global links and a clear vision on how to become a high-income country by 2045.
"This, coupled with support from the UK Government and its world-renowned financial and related professional services industry, makes us confident that Vietnam will be an attractive proposition to international investors," he emphasised.
TheCityUK is the industry-led body representing UK-based financial and related professional services. They support the success of the ecosystem, and thereby members, promoting policies in the UK, across Europe and internationally that drive competitiveness, support job creation and ensure long-term economic growth.
The industry contributes 12% of the UK's total economic output and employs over 2.2 million people, with two thirds of these jobs outside London. It is UK's largest net exporting industry and generates a trade surplus exceeding that of all other net exporting industries combined. It is also the largest taxpayer and makes a real difference to people in their daily lives, helping them save for the future, buy a home, invest in a business and protect and manage risk.
It reported that over the last 10 years, the southern metropolis has strongly applied science and technology to public administration, especially using information technology in public services. The technological level of industrial production businesses has also been improved gradually.
The general speed of technological and equipment reform in the city was about 18.85% annually during 2016 – 2020, an increase from the 15% before 2016. Meanwhile, total spending on machinery and equipment averaged VND 20.6 trillion (USD 870.3 million at the current exchange rate) each year.
This could be seen in the high total factor productivity (TFP), 35.62% on average, with science and technology contributing to 74% of the TFP growth. Between 2011 and 2021, the social labour productivity in HCM City was 2.7 times higher and the productivity growth was 1.7 times higher than the nationwide figures.
The digital economy made up 15.38% of HCM City's gross regional domestic product (GRDP) in 2022, surpassing the year's target of 15%.
Hanoi and HCM City recorded the highest disbursement of public investment capital in January, with nearly VND 2.7 trillion (USD 117 million) and more than VND 1.63 trillion, respectively, reported the General Statistics Office.