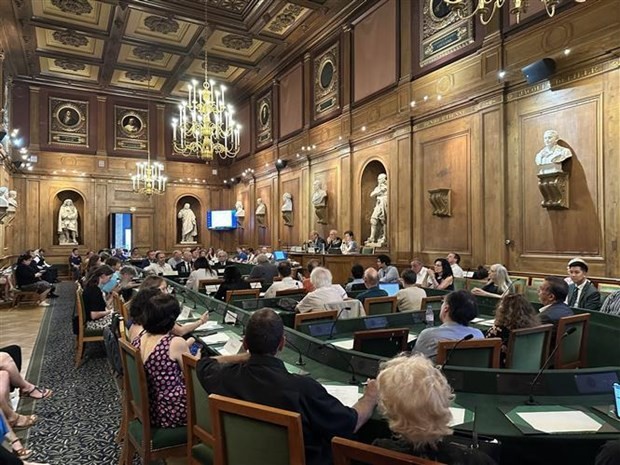 At the ceremony honoring scientific research cooperation between France and other countries. Photo: VNA
Two Vietnamese researchers have been bestowed by the French Academy of Sciences and the French Ministry of Higher Education and Research with a scientific cooperation award in recognition of their contributions to cooperation projects with France, VNA reported.
The awardees are Tran Quang Hoa, a lecturer at the Hue University of Education, and Hoang Thi Giang from the Vietnam Agricultural Genetics Institute.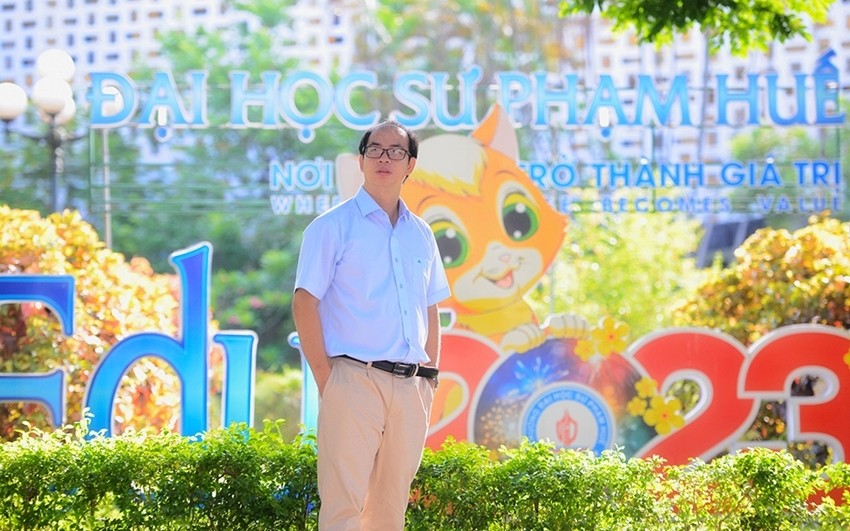 Dr. Tran Quang Hoa, Deputy Head of the Mathematics Department at University of Education, Hue University. Photo: Mai Lan/Hue News
The joint project of Hoa and Professor Marc Chardin, an expert at the French Institute of Scientific Research and a lecturer at Sorbonne University, involves studies of theoretical mathematics, while the joint project of Giang and Professor Stéphane Jouannic of the French Institute for Development Research focuses on finding genes and genetic characteristics of high-quality rice varieties that are adaptive to climate change.
The two scientists and their collaborators spent 13 years conducting in-depth analysis of rice varieties in Vietnam, identifying high-quality genetic codes to find rice varieties that are resistant and adaptable to current volatile natural conditions.
In an interview with the Vietnam News Agency's resident correspondents in Paris, Professor Marc Chardin expressed his pleasure in receiving the award, stating that it allows him to continue nurturing cooperation with the research group of the Hue University and other universities in Vietnam.
French associates, on behalf of two Vietnamese scientists who were unable to attend, introduced their research projects at the honoring ceremony. Photo: NDO
According to Francis-André Wollman, vice president in charge of International Cooperation at the French Academy of Sciences, the study related to rice genes is highly appreciated not only for the effective collaboration between his academy and the Vietnam Agricultural Genetics Institute in the field of research and training, but also for its practical value. He added that it will be the foundation for exploring rice varieties that are able to withstand heat, drought, floods, and effectively promote Vietnam's rice resources.
This international award, presented annually by the French Academy of Sciences, aims to honor scientific collaborations between France and other countries, as well as international organizations. It is worth emphasizing that, while there are various forms of cooperation in the fields of education and scientific research, the French Academy of Sciences recognizes and awards only a few of them.
Established in 1666 by King Louis XIV to promote and safeguard the spirit of scientific research in France, the French Academy of Sciences is often referred to as the "Assembly of the Sages" as it gathers the country's top scientists. The Academy plays a role in reflecting upon, examining, and proposing social solutions in the process of scientific and technological development. It evaluates the quality of research and scientific education and fosters international relations in the fields of science and technology, while also disseminating scientific achievements to the public.